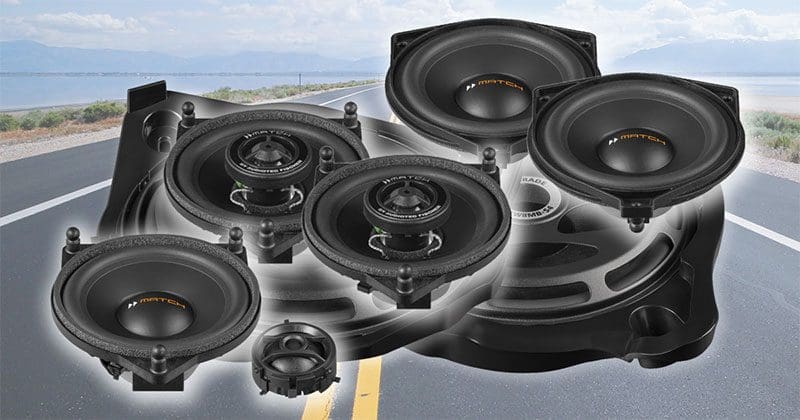 Match, the OEM audio system upgrade brand from Audiotec Fischer in Germany, has several speaker upgrade options that are designed to make it easy for your local specialty mobile enhancement retailer to upgrade the sound system in your Mercedes-Benz. These speakers and subwoofers fit right into the factory mounting locations and include OEM-compatible connectors so your vehicle warranty won't be affected. If you want more volume and better sound quality in your Mercedes, this is a perfect starting point.
Mercedes Component and Coaxial Speaker Upgrades
At the heart of the Mercedes speakers from Match is the UP C42MB-FRT set. These 4-inch component midrange speaker sets mount in the front doors of C-, E-, GLC- and S-Series vehicles. They can also be used in the rear speaker location when the doors are equipped with the Burmester tweeter mounting fixture. The woofers use a coated paper cone for excellent efficiency, and the tweeters feature a soft-dome design with a chassis that fits directly into the factory tweeter location. Match includes an external passive crossover network with a 0, -3 or -6 dB tweeter attenuation switch to help make the tuning process easy for your technician.
If you want to upgrade the rear speakers in these vehicles with a coaxial driver, Match offers the UP X4MB-FRT speaker set. These speakers use a slightly smaller soft-dome tweeter and maintain the direct-fit mounting basket and posts required to make the installation easy without the need for any fabrication.

The UP S4MB-CTR is designed as an upgrade for the center channel, and it uses the same 4-inch woofer cone. In this application, the speaker features a dual-voice-coil design that allows audio from the SOS emergency call system to play without affecting music playback.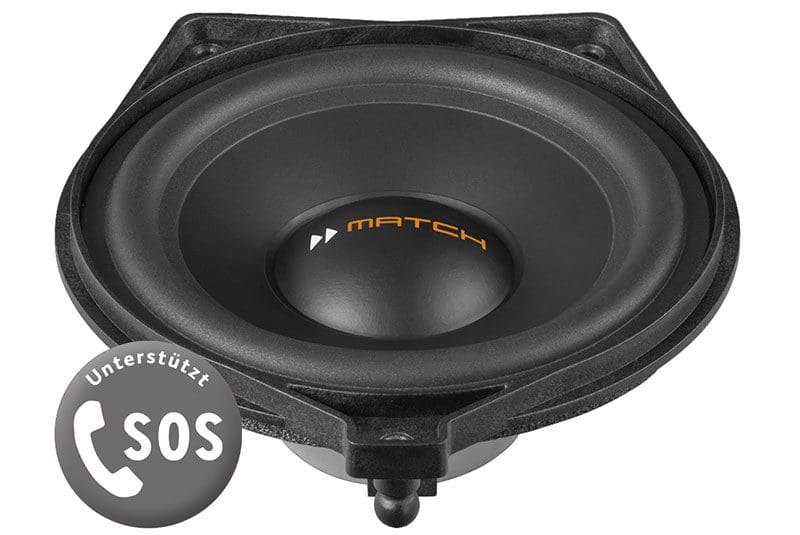 Finally, Match offers the UP S4MB-SUR speaker set designed specifically for the rear parcel shelf of many late-model C, E and S-Class sedans and the GLC SUVs.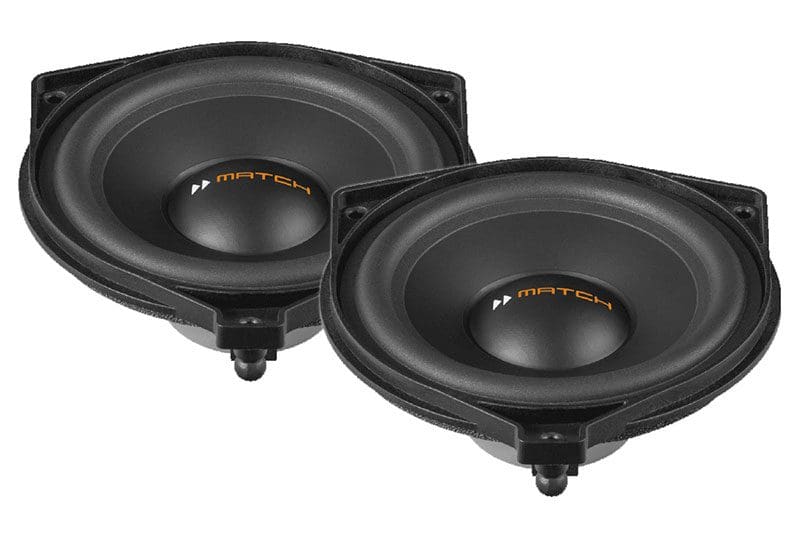 Mercedes-Benz Subwoofer Solutions
Mercedes took a unique approach to deliver bass in its C-, E- and GLC-Series left-hand-drive vehicles by mounting the subwoofer in the firewall in front of the driver or driver and passenger, depending on the system. While this is a great location in terms of audio system design, it leaves those who want to upgrade the stereos without many options. Match developed the UP W8MB-S4 subwoofers as a drop-in solution. This system includes a pair of 8-inch woofers with custom mounting flanges designed specifically for these firewall applications. The woofer mounting flange includes a gasket that seals against the firewall.
Each woofer features a low-mass paper cone for excellent efficiency. The drivers have a 4-ohm voice coil with a 37 mm diameter. In terms of specifications, Xmax is plus or minus 5 mm and power handling is rated at 100 watts continuous per woofer. Each woofer features a compact neodymium magnet for excellent motor strength without the need for a huge ceramic magnet.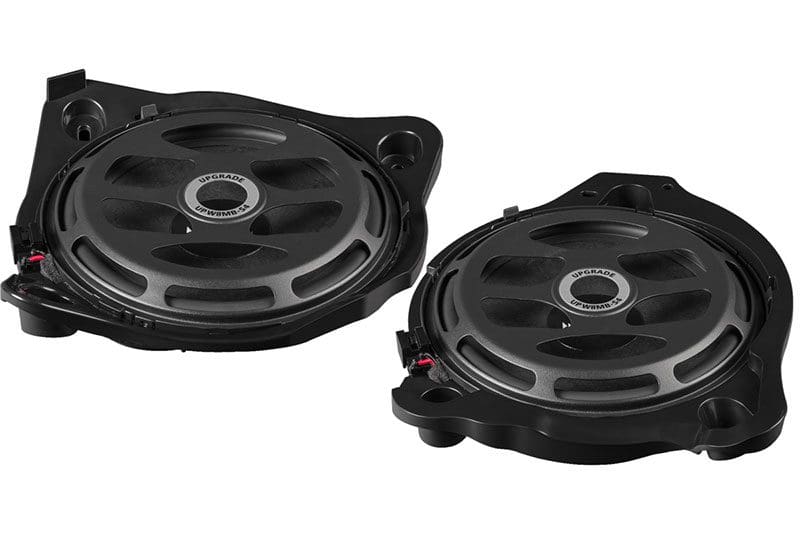 Amplifier Upgrades Add Custom Tuning Options
Match offers several compact amplifier solutions that are a perfect addition to these new speakers. Their M5DSP MK2 is a five-channel amp that can produce 65 watts to each of the four interior speakers and up to 160 watts to the subwoofer system. The UP7DSP will provide 65 watts to the main 4 channels and the center channel, and up to 160 watts to each of your woofers. The center channel signal is processed using the RealCenter feature in the integrated digital signal processor. Your installation technician can (and should) calibrate the output of each speaker to work with the acoustics of the vehicle using the digital signal processor. Most Match amplifiers can be upgraded with an auxiliary input or a dedicated Bluetooth streaming Match Expansion Card (MEC) to bypass the factory source unit altogether. Match also offers Quadlock and Mercedes MQS-compatible adapter cables to make the installation of this, or several other amplifier options, easier and more reliable.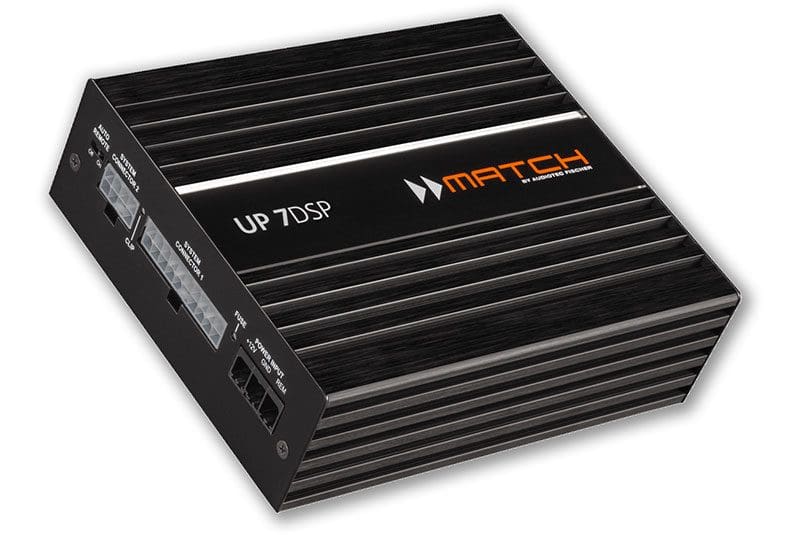 For those who desire more performance than the Burmester audio system provides, Match has a specific speaker input harness called the PP-MB 1.9BUR that works magnificently with the NAV-TV ZEN-M preamp interface and either the HELIX V EIGHT DSP MK2 or V TWELVE DSP amplifiers. You can find all the vehicle-specific harnesses in the Audiotec Fischer Adapter Database.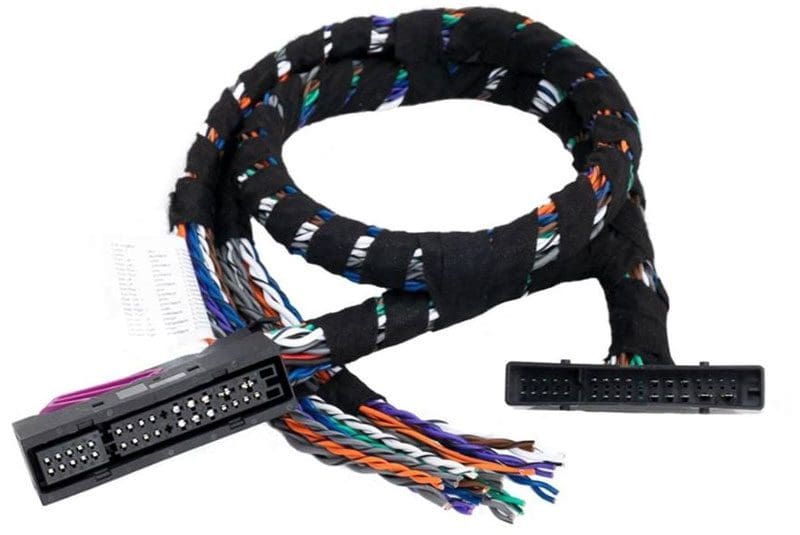 Upgrade your Mercedes-Benz Audio System
If the sound system in your Mercedes-Benz doesn't put a smile on your face when you turn up the volume, visit your local authorized Audiotec Fisher dealer today to learn more about their upgrade options. You can find a dealer in North America by visiting the MSC dealer locator page. If you are interested in information about Match, or any of the Audiotec Fischer products, visit their website. Be sure to follow them on Facebook and subscribe to their YouTube channel.