Holly Hill, FL – March 18, 2021 – Metra Electronics®, the leading manufacturer of aftermarket automotive solutions, is now shipping a new dash kit with integrated electronics and a built-in OLED screen designed for 2010-2012 Cadillac SRX models. The new 107-GM5B dash kit is designed for most shallow mount aftermarket radios and Pioneer's DMH-C2550NEX and DMH-C2500NEX modular receivers. (See radio manufacturer for the most current models).
The 3-inch by 1-inch OLED screen is a first for Metra Electronics, which has previously used built-in color LCD touchscreens in the TurboTouch® dash kit series. The OLED screen allows for a clear display of the vehicle's climate control functions and customization menu settings, which would normally be lost after replacing the radio. The high-contrast OLED screen is located below the aftermarket radio, replacing the factory analog clock, volume, and tuning knobs from the original dashboard. The factory buttons and controls below that are retained and fit into Metra's center dash panel. An Axxess steering wheel control interface and harness are included with the kit to retain the use of the factory audio controls on the steering wheel. Additionally, there are several audio control buttons on the center control panel, (seek up and down, band, menu, and back), that can also be retained and used to control the aftermarket radio using Metra's 107-GM5B. An antenna adapter is also included with this kit to provide a convenient, all-in-one solution for radio replacement and integration.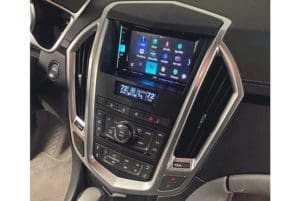 107-GM5B Product Specifications
Fits 2010-2012 Cadillac SRX
Designed for most shallow mount aftermarket radios and Pioneer's DMH-C2550NEX and DMH-C2500NEX modular receivers*.
Retains factory control panel and display of climate functions and vehicle customization menus on the 107-GM5B OLED screen
Retains factory steering wheel controls with an included interface
Retains center control panel audio control buttons for seek up and down, band and menu
Harness is included
Antenna adapter is included
Proudly made in the USA
Constructed with the highest quality ABS plastic using injection molding technology to ensure a superior design and fit
About Metra Electronics®

At Metra, 12volt installation and integration is our passion. We strive to continuously offer the highest quality products to meet the fluctuating technological challenges of the automotive world.  We actively listen to our customers' requests and invest resources in developing the highest quality dash kit and harness solutions. We make dash kits for more vehicle applications than anyone else in the world. That's why we've been known as "The Installer's Choice" ® for more than 70+ years. Our other brands include: Axxess®, T-SPEC®, The Install Bay®, Heise LED Lighting Systems®, iBEAM Vehicle Safety Systems®, Shuriken High Performance Batteries®, Raptor®, Ballistic®, AmmoTenna®, Metra PowerSports®, Saddle Tramp®, Metra Marine® and Daytona Lights™. Metra's expertise in connectivity solutions is also applied to its division of premium home theater and surveillance products, Metra Home Theater Group®.
PIONEER is a registered trademark of Pioneer Corporation.