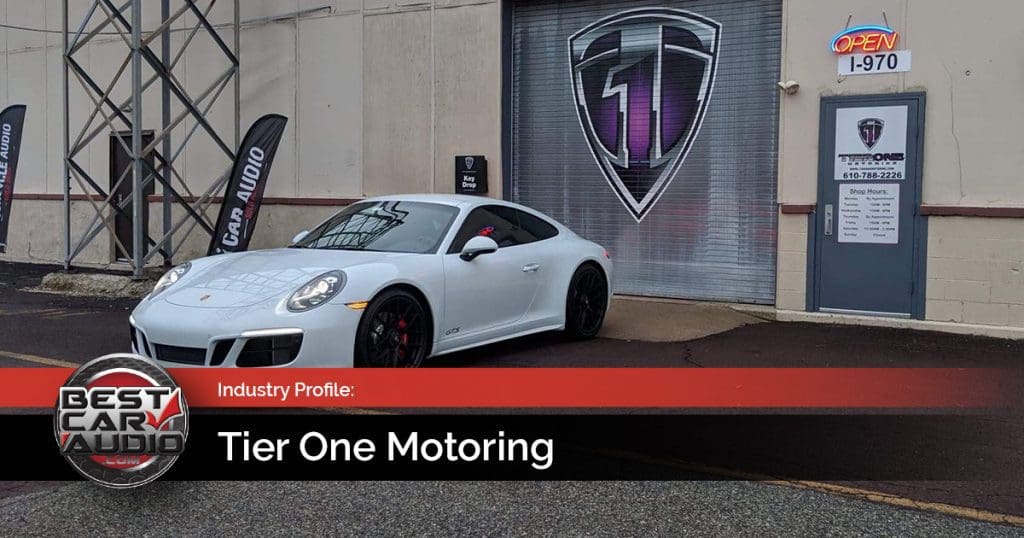 Located in Oaks, Pennsylvania, Tier One Motoring is a mobile enhancement retailer that focuses on providing clients with a solution-based approach to audio system upgrades with an emphasis on fabrication and vehicle integration solutions. Tier One opened its current location at 122 Mill Road on January 1, 2017, and store owners Jason Levy and Ron Hoser, along with their staff of three technicians, have a 2,600-square-foot installation area and an immaculate 800-square-foot showroom.
Installation Facilities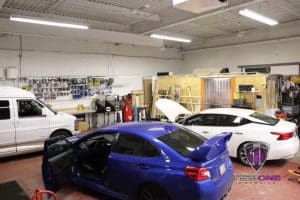 Ron told us that the choice to maximize the space for installations was based on a desire to make that area safe and efficient. Crowded installation bays can lead to wasted time and the potential for damage to vehicles or their components. Tier One has a dedicated fabrication room with multiple router tables with integrated lifts, table saw, chop saw, drill press, a hydraulic press and a wide array of router templates. They maintain a substantial inventory of hardware, installation and upholstery supplies. They also have a panel saw for managing large sheets of wood and a dedicated sewing area. They emphasized that it was their goal from the start to have the tools, materials, and knowledge to ensure that they can complete any project quickly and efficiently.
Products Offered by Tier One Motoring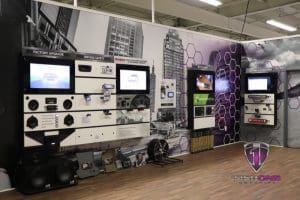 Because they're located in an industrial area, Tier One chose to create a showroom that would wow clients as soon as they walked in the door. From the artwork on the walls to the interactive displays for audio upgrades, remote car starters, motorcycle audio, radar and laser defense, window tinting, and backup cameras, everything is organized to impress clients and help them find the right solution for their vehicle.
Tier One carries an extensive offering of source unit, amplifier, speaker and subwoofer brands, including Sony, Audiofrog, Digital Designs, Mosconi, Audiomobile, Morel, ARC Audio and Blam. Each of the lines exists to help fill a niche solution and price point for their clients, whether it be application flexibility or sheer performance.
Marketing Approach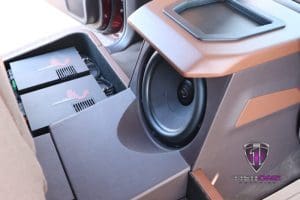 Over the years, Tier One Motoring has tried many marketing approaches, including Google AdWords, boosted Facebook posts and contests, e-mail campaigns, billboards and TV commercials during NFL games. They report that while each has rewarded them with new clients, their most successful source of new work is through word-of-mouth referrals from existing clients. As such, they have made it their core marketing philosophy to treat their clients in a way that ensures they will be thrilled with the overall purchasing experience. Their goal of offering application-specific solutions as opposed to focusing simply on selling each client a commodity is at the heart of everything they do. The icing on the cake is, of course, their ability to perform amazing installations that wow their clients. Whether or not any changes are visible, the team at Tier One strives to employ industry-reference practices to deliver the best installations in their market.
With the expiration of their lease on the current location approaching, Tier One is evaluating options for a new, larger location to offer their clients better service and an even more impressive presentation. If you are in the Philadelphia area and are looking for a great mobile enhancement retailer to upgrade your vehicle, contact the team at Tier One Motoring by visiting their website on Facebook, or follow them on Instagram.