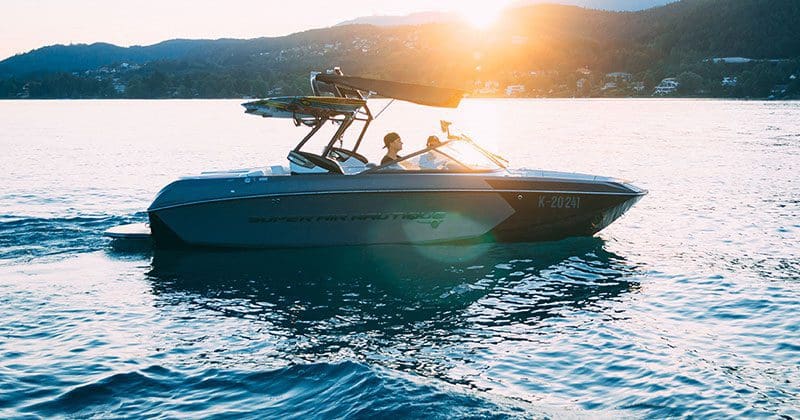 Marine radio designs and features have come a long way. Years ago, when Clarion introduced the first marine radios to the world, they were enhanced versions of Clarion's car stereo solutions. Soon after, water-resistant faces were added to allow the radios to stay outside in the cockpit all year long. Over the next few decades, remote controls were added to make controlling the radio from anywhere onboard easier. In the last decade, marine source shapes have become flexible, and the source selection options are downright impressive.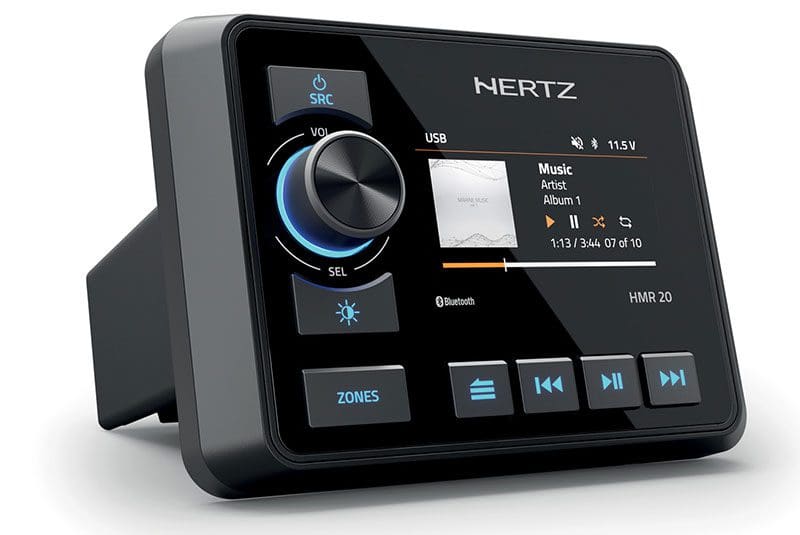 Marine Radio Size Options
Most marine radios started as single-DIN car radios. The standard 2-inch-tall by 7-inch-wide chassis was outfitted with a front panel with silver or white trim. The displays were upgraded from their car audio brethren with reverse-LCD displays that were easier to see in bright sunlight. Inside these radios, the circuit boards were sprayed with a plastic layer called a conformal coating. This barrier helped keep the tiny connections on electronic components from corroding in high-humidity conditions.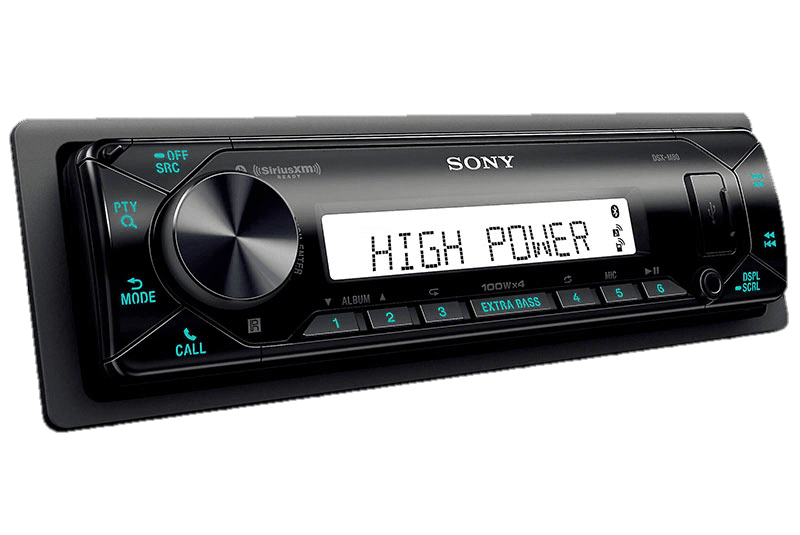 Companies like Kenwood, Sony, Clarion, Fusion and Aquatic AV offered radios with an oversized front panel that was water-resistant. The large face mounted securely to the boat, and a flip-down design provided access to the cassette (remember those?) or CD slot. Over the years, these radios evolved into digital-media-only designs. Fusion had radios with room for an iPod inside the unit. The latest radios no longer have flip-down faces as many boat owners play music stored on their smartphone via a Bluetooth audio streaming connection.
Two-piece radios grew in popularity around 2010. These radios featured a hideaway control box that was suspiciously similar in size to a standard single-DIN radio, then a compact control module that was roughly 4 by 6 inches. The controller had the benefit of not requiring any significant amount of mounting depth, other than for its control cable. Currently, the most popular of these are available from JL Audio, Rockford Fosgate, Kicker and Fusion.
The final evolution was the gauge-sized radio. Many companies, including JBL, Hertz, Aquatic AV, Dual and Kicker, offer a compact radio that will fit into the same opening as a 3-inch dash gauge like a tachometer.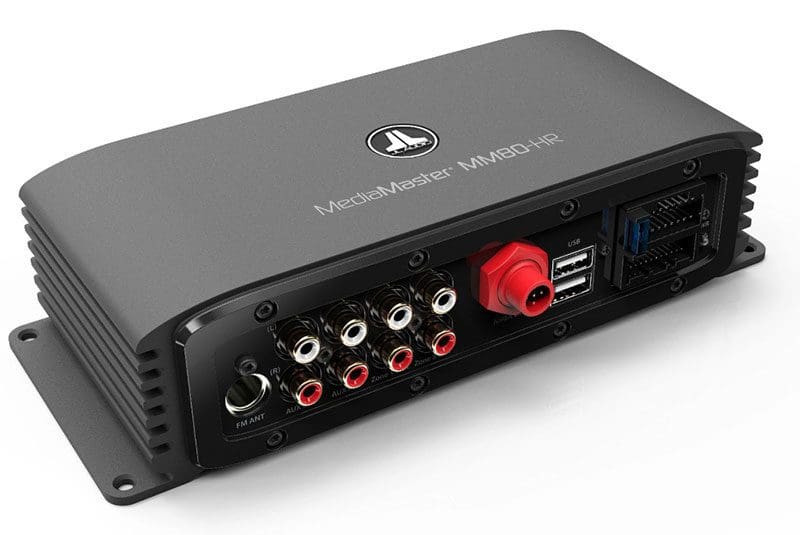 Modern Marine Integration Options
As the popularity of multifunction displays (MFD) from companies like Raymarine, Lowrance and Garmin has increased, radio manufacturers have developed integration solutions to let these navigation devices communicate. Clarion offers the MW6 interface that provides basic NMEA 2000 connectivity with a host of MFDs. JL Audio's MM80-HR hideaway marine source unit works with Simrad, Lowrance and B&G MFDs and features a four-channel, 30-watt-per-channel amplifier. Rockford Fosgate also has a black-box NMEA 2000 radio called the PMX-8BB that works with its PMX-CAN interface to communicate with many Garmin and Raymarine MFDs.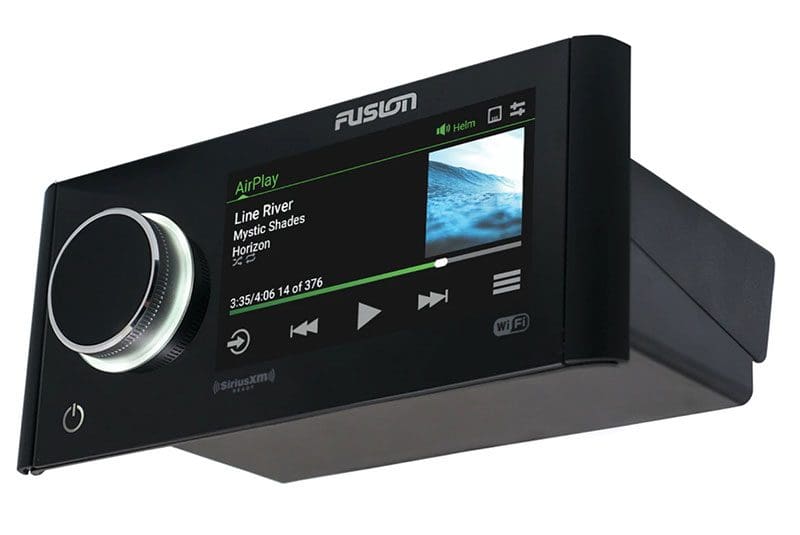 Fusion's Apollo Series radios have a Wi-Fi radio built in and allow iPhone and iPad users to stream audio using Apple AirPlay 2. Fusion says this wireless communication protocol offers a dramatic improvement over Bluetooth.
Upgrade Your Marine Radio Today
Whether you need to replace an older, water-damaged or worn-out CD player, or you want state-of-the-art connectivity and control, upgrading the radio in your boat is a great idea. Drop by your local specialty mobile enhancement retailer today to find out about the options available to make your time on the water more enjoyable and entertaining. Check out our Marine Audio Upgrades article if you'd like to learn more about the options available to enhance the sound system on your boat.