The shallowest car audio component system to date goes Hi-Fi Carbon!
Press Release: Ness-Ziona, Israel— November 2018 — Morel launches its new Virtus Nano Carbon series, a prodigious upgrade to its famous ultra-slim Virtus Nano series.
After winning the 2018 CTA Design and Engineering Award with the launch of the new Virtus Nano Integra 602, ultra slim high-fidelity point source speaker (patent pending), it was time to trickle its unique qualities to the Nano 2-way and 3-way systems as well. The new Virtus Nano Carbon replaces the composite paper cone with a damped, carbon fiber cone, giving the new drive unit vastly improved performance and more appealing aesthetics. This tour-de-force of innovative engineering enables Hi-Fi sound reproduction from a speaker that is only 0.67″ deep.
"In today cars space is scarce and integrating a high-quality speaker system can be very challenging at times and even sometimes impossible. We are well aware of this and decided to take up the challenge," says Oren Mordechai, CEO and head of R&D. "We developed the Virtus Nano Carbon series provide a truly high-end solution that makes audio installation in limited spaces an easy task without compromising on superb performance," he says.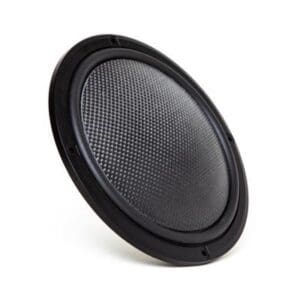 With a mounting depth of only 0.67-inches, the Virtus Nano Carbon is the shallowest 6.5-inch high-end speaker in car audio. "To accomplish our goal, our R&D team had to reinvent our speaker architecture while incorporating as many of Morel's key technological features developed over the years." Mordechai concludes.
The Nano Carbon woofer incorporates a large 2.1-inch (54mm) diameter HexatechTM aluminum External Voice Coil (EVCTM) and neodymium magnetic system to enable high power handling and linear movement for superior resolution. The innovative "Grand-dome" convex shaped cone made of highly damped sandwich hybrid carbon fiber and foam core provides wide-dispersion and excellent on and off-axis response qualities.
The Virtus Nano Carbon 3-way component system incorporates the compact CDM600 midrange featuring a 2.1-inch (54mm) dome and Hexatech aluminum voice coil, along with a powerful neodymium magnet motor and rear vented design using Morel's C.A.R. filter. This allows the CDM600 a broad range performance that most other dome midrange cannot match, and a shallow, compact design providing the installer various options for installation.
Both 602 2-way and 603 3-way component sets utilize the unique MT120N tweeter featuring Morel's renowned 1.1-inch (28mm) handcrafted AcuflexTM silk dome. To bring the speakers together in complete harmony, the Virtus Nano Carbon get their own specific MXR crossover. This high-fidelity ultra- slim speaker system, promises a superb musical experience.
For more information, visit www.morelhifi.com
About Morel
Morel, an international leader in speaker components and systems since 1975, manufactures handcrafted, award-winning speakers and audio drivers for the mid to high end OEM, home and car audio markets. Its products are sold worldwide. With its high standard for technological innovation and design excellence, Morel audio speakers are the choice of many of the biggest names in the music industry.