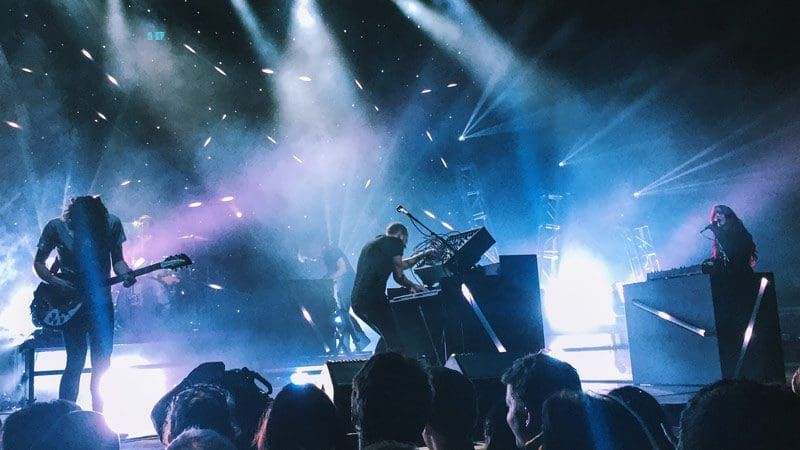 When it comes to designing car audio systems, retailers need to take into account how their clients want their music to sound. Everyone seems to have different preferences for the amount of bass or high-frequency content. These tonal balance preferences can change based on the choice of music and the listener's mood. In most cases, a well-designed sound system can handle any music listening preferences.
A preference that is harder to change is where the music seems to come from. Many mobile audio aficionados prefer the music to come from a virtual soundstage as much in front of them as possible. Many people also prefer their music to wrap around them, with as much coming from behind as in front.
There is no right or wrong, so long as you are happy with the way your system sounds.
In this article, we discuss how the client's preferences can affect the way a mobile audio system is designed. We'll also look at a few options for the performance of these systems.
Recording Studio Sound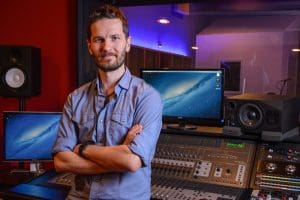 Up until recently, most recording studios used a pair of high-quality speakers placed equidistantly in front of the mixing console. The recording engineer would balance the level and placement of the instruments and performers, using these speakers as his reference. The result was a soundstage that spanned the distance between the speakers.
Attending an outdoor concert may yield a similar listening experience. In a venue like that, the sound comes from in front of you – be it the sound created directly by the instruments, or from the PA gear set up on or beside the stage.
In your car, this can be recreated by focusing on the placement and quality of the front speakers. A good set of components can offer similar performance. Adding a digital signal processor (DSP) can dramatically improve the accuracy of the system by compensating for frequency response, arrival time and speaker volume level differences. When you listen to a quality recording, each performer will seem to be in a specific location on the soundstage.
What about Club Sound?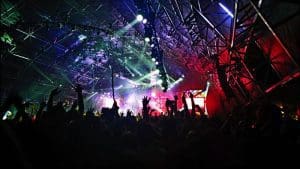 There are lots of ways to describe the experience of having the music come from all around the vehicle, but the analogy of a nightclub or – as we old fogies like to call them – a disco might work best. The concept here is that the music will seem to come from all around you. Unlike a performance where you can point to the source of sound from each instrument, it envelops the listening space. In most of these systems, we still balance the system with dedicated left and right channels.
What about those cars and trucks with all the PA speakers in the doors? Not a pair of speakers, but something like eight speakers in each door, with several high-efficiency bullet tweeters. In these designs, if indeed the goal is sheer volume, it might make more sense to forego keeping the music in stereo and use a processor to combine the left and right channel, so it's simply as loud as possible.
You Haven't Mentioned a Concert Hall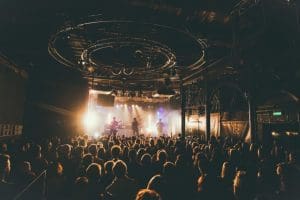 You may have noticed that we haven't talked about a live performance that takes place in a concert hall or indoor venue. This has been quite deliberate.
Imagine heading out for dinner to a local restaurant that has a small band playing. Maybe it's rock music with a guitarist, bassist, drummer and lead singer. Or perhaps it's a three-piece jazz ensemble with a piano, saxophone and upright bass. If the performance is acoustic, other than for an amp for an electric guitar or bass, the source of the music will be easy to define as coming from the instruments – but that isn't the extent of the experience.
Every confined space, except an anechoic chamber, causes the sound to reflect off the floors, walls and ceiling. You hear the music directly from the instrument or performer first, then those same sounds as they reflect off objects and surfaces. The total experience is defined by the mixture of all these sounds.
Live Performance Sound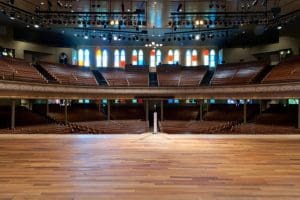 A great example of a live performance sound would be a venue like the Ryman Auditorium in Nashville. Known primarily as the home of the Grand Ole Opry, this amazing auditorium continues in operation today and has hosted performers like Bruce Springsteen, Mumford and Sons, Tom Petty, the Foo Fighters, Coldplay and Kesha, along with classic country music performers. The Ryman Auditorium is considered by many as having the best acoustics in the world. Coldplay said it is "the greatest theatre in the world," bested only by the Mormon Tabernacle in Salt Lake City.
What does this mean? If you have been to the Ryman or the Mormon Tabernacle, you know that these spaces have distinctive echoes, reflections and reverberations. You can quite literally hear a pin drop on the stage from almost any seat in the house. It is this incredible live sound that performers and attendees enjoy. How do we recreate that experience in our cars and trucks?
If the music you are listening to was recorded in a live venue and not in a studio, then the reflections and reverberations will be contained in the recording. Recordings of orchestras and choirs performing classical music are good examples of this. If your sound system is tuned well and offers an accurate soundstage with excellent imaging, it will reproduce the ambiance and a sense of the room size of these recordings.
Signal Processing Solutions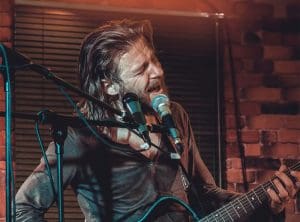 Another option is to use a signal processor to create a sense of room size. In the 1990s and 2000s, lots of processors had presets for jazz, concert and club settings that added reverberation and delay to dedicated rear channel outputs. These technologies have evolved to more-advanced processing algorithms like Bose Panaray and Quantum Logic Surround from Harman. These systems can analyze the content of a stereo recording and extract information that should be reproduced by side and rear speakers to create an immersive listening experience. If your vehicle has one of these technologies, your local mobile enhancement retailer can make it sound even better by adding a premium subwoofer system, since factory stereo systems rarely offer great bass performance.
The forthcoming Audiofrog Multiseat processor works similarly, analyzing the content of the music and directing it to left, center, right, left and right side, and left and right rear speaker outputs. Sure, you need a lot of speakers and amplifier channels to make full use of the system, but enjoying a realistic musical experience from any seat in the vehicle is worth the effort.
What to Know Before Going Shopping
If you want to upgrade the sound system in your car, truck or SUV, do a little homework before you start shopping. Play with the fader control in your car to determine how you want the new system to sound. If you can tell the salesperson how you want your new system to sound, they can help you choose the right products much more quickly and let the installer know how to configure the system so it sounds exactly the way you want. If you aren't sure which you prefer, ask if they have a demo vehicle you can audition. That's a great way to experience a high-end audio system.