1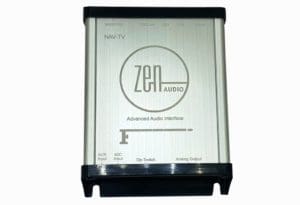 2/02/2020 – Coral Springs, Florida – NAV-TV Corp., a leading innovator and manufacturer of OEM integration and safety products for the automotive aftermarket, announces the ZEN-F preamplifier interface for the 2017 to current Ferrari Portofino with M.O.S.T.® 150 factory amplified sound systems.  Utilizing the same ultra-high quality components and manufacturing that have been proven in the Zen-V, Zen-M and Zen-25 interfaces, NAV-TV is very excited to add the ZEN-F to its portfolio of high-end amplifier replacement interfaces.
Traditional audio integration devices convert a high- level output from the factory radio or amplifier to low-level, or manipulate a fixed preamp level audio signal.  However, this method relies on the factory radio or amplifier to perform the digital to analog conversion (D/A) and may lead to less than ideal sound quality.  Unlike traditional devices, the ZEN-F for Ferrari extracts the audio directly from the M.O.S.T.®  fiber-optic digital audio stream and performs the D/A conversion internally.  Utilizing a 32 bit floating point DSP and 48 kHz 32 bit DAC, the ZEN-F produces a 12 channel analog output at 6 volts peak-to-peak with an extremely low noise floor and a S/N Ratio of 114dB.
Utilizing the same processing power as NAV-TV's competition-proven M650-GM, the ZEN-F produces a completely flat audio output without any factory time delay or equalization, eliminating the need for summing devices, an audio correction DSP or the removal of the factory audio compensation microphones.  Volume, Fade[1], Balance, and Bass/Treble are retained through the Ferrari factory radio and echo cancellation for the factory phone system is supported.
For use with 3rd party digital sound processors[2], the ZEN-F includes a variable TOSlink digital output which may be used simultaneously with the analog outputs, or by itself. The variable digital output allows for the system volume to be controlled via the factory radio and steering wheel controls without the need to access any 3rd party controller.
The ZEN-F (NTV-KIT987) is available and shipping now. For more information on the ZEN-F, or to place an order, please contact your local NAV-TV retailer or email our sales staff at sales@navtv.com to find one near you.

About NAV-TV
NAV-TV Corp is a solely owned and privately held corporation based in Coral Springs, FL, USA. Established in 1999, NAV-TV is a prime manufacturer, distributor and contract manufacturer of OEM and Aftermarket integration and electronic components. Additional information about NAV-TV is available at www.navtv.com or by emailing info@navtv.com
[1] Fade is supported on all analog outputs. Fade is not supported for Toslink.
[2] Please refer to the operation and installation manual of your 3rd party DSP or device, or contact the manufacturer directly. Although NAV-TV has tested numerous 3rd Party DSP devices for compatibility with the Zen, we cannot provide technical support on 3rd party products.