Holly Hill, FL – February 2, 2021 – Metra Electronics® has added even more aftermarket products to their growing line of Jeep® accessories with the addition of new side marker lights, a third brake light, a replacement camera kit, and a fog light adapter bracket set. These new products provide stylish yet functional upgrades for the latest Jeep® Wrangler or Gladiator models.
Amber LED Side Marker Lights for Jeep® Wrangler and Gladiator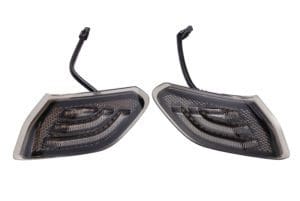 The JP-SML2 replaces factory side marker lights with an easy to install solution that is plug-n-play with all of the 2018-up* Jeep® Wrangler JL and Gladiator JT trim levels. It includes an integrated anti-flicker feature with a smoked crystalline lens for a stylish upgrade. The amber LEDs provide better visibility with 13.5 watts and an internal reflector for an even brighter output than the factory marker lights.
 JP-SML2 Product Specifications:
(27) 0.5-watt LEDs
Smoked crystalline lens
Amber LED
Multi-angle internal reflector
Integrated anti-flicker
Plug-n-play factory connector
IP67
Sold as a pair
Third Brake Light for Jeep® Wrangler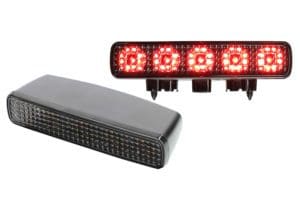 The JP-TTL3T upgrades the third brake light to a brighter, modern LED light with 2.5 watts and a durable polycarbonate lens. Installation is easy with a plug-n-play factory connector that will work with any trim level for 2018-up* Jeep® Wrangler JL models.
JP-TTL3T Product Specifications:
(5) 0.5-watt LEDs
Polycarbonate lens
Plug-n-play factory connector
IP67
Replacement Camera Kit for Jeep® Wrangler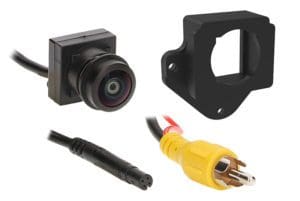 This JP-JLKT kit is designed to replace the factory LVDS camera on 2018-up* Jeep® Wrangler models to provide an RCA output for aftermarket radios or monitors. The rear video feed may be viewed while driving and there is an optional feature for selectable parking lines. This camera is a direct OE replacement and features 550 TV lines resolution, an improved power circuit, and a 160-degree viewing angle. The rear tire mounting bracket is included in the kit so that installers have everything needed.
JP-JLKT Product Specifications:
Designed to replace the LVDS camera
RCA output for aftermarket radios or monitors
Camera video and power harness is 32ft in total length
Can be viewed while driving with compatible monitor
Improved power circuit
Direct OE replacement
ABS housing
Resolution: 550 TV lines
Selectable parking lines
160-degree viewing angle
IP68 water-resistant
Fog Light Brackets for Jeep® Wrangler and Gladiator Sport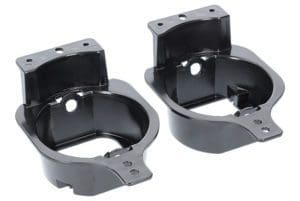 With a different design for the 2018-up* Jeep® Wrangler JL and Gladiator JT Sport models, the JP-JFOG2 will convert any of Metra's 4-inch JP-XXX series fog lights to fit and bolt on directly to the vehicle. The brackets are sold as a pair and mount with the factory hardware.
JP-JFOG2 Product Specifications:
Mounts with factory hardware
Coverts any JP-XXX 4″ fog light to a direct bolt-on for Jeep® Wrangler JL Sport
Brackets marked for left and right sides, and top for easier orientation
Durable ABS construction
Lights sold separately
Sold as a pair
These new accessories are available now from Metra Electronics, with more new products coming soon. The full line of products can be seen in the 2021 Metra's Jeep® Accessories catalog. *Visit MetraOnline.com for up-to-date, vehicle specific information.
About Metra Electronics®

At Metra, 12volt installation and integration is our passion. We strive to continuously offer the highest quality products to meet the fluctuating technological challenges of the automotive world.  We actively listen to our customers' requests and invest resources in developing the highest quality dash kit and harness solutions. We make dash kits for more vehicle applications than anyone else in the world. That's why we've been known as "The Installer's Choice" ® for more than 70+ years. Our other brands include: Axxess®, T-SPEC®, The Install Bay®, Heise LED Lighting Systems®, iBEAM Vehicle Safety Systems®, Shuriken High Performance Batteries®, Raptor®, Ballistic®, AmmoTenna®, Metra PowerSports®, Saddle Tramp®, Metra Marine® and Daytona Lights™. Metra's expertise in connectivity solutions is also applied to its division of premium home theater and surveillance products, Metra Home Theater Group®.