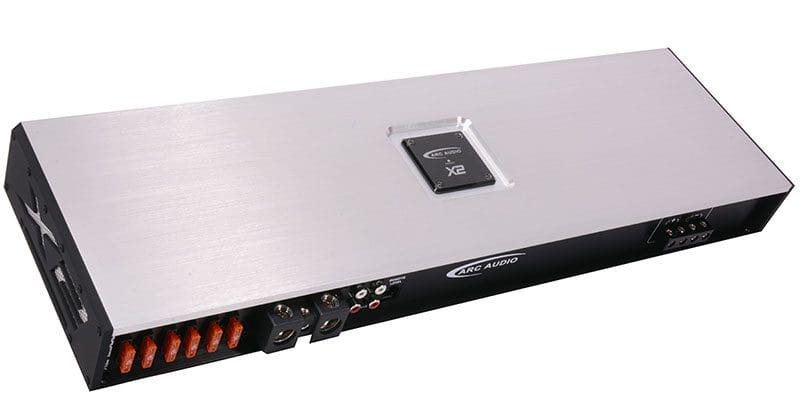 The X2 series from ARC Audio includes eight amplifiers that offer the features installers need to create amazing car audio systems while delivering industry-reference performance. ARC has divided the X2 series into two sub-groups offering different cosmetic and performance characteristics. The Level 1 product group includes a monoblock along with a four- and five-channel amplifier delivering budget-minded solutions for enthusiasts. The Level 2 series includes a pair of large monoblock subwoofer solutions and four-, five- and six-channel amplifiers with upgraded features, performance and cosmetics for enthusiasts.
Common X2 Series Features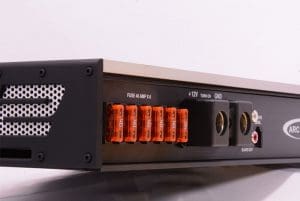 The X2 amplifiers are designed to simplify upgrades that integrate factory source units. The amps include speaker level input adapters for factory amplifiers, and the DC offset and signal-sensing turn-on circuits will allow the amplifiers to turn on automatically when the factory radio is turned on.
All electrical connections are made along the front panel of the amp, and large power connection blocks are provided so that your installer doesn't need to waste time with finicky spade terminals. Likewise, onboard fusing saves you the surprise of added costs during the installation. Quick-connect speaker terminals are also included. All ARC Audio amplifiers include balanced differential inputs to ensure maximum performance and optimized noise rejection with all signal sources.
Internally, the amplifiers feature high-quality shielded filter networks and high-speed power supply and output device switching designs that move RF noise out of the audible region while helping prevent radio frequency interference. Each amplifier features a microcontroller that oversees the operation of the power supply and output stages while offering direct feedback of any fault codes that may occur to speed up troubleshooting during installation. Finally, all X2 Series amplifiers are start-stop vehicle compliant. This technology allows the amplifiers to remain functional to below 8 volts while the engine starts as you pull away from a red light.
ARC Audio X2 Level 1 Amplifiers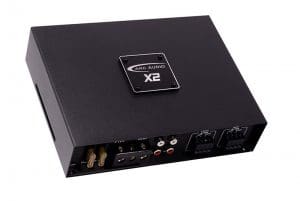 The Level 1 X2 450.4 and X2 850.5 amplifiers each offer four channels rated at an effortless 85 watts into 4-ohm loads and 125 watts into 2-ohm loads. Each pair of channels can be bridged to provide 250 watts into a single 4-ohm load. Fully adjustable high- and low-pass crossovers on these channels make system design and tuning easy. The subwoofer channel on the X2 850.5 and the monoblock 650.1 deliver 400 watts and 650 watts respectively to ensure bass is produced with authority.
The three Level 1 amps feature a removable steel shroud in a textured black finish with a CNC cut drip mold badge in the center that can be rotated to work with any installation.
ARC Audio X2 Level 2 Amplifiers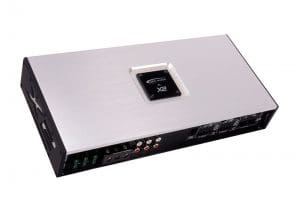 Stepping up to the Level 2 amplifiers in the X2 Series provides you with 150 watts per channel into 4- or 2-ohm loads from their four, five and six-channel solutions. Channels five and six of the six-channel X2 1200.6 deliver 150 watts into 4 ohms and 300 watts into 2-ohm loads for midbass or subwoofer duties.
The multichannel amplifiers include a variety of signal routing options for two- and three-channel operation as well as the option of bandpass crossovers for midrange or midbass drivers in three- and four-way systems.
ARC Audio uses state-of-the-art ST Microelectronics Class D controllers for improved efficiency and high-frequency response over competing designs. These controllers can operate at up to 500 kHz to ensure smooth and detailed high-frequency performance.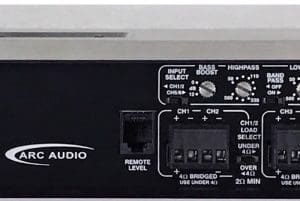 When it comes to subwoofer solutions, the X2 1100.1 and the awesome X2 2500.1 provide 1,100 and 2,500 watts of power into 1-ohm loads. Master and Slave RCA connectors make it easy to string multiple amplifiers together for high-power applications. All Level 2 amplifiers include a remote level control that allows you to adjust the subwoofer volume from the front seat of the vehicle.
The Level 2 amps feature an extruded aluminum shroud with silver hairline finish. The acrylic badge in the center of the amp illuminates when the amp is powered up and will flash any error codes. The badge can be rotated to suit any custom installation.
Visit Your Local ARC Audio Retailer Today!
If you are in the market for a new car audio amplifier for your car, truck or SUV, visit your local authorized ARC Audio retailer an ask for a demonstration of the new X2 Series. Aside from the great value, we know that the effortless power delivery and amazing sound quality will win you over.