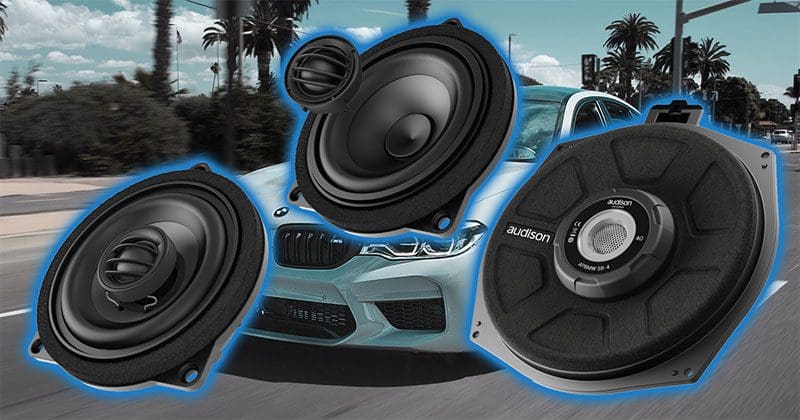 BMW and Mini owners all over the globe have shown that there is a desire for a better sounding audio system in their vehicles. To meet the performance expectations of these discerning clients, Audison of Italy has developed six drop-in upgrades designed specifically for these vehicles. Best of all, the speaker and subwoofer upgrade solutions use factory wiring and mounting locations, so there are no modifications required. These are the perfect solution for leased vehicles!
Balancing Performance and Efficiency
Designing a loudspeaker requires that the engineer balance low-frequency and high-frequency extension with efficiency and output capability. For example, the upper midrange output may suffer if a driver is optimized to produce more bass. The engineers at Audison have optimized all these criteria for their Prima Series drivers to deliver amazing performance installations using small to moderately powerful amplifiers. As such, their BMW speakers are a perfect stand-alone upgrade with the factory radio or amplifier, or when used with a much more powerful solution like the 85-watts-per-channel AP F 8.9 bit DSP-equipped amplifier.
BMW Speaker Upgrade Solutions
The BMW speakers are broken into two categories: coaxial and component sets. So whether you have a new 2-series and want to upgrade the door speakers or are looking for the dash, front and rear speakers along with a subwoofer upgrade for a 2015 X5 with the Hi-Fi Sound system, there's a solution from Audison.
The four speaker options are all based on the same basic platform. The 4-inch (100 mm) drivers feature high-quality rigid die-cast aluminum frames that include specific mounting provisions for the doors, the dash center channel or the rear parcel shelf of your BMW or Mini.
To deliver excellent efficiency, the drivers use neodymium magnets instead of conventional ceramic units. The woofer cones are constructed from pressed pulp paper to deliver an excellent balance of rigidity and damping characteristics. The cones are treated with a moisture-resistant finish to ensure their longevity in door installations. The woofers are driven by a large 1-inch (25 mm) fiberglass voice coil former. The large diameter of the coil contributes to the 40-watt continuous, 80-watt maximum power ratings for the drivers. Lastly, they all use a rubber surround instead of foam for an additional improvement in longevity.
The tweeters used in the coaxial and component set solutions once again feature neodymium magnets for excellent efficiency. The diaphragms are made of Audison's Tetolon silk and cotton dome material to optimize rigidity and damping characteristics to prevent distortion. In the APBMW K4E and K4M component sets, the tweeters have a diameter of 29 mm. Most tweeters in this class, including these vehicles' stock tweeters, are only 25 mm in size. The larger diameter allows for a nice, low resonant frequency and lower crossover points. The large diaphragm size also improves efficiency.
The component sets include the APBMW CXTM 1 passive filter networks for the tweeters. These filters include 0 and -3 dB output options, and OE-quality connectors are included for wiring. Angled mounting cups for the tweeters are included for rear parcel shelf installations. In the APBMW X4M and X4E coaxial speaker solutions, the tweeters use the same materials but have a diameter of 24 mm. Audison also offers the APBMW A4E accessory kit to allow for the unique installation applications of the F15 chassis X5, F16 chassis X6 and the G30 and G31 chassis 5-series sedans and wagons.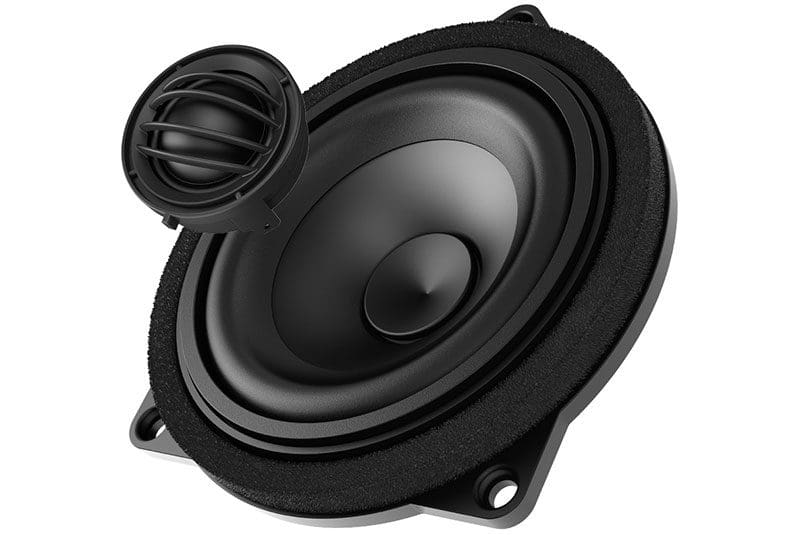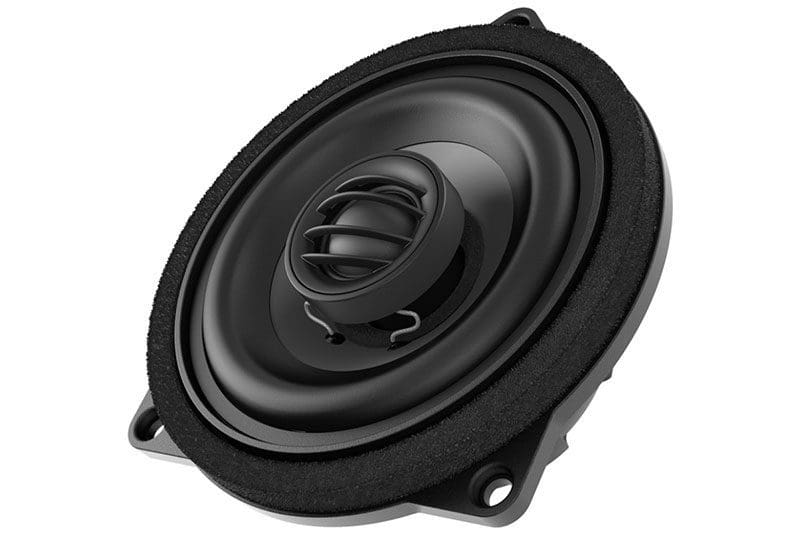 Prima Subwoofer for BMW and Mini Cars and SUVs
The APBMW S8-2 and APBMW S8-4 are 8-inch (200 mm) subwoofer solutions that are a direct drop-in replacement for the under-seat subwoofers found in BMW and Mini vehicles. These subwoofers feature graphite fiber-reinforced baskets with top-mounted neodymium motor structures. A pair of 5-millimeter polyurethane mounting gaskets are included to ensure a perfect seal with the factory enclosure. A 38 mm (1.5-inch) voice coil provides reliable performance at the speaker's 150-watt power handling rating. The woofers' cones are made from pressed pulp, and they use a rubber surround for longevity. A fabric cover over the face of the woofer cone prevents coins and rogue french fries from entering the speaker and causing buzzes or rattles. The woofers feature an Xmax specification of 7 mm in each direction for impressive output from the limited space and shallow mounting requirements.
The Audison engineers put some careful planning into the 2- and 4-ohm models. The 4-ohm S8-4 is slightly less sensitive than the 2-ohm model but offers a 40 Hz resonant frequency instead of 45, so it plays deeper. When the 4-ohm woofer is bridged onto a pair of channels from a Prima amplifier, the additional power allows it to play as loudly as the 2-ohm driver. If you plan a system that will use a larger subwoofer (10- or 12-inch) in the trunk or cargo area, the under-seat woofers function well as midbass drivers.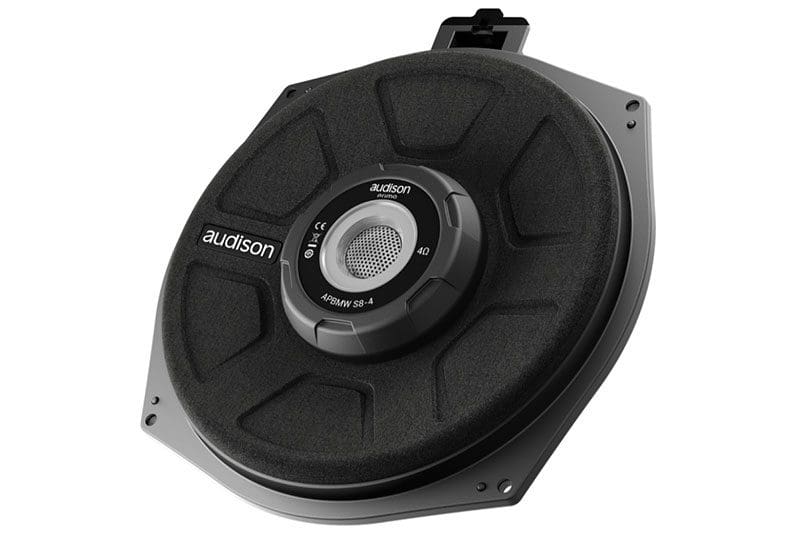 Visit Your Local Authorized Audison Dealer To Upgrade Your BMW Audio System
If your BMW or Mini sound system doesn't give you goosebumps when you listen to it, drop by your local authorized Audison Retailer and ask about upgrading the speakers. The Product Specialist can design a solution that works with the existing source unit and amplifier or put together a Sound Pack solution with a dedicated DSP-equipped amplifier like the AP 8.9 bit. They can even create a bespoke solution for cars and SUVs that are equipped with fiber-optic MOST amplifiers. For more information about the Audison speaker upgrades available for your BMW or Mini, visit their website. Be sure to keep up with the latest news and product releases by following their Facebook page, Instagram feed and their YouTube channel.