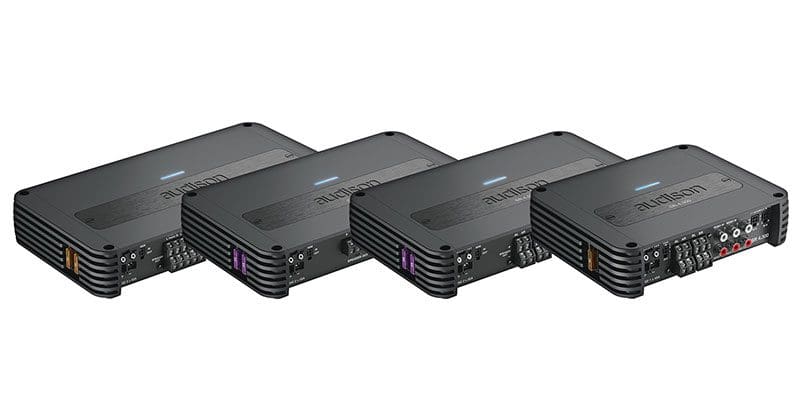 The Audison SR-Series amplifiers are now into their third generation and continue to offer amazing performance and value for car audio enthusiasts. The four amplifiers in the series offer impressive power along with installer-friendly features that make them a perfect solution for music lovers on a budget.
Introducing the New Audison SR Amplifiers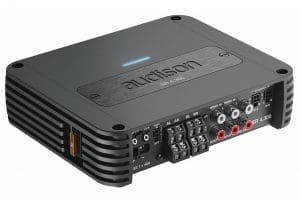 The SR-Series amplifier family begins with a pair of four-channel amps. The SR 4.300 is rated for 85 watts per channel into 4 ohms and 130 watts into 2 ohms. Each pair of channels can be bridged to produce a healthy 250 watts of power when connected to a 4-ohm load. Distortion is rated at 0.03% and the S/N ratio at -82 dB when referenced to 1 watt of output.
The larger four-channel amp is the SR 4.500. This amp is rated for four by 130 watts and four by 220 watts into 4 and 2 ohms, respectively. When both pairs of channels are bridged, it produces 450 watts per pair into 4-ohm loads. The S/N ratio for the big four-channel is -83 dB referenced to 1 watt and distortion is specified at 0.08%.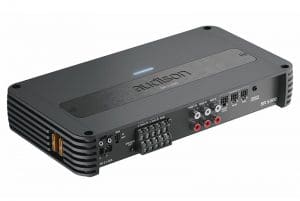 The five-channel SR 5.600 can deliver up to 75 watts from each of the four main channels when driving 4 ohm speakers and 115 watts with 2-ohm speakers. The mono subwoofer channel is good for 310 watts into 4 ohms and an impressive 550 watts into a 2-ohm load. All told, this amp can produce a healthy 1,010 watts of power. The front channel performance specs include a distortion rating of 0.02% at 70% of rated power. Noise specifications are -84 dB for the main channels and -75 dB for the subwoofer channel.
The final amp in the series is the SR 1.500. This monoblock subwoofer amp is rated for 500 watts into 4 ohms, 800 watts into 2 ohms and an impressive 1,000 watts into 1 ohm. Distortion is listed as 0.1% and noise is -75 dB referenced to 1 watt.
All four of the amps use Audison D Class Technology, which they call ADT. Interestingly, the full-range channels have a frequency response specification of 10 Hz to 35 kHz with a tolerance of -1.5 dB. That's almost an extra octave over most Class D designs on the market. Very impressive.
Amplifier Design and Feature highlights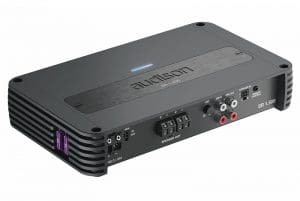 The new Audison SR amps are based on extruded and machined aluminum heatsinks. The end caps on the sides of the amps are finned and serve as the primary source of heat radiation from the output and power supply switching devices. Audison notes that the heatsinks are large enough to negate the need for a cooling fan, which can add noise or ingest debris into an amplifier. The overall footprint of the amplifiers is impressively small. All are 6.1 inches deep and 18.7 inches tall with lengths of 7.48 inches for the SR 4.300, 10.39 for the 4.500 and 1.500 and 11.57 for the 4.500.
All of the connections are made along the front edge of the amplifiers. According to the owner's manual, the power connection block will accept 8 AWG cables, and the speaker blocks are good for 10 AWG wires. Over-current protection for the amps is handled by easy-to-find ATC/ATO fuses located in the left-side end cap.
Input signals are connected to the amps using chassis-mounted RCA terminals or through provided pigtail harnesses that connect to Molex plugs. The RCA connections are rated for 0.2 to 5 volts and the high-level inputs for 0.8 to 20 volts. All four amplifiers feature Audison's Automatic Remote Turn-ON/OFF (ART) circuitry to enable the amplifiers when it detects the BTL voltage from a connected source unit when it's turned on. The speaker-level inputs include Universal Speakers Simulator (USS) loads to ensure that factory-installed source units and amplifiers will function properly.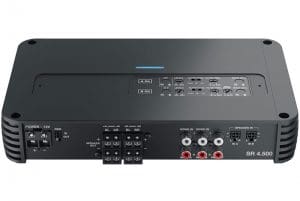 Amplifier configuration adjustments and controls are on the top of each amp and are accessed by removing a panel. All SR amplifiers are well-equipped in terms of features, including a phase control on the SR 1.500 and optional subsonic filters on the subwoofer sections and the choice of full-range, high- or low-pass signals on the wide-bandwidth (non-subwoofer) channels. Multichannel amps can split the input signal from a single set of inputs to all the outputs, negating the need for Y-cables. All amps except the five-channel include a signal output RCA jack to cascade multiple amplifiers together.
The five-channel and monoblock amps have a 1/8-inch jack for the optional VCR-S1 remote subwoofer level control. The control allows users to adjust the subwoofer level from -20 to +6 dB.
Upgrade Your Car Audio System with Audison SR Amplifiers
If you are on a budget but still want the brand heritage that has made Audison a highly regarded solution, visit your local authorized dealer and ask for a demonstration of the new SR-Series amplifiers. They can design a premium upgrade that will dramatically transform the performance and output capabilities of almost any factory-installed car audio system. For more information, visit the Audison website and be sure to follow them on Facebook, Instagram, YouTube and Twitter.