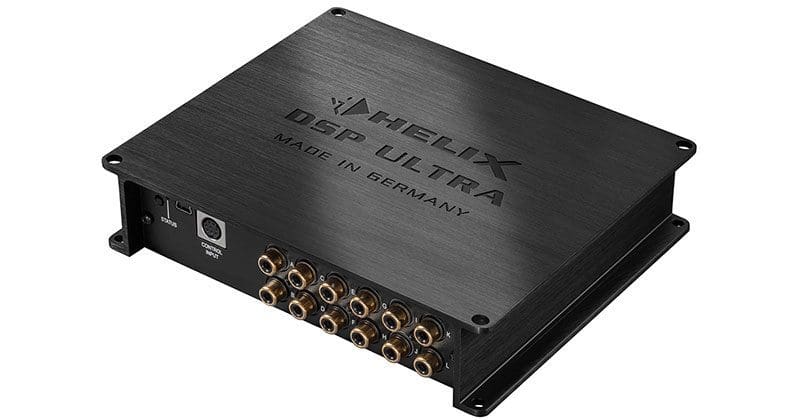 If you're shopping for a new digital signal processor for your car audio system, you may want to investigate the new Helix DSP Ultra from Audiotec Fischer of Germany. Designed with dual processors, the Ultra features eight inputs and 12 outputs with 96 kHz sampling rates to pass audio signals beyond 40 kHz. Replete with state-of-the-art sound processing features alongside flexible system configuration and calibration features installation technicians love, this is one of the most powerful mobile audio tuning solutions on the market.
Helix DSP Ultra Features

The DSP Ultra features eight RCA inputs, each capable of accepting signals up to 8 volts. A set of eight speaker-level inputs will handle input signals up to 32 volts. The sensitivity of the eight inputs is adjustable using a set of eight analog potentiometers inside the case. The Ultra monitors the input settings and will illuminate a clipping LED if there is too much signal.
Internally, the Ultra includes ADEP.3, a smart high-level input circuit that satisfies the diagnosis and monitoring systems in factory amplifiers without the loading and potential problems caused by simple resistors. This ADEP circuit can be bypassed using a jumper if the signal source exceeds 11 volts, as these higher powered channels don't contain the diagnosis circuits. A remote turn-on function will activate the Ultra (and subsequently a remote turn-on output) when it senses a signal on the high-level inputs.
The DSP Ultra includes a TOSLINK fiber optic and a coaxial RCA digital input for use with factory audio system integration modules or stand-alone media players. The system can handle digital signals with sampling rates between 12 and 192 kHz on the coax connection and up to 96 kHz on the TOSLINK input.
Advanced Signal Routing Features

Once your installation technician has fed audio into the processor, he or she is presented with an impressive array of system configuration options. Each of the eight inputs has a five-band input EQ that can be used to flatten processing applied by a factory amplifier, including all pass filters.  All of this can be seen in the input signal analyzer. From there, the signals can be routed through the new Virtual Routing panel, where multiple channels can be summed together (in adjustable amounts) to each output. Up to four sources can be fed to a single virtual channel, and the system provides a global 30-band parametric equalizer, delay, phase (on the virtual subwoofer channels) and output level controls. In total, there are eight virtual channels, any of which can be routed to any of the 12 outputs.
One example of where virtual routing is beneficial is when you want to create a center channel. You can sum midrange and tweeter inputs, apply any time and signal correction necessary, then activate the RealCenter processing. That virtual channel can then be routed to an output for a midrange (with bandpass crossovers applied) and to a tweeter output with a high-pass filter applied. The equalizer integrated into the virtual channel allows your technician to maintain the phase relationship between the mid and tweeter while adjusting for the acoustic response of the speakers in the vehicle. Very cool!
Auxiliary/HEC (Helix Extension Card, such as a Bluetooth streaming module or a USB audio input) and digital inputs can be included in the virtual routing to ensure all sources sound excellent.
Signal Processing Features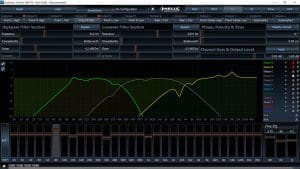 Each of the 12 8-volt output channels includes high- and low-pass crossovers with Bessel, Chebyshev, Linkwitz-Riley, Butterworth and user-defined responses with slopes up to -42 dB/octave, adjustable delays as small as .14" or 1ms, 30 bands of equalization with choices of graphic, parametric, shelf and all-pass, adjustable phase in 5.625 degree increments, and, of course, adjustable output levels. Beyond that, Helix has included four unique signal processing features. The RealCenter feature adjusts the output level of a center channel speaker in real-time to help create a stable soundstage for both driver and passenger seating positions. The Augmented Bass Processing feature creates subharmonics by analyzing the frequency content of the audio signal to create what they refer to as "lower and darker bass reproduction." The StageXpander feature can be adjusted to widen the soundstage. Finally, the ClarityXpander creates harmonic content to extend high-frequency information lost by digital compression. These processing features are assigned to specific virtual channels.
Depending on your needs, your installer can add remote control options like the Director so you can load different system presets (of which there can be 10), make adjustments to the system or fine-tune the subwoofer output level. If you want a simple subwoofer level control and auxiliary input volume, the URC.3 is a great option. The function of each of the controls is configurable in the DSP PC-Tool software.
Power Digital Signal Processing for Amazing Performance
The Helix DSP Ultra is one of the most powerful and flexible digital signal processors on the market. In the hands of a properly trained installer, its capabilities can dramatically improve the accuracy and realism of your mobile audio system. For more information on the Ultra, visit your local authorized Helix dealer or the MSC America website. Be sure to follow Audiotec Fischer on Facebook and YouTube.