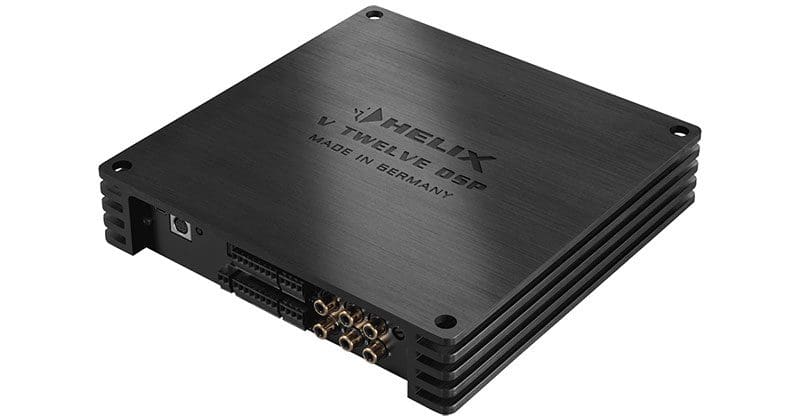 When it comes to choosing an amplifier to upgrade a modern multichannel car audio system, the Helix V TWELVE DSP is a great choice. This relatively compact amplifier is equipped with an advanced 14-channel digital signal processor and a mind-boggling 12 channels of amplification in a single chassis. The inclusion of 12 speaker-level inputs and advanced signal processing features helps ensure that your installer can make virtually any audio system sound amazing.
Helix V TWELVE DSP Platform and Physical Features

The V TWELVE DSP is housed in an extruded aluminum heatsink that measures 8.66 inches square with a height of 1.73 inches. The bottom edge of the amp includes six RCA inputs that will accept up to 8 volts of signal. In the center of the panel are four quick-connect blocks for 12 speaker-level inputs that can handle as much as 32 volts each. A fifth terminal block includes the remote turn-on output for a secondary amplifier. On the far left are a mini-USB port used to connect the amp to your installer's laptop for configuration and a Control Input port for an optional remote like the Director or the Wi-Fi Control options. A single sensitivity control in the top right corner handles input level adjustments. Finally, digital coax and a TOSLINK fiber-optic connections are included for use with OEM integration processors like the Helix SDMI25 MOST interface or units like the NAV-TV Zen Audio.
The speaker-level inputs include Helix's ADEP.3 circuit that generates a dynamic load to a factory-installed source unit or amplifier to ensure that it functions properly. According to MSC, the North American distributor of Helix, the ADEP.3 functions without any of the negative effects that low-impedance resistors can have on a system.
An internal Helix Expansion Card (HEC) slot allows your installer to add an optional Bluetooth module (HEC BT – V TWELVE DSP) or media player module (HEC HD-AUDIO USB-INTERFACE – V TWELVE DSP) to serve as an additional source option.
The other side of the amp has two sets of speaker terminal blocks for the 12 amplification channels and a large power connection block that will accept up to four-AWG wire. A set of RCA output terminals is provided to send processed signals to a second amplifier. Most systems will, if required, use these outputs for a high-power subwoofer amplifier.
The built-in amplifier channels are rated to produce 75 watts of power when connected to a 4-ohm load, 120 watts into a 2-ohm load with all channels driven equally. Because a typical installation will rarely require all of that power on all channels at one time, the Helix V TWELVE DSP has the ability to route current from the power supply where more is demanded to deliver up to 160 watts per channel.  Pairs of channels on the V TWELVE DSP are not bridgeable.
Signal Processing Features

The advanced input mixer on the 14-channel DSP includes two stages, the second of which Helix calls Virtual Channel Processing. The twin mixers allow signals to be combined, routed and processed using their proprietary SFX signal processing features. These features include Dynamic Bass Enhancement and SubXpander that add low-frequency harmonic content to audio signals to make them sound fuller and richer. The ClarityXpander feature adds high-frequency harmonic information to restore sound lost due to digital compression. The StageXpander can be used in conjunction with the RealCenter feature to create a stable soundstage that spans the width of the vehicle and images well from both front seats.  Virtual Processing Channels allow adjustments to be made as an entire channel, avoiding changes in the relationships between drivers.
Helix has recently added what would be described as multizone capability to all their amplifiers and processors that feature Virtual Channel Processing. The amp can be configured to use a pair of analog inputs or one of the HEC cards to feed the second zone of audio for rear-seat passengers or a different room in a boat. Separate attenuation control is available using a new remote control function called rear attenuation.
Of course, each of the 14 output channels includes adjustable frequency and adjustable slope/alignment crossovers up to -42 dB/octave and 30 bands of equalization, selectable between graphic, parametric  and shelf filters, adjustable from +6 to -15 dB in 0.25 dB steps, or even all-pass filters. Adjustments for signal delay, polarity and even phase are also included. The software includes a delay configuration screen with the option for delay time or distance mode settings, as well as five groups of presets to adjust multiple channels simultaneously.
Premium Audio System Upgrade Amplifier
If your vehicle has a premium audio system or one that includes a center channel with an upmixer, your local authorized Helix dealer may suggest that the V TWELVE DSP is the perfect solution to bring that system to life and make it sound the way you want. There isn't another DSP-equipped amplifier on the market with the same features and channels as the V TWELVE DSP. You can find a local dealer by using the MSC America dealer locator. For more information on this amplifier or any of the Audiotec Fischer products, visit their website, Facebook page or YouTube channel.