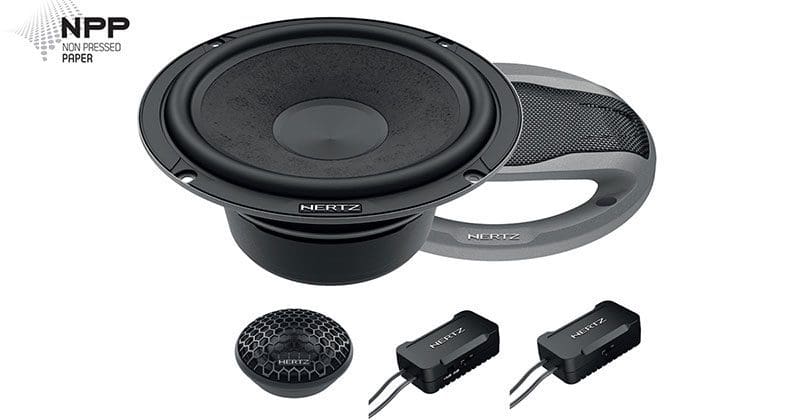 Known for its designs for car audio enthusiasts looking for speakers that sound great and offer exceptional value, Hertz has introduced its new Cento Series of high-performance car audio speakers. Developed using many of the same philosophies and materials as the flagship Mille speakers, Cento (pronounced chen-tow) includes 18 products, with coaxial speakers, two-way component speaker systems and a selection of raw drivers. The series also includes four subwoofers which we'll look at in a future spotlight.
Hertz Cento Coaxial Speakers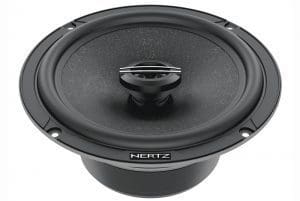 The CX-Series coaxial speaker solutions include 4-, 5.25- and 6.5-inch round designs and 5×7 and 6×9 oval offerings. These speakers feature rubber surrounds on the woofers for excellent longevity and soft-dome tweeters for smooth and detailed high-frequency response. All four driver sets use a Semi-Pressed Paper-Mica (SPP-M) cone design that is both rigid and well-damped. The addition of mica powder aids in increasing both features without adding significant weight. In all but the 6×9-inch CX 690, the tweeters include a feature called Rotary High-Frequency Contour, which allows your installer to angle them toward the driver and passenger for improved high-frequency performance. The CX 690 is a three-way design that uses a 1.58-inch tweeter and an 0.8-inch super-tweeter for smooth sound dispersion.
The upgraded Cento Pro CPK coaxial drivers are available in 6.5- and 6×9-inch sizes. These models offer increased power handling and almost 50% more woofer excursion capability for enthusiasts who enjoy their music at higher volume levels. The Pro drivers use a pressed paper cone that was designed using Finite Element Method (FEM) modeling to ensure smooth and natural sound.
Component Speaker Systems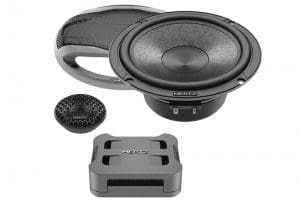 The four Cento component speakers include three 6.5-inch component sets and a 5.25-inch set. The CK165 6.5-inch system is the bread and butter of the Cento line. The woofers combine the same SPP-M cone and 1-inch voice coil from the coaxial series with an inverted dust cap. For high-frequency reproduction, a 1-inch Tetolon fiber soft-dome tweeter is included, and several mounting options are provided to make integrating the system into your vehicle easy for your installer. The CCX 2 passive crossover network offers 0 and -3 dB tweeter attenuation options to help tune the system for each application.
The CK 165 F is a similar 6.5-inch speaker system in terms of the tweeter and crossover but features a shallow-mount woofer with a mounting depth of 1.71 inches as opposed to the 2.46-inch requirement of the conventional woofer. Next in line is the CK 165 L component set. The woofers in this set use a non-pressed paper design for natural balance and solid, controlled low-frequency output.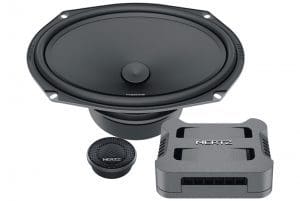 Stepping up to the Cento Pro CPK 165 once again offers additional power handling and more excursion capability. Separate high- and low-pass crossover modules not only improve output capabilities but make installation easier. Also available in the Pro Series is the CPK 690 6×9-inch component set that is a perfect solution for Toyota and Ford vehicles that use a large, oval driver in the front doors. Both Pro-Series sets include the larger CP 25 1.15-inch Tetolon soft-dome tweeter and a lower crossover frequency to help raise the soundstage height.
Cento Component Speakers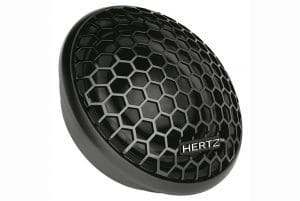 Unique at their price points, the Cento series includes five raw drivers sold in pairs. Your retailer can help you choose from the C 26 or C 26 OE 1-inch tweeters. Both systems include the same 1-inch Tetolon fiber dome design as used in the CK component sets but offer different installation options. The C 26 features a mesh grille for surface mounting and includes an angled mounting bracket. The C 26 OE uses a compact design that is intended to fit into factory tweeter locations behind the factory grilles.
In terms of woofers, your retailer has the choice of the C 165 from the CK 165 component set, the C 165 F from the CK 165 F shallow-mount set or the C 165 L from the CK 165 L set. None of the raw woofer sets come with grilles, but they are available as part number CG 165 and work with all three options.
The raw drivers are a perfect solution for someone who wants to put together a mid-level active speaker system and would work perfectly with an HCP 5D five-channel amplifier, the H8 DSP digital signal processor and an appropriate subwoofer solution.
Experience Cento Speakers at Your Local Authorized Hertz Retailer Today
With so many offerings available, it's well worth a trip to your local specialist mobile enhancement retailer to audition a Cento speaker solution that suits your musical tastes and power handling requirements. For more information, visit the Hertz website or follow them on Twitter, Instagram or check their videos on YouTube.