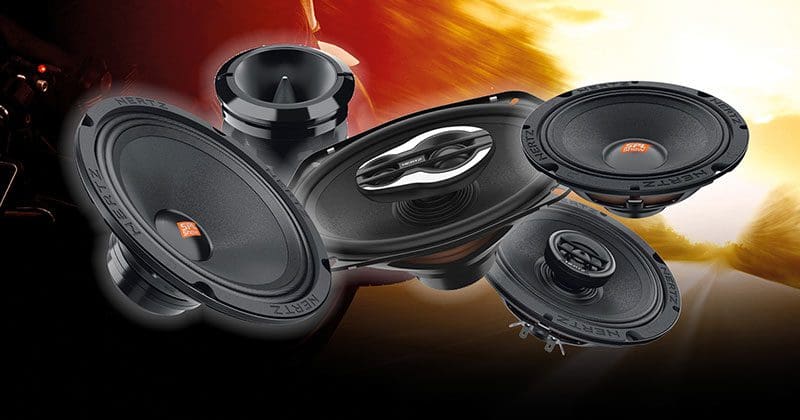 If you enjoy cranking your music, the SPL Show Neo speakers from Hertz might be the perfect solution for your car, truck or motorcycle. Designed with ultra-compact, high-flux neodymium magnets, these speaker solutions are capable of delivering rock-concert volume levels to ensure you hear every part of your music loudly and clearly.
More-Powerful New Magnets
The Hertz SPL Show line has been upgraded with new, stronger neodymium magnets. These N38H magnets are rated for high-temperature applications to ensure the speakers will continue to sound great for years, even after prolonged use at high output levels.
Hertz has designed each of the new SPL Show speakers with weather-resistant materials and properties to ensure they can withstand prolonged exposure to rain and the sun's UV rays. The motor assemblies are treated with a corrosion-resistant electro-coating using a process called cataphoresis.
High-Efficiency Bullet Tweeter
The ST 25A Neo is a compact, high-efficiency, high-frequency compression driver that features an aluminum diaphragm mated to a 1-inch copper-clad aluminum ribbon voice-coil. The unit has a nominal impedance of 4 ohms and an amazing efficiency of 107 dB. The driver is rated to handle 100 watts of power when filtered at 5 kHz with a 12 dB/octave crossover. These same drivers are available in the ST 25K Neo kit version with inline passive crossovers and thread-on metal mesh grilles.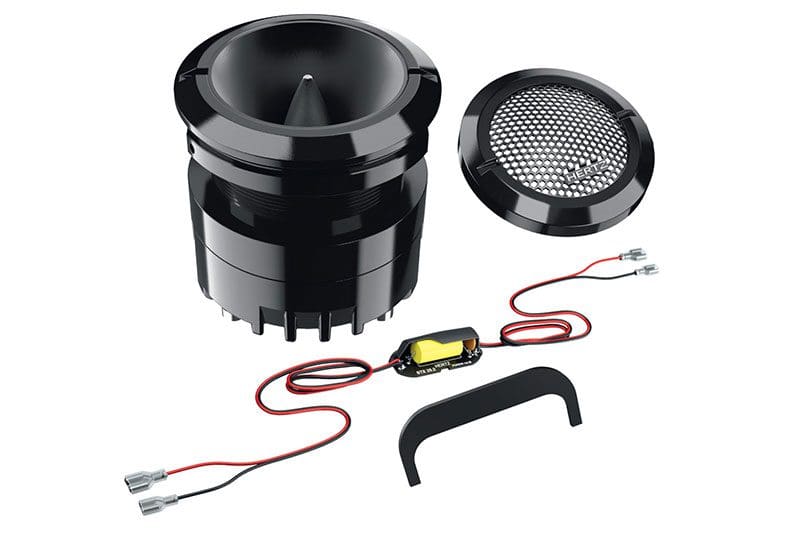 SPL Neo Midrange Drivers
The new Neo line includes 6.5- and 8-inch midrange drivers. Both speakers use a lightweight pressed paper cone that has been treated with a water-repellent coating. Compliance is provided by a double-roll cloth surround and a flat linear spider.
The 6.5-inch SV 165 NEO features a 1.5-inch voice-coil former that is wound to a nominal impedance of 4 ohms. Continuous power handling is rated at 150 watts, with peak power at 400 watts. With a resonant frequency of 120 Hz and an Xmax specification of 1.5 mm, high-pass crossover points around 250 to 300 Hz will ensure maximum output with minimal distortion. Efficiency is specified at 97 dB and the compact neodymium magnet allows for a mounting depth of only 2.25 inches.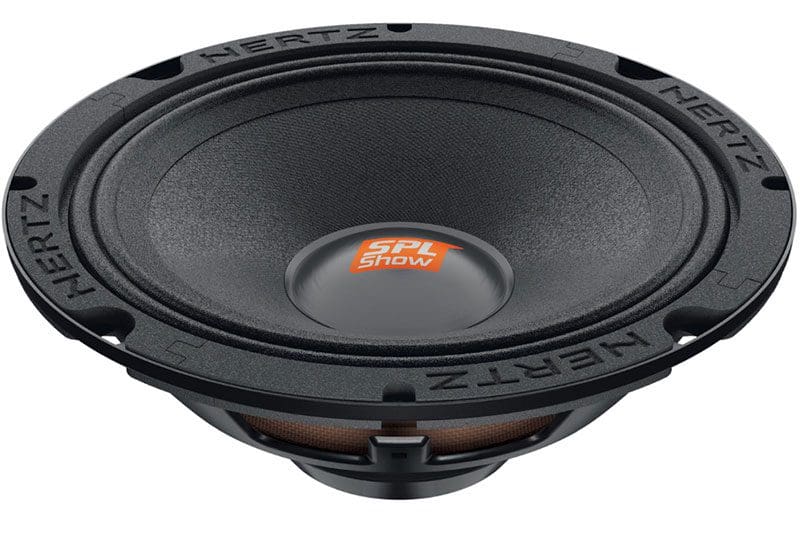 The larger 8-inch SV 200 NEO uses a taller 1.5-inch-diameter voice-coil to increase Xmax to 2.7 mm and power handling to 200 watts continuous or 500 watts maximum. Efficiency also jumps to a mind-blowing 100 dB. Mounting depth for the 8-inch driver is a manageable 3.3 inches.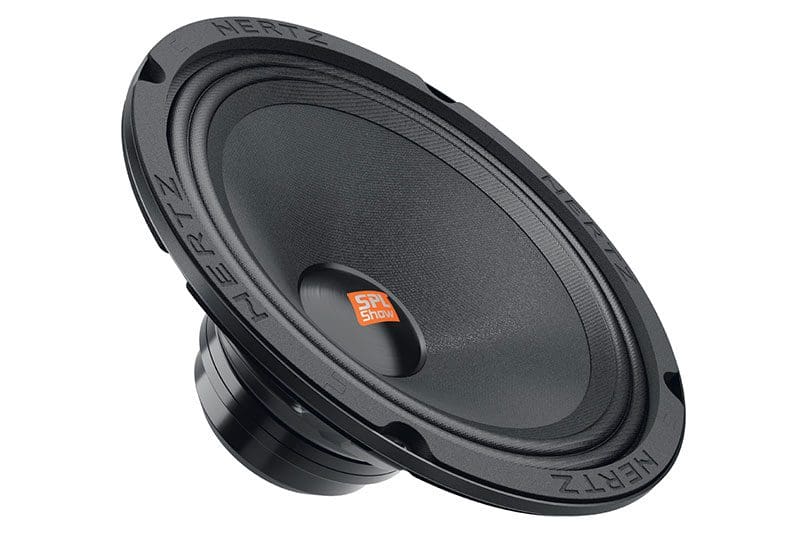 Coaxial High-Efficiency Speaker Solutions
Hertz developed a set of high-output two-way speaker solutions to make upgrading motorcycle audio systems easy, efficient and reliable. The solutions start with the 6.5-inch SX 165 NEO coaxial driver. This two-way speaker features the same weather-treated pressed-paper cone material as the SV 15 NEO. A large-diameter 1.4-inch PEI-dome tweeter provides excellent high-frequency output to beyond 20 kHz. The tweeter is protected with a resettable solid-state protection device to ensure years of reliable operation.
Hertz rates the speaker at being able to handle 100 watts of power when filtered with a high-pass crossover set to 150 Hz at a slope of -12 dB/octave. Peak power handling is 200 watts.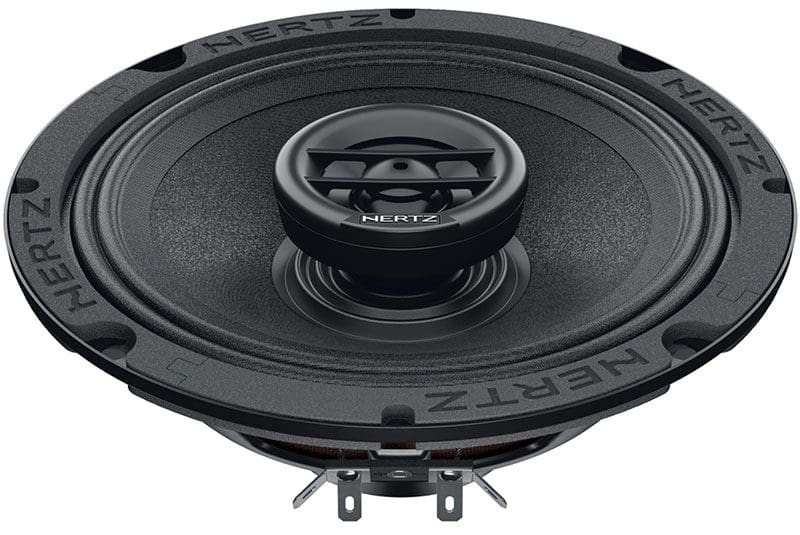 For saddlebag speaker applications on touring bikes, the Hertz SX 690 NEO is a great choice. This 6×9-class speaker features a three-way design with a 0.8-inch super-tweeter and a 1.4-inch tweeter. Both high-frequency drivers use Tetolon dome materials and feature the same resettable protection circuit used on the 6.5-inch driver. A rubber surround at the top edge of the weather-treated pressed-paper cone ensures reliability.
Efficiency is specified at 94 dB and Xmax at 5.5 mm. With lots of excursion capability available from the woofer, the SX 690 Neo can easily play down to 100 Hz or lower, depending on your output expectations. Power handling is listed at 130 watts continuous and 260 watts peak.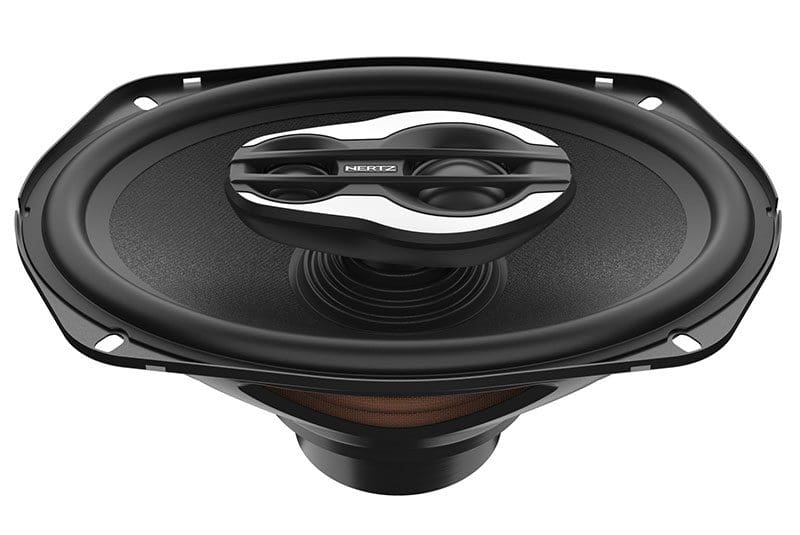 Great Sound with Less Weight
One of the key features of the new NEO speakers is their weight. Compared to their ceramic-magnet brethren, they have much less effect on the handling of your motorcycle. For example, pair of SV 165 NEO weighs 3.96 pounds. A pair of the SV 165.1 comes in at 8 pounds. The SV 200 Neo is 5.3 pounds per pair compared to 12.4 pounds for the SV 200.1.
Turn Your Next Drive into a Concert with Hertz SPL Show Neo Speakers
When it comes time to upgrade the sound system on your motorcycle or side-by-side, or the one in your vehicle, if you want the system to play at extreme volume levels, drop by your local Hertz retailer and ask about the new SPL Show Neo speakers. For more information about Hertz products, visit their website. You can follow them on social media by liking their Facebook page, following their Instagram feed and Twitter, or subscribing to their YouTube channel.