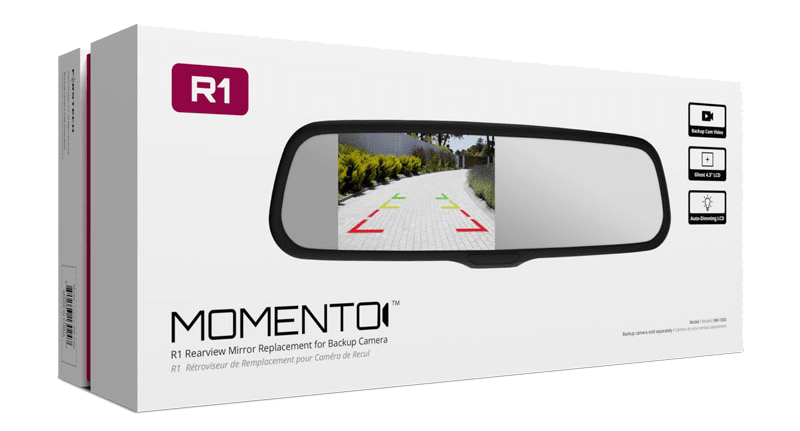 Did you know that about 25% of accidents take place while a vehicle is in reverse? To reduce the chances of injury or accidents, Firstech — maker of Momento in-car camera solutions — has recently introduced a complete backup safety solution. The heart of this solution is the Momento R1 rearview mirror. Let's look at how the Momento backup camera and safety system can help prevent accidents and reduce driver anxiety in a crowded parking lot.
Momento R1 Backup Camera Mirror

The R1 is a 10.5 by 3.2-inch mirror designed to equal the quality, performance and reliability of a factory-installed mirror. During normal use, the mirror works just like the mirror that came with your car or truck. When the mirror detects a video signal from a camera, a 4.3-inch 480 x 272 pixel screen on the left side of the mirror displays the image. The screen is visible through the reflective coating, allowing you to see the camera image clearly, even in bright sunlight. The R1 includes a built-in light sensor that adjusts the display brightness to compensate for day and night operation.
Dual Camera Inputs
The R1 mirror includes two camera inputs. Rearview cameras and a forward-facing parking camera are the most common applications for the R1. Cargo cameras or blind spot monitoring solutions are also popular. In the case of a backup camera, your installer will integrate the camera with your vehicle, so the image displays when you put the transmission in reverse. A backup camera is a great feature for new drivers and makes parallel parking and backing up much easier and safer.
The R1 includes three control buttons on the right side of the screen. The center button gives you access to color, brightness and contrast menus. Giving the center button a quick tap displays the front (Video Input 1) image for 10 seconds. Buttons above and below the center button allow for adjusting the image display settings.
Momento designed the R1 system to be compatible with a wide variety of applications. The kit includes four mounting adapters and the R1 carries a three-year warranty. This installation flexibility means that you don't need to purchase a new vehicle to enjoy the benefits of a backup camera system. Your local mobile enhancement retailer can upgrade almost any vehicle using Momento products.
Camera Solutions from Firstech
Firstech offers three universal camera solutions. The C1 (MR-C100) Backup Cam is an angled, surface-mount camera that provides a 170-degree field of vision. The camera mounts into a round hole and points down and rearward at a 45-degree angle to display everything in front of, or behind the vehicle.
The C2 (MR-C200) camera is a bullet-style camera that is designed for flush- or surface-mount solutions. The camera includes a keyhole mount and a bracket that can be angled for a variety of applications.

Finally, the C3 (MR-C300) camera includes six high-intensity LEDs that light up everything in its field of vision. The C3 kit also includes a license plate mounting bracket to make installation easier for your technician. This camera is perfect for applications when the reverse lights on the vehicle aren't very bright or for use inside cargo vans or compartments where additional lighting may be required.
All three cameras feature an IP68 water intrusion rating, so you know they will withstand Mother Nature and car washes. If you are using these universal cameras with the R1 and their integrated adjustable parking lines, your technician can disable the parking line image built into the camera itself by cutting a wire loop during installation. All three cameras are configurable for normal or reverse-image display, so they can be used on the front or rear of the vehicle, and feature a standard composite video output for use with almost any display. Each of the three cameras also features a one-year warranty.
Momento S1 Parking Sensors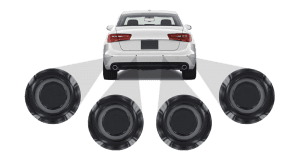 Momento's S1 (MR-S100) parking sensor system is a great addition to the R1 mirror. The S1 system includes four ultrasonic proximity sensors and a compact speaker that produces beeps as you approach an object. Slow beeping commences at a distance of 6.7 feet. When you are less than 3.5 feet away, the beeps occur twice as often. Finally, at 1.3 feet away from an object, the beeps double in speed again to let you know you need to stop. The S1 system provides alerts automatically, rather than requiring you to remember to look at a display for improved safety. Many luxury vehicles include a backup camera and parking sensors for maximum protection.
Park and Maneuver Safely
The number of back-over accidents that take place each week in North America is stunning. Having a backup camera system like the Momento R1, in combination with the C1, C2 or C3 cameras and the S1 parking sensor system, will dramatically reduce the chance of an accident, injury and damage to your vehicle. A backup camera is a great addition to any vehicle and is especially beneficial on a truck, Jeep or SUV where rearward visibility is severely restricted. For more information about any of the Momento safety products, visit www.momentocam.com to find an authorized dealer near you.