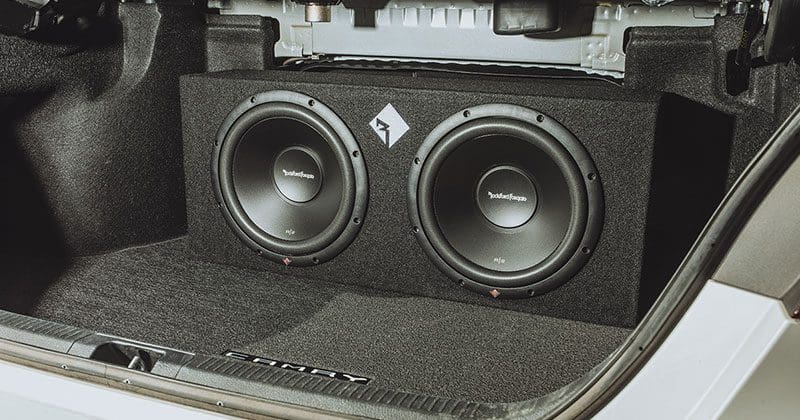 Since the '80s, Rockford Fosgate has had a reputation for delivering big bass for car audio fanatics. Its most recent subwoofer solutions are the Prime Series R2-2X10 and R2-2X12 loaded enclosures. Equipped with a pair of 10- or 12-inch subwoofers, these ready-to-rock subwoofers solutions are a great way to improve the extension and impact of your car stereo system.
Prime Series Subwoofer Enclosures
The R2-2X10 and R2-2X12 are wedge-type enclosures that include two subwoofers in an acoustic suspension (sealed) design. Each enclosure is constructed from 5/8-inch thick MDF to deliver solid bass without adding a huge amount of weight to your vehicle.
The R2-2X10 measures 30.12 inches in width, 12.2 inches in height and is 12.11 inches deep at the bottom. It features a pair of Prime Series R2D2-10 10-inch subwoofers that are wired to produce a 2-ohm load for the amplifier of your choice. The total weight for the R2-2X10 is about 36 pounds. The R2-2X12 is a little larger at 34.06 inches wide, 14.37 inches tall and has a depth of 12.51 inches at the bottom. This enclosure is home to a pair of R2D2-12 subs, which are also wired to a 2-ohm load. The dual-12 enclosure weighs about 43 pounds.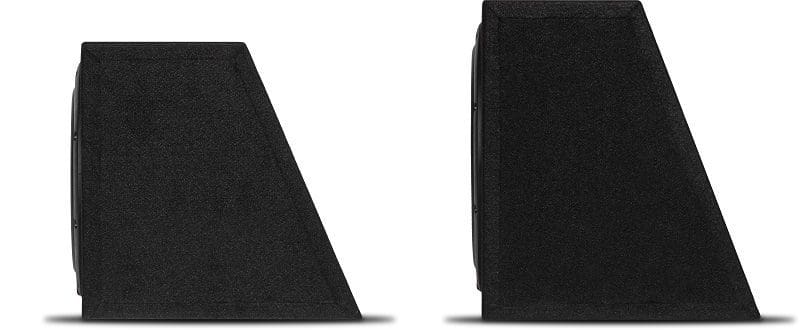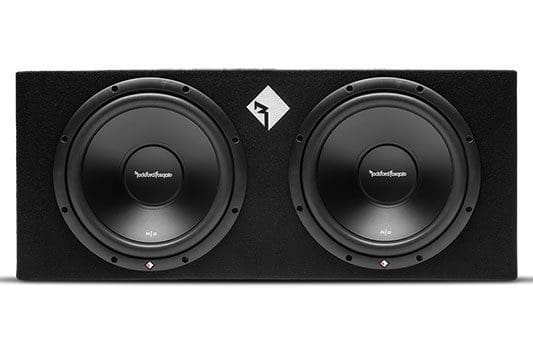 Each enclosure is wrapped in a high-density durable black carpet for a neat and tidy look that won't become frayed and ratty over time. There's a high-current, spring-loaded terminal cup on the left side panel of each enclosure. The terminals can accept 12-AWG speaker cables for efficient power delivery while making it easy to remove the enclosure from your vehicle if the cargo space is needed.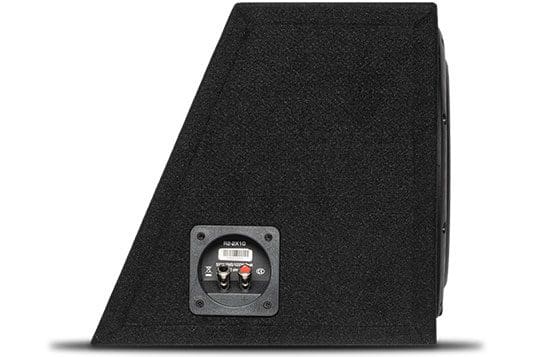 Prime R2 Subwoofers
The R2 Series subwoofers used in the R2-2X10 and R2-2X12 enclosures are based on four-spoke stamped steel frames. The spokes are curved to increase rigidity in what Rockford refers to as its StampCast design. Eight ridges are pressed into the bottom of the stamping to form vents between the motor assembly top plate and the basket. These vents allow hot air to escape from the outside of the black-anodized, 2-inch aluminum voice coil former and eliminate the chance of air under the linear spider from being compressed or rarefied as the cone moves rearward or forward. The extended T-yoke at the bottom of the subwoofer has a large vent to let hot air escape from inside the voice coil and prevent pressure under the inverted polypropylene dust cap. The four 16-AWG tinsel leads of these dual-voice-coil subwoofers are embedded into the spider to eliminate the chance of noise at high excursion levels.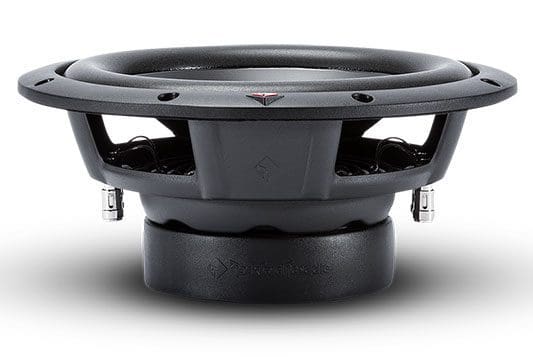 The woofer cones are made from mica-injected polypropylene for an excellent balance of rigidity, damping and thermal stability. An adhesive-bonded foam surround locates the outer edge of the cone in the center of the basket. The basket mounting surface and magnet are adorned with custom-molded PVC trim rings for a clean, classy look.
The Prime R2 subwoofers are rated to handle 250 watts of continuous power with a 500-watt maximum power rating. All models have a specified Xmax of 6.5 mm (0.256 inch) in each direction calculated at the point where the sub reaches 10% total harmonic distortion. All the dimensions and specifications provided by Rockford are compliant with the ANSI/CEA-2031 Mobile Loudspeaker Standard. Likewise, Rockford uses Klippel transducer measurement equipment to optimize its designs for low-distortion, high-output operation.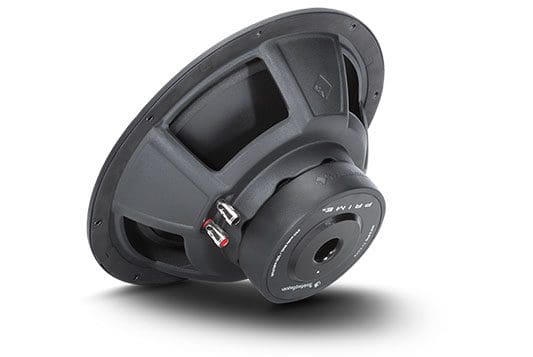 Amazing Bass Brings Your Music to Life
Based on some quick calculations, the R2-2X10 appears to have a net internal volume of just under 1.7 cubic feet and, as such, delivers an F3 frequency around 58 Hz with a total system Q of 0.68. The larger R2-2X12 has an internal volume of approximately 2.3 cubic feet and an F3 of about 53.5 Hz, and a reasonable system Q of 0.875. As such, when combined with the typical cabin gain found in most vehicles, either of these subwoofer solutions will deliver excellent output well into the infrasonic region while cranking out amazing impact in the upper bass frequencies. The low-Q designs will ensure that your bass is solid and musical without significant resonance and distortion so that every genre of music sounds realistic and enjoyable.
If you're shopping for an amplifier to work with either of these enclosures, the 500-watt Prime R2-500X1 is the answer. For a little more clarity and definition, the P500X2 from the Punch series is a good option.

Upgrade Your Car Stereo with a Rockford Prime Series Subwoofer Enclosure
With so many generic subwoofer enclosures on the market, it's hard to know which is the right solution for the subwoofers you have in mind. Rockford Fosgate has taken the guesswork out of adding amazing bass to your vehicle with the new Prime R2-2X10 and R2-2X12 loaded subwoofer enclosures. Drop by your local authorized Rockford Fosgate dealer to check them out. You can learn more about Rockford's complete line of passive and powered subwoofer enclosures on their website, and be sure to follow them on Facebook, Instagram and YouTube for updates on their latest product releases.