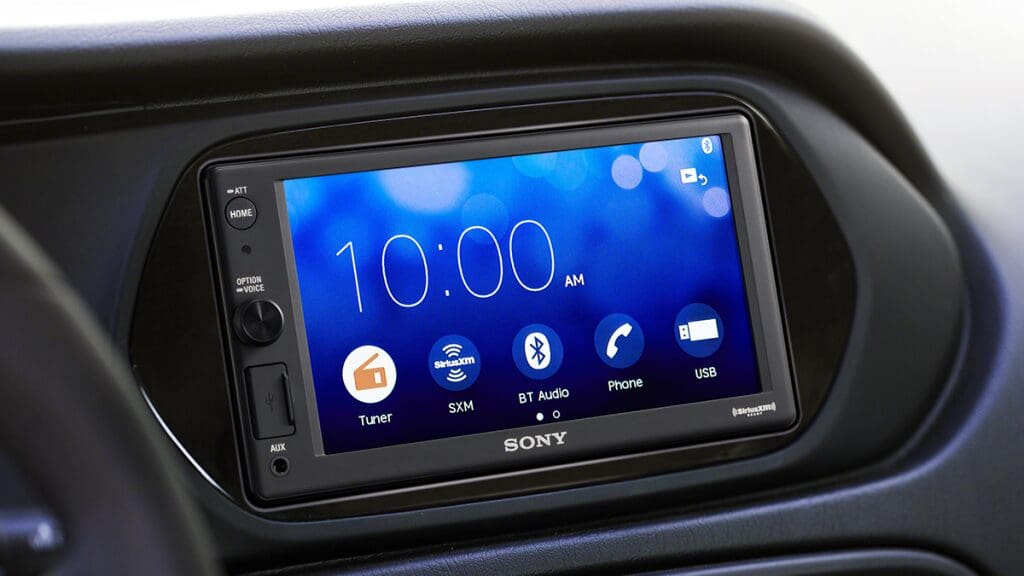 If you are looking for a multimedia receiver for your car or truck with a bright, clear screen and Apple CarPlay smartphone integration, then you'll want to check out the Sony XAV-AX1000. Equipped with a 6.2-inch, touch-sensitive display and rotary volume control on the front panel, the XAV-AX1000 looks great while being easy and intuitive to operate. Let's take a close look at the features included in this receiver.
Apple CarPlay Smartphone Integration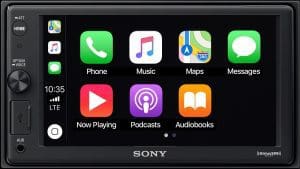 No technology has made communication easier for drivers behind the wheel than Apple CarPlay. Simply connect your iPhone to the USB port on the front panel and within seconds, you can make phone calls or send text messages. Support for streaming music services includes Pandora, Apple Music, iHeartRadio, Tidal, and several audiobook solutions. Apple Maps, Google Maps, and Waze navigation applications offer easy-to-understand, turn-by-turn directions to the destination of your choice. There's no need to scroll through complex menus or use proprietary commands to get the information you want, thanks to the Siri digital assistant interface. Just press and hold the volume control for two seconds, and the XAV-AX1000 listens to your commands. You can keep your eyes on the road to ensure you'll arrive at your destination safely and efficiently.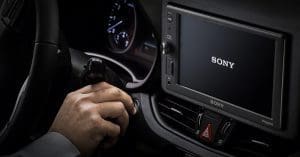 The XAV-AX1000 includes Bluetooth hands-free and audio streaming functions, so your Android phone can still be used safely. The USB port on the front of the radio is compatible with a memory stick containing MP3, WMA, AAC, WAV, and FLAC audio files as well as WMV, MPEG-4, Xvid, and MKV video files at resolutions up to 1280×720 pixels and 30 frames per second, depending on the file format. You can also connect your smartphone to the USB port to recharge the battery with up to 1.5 amps of current.
A built-in AM/FM receiver allows you to enjoy local terrestrial radio programming and includes RDS PTY so you can see artist and song title information from supporting stations. Support for the optional SXV300 SiriusXM tuner means you can listen to SiriusXM satellite radio whenever you are in North America. A 3.5mm stereo auxiliary input on the front panel rounds out the audio source options.
Sony XAV-AX1000 System Configuration and Installation Features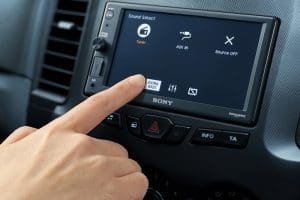 The XAV-AX1000 includes adjustable high- and low-pass crossovers that let your installation technician configure the output of the front and rear channels for use with a subwoofer. You can add external amplifiers using the 2.0-volt front, rear and subwoofer outputs; the EQ10 10-band graphic equalizer will let you fine-tune the frequency response of your sound system for exceptional realism. The built-in, 20-watt-RMS-per-channel amplifier helps to ensure your music will sound great.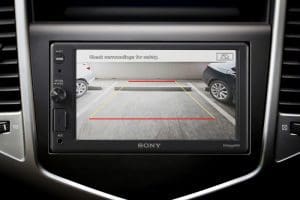 The XAV-AX1000 includes a rearview camera input that triggers automatically when the vehicle is in reverse so you can see everything behind you. Your installer can switch between normal and reverse camera images, so the system works with any NTSC-format camera on the market. The programmable steering wheel control input allows either an aftermarket steering wheel control interface input or allows your installer to connect your new radio directly to the audio buttons on the steering wheel for seamless integration. Sony includes an external microphone to optimize the accuracy of hands-free calling and voice recognition features. Finally, the compact RM-X170 IR remote control allows backseat passengers to play DJ or control the sound system quickly and easily.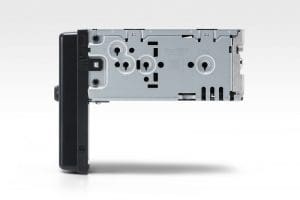 The XAV-AX1000 features a shallow single-DIN chassis that makes it incredibly easy for your installer to mount this radio and any required interfaces in the dash of your vehicle.
Experience the Sony XAV-AX1000 at Your Local Mobile Electronics Specialist Today
If you are looking for an easy-to-use 2-DIN multimedia receiver, then drop into your local mobile electronics specialist retailer and ask for a demonstration of the Sony XAV-AX1000. Be sure to bring your iPhone so you can experience just how easy it is to use CarPlay.