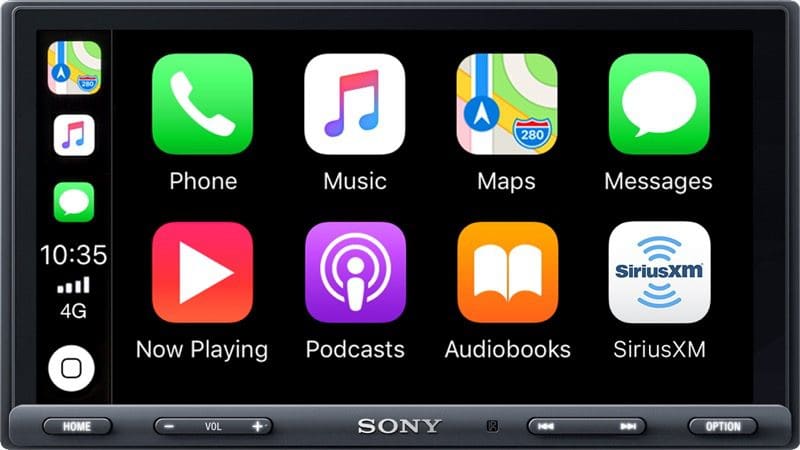 Sony has been steadily increasing its share of the head unit market with the introduction of feature-packed solutions that continue to give consumers the connectivity and source options they want. The latest addition to Sony's source unit offerings is the XAV-AX5000, a 6.95-inch multimedia receiver with Apple CarPlay, Android Auto and Bluetooth. The XAV-AX5000 is the first large-screen source unit from Sony that includes Apple and Android smartphone integration technologies and, given its feature set, it should be another huge hit.
Large 6.95-inch Display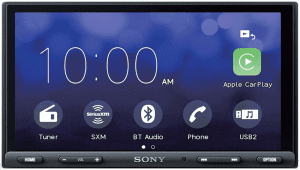 Sony calls the display on the AX5000 bezel-less. The trim panel around the display is only a few millimeters thick and gives the unit a very clean and tidy look once installed. The display has a resolution of 800 by 480 pixels and uses a capacitive touch panel. Unlike resistive touch panels that have a plastic texture, a capacitive display is the same as what we are used to on our smartphones — crystal-clear images with a very responsive touchscreen interface.
At the bottom of the screen is a row of buttons for volume, track selection, Home and Option functions. The Home button serves double duty as a system mute function when held for one second, and the Options button initiates the voice-recognition feature of CarPlay or Android Auto when pressed when a corresponding phone is plugged in.
The chassis of the XAV-AX5000 is a single-DIN, shallow-mount receiver on top, with nothing on the bottom. This chassis design makes installation much easier for your installer than conventional full-size,  double-DIN source units. The XAV-AX500 design allows it to be installed into newer vehicles that have less room behind the factory radio, or require integration harnesses to be tucked behind it.
Smartphone Integration Technologies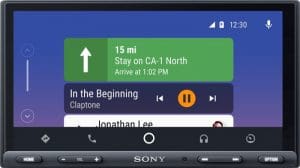 As mentioned, the XAV-AX5000 includes Android Auto and Apple CarPlay smartphone integration software. If you haven't experienced these interfaces, they make it very easy to make phone calls, listen to and send replies to text messages, choose the music you want or get navigation directions to almost any address in North America. The interface uses Siri or Google Assistant voice recognition software to perform the majority of functions, so you can keep your eyes on the road and your hands on the wheel.
Entertainment Options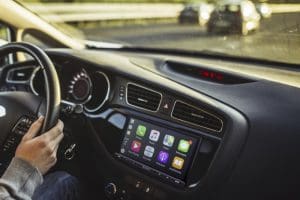 The XAV-AX5000 includes two USB ports on the rear of the chassis. USB 1 is compatible with iPhone and Android smartphone devices for CarPlay and Android Auto. USB 2 takes care of connecting a USB memory stick to to play MP3, WMA and FLAC digital media files. USB 1 supports WAV, ACC, MPEG-4, WMV, MKV and Xvid files as well. Audio files can have a maximum sampling frequency of 96kHz and video files can have a maximum resolution of 1280×720 pixels.
The unit includes a Bluetooth 3.0 transceiver for hands-free calling and audio streaming. The Bluetooth A2DP Profile 1.3 and AVRCP 1.3 make it easy to select tracks from compatible Bluetooth devices. You can upgrade the system with an SXV300 SiriusXM tuner module for satellite radio. The system doesn't play CDs or DVDs, and there is no auxiliary input connection.
Audio and Signal Processing Features
The unit includes an internal four-channel amplifier rated at 20 watts continuous and 55 watts maximum output. Front, rear and subwoofer preamp outputs rated at 2 volts make it easy for your installer to add high-power amps to the source unit to expand the performance of your entertainment system even further.
Sony has included its EQ10 10-band equalizer to allow for system fine-tuning. The Dynamic Stage Organizer (DSO) provides signal processing presets to make it sound as though you are at a live performance with the musicians out in front of you, rather than hearing music coming from each speaker. Electronic high- and low-pass crossovers and a feature called Extra Bass are also part of the tuning options.
Vehicle Integration Features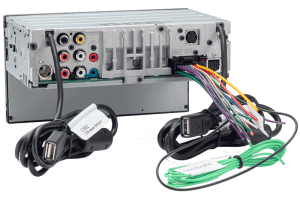 The XAV-AX5000 includes a dedicated backup camera input with trigger wire to allow you to see objects or people behind your vehicle when parking or maneuvering. The system also includes an external Bluetooth microphone for excellent voice recognition and Bluetooth call quality. Finally, the system is compatible with the majority of factory-installed steering wheel mounted audio controls using a third-party interface, or by using the Custom Steering Wheel Control set-up on the radio itself.
Premium Multimedia Solution
The final feature worth discussing is the new system processor. This upgraded microcontroller makes the XAV-AX5000 as much as 250 percent faster to respond to commands and gestures as compared to previous models. Imagine an iPhone 8 compared to an iPhone 5 or a Galaxy S9 compared to an S5. Access to features and voice-control commands are lightning-fast.
If you are considering upgrading the infotainment technology in your vehicle, drop by your local authorized Sony retailer and ask for a demonstration of the XAV-AX5000.