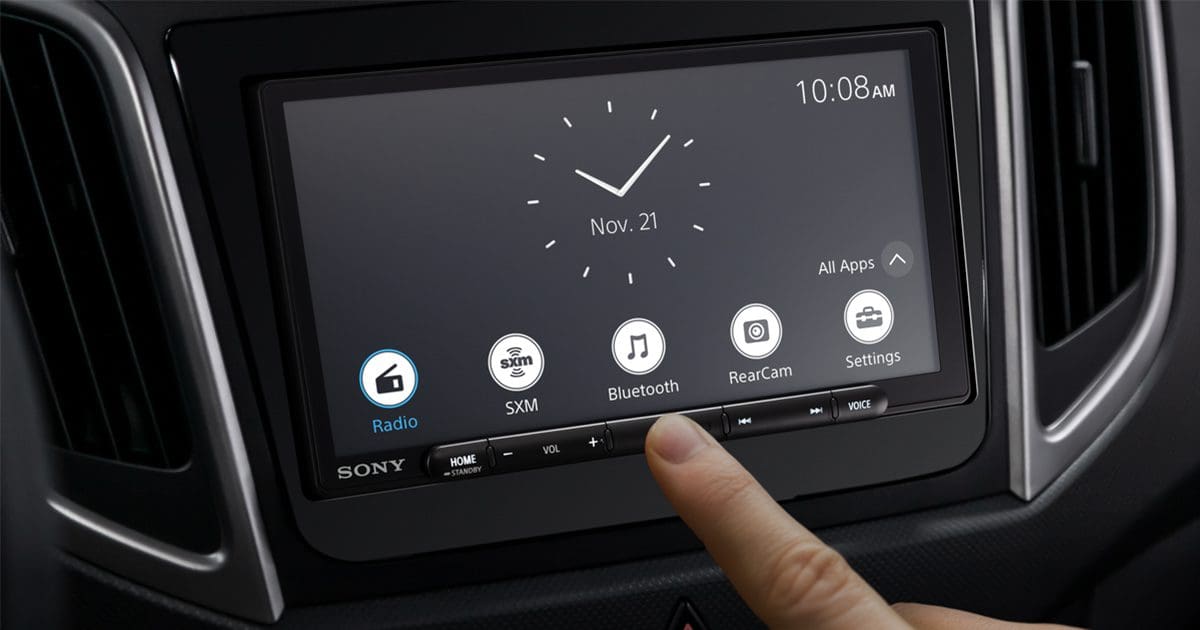 Hundreds of audio-video receiver options are available to upgrade your car's or truck's entertainment system. Selecting one that's easy to use, reliable and sounds great is no easy task. The car audio team at Sony has combined the most sought-after features with state-of-the-art technologies to create the XAV-AX6000 digital media receiver. This radio includes wireless Apple CarPlay and both wired and wireless Android Auto, so your smartphone's voice recognition and internet-connected features become a crucial part of providing you with the information and entertainment you want while driving.
Sony XAV-AX6000 Source Information
Most owners will connect their Sony XAV-AX6000 to their Android or Apple phone using Android Auto or Apple CarPlay to stream music from Pandora, Spotify, iHeartRadio or Tidal. You'll also have the option of playing music files stored directly on the phone, which can be accessed using simple voice commands. Both Apple and Android-based phones can connect wirelessly to the radio using a Wi-Fi connection, so there are no cords or cables to worry about each time you get in or out of the vehicle. You can also use these smartphone connectivity solutions to get detailed, turn-by-turn navigation directions to almost any address, business or landmark in North America using Google, Waze or Apple maps. Both systems allow you to check your schedule, make phone calls, listen to incoming text messages and dictate a reply – all while keeping your eyes on the road and your hands on the steering wheel.

The XAV-AX6000 includes an AM/FM receiver with RDBS station information display. Users can connect a USB mass storage class device to play MP3, WMA, ACC, FLAC, WAV, ALAC or DSF/DSDIFF audio files with sampling rates up to 768 kHz (depending on the file format). The USB-C port on the rear of the chassis provides up to 3 amps of current to recharge your smartphone efficiently when connected. The XAV-AX6000 also has a micro-HDMI port on the back of the chassis so that you can connect a smartphone, computer or game system to the radio as an external multimedia source. Bluetooth audio streaming with support for high-resolution LDAC is built into the radio to maximize the sound quality of wireless audio playback on supported devices.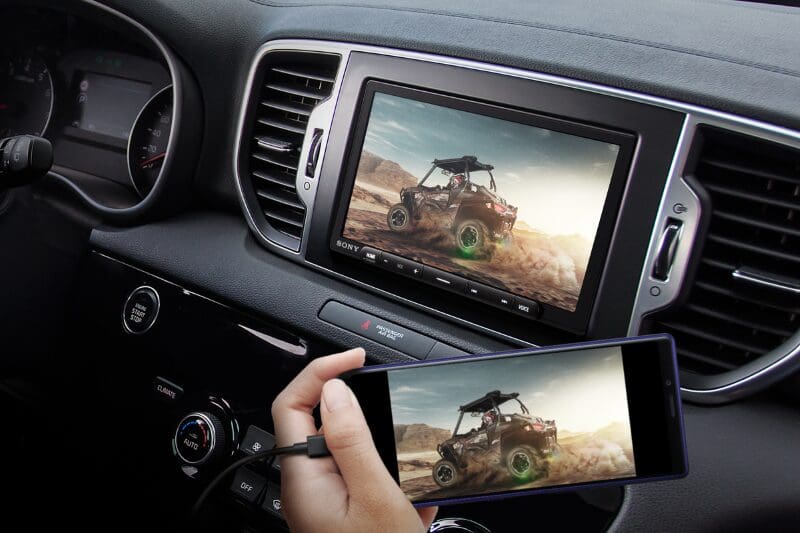 Connectivity and Control Options
The XAV-AX6000 features a 6.95-inch display with a capacitive-touch interface. The screen assembly is integrated into a bezel-less design that looks as though it belongs in the dash of your car, truck or SUV. A set of six hard buttons is included at the bottom of the screen to make volume, source selection, track selection and voice recognition activation easy without having to look at the radio.
In terms of audio features, the radio has a 20-watt-per-channel amplifier built in and can be connected to external amplifiers using the 5-volt front, rear and subwoofer preamp outputs. The XAV-AX6000, the XAV-AX4000 and the XAV-9500ES offer high- and low-pass filters on all four channels with slopes that are adjustable from -12 to -48 dB/octave. Your installer can fine-tune the installation with the five-channel time alignment settings and the 14-band graphic equalizer. Many users will appreciate the ability to change the background wallpaper to a JPEG image from a USB memory stick.

A backup camera input is also included to make it easy to see everything behind your vehicle while parking or maneuvering. The backup camera image will display automatically when the transmission is in reverse or can be selected manually from the source menu if you need to check on a trailer.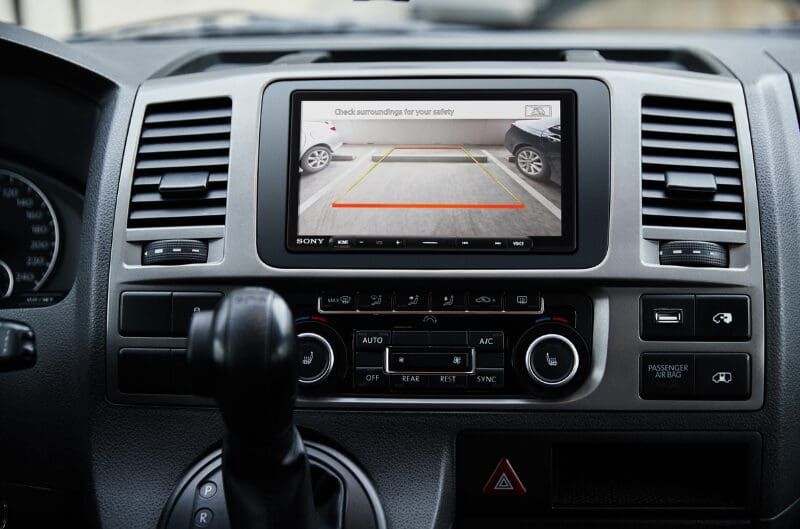 Sony has included support for the iDatalink Maestro RR and RR2 integration system. These modules allow the radio to talk to the computer network in your car to display information like engine speed, vehicle speed, coolant temperature and much more. Select applications include information like tire pressure, battery voltage and even climate control adjustment. Check with your local Sony retailer to learn more about your vehicle's Maestro compatibility and features.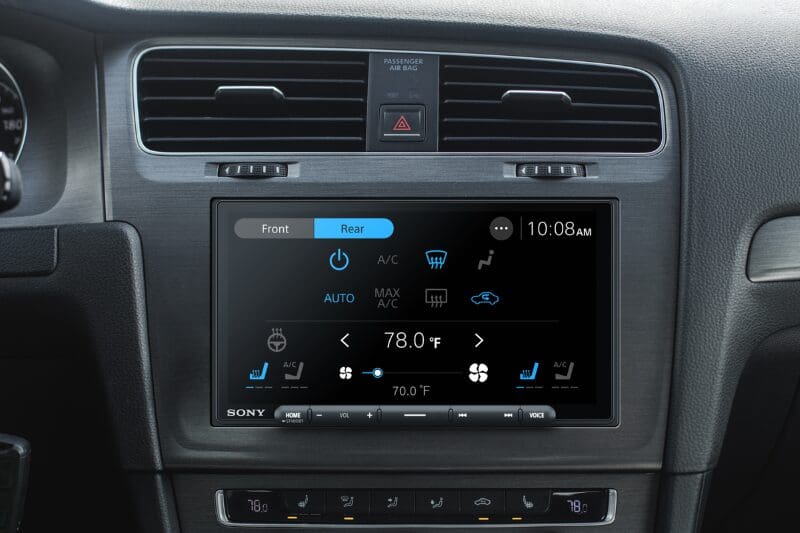 Upgrade Your Entertainment System with Sony
If you're looking for a new radio to upgrade the sound quality, features and technology in your car, truck or SUV, drop by a local authorized Sony retailer and ask about the XAV-AX6000. Be sure to bring your smartphone to experience how intuitive and responsive the system is. To learn more about Sony car audio products, check out the Sony Car and Marine Audio website. You can also follow Sony on Facebook, Instagram and YouTube to keep up with their latest product releases and new information.