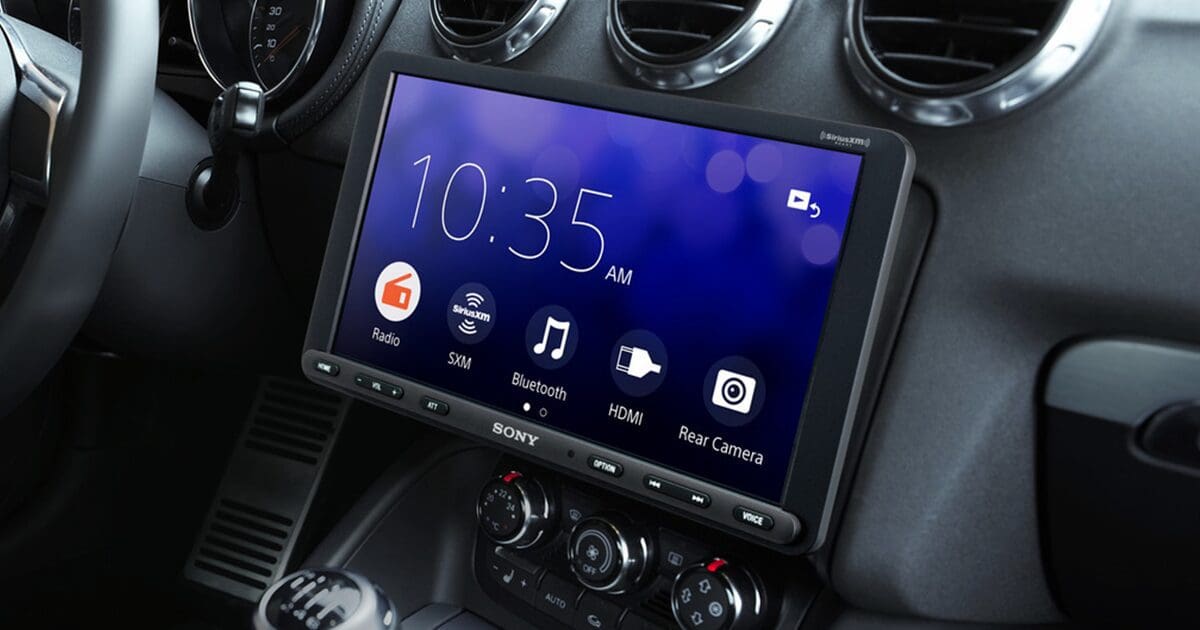 When it comes to floating-face or T-style radios, there are more options than ever. The Sony XAV-AX8100 combines all the most sought-after features with an 8.95-inch screen that will look perfect in your dash. Whether it's staying connected with Android Auto and Apple CarPlay smartphone integration or having support for all your favorite digital media files to entertain you on a long drive, this solution has all the bases covered.
8.95-inch Floating Face
The center point of the XAV-AX8100 is its large 8.95-inch color touchscreen. The display has a resolution of 800 by 480 pixels and has been treated with an anti-glare coating to help ensure that its graphics are clear in bright sunlight. At the base of the screen are eight physical buttons that provide quick and easy access to source selection, volume control, track selection and voice recognition features. As with all Sony multimedia receivers, the styling and colors are specifically designed to create a look that's right at home in the dash of your car or truck.
One of the big upgrades to the XAV-AX8100 over its predecessor is the inclusion of an HDMI input jack on the bottom of the display. Located just under the volume control rocker switch, the input allows you to connect a laptop, game system or media player to access while the vehicle is parked and the parking brake is set.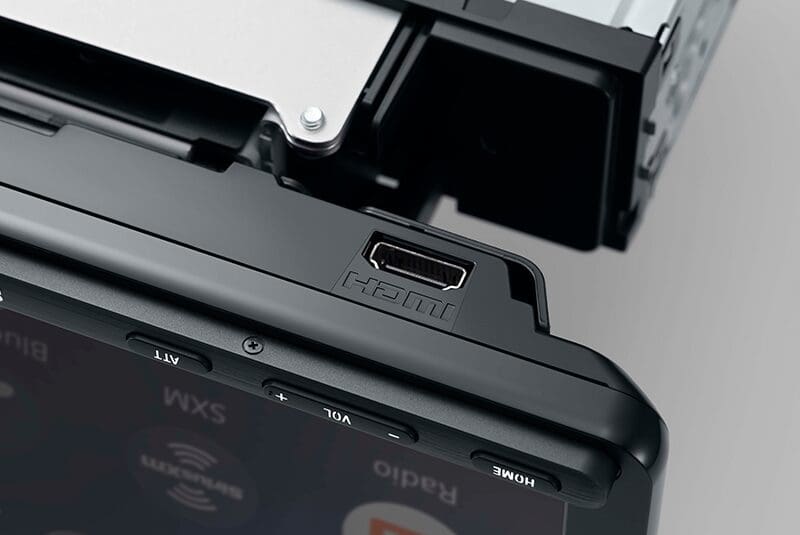 Smartphone Integration Technologies
Apple CarPlay and Android Auto smartphone integration remain at the top of the feature list for the 8100. Using the voice recognition features of your smartphone and its internet connection, you can make phone calls, send text messages or request navigation directions without having to enter information on the screen. Instead, press the voice button on the radio and ask for what you want. Your phone will take care of the rest.
The Sony XAV-AX8100 also includes support for Weblink. When installed on your Android or iOS-based smartphone, Weblink allows you to display images from many popular applications on the radio screen. In addition, touchscreen commands from the system are relayed back to your smartphone if the application is compatible, so navigating app menus is intuitive and seamless.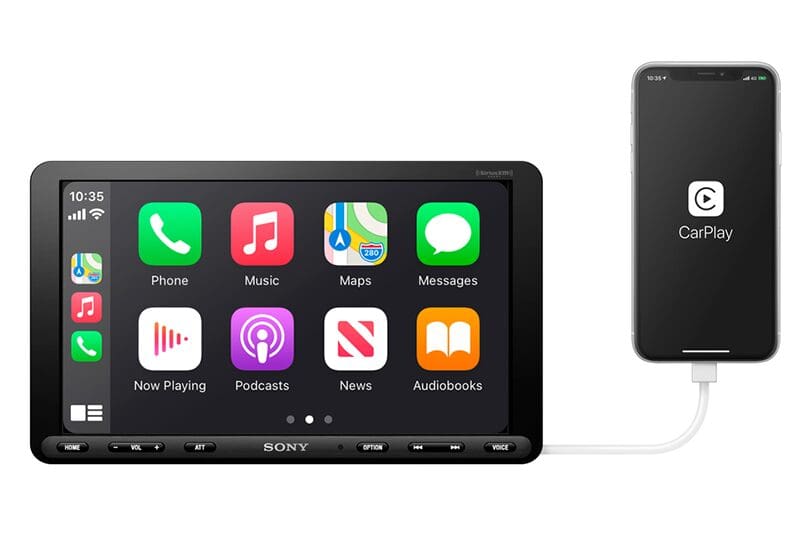 Sony XAV-AX8100 Audio Features
This media device includes an AM/FM receiver and one USB port for your smartphone or a USB memory stick. The system will play MP3, WMA, AAC, WAV and FLAC audio files, along with MP4, WMV and MKV video files (when parked). Bluetooth hands-free calling and audio streaming are also built in, and the integration features provide direct access to iHeartRadio, Pandora, Spotify and Tidal streaming services. In addition, your authorized Sony retailer can add an SXV300 SiriusXM satellite radio receiver to deliver non-stop entertainment from coast to coast.
The XAV-AX8100 has a four-channel amplifier that can deliver up to 20 watts of power to each speaker. The front, rear and subwoofer preamp outputs are rated at 5 volts and include adjustable electronic crossovers. In addition, Sony includes their EQ10 10-band equalizer, the Extra Bass loudness feature and Digital Soundstage Organizer (DSO) processing to let you fine-tune the sound of your car audio system.
The radio is based on a single-DIN chassis, which will fit in vehicles that weren't previously compatible with double-DIN aftermarket radios. Your installer can adjust the screen angle, extension and height so that the radio looks great and is easy to use. From an integration and safety standpoint, the XAV-AX8100 is compatible with most steering wheel audio control interfaces, and it includes a backup camera input with a reverse trigger wire.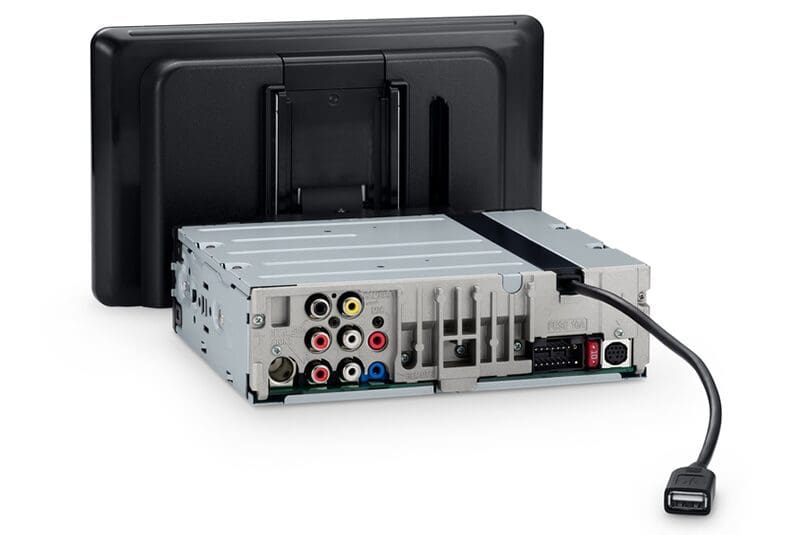 If you're looking for a reliable, high-performance radio upgrade for your car or truck, drop by your local authorized Sony car audio retailer and ask for a demonstration of the XAV-AX8100. Be sure to bring your smartphone to experience the voice command features. For more information about this radio and the other fantastic car audio upgrade products from Sony, visit their website. Also, be sure to follow them on Facebook page, Instagram and YouTube for the latest updates and new product releases.