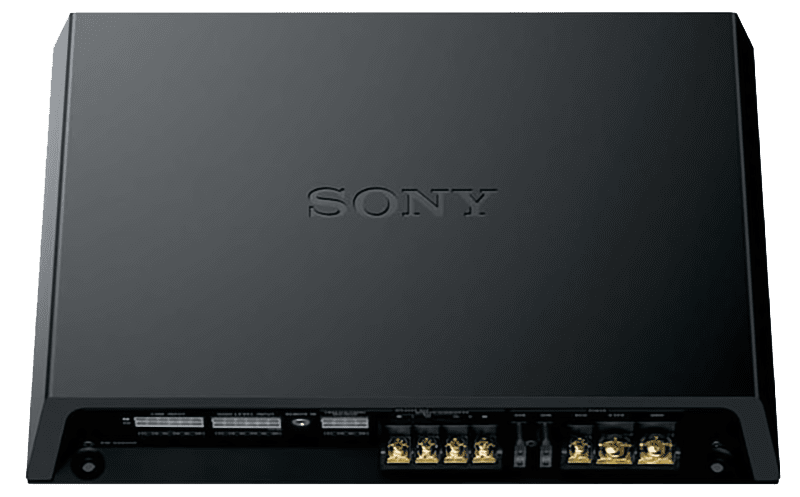 Sony introduced its new six-channel XM-GS6DSP amplifier at the 2018 Consumer Electronics Show. This amplifier is targeted at OEM integration and upgrade solutions. It delivers up to 45 watts of power from its four main channels and up to 600 watts from the pair of subwoofer channels. This amp combines easy-to-use analog crossovers and integrated digital signal processing for time correction and equalization to proficient installers to create an impressive listening experience.
Ultra-Efficient, High-Power Amplification

Most factory-installed source units only provide 18 to 20 watts of power. The XM-GS6DSP will serve up 45 watts of power from its four main channels to give your music an extra kick. This power level is the perfect complement to factory-installed speakers or an upgrade like the Sony XS-GS1621C 6.5-inch two-way components we highlighted in 2017 or the new XS-GS1631C 3-way component set. The subwoofer channels of the amplifier provide 90 watts of power per channel into 4 ohms and are bridgeable into a 2-ohm load to provide an impressive 600 watts of power. All power specifications are compliant with the CTA-2006 standard and represent measurements taken at no more than 1 percent distortion using a 14.4V power supply.
Signal Processing Features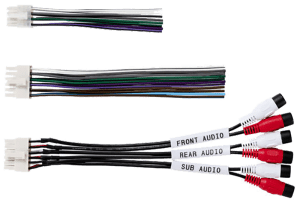 The XM-GS6DSP includes dedicated six-channel preamp and speaker level input connections on Molex plugs. The preamp input will accept up to 6V of signal and the speaker-level inputs will take as much as 12 volts. The tweeter/front channels include an optional high-pass filter that is adjustable from 500Hz to 4kHz. The mid/rear channels include a 50 to 500 Hz high-pass filter and a 500 to 4kHz low-pass filter. A three-position switch allows for full range, high-pass or high- plus low-pass operation. Finally, the woofer/subwoofer channels include an optional 50 to 500Hz low-pass filter and an adjustable bass-boost circuit that adds up to 10dB of boost. The woofer/subwoofer channel is rated to play from 20Hz to 10kHz.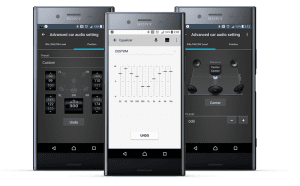 The onboard DSP processor is accessible by a Bluetooth connection from your smartphone using the Sony | Music Center application. The application allows your installer to fine-tune the 4.1-channel signal delay and fader/balance controls to adjust the output of each channel to provide accurate staging and imaging in your vehicle. A 10-band equalizer is yet another tool available to improve the performance of the system. The subwoofer level control is also adjustable from your smartphone, so you can fine-tune your system for the specific track you are enjoying.
As with many Sony | Music Center-compatible devices, you can stream high-resolution audio directly from your smartphone to the amplifier. This feature eliminates the necessity to upgrade your head unit to achieve stunning sonic performance.
Elegant and Compact Design

The Sony XM-GS6DSP measures a mere 11.6 by 7.85 inches and is 2 inches thick, which is perfect for installation under a seat or behind a panel in the trunk. All of the connections and controls are along a single side of the amp, making it easy to install and configure. The power terminals will accept 4 AWG spade connections, and the subwoofer channels can handle 12 AWG spades without any problem.
Internally, the amp uses dedicated power supplies for the subwoofer channels and the four main channels. Large, high-quality capacitors provide energy storage for each section of the amp. The Class-D output stage uses surface-mount switching devices clamped between the circuit board and the top of the heat sink. Large, square conductor inductors and premium quality capacitors on each main channel help to ensure that radio reception won't be affected when the amp is working hard.
Unique Applications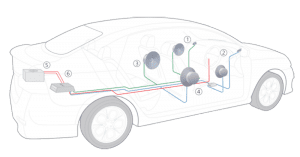 As mentioned, the XM-GS6DSP is an ideal amplifier for most OEM upgrade solutions. You can power a set of front and rear speakers from the main channels, then add a subwoofer to enhance low-frequency output. Alternatively, in a three-way configuration, the flexible crossovers afford you the choice of a two-way front stage using a set of woofers and tweeters, or you can build a three-way stage using passive filters between the midrange drivers and the tweeters. The latter is a nice upgrade that provides excellent musical clarity and stage height in your vehicle. If you don't want a subwoofer, but still have room for a 3-way front stage, the extended frequency range capabilities of the woofer/subwoofer channels can be used to power six speakers in a fully active configuration. Adding a second amp, rear speakers and a subwoofer would make for a stunning listening experience.
The Sony XM-GS6DSP is an amplification solution that will provide everyone from the most casual of listeners to discerning enthusiasts with an impressive performance. The combination of analog filters and digital processing maximizes the feature-to-cost ratio to provide a hard-to-beat solution that is suitable for a wide variety of applications. If you are in the market for an amplifier for your system, drop by your local authorized Sony dealer and ask for a demonstration of the XM-GS6DSP today. It will be well worth your time.