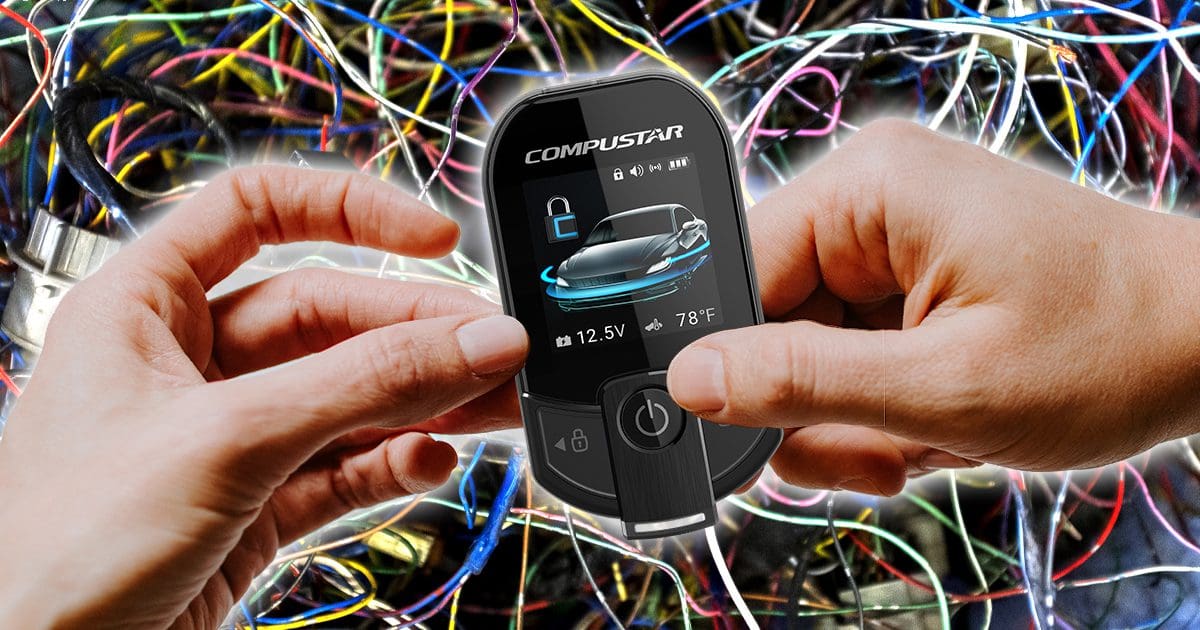 Did you know that the quality of your vehicle's remote car starter installation plays a significant role in its reliability and performance? It isn't enough to have a starter system that works when your car leaves the shop. Every connection must withstand temperature and humidity changes while putting up with vibrations and jostling. You might be surprised if you think the least expensive option will be a reliable one.
Remote Start System Hardware
These days, the top brands in the remote starter industry have been doing this long enough that their hardware platforms are quite stable. At a component level, the microcontrollers, relays, power supplies and antennae can withstand the challenges of modern vehicles. They'll put up with low batteries with minimal fuss and can handle sudden changes in voltage if you get a boost from a friend or the auto club.
How this hardware is integrated into your vehicle varies dramatically from shop to shop and even from one technician to another. Many vehicles have application-specific harnessing available to simplify the installation and reduce the number of wire-to-wire connections. These harnesses cost a little but remove the variables in how the technician makes connections. A loose wire may prevent the starter system from functioning or the vehicle from starting with the original key or fob.
Choose Your Remote Starter Installer Wisely
Honda Canada trademarked the phrase "Don't open your hood to strangers" in 1997. Their philosophy of wanting only experts to work on your vehicle makes sense, even in a regulated industry like automotive service centers. This logic is ideal for those considering a remote car starter installation for their car or truck. Let's discuss purchasing the right remote car starter and picking a shop to integrate it into your vehicle correctly.
1. Determine What Type of Remote You Want
If you have a vehicle with a power trunk or hatch release, you will want a multi-button remote control. Single-button remotes are great for starting and lock control but can't send commands for options. A multi-button remote can pop the trunk, activate power sliding doors or even be programmed to roll your windows up or down.
2. Consider Options and Accessories
Remote car starters do much more than start your vehicle. High-quality systems will include a temperature sensor that can activate a rear-window defroster, a heated steering wheel or heated seats. Think about the options you have in your vehicle and ask about controlling them during the system design conversation. Many remote car starters can be upgraded with security features like a siren and shock/motion sensors. If you are worried about damage, vandalism or catalytic converter theft, this is a good upgrade option.
3. How Much Range Is Required?
The range is the distance between where you live or work and where you park your vehicle. A low-power system might be adequate if the car or truck is in the driveway. If you live in an apartment or townhouse, you may need a system that offers 2 or 3 miles of range to communicate with the vehicle from your home.
4. Do You Want Two-Way Communication?
High-quality remote start systems offer remotes that communicate with the vehicle and can indicate when commands have been received and executed. Some of these remotes have designs with LEDs and a beeper that lets you know when the doors have been locked or when the system has started the vehicle. Other more elaborate systems include an LCD screen that displays graphical icons. The LCD remotes can often show the battery voltage and interior temperature of the vehicle they're connected to.
5. Do You Want a Telematics Upgrade?
Telematics systems are more commonly known as smartphone remote solutions. You can upgrade your starter with a communication module that uses the local cellular data network to receive commands from your smartphone. Premium service plans add the ability to track your vehicle using GPS and configure location-based alerts. A telematics system is an excellent choice if you want effectively unlimited range.
6. What's the Warranty?
Be sure to understand the warranty on the system you are purchasing. Reputable shops typically offer a lifetime warranty on their installation. The remote start hardware typically comes with two levels of warranty. The main control module usually has a lifetime warranty, and the accessories like interface modules, remotes and antennae might have one- to three-year coverage against manufacturing defects. Keep in mind that a damaged remote isn't something that's covered under warranty. If it's not water-resistant (the better solutions are) and you drop it in a puddle or snowbank, you'll have to purchase a new one.
7. Ask About Installation Practices
Here's where you start to learn about the quality of the shop you're dealing with. Ask what they do to prepare your vehicle for system installation. The best shops in the country have strict policies about seat covers, steering wheel covers and floor mats to protect the interior. Those shops will typically connect the vehicle battery to a charger while it's being worked on to ensure that it leaves in better condition than when it arrived. Many shops have a check-in and check-out inspection process. They take photos of the vehicle and test key systems to make sure everything works before the car enters the bay. They repeat those checks before the vehicle leaves to verify that everything is working correctly.
Many premiere shops also have subscriptions to vehicle data resources like Mitchell1 ProDemand or AllData. If the information provided by the remote start manufacturer doesn't match the wiring in your vehicle, determining the differences with accurate information is crucial.
8. Ask to See Examples of Their Work
Often shops will have a demo vehicle or a staff vehicle with a remote car starter installed. If the shop doesn't have examples of their craftsmanship on their website (and they absolutely should), ask to see something they have worked on. The wiring should be neat, loomed with automotive-grade cloth tape and secured to existing harnesses. Nothing should be hanging down under the dash. The control module should be attached to the frame of the dash or a factory harness. It should never be "stuffed" into the dash. You can tell pretty quickly when a remote car starter installation has been done correctly and when it's been rushed or executed by an amateur. To paraphrase our friends at Honda, don't hand your car keys to an amateur.
Shop Wisely for the Best Remote Car Starter Installation
As you can see, you'll have to shop for the best remote car starter solution in person. This isn't something that can be done over the phone. It might take a few hours to visit the best shops in your area, but the time investment will be worth it to get the best remote car starter installation. You'll notice that price isn't something we discussed. We can almost guarantee that a shop that can provide satisfactory answers to all the questions above won't be the least expensive option in your area. If you want a reliable remote car starter solution, you'll likely have to pay a little more than the bargain-basement shops that sell on price alone. Remember, the reliability of your vehicle depends on the quality and accuracy of the work they perform. Invest wisely!