March 13, 2023 Pompano Beach, FL – RDV Automotive Technology the go to company for Wireless CarPlay integration is proud to release the first of its kind Radio Replacement for the 2007-2017 Maserati GranTurismo the MAS-SCREEN. There are 3 sku's for the 3 different radio trim options MAS-SCREEN (Gloss Black / Matte Black / REAL Carbon Fiber) This radio with all 3 available trims are shipping now! In stock!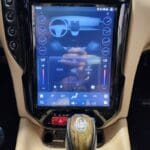 Rich De Sclafani the owner of RDV said about the new radio "This new radio is a game changer! Until now it was extremely complicated to change the radio in the Maserati GT. This new plug n play radio is a massive upgrade to the vehicle as it also incorporates digital climate controls. I have worked hard to ensure that this radio is fast, stable, and reliable. The hardware used is the best available and the result is a truly impressive product. I stand behind my products 100% and these radios have a 3 year warranty.  I will also be releasing a radio for Bentley and Infiniti shortly"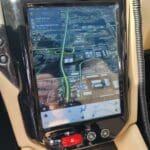 MASERATI: GRANTURISMO 2007-2017
Android 11 OS
Qualcomm Snapdragon – 8 CORE / 8GB RAM / 256 GM ROM
10.5" HD Display
Wireless CarPlay
Wireless Android Auto
Rear Camera Input
Front Camera Input
Full Touchscreen Control
Plug n Play
Steering Wheel Controls
Gloss Black, Matte Black & REAL Carbon Fiber Trim Options
Video Format: FULL HD – 1080P
Screen Resolution: 1920 x 1080 capacitive Multi-Touch screen
Split Screen Function
Digital A/C Controls
Built-in WiFi
Built-in Google Play Store
YouTube / Netflix / Sling / Disney / Amazon Prime Video + MORE
Audio Output: 4x 45W
EQ: 9 Band EQ
Radio:  AM / FM with RDS
Input: 3.5mm AUX-IN, 2 x USB
3 Year Warranty
VIDEO HERE: MAS-SCREEN VIDEO
MAS-SCREEN WEBSITE: MAS-SCREEN WEB PAGE
Why Choose RDV

Our goal is to provide the best possible support and products available! We are the go-to company for the type of integration products we sell. We only offer the highest quality products that we guarantee and stand behind 100%. Award winning support, industry leading 3 year warranty on most products and 24/7 availability. We have a network of authorized dealers across North and South America. We are a US based company located in Pompano Beach, Florida and we provide all support and shipping from our Florida location. We are a proud member of Mobile Electronics Association and a proud supporter of the MECP certification program MECP for industry professionals.