March 1, 2023 – Pompano Beach, FL – RDV Automotive Technology the go to company for Wireless CarPlay integration is proud to announce the release of a brand-new hardware platform for the RDV Wireless CarPlay interfaces. The NEW CP1 platform uses the highest quality and newest chipsets available!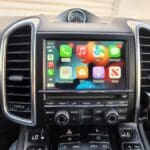 Rich De Sclafani the owner of RDV said about the new upgraded hardware being released. "I am extremely excited to launch this upgraded hardware platform. The new chipsets are a big upgrade over the previous generation and the improvements are substantial. The new hardware is faster, smoother, more responsive, provides a more stable WiFi and Bluetooth connection, uses the OEM in applications where an aftermarket mic was required and is less expensive than some of the SKU's the new hardware replaces. I strive to offer the highest quality products and the best 24/7 support in the industry."
The NEW CP1 line of products offer the highest quality and best warranty in the industry. With over 25 years of experience, we stand behind our products 100%.
These kits offer the most seamless integration available by using all your OEM radio controls and OEM Microphone
Wireless CarPlay
Wireless Android Auto
Backup Camera Input (with dynamic moving guidelines)
Front Camera Input (on demand access)
HD Camera Compatible
Phone Mirroring
A/V Input
OEM Microphone
Factory Controls
Plug N' Play
3 Year Warranty
Why Choose RDV

Our goal is to provide the best possible support and products available! We are the go-to company for the type of integration products we sell. We only offer the highest quality products that we guarantee and stand behind 100%. Award winning support, industry leading 3 year warranty on most products and 24/7 availability. We have a network of authorized dealers across North and South America. We are a US based company located in Pompano Beach, Florida and we provide all support and shipping from our Florida location. We are a proud member of Mobile Electronics Association and a proud supporter of the MECP certification program for industry professionals.