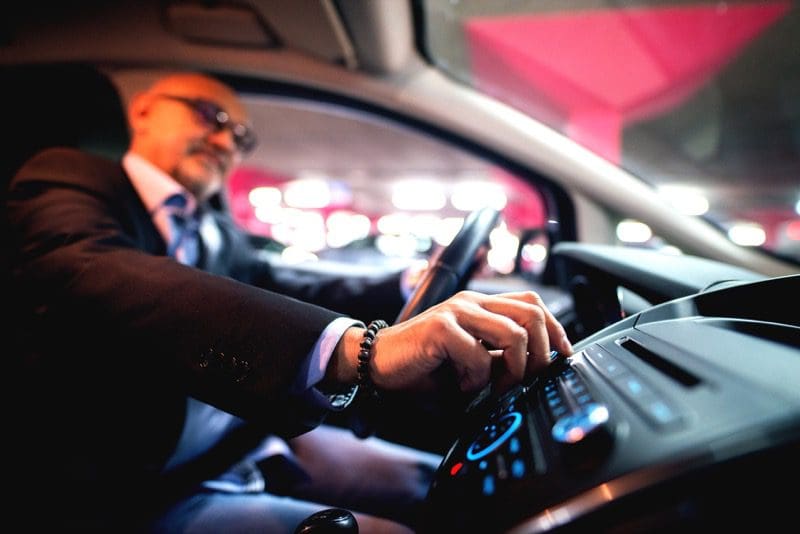 Let's face it, most of us aren't really happy with the stereo system that comes in our car. Sure, if you bought a Lexus with a top-of-the-line Mark Levinson system, you're more than likely content. For the rest of us, the good news is that for a very reasonable investment, you can upgrade the performance of your sound system quickly and easily. In this article, we'll look at 10 upgrades that will result in better car audio and a dramatic improvement to the enjoyability of your sound system.
1. Add a Subwoofer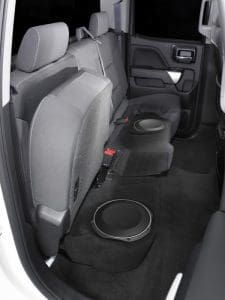 Even the most exotic of factory-installed sound systems cannot produce amazing bass. For most of us, the speakers in the doors don't play much below about 50Hz. This means we are missing out on more than an octave of the most fun part of our music.
Adding a subwoofer does more than just improve the bass in your car, it eliminates the need for your smaller speakers to try to produce bass. The result is that they will sound better, play louder and likely last a lot longer.
Subwoofer upgrades range from pre-fab enclosures that will sit in your trunk or cargo area to custom-built systems that are optimized for the space in your vehicle and the subwoofers you choose.
2. Add an Amplifier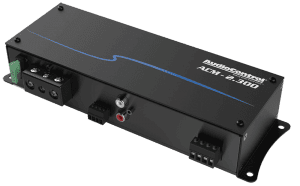 Beyond not having enough bass in a factory audio system, the next most common complaint is that the system won't play loudly enough. While the speakers in your car are limited in their capabilities, the most common issue is a lack of power from the radio or amplifier. Your local mobile electronics specialist can add an amplifier to your system that will let you crank up your tunes without the system distorting.
Compact amplifiers that will produce a good, clean 50 watts per channel are a great starting point. You can easily find an amp that produces 75 to 100 watts per channel if you really want to blast your tunes.
3. Upgrade Your Speakers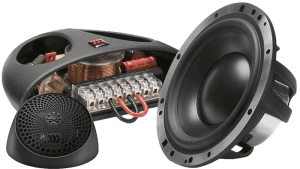 If you have read any number of our articles here at BestCarAudio.com, then you will undoubtedly know the importance of using high-quality speakers in your vehicle, or in any sound system. Speakers are the only link between the electronics in your audio system and your ears. Even the highest-resolution FLAC or DSD files and the best amplifiers known to man will sound mediocre if you don't use high quality, low-distortion speakers.
While you are having those speakers upgraded, make sure they are being installed properly. The shop should be using plastic speaker-mounting adapters where required. Everything should be solid and secure to allow the speakers to do their job without causing buzzes or rattles.
4. Add a Digital Signal Processor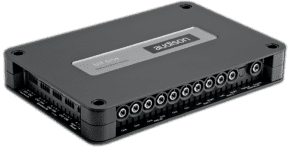 For too long, adding a signal processor has been considered the icing on the cake when it comes to premium audio system design. The reality is, as soon as your budget allows for it, adding a processor can dramatically improve the performance of even a modest installation.
In the hands of the properly trained technician, the signal delay and equalization capabilities of a good processor can smooth the frequency response of the speakers in your car, truck or SUV to make your music sound lifelike. Adjustments to output levels and signal delay can create a realistic listening experience that sounds as though you were front row at your favorite concert or sitting in a living room, listening to an exotic sound system.
Processors are available as stand-alone solutions that can be inserted into your audio system between the head unit and the amplifier. If you are building a system from scratch, many companies offer high-quality amplifiers with integrated digital signal processors.
5. Add Sound Deadening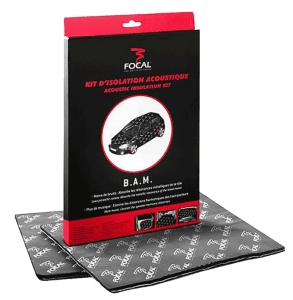 If you have ever upgraded a sound system by switching from an inexpensive amp to a great one, you may have noticed there is less background noise or hiss. When listening to music in our vehicles, we need to try and ignore wind and road noise and sound from the engine and exhaust system. Having your local car audio specialist retailer add a layer of sound deadening to your doors, the firewall, the floor or the roof will dramatically reduce the noise in your vehicle. If the doors are sealed properly with deadening, the performance of the speakers in them will also improve significantly.
When shopping for sound deadening, the number one priority is to pick a product that will remain adhered to the vehicle. We've seen many damping products that turn gooey and melt when hot. Ask to see a sample of the damping material and heat it up with a lighter to see if it melts before you let someone cover the inside of your car with it.


6. Listen to Better Music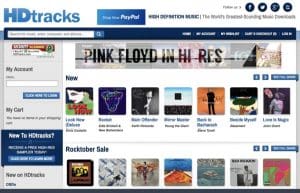 No, we aren't dissing your gangster rap or John Fogerty CDs. There has been a trend of late to focus on high-resolution audio files like FLAC and DSD. While the mechanical limits of these file formats dramatically exceed the listening limits of all humans, the improvement in recording and mastering equipment required to create these recordings is of excellent quality. In short, even within the standard 20Hz to the 20kHz range, high-res audio files sound better because they are created better.
You can find high-res audio files at websites like Tidal, HDtracks, iTrax and 7Digital.
7. Upgrade Your Electrical System
If you want your amplifier to produce power, it needs to be fed power. After all, that energy needs to come from somewhere, right? The electrical systems in modern cars and trucks are designed to only "just" supply the vehicle with the power it needs to operate the engine, lights, climate control system and the radio that came with the car. If you add a 1,000-watt amplifier, you will tax the electrical system.

The easiest upgrade is a high-quality battery. Look for an absorbed glass mat (AGM) battery from a reputable brand. These batteries are more rugged than conventional flooded lead-acid cells and can produce a little extra voltage. Always choose the largest battery possible for your application. More capacity will provide increased play time when the vehicle is turned off and more current to your amplifier when the volume is cranked.
If you are considering adding anything more than a few thousand watts of power to your sound system, then investigate upgrading the alternator in the vehicle. An automotive electrical system runs off the alternator when the vehicle is on. Most are rated for anything from 65 to 180 amps. Remember, though:  Your vehicle wants to use some of that power for itself. If the vehicle is using 80 amps, and you need another 150 amps for your stereo, well, you need an upgraded alternator.
8. Have Your System Set Up by a Pro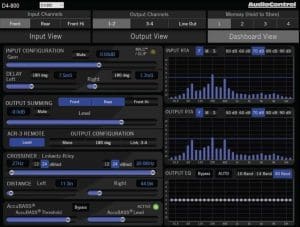 Lots of us like to install car audio equipment at home in our driveway. Do-it-yourself car audio has been popular since the 1970s and always will be. The problem is, it takes more than a solid understanding of electrical theory and physics to install and configure a modern audio system. Qualified installers use tools like real-time analyzers to set crossovers and adjust polarity. They use oscilloscopes to match the amplifier sensitivity settings to the source unit. Investing in this gear is often out of reach for most do-it-yourselfers and often overlooked. If every aspect of your audio system isn't optimized, you are short-changing yourself on performance.
Your local car audio specialist retailer can help you get your system set up and optimized. Drop by and talk to them. In most cases, it will only take an hour or two – a small investment to improve the sound of your audio system.
9. Upgrade Your Source Unit
It's no accident that our suggestion to upgrade the radio in your car is almost last on our list. These days, changing the radio in the dash of our vehicles is often impossible. Climate controls, vehicle information displays and configuration options and complex ergonomic creations make installing a new double-DIN radio impossible.
If you can replace your radio, not only will you find you get an improvement in sound (if you pick a high-quality source), but you'll also get a lot more features. One of the most popular reasons to upgrade your radio is to add smartphone connectivity solutions like Android Auto and Apple CarPlay. Drop by the local stereo shop and see what's available for your vehicle.
10. Upgrade Your Upgrades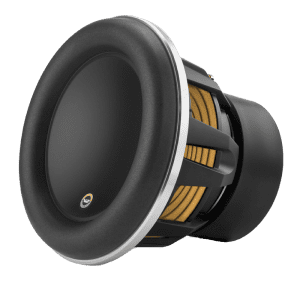 How's that for a confusing idea? What we are talking about is replacing your existing audio equipment with even better products. Let's say you had a set of $250 components installed in the doors of your car a few years ago, and the system is tuned to optimize those speakers with a digital signal processor. If you upgrade those to a set of $1,600 components and have the system retuned, the difference will be night and day. Your music will be clearer and more detailed. You'll be able to pick out subtleties that were otherwise lost. Think of upgrading to amazing speakers like cleaning your glasses: Everything will suddenly become crystal clear. The same applies to upgrading your subwoofers. There is a lot of information in the bottom few octaves of your music. A better sub will recreate your bass with dramatically improved realism.
Where to Go for Better Car Audio
No matter what upgrade path you choose for your audio system, be sure to hire a reputable and qualified professional to do the work. Picking the right installer is like choosing an artist to do a tattoo or paint a portrait. You don't want the cheapest; you want the person or team that will do the best work so you can be happy with the results.