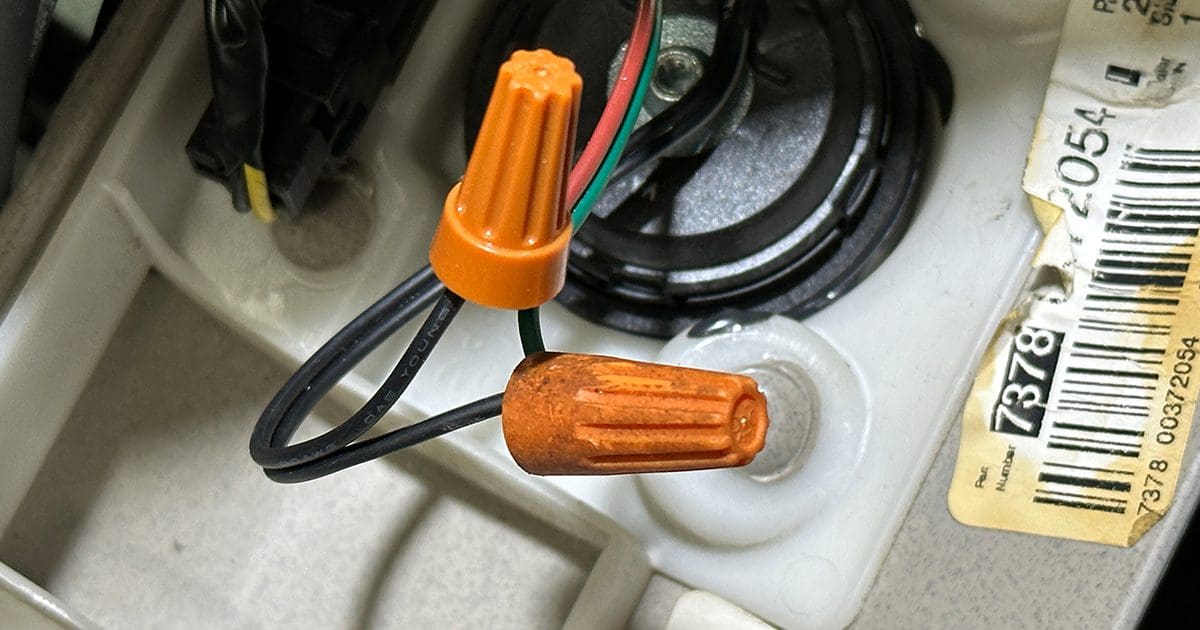 Any time a technician works on your car or truck to upgrade a radio, install new speakers, or integrate a remote car starter, there's a likelihood they'll have to make several electrical connections. This article will look at some of the most popular wire-to-wire connection methods. Of course, we'll do our best to measure the resistance offered by each connection.
High-Performance Electrical Connections
What defines a high-quality electrical connection? The first criterion is that the connection adds negligible resistance. Resistance in a connection will reduce current flow and potentially cause a hot spot that can damage surrounding wiring or components. A high-resistance connection may cause a voltage drop that prevents a device from functioning correctly.
The second criterion is that the connection is mechanically secure. Whether someone is working on a vehicle like a car, truck, motorcycle, side-by-side or boat, or a washing machine, furnace, or even wiring in a home, ensuring that the connection won't fail because of vibrations is crucial. It's easy to see the potential for vibrations associated with vehicles and machinery. Even homes and offices experience small vibrations from people walking around or large trucks driving by on the street. If you've ever had an electrical inspection performed at your house or work, you know that all wiring must be mechanically secure where it enters or exits a junction box or panel.
Twist and Tape
One of the fastest connection methods is the twist and tape. Making this type of connection involves stripping back the jacket on two pieces of wire, then twisting the bare strands together. Depending on the application, the wires can be parallel to or in line with each other. Wrapping the connection in electrical tape is the last step.
The biggest problem with this type of connection is that it relies on the wire strands' stiffness to maintain contact. Depending on the type of wire you use, that might not work well. Also, the connections can easily be pulled apart.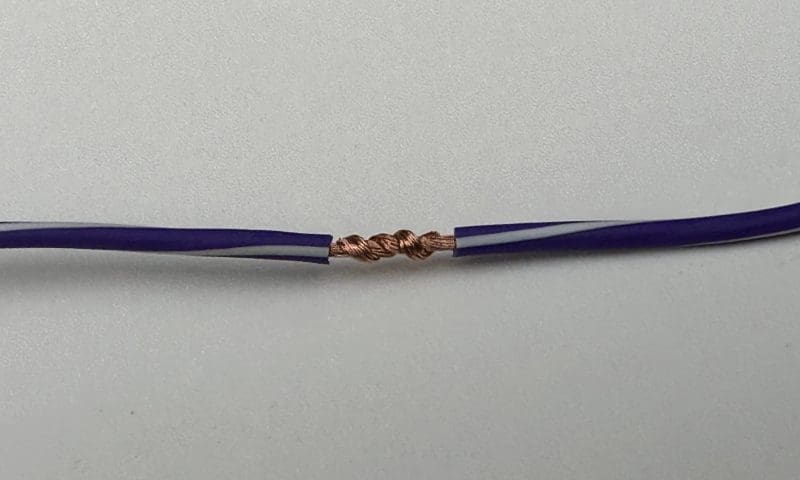 A second version of this connection type that works a bit better is the Western Union or lineman's splice. This wire connection method became popular in the early 19th century when telegraph installations were common. For those who aren't up on communications technology history, the telegraph predated the telephone.
Making a Western Union splice requires stripping more of the jacket from each wire end than other connection types. The exposed conductors would be twisted together a few times, then the remaining wire wrapped tightly around the opposite connector. This wire connection method significantly improves connection reliability as the wrapped-around wiring supposedly tightens the twisted-together portion when tension is on the wire.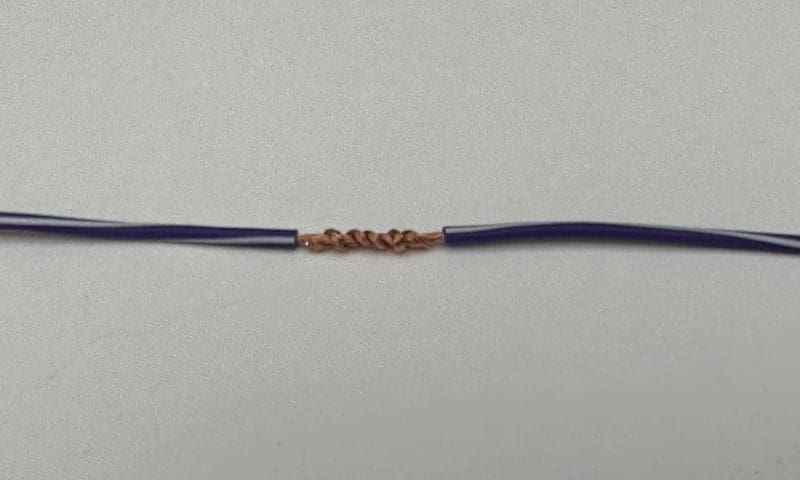 A third version of the twist and tape is the poke and twist, which makes a connection midway through a wire. It's a form of T-connection. To make a poke and twist, you would strip back the jacket on the wire you want to connect and spread the jacket apart on the wire you want to connect to. Using a pick, you'd split the bundle of wires on the wire you're connecting to, then thread the other wire through the opening. The connection is finished by wrapping the added wire around the original before covering it in high-quality electrical tape.
The stability of this type of connection still relies on the wire's disinclination to unravel. However, it's highly unlikely that the connection can easily be pulled apart. We won't test this connection method as it performs similarly to the twist and tape and Western Union splice.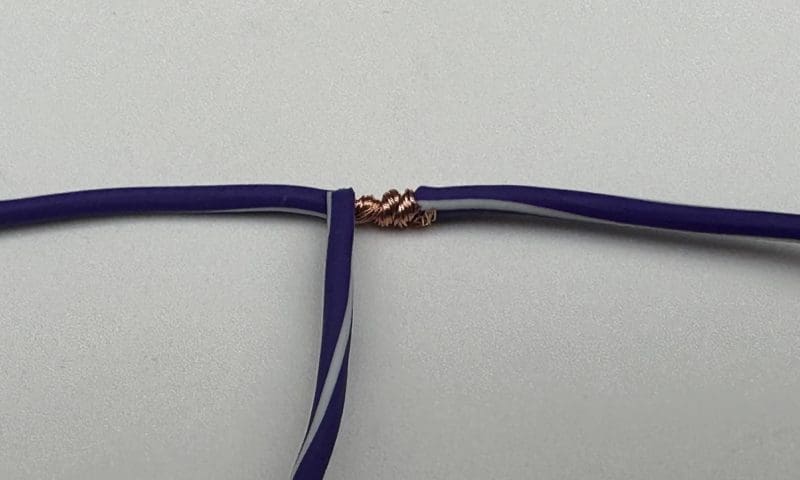 Crimped Connections
A very popular way to connect one wire to another is to use a butt connector. Though they can be bulky when several are used in the same space, they offer a reliable connection when used correctly. The key to success when using butt connectors is to ensure that the wire is stripped far enough back and inserted fully into the connector, and that the barrel is compressed properly. It's equally important to choose a butt connector the right size for the wires being connected.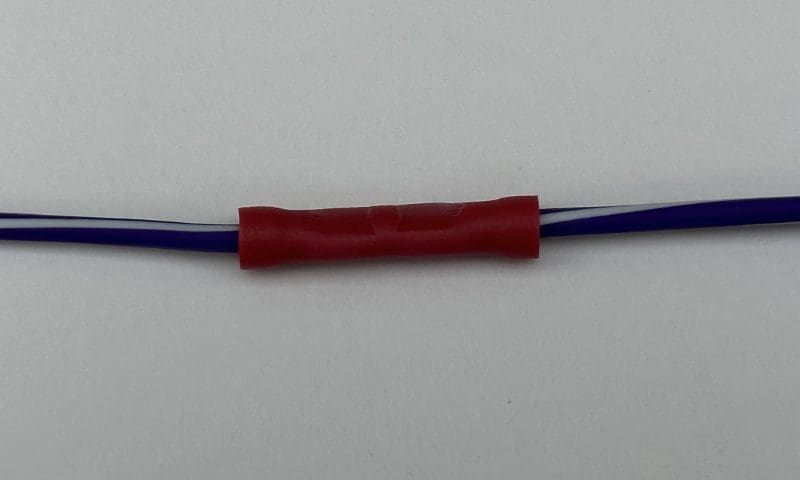 While most of us in the car audio industry use the Klein Tools Cutting/Crimping Tool for this type of connection, a better solution is a ratcheting crimper like the Klein Tools 3005CR. Many of these tools have replaceable dies for other kinds of connections.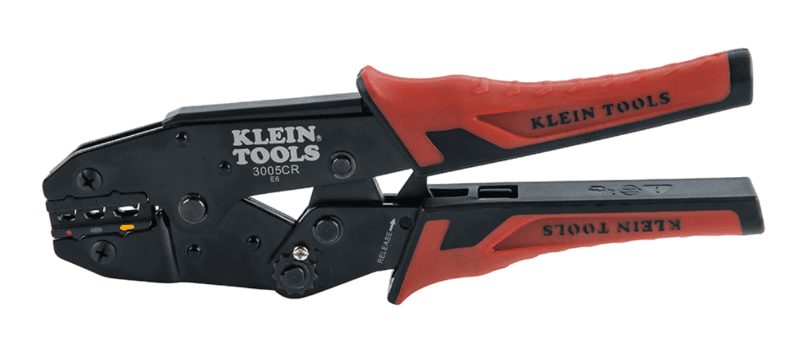 When crimped properly, the copper alloy tube makes the electrical and mechanical connection. This tube's physical properties are explicitly chosen to not spring back once compressed. As with most items, there are good and mediocre butt connectors. For example, 3M Scotchlok butt connectors are available with a seamless or brazed seam tube. Many inexpensive connectors have no mechanical connection along the seam in the tube.
Butt connectors are available with no insulation, vinyl insulation, or heat-shrink tubing already wrapped around the connector. Proper sealing is required if the connection will be exposed to moisture, fuel or oil.
I will admit that I used Klein crimpers with butt connectors but used the non-insulated location on insulated connectors. My logic was that it would make a stronger connection as the barrel would compress more. While this might be true, the drawback is that the pin in the center of the crimper often cuts through the insulation, leaving the barrel exposed. Use your tools properly.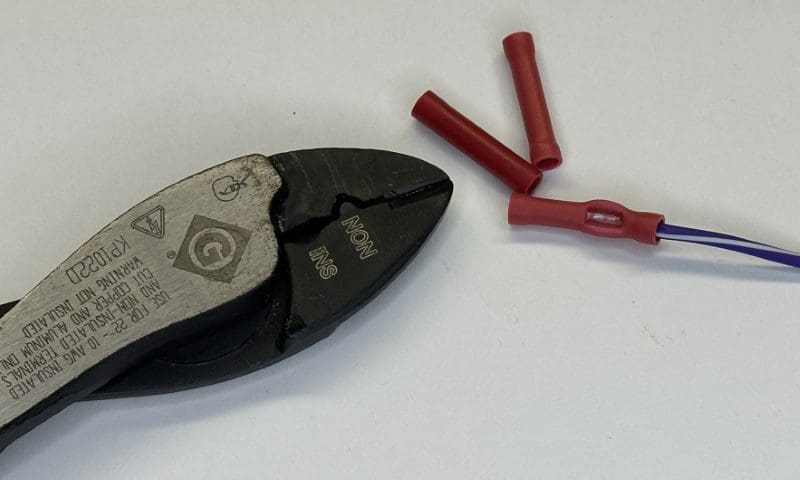 A similar connector type is called a closed-end single-opening connector or, more commonly, a crimp cap. This type of connection is common where two wires that are parallel to each other need to be connected. The results should be very similar to a butt connector when executed properly.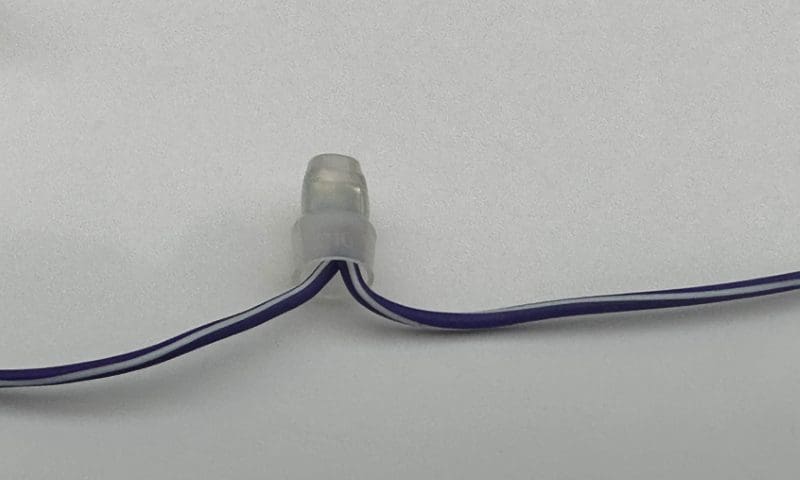 Inline Connectors and T-Taps
We are slowly working our way into the less-loved types of connections. Let's talk about inline taps, often called Scotchlok connectors or T-taps. These are two types of inline wire connectors. The most common inline connectors feature a plastic housing with an internal metal plate designed to connect two wires. The second type uses a metal plate to tap into one wire and has a slot for a male spade connector. This type of connection has a bad reputation in the car audio industry. Many installers say it can cut and damage the wires they're connecting.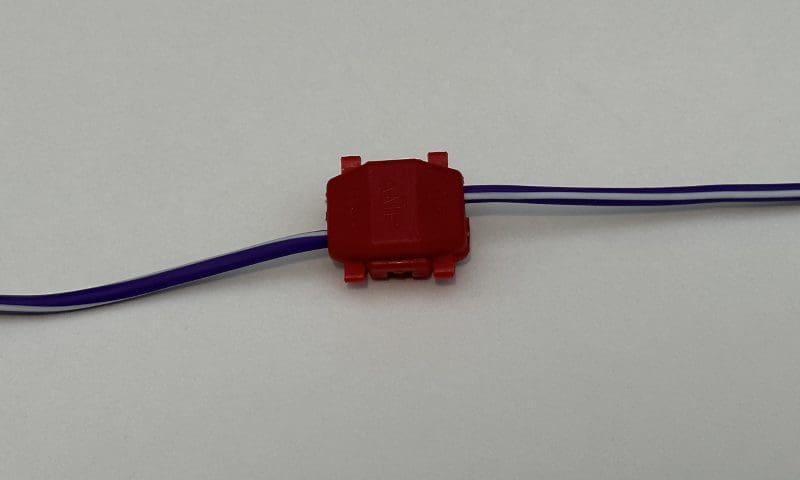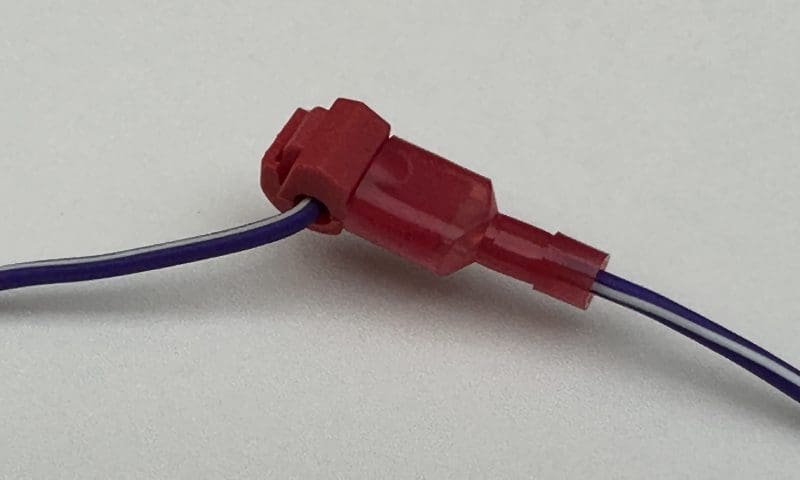 The key to using this type of connection reliably is choosing a high-quality connector sized correctly for the wire in the circuits. If you use a connector designed for 18 AWG wire on a 14 AWG wire, the connector will cut and damage the wire strands, putting the entire circuit at risk of failure. One benefit of these connectors is that they are easily removable and leave behind an easily protectable, unbroken wire.
Soldered Electrical Connections
Next, let's talk about solder connections. Many car audio technicians claim that soldering connections is the best way to make wire-to-wire electrical connections in a vehicle. Whether they twist the wires together, connect them with a Western Union, the poke and wrap, or a simple lap splice, the theory is that adding solder holds everything together better and prevents corrosion.
Soldering involves using an iron to heat two wires to about 330 degrees Celsius, then applying solder to the joint. The heat in the wires allows the solder to melt and flow into the connection. Solder is an alloy of tin and lead that melts well below the temperature where the conductors melt.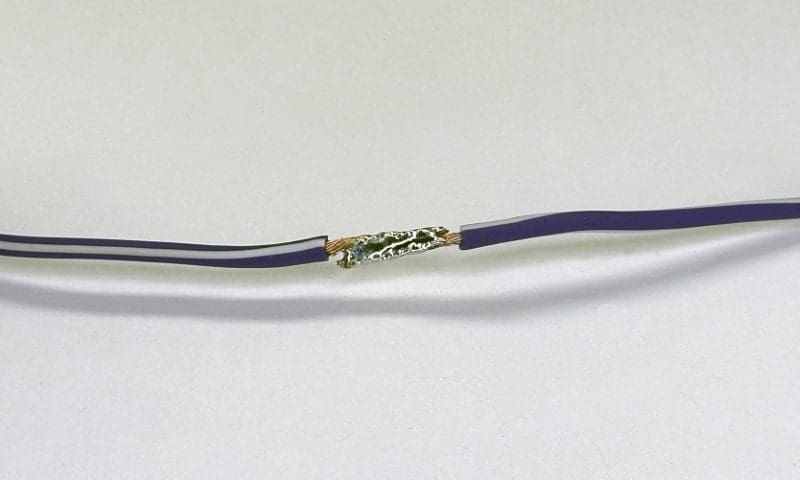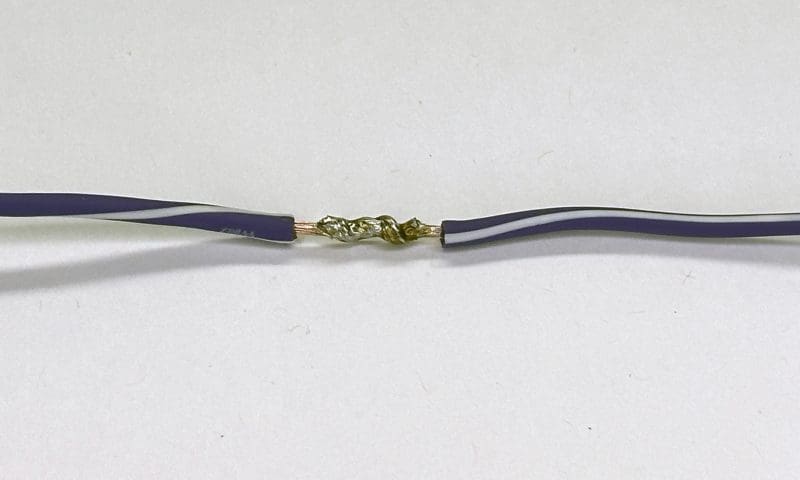 While solder can do an excellent job of ensuring that two wires remain in contact, the process introduces an issue: A soldered wire is not flexible. This lack of flexibility makes the wires brittle, and they can break with minimal bending. Adding something like adhesive-lined heat-shrink tubing can help relieve stress on the connection. Bundling the connection with other wires also helps reduce stress on the joint. As such, you would never want to solder two wires together in a door wire harness boot or someplace similar where frequent twisting and bending occur.
Solder sleeves are a pre-packaged type of connection that, at first glance, looks like a butt connector. The sleeve is made of heat-shrink tubing and has a solder ring in the center. The technician would insert the stripped wires from opposite ends so the bare parts overlap under the solder ring. Heat is applied to the solder using a hot air gun to melt the solder and shrink the tubing.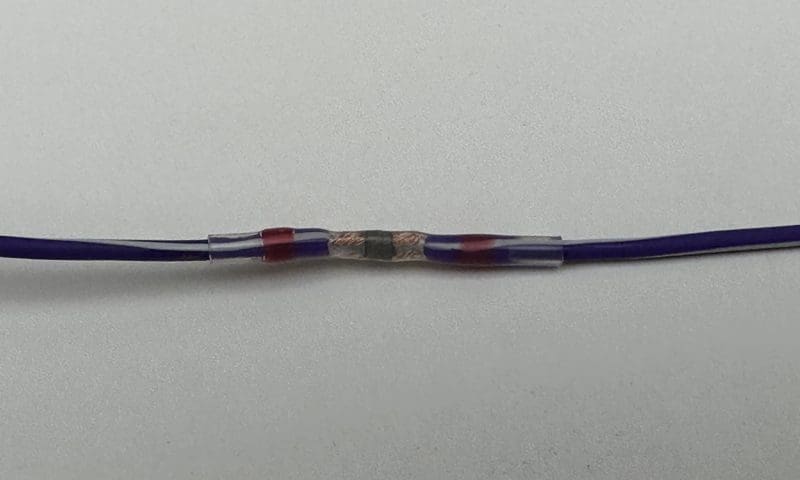 One drawback of solder sleeves is that the heat shrink tubing is an insulator. Getting the solder hot enough to melt without damaging the tubing takes practice. The solder also takes a while to solidify after you remove the heat source. I learned this latter fact the hard way during my testing. If you're rushing to make an electrical connection, solder sleeves are not the way to go.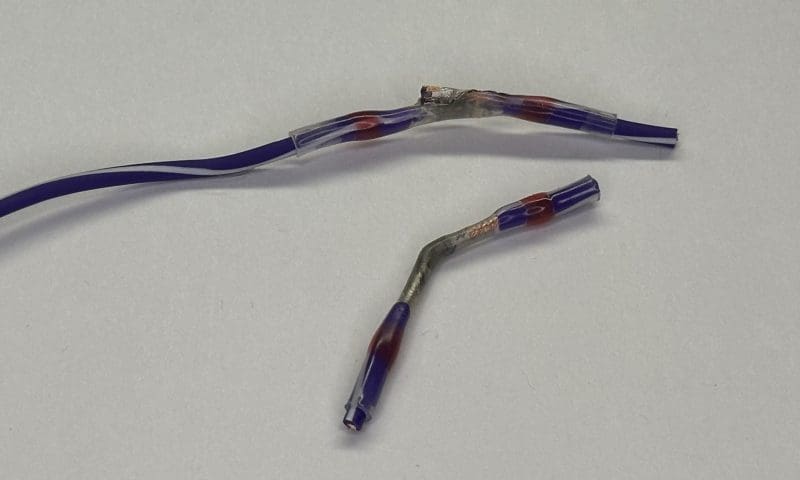 Wago Lever Connectors
Though much more common in Europe, the most frequently used Wago connector is a small terminal block with levers that press down on the wires inserted into each location. These connectors are common in residential wiring, and we've seen several car radio installations that use Wago splice lever connectors.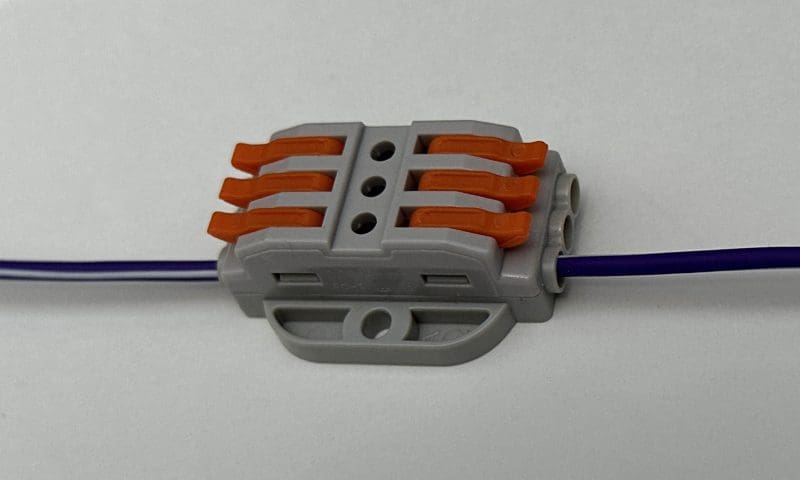 In our search for connectors for this article, we stumbled across a connector that is a cross between a T-tap and a Wago. The website described it as a T-type snap splice. As far as we know, this doesn't appear to be a common product and isn't available from reputable sources like 3M, TE Connectivity, Panduit or Molex. It's like a Wago lever connector on one end and a T-tap on the other.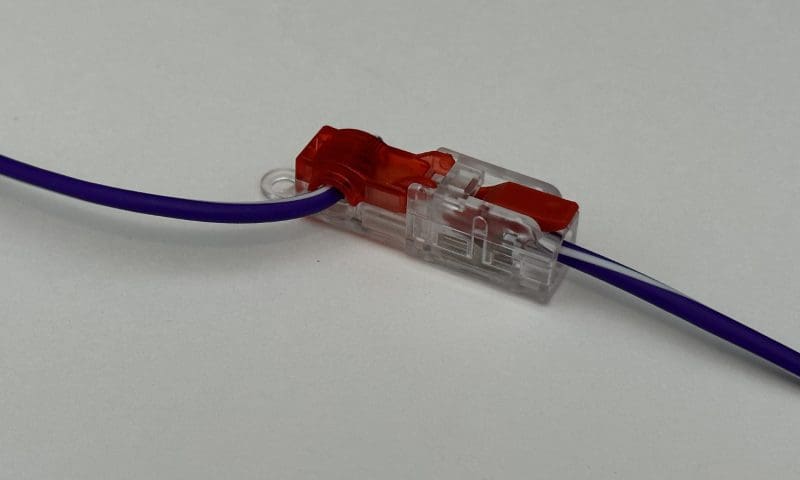 Open Barrel Splice
If you've ever had to cut into a vehicle wiring harness, you'll notice that there are no butt connectors, and nothing is soldered. The standard method that wire harness manufacturers use to connect one wire to another is an open barrel splice.
Making this type of connection takes some practice and patience. The wire ends must be appropriately stripped and held in place during the crimping process. It's much easier with two people, which means it's not the fastest way to make electrical connections. Yet it is the de facto standard for custom wire harness manufacturing. The connection is secure, and the wire remains flexible on either side of the connector. The connection is also compact, making it easy to conceal in a harness with tape or heat-shrink tubing.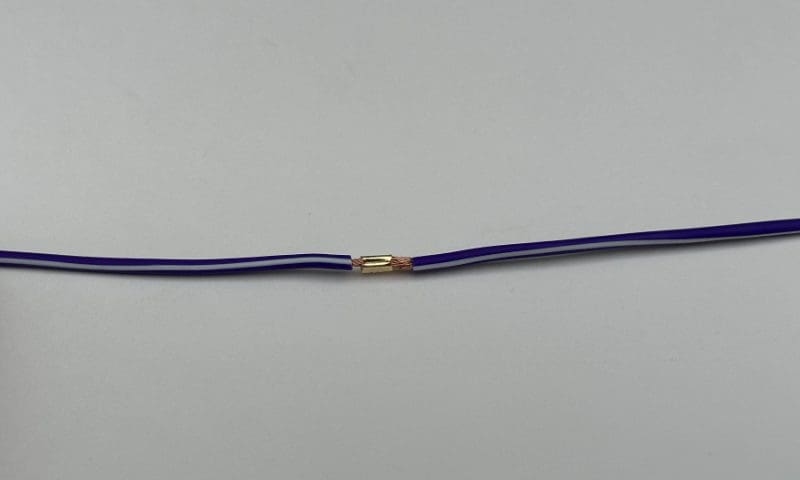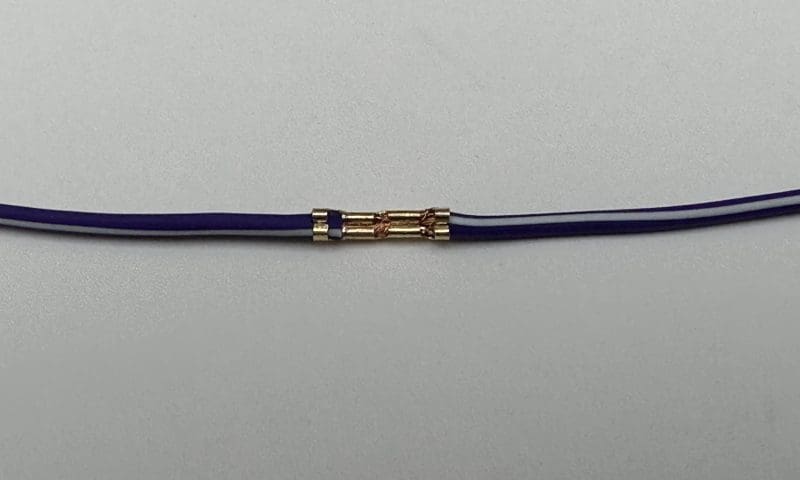 Twist-On Connectors
The last connection we'll examine is the one that inspired this article. A member of the BestCarAudio.com editorial team was at a car stereo shop for a visit and noticed an aftermarket tweeter mounted in the A-pillar of an SUV. The tweeter was wired to the factory speaker harness using a pair of orange twist-on connectors.
These connectors are also called wire nuts, cone connectors or thimble connectors. In Canada, electricians often call them Marrette connectors, after the inventor William P. Marr. Inside the plastic housing is a cone-shaped copper spring that forces the conductors together as the assembly is screwed on. If you were to search a website like Ideal Industries, you'd note that twist-on connectors are not listed as a connection solution for stranded wire.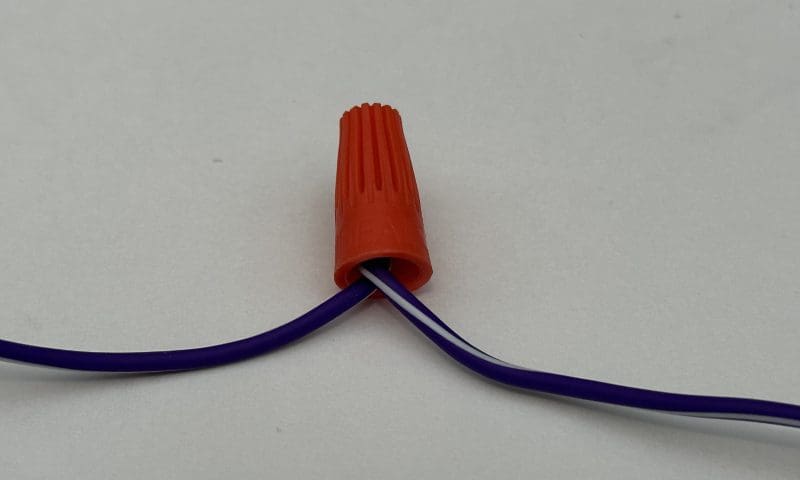 Testing Electrical Connections
We took 15 examples of the electrical connections we discussed and attempted to measure their resistance. We took pieces of identical wire (off the same roll) and added two connections of each type in the middle of the wire. The wires were all cut to a length of 23 3/8 inches. We then hooked the wires up to a variable current power supply and fed current through the wire while measuring the voltage across the lengths. Simple math shows us how much resistance is in each connection and how much power each connection wastes. We subtracted the voltage drop from the solid piece of wire to get the information about each connection.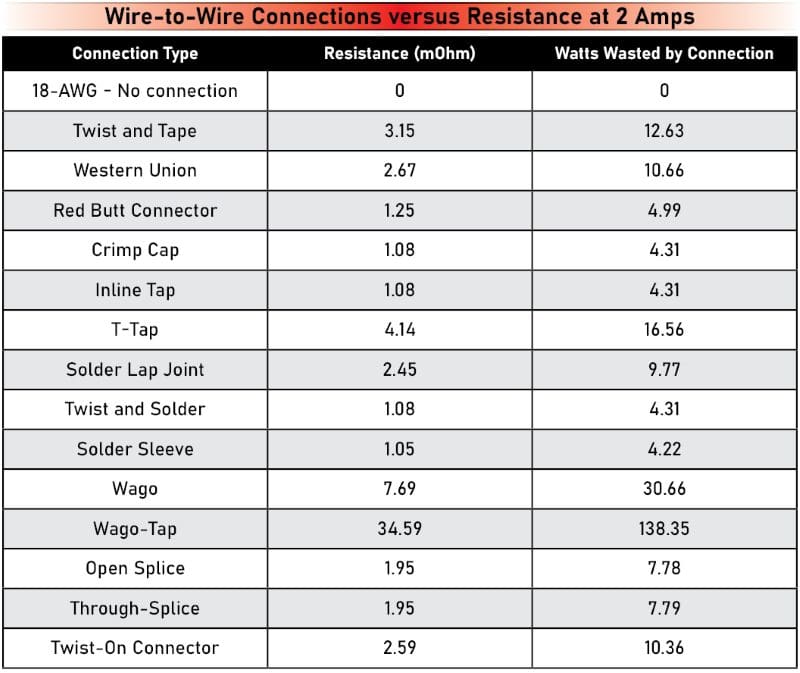 A quick observation of the results confirms our expectations that twisted connections don't perform well. We didn't expect such a significant difference between the open barrel splice and the through splice. The confirmation that old-fashioned butt connectors work well was nice to see. The biggest surprise was the impressive performance of the solder sleeves. Before this test, we would have listed them as "not an option." Finally, you'll definitely want to avoid those no-name T-type snap-style connectors.
Based on the information in the chart above, our choice of electrical connection would be a butt connector. What if someone had to make several connections in one location, as would happen when an installer connects a radio wire harness to a wire harness adapter? We'd use butt connectors with heat-shrink tubing, as they have a much smaller diameter than the vinyl-shielded type.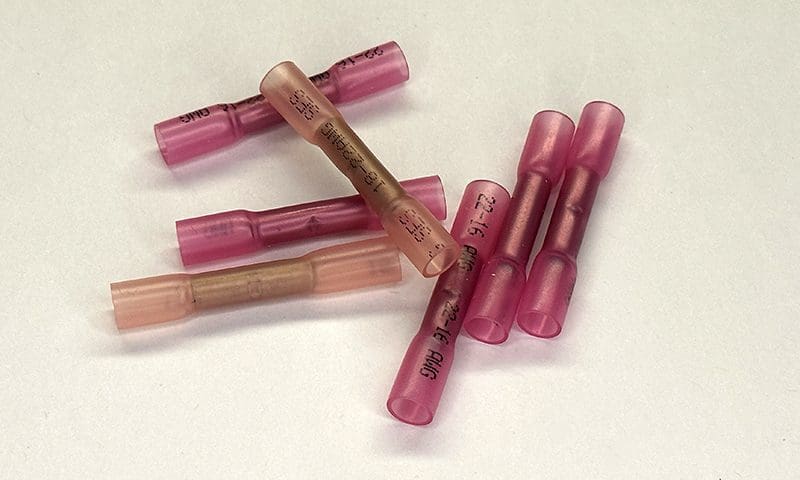 We'll do some forensic analysis on each connection in an upcoming article and discuss reliability and suitability for various applications. Until then, if you're looking for upgrades to your car, truck, motorcycle or boat, drop by a specialty mobile enhancement retailer in your city or town and discuss your goals with their product specialist.