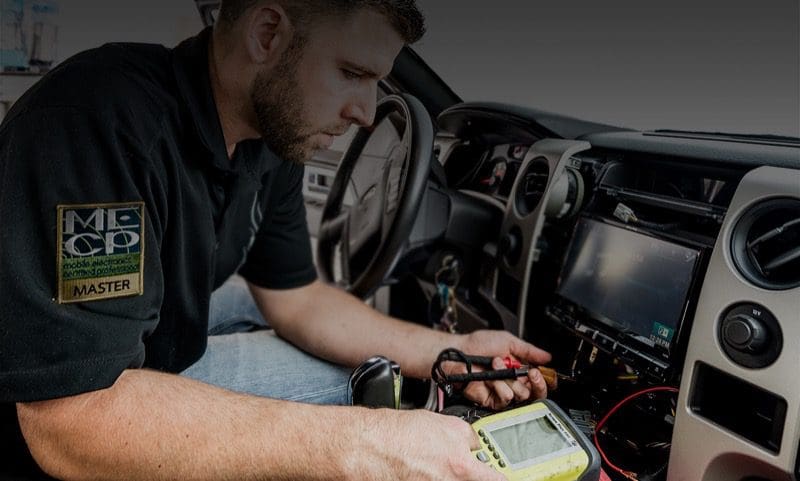 Service providers and technicians in many industries have certifications to acknowledge they have obtained continuing education or verified expertise in one or more areas. The Mobile Electronics Certified Professionals (MECP) program is the only certification program that certifies professional technicians on the installation, integration and diagnosis of aftermarket vehicle technology products. The radios, amplifiers and security and remote start systems installed in vehicles need to be properly integrated into the vehicle's systems to prevent problems and ensure reliability. Mounting the products carefully will always prevent damage to vehicle components and ensure safe operation of the vehicle.
Since MECP is the only nationally recognized certification program for the mobile electronics industry, it is important to ask the retailer you are dealing with about their technicians' certification level, so you can be sure they are well-equipped to handle your installation needs.
The four Mobile Electronics Certified Professional certification levels:
Mobile Product Specialist certification means the professional has an awareness of current technology and can help select products to build your audio system or add new features like backup cameras and remote starters to your vehicle.
Basic Installation Technician certification means the technician has experience in basic-level installations and is trained in shop safety to be functional and effective in the installation facility. This technician has basic electrical knowledge and can execute proven troubleshooting steps.
Advanced Installation Technician certification shows that the technician understands fundamental aspects of electrical circuits and troubleshooting, and they also have at least one year of experience performing installations in vehicles. A higher level of understanding in electrical theory and technology concepts makes this technician capable of handling most installation tasks.
Master Installation Technician certification is the highest level of certification through the MECP program. A technician of this level is fully capable of handling any type of installation in a vehicle. Often, these professionals will be a shop manager or lead technician that other techs in the facility will ask for assistance with troubleshooting and more technical integration projects.
Subject Matter Experts are either Advanced or Master certified, highly focused on one or more types of installations, and contribute to the actual study materials and exam contents that certify other technicians. If your retailer has an SME on staff, you are in great hands.
What Are the Benefits of MECP?
If your technician has acquired and maintained his or her certification, especially at an Advanced or Master level, it shows they are interested in staying on top of installation standards and recommended best practices. With vehicle technology changing at a very fast pace, it is important that your technician takes your installation project just as seriously as you take your technology purchase. Ask your retailer for MECP certification status of the technician who will be working on your vehicle and rest assured that they can perform a safe, accurate and professional installation.