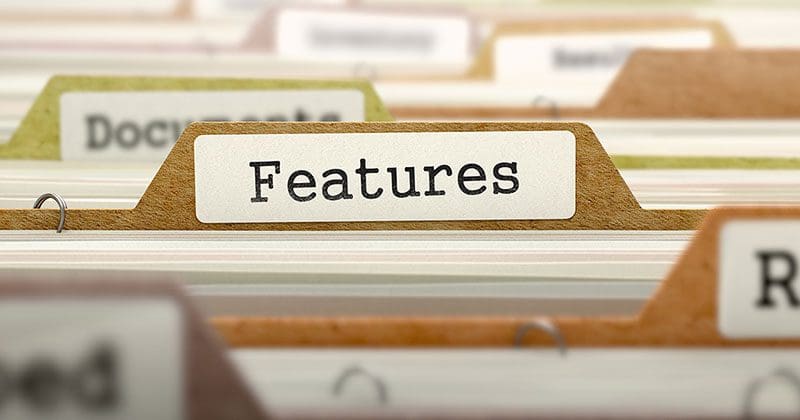 Imagine if you had a guide to help you choose the right products or solutions to increase the value and performance of your next car audio upgrade. We could quite literally write an entire encyclopedia on the hundreds of aspects of car audio and mobile enhancement upgrades. With that said, let's look at a few of the basic terms and concepts that will help you get the most out of your next car radio purchase.
Radio Feature and Size Options
Every car audio system needs a source. The source can be a radio in the dash of your car or truck or a smartphone connected to a Bluetooth receiver. In a car, you'll want to make sure you choose a solution that fits the vehicle in terms of size, connectivity and cosmetics. Be sure that the product you select includes the features and technologies you want to use to communicate and be entertained while you drive.
1-DIN CD Receiver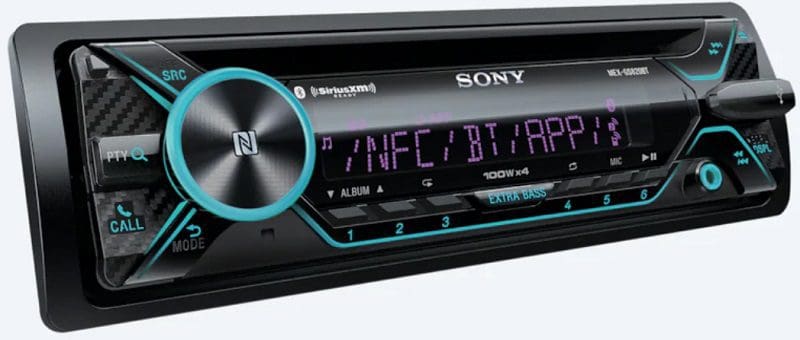 Source units like the Sony MEX-GS820BT include an AM/FM tuner, a CD transport to play store-bought CDs as well as discs containing MP3 and other digital audio files, and a USB port to play music stored on your smartphone. Bluetooth communication is included for hands-free calling and music streaming. This radio features a high-power, 45-watts-per-channel amp to reproduce your music with amazing clarity, even at high listening levels.
2-DIN CD Receiver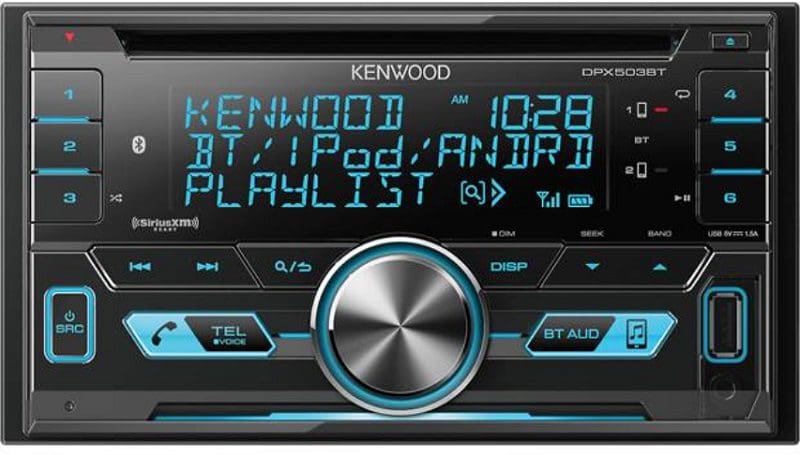 If your dash has room for a larger radio, 2-DIN or double-DIN radios like this 2-DIN Kenwood DPX503BT offer features similar to their single-DIN brethren but have larger buttons and a larger display.
2-DIN Multimedia Receiver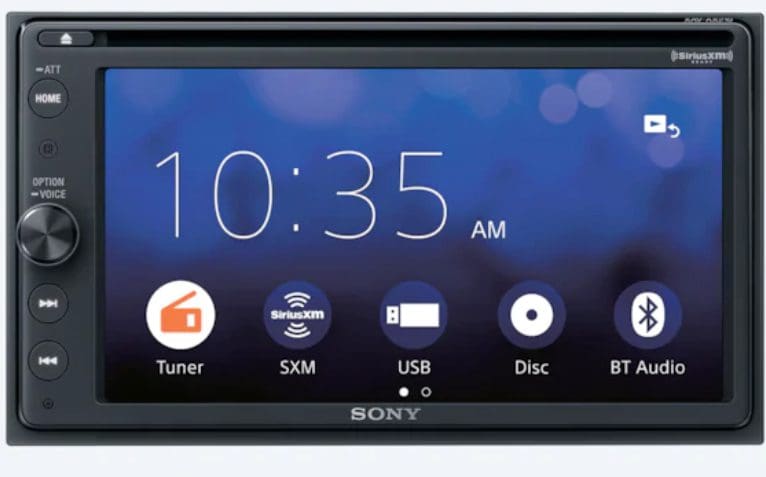 The next step up in features would be a multimedia receiver. Most of them include a 6.2- or 7-inch touch panel display to allow for a variety of source-specific controls. Some of the more upscale units, such as the Sony XAV-AX210 shown here, add smartphone integration solutions like Apple CarPlay and Android Auto. Your installer can add a backup camera to these radios to make navigating safer and more convenient.
2-DIN Navigation Receiver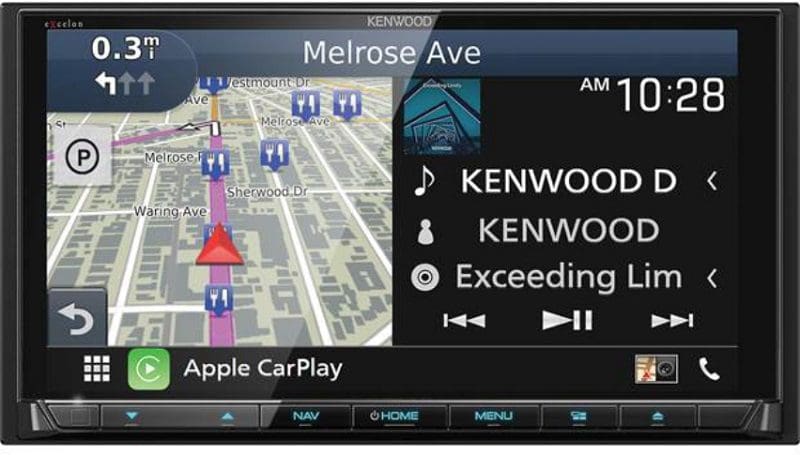 At the top of the heap in terms of features are 2-DIN navigation receivers. These source units include built-in GPS-based navigation systems that will help you reach your destination quickly and efficiently. The flagship Kenwood DNX996XR shown here offers a class-leading 1280×720-pixel capacitive-touch display and uses Garmin navigation.
Digital Media Receivers

Available in both single- and double-DIN sizes, a digital media receiver like the amazing Sony RSX-GS9 shown here won't include a CD or DVD transport. These units play audio from a USB drive, a smartphone or over a wireless Bluetooth connection. This Sony unit was one of the first on the market that could play high-resolution audio files and output music beyond the CD-standard 22kHz cut-off.
Floating-Display Source Units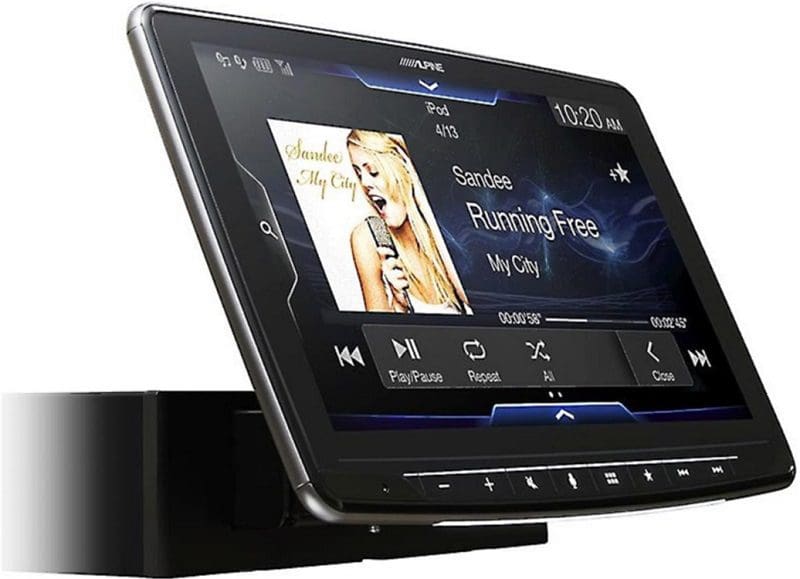 A relatively new category is multimedia receivers with a large floating-face display. Pioneered by Alpine with its iLX-F309, this multimedia receiver can be installed in 1-DIN applications while providing a massive 9-inch touchscreen that hovers in front of the radio chassis. Sony introduced a similar solution with its XAV-AX8000 Media Receiver.
Bluetooth Streaming Solutions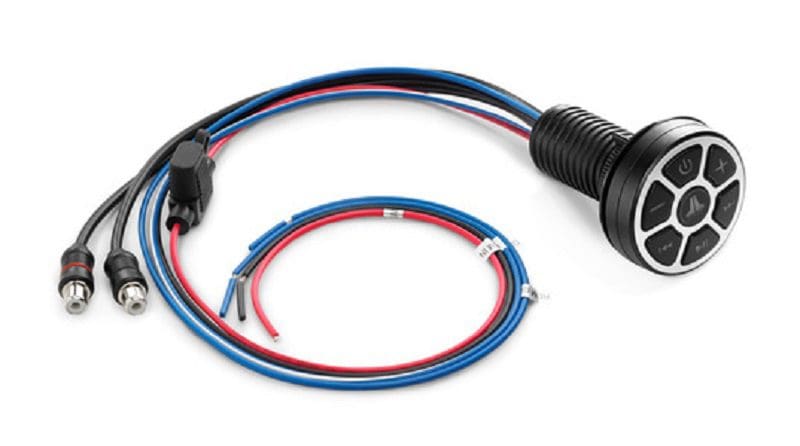 If you're adding an audio system to a powersport application like a side-by-side or a boat, you can use a Bluetooth receiver like the JL Audio MBT-CRX as your source unit. You can play music stored on a smartphone or stream audio from an internet service like Pandora, iHeartradio or Tidal.
Amplifiers with Integrated Bluetooth
If you're building a premium mobile audio system, you may want to include an amplifier or digital signal processor with a built-in Bluetooth receiver. With one of these solutions, your installer can fine-tune your audio system for impressive realism while allowing you to play music directly from your smartphone. If you have a vehicle with a radio or infotainment system that can't be replaced, this is a great option. The ARC Audio PS8-50 with the optional BTM Bluetooth module provides eight channels of amplification and compatibility with iDatalink Maestro vehicle integration solutions.
iDatalink Maestro Compatibility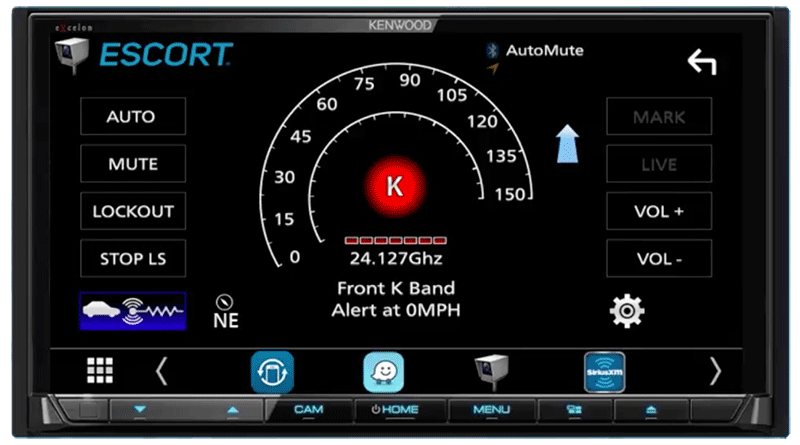 If the infotainment system in your car or truck includes features such as climate controls, look for a multimedia receiver with iDatalink Maestro compatibility. Maestro is an interface that allows information from the vehicle CAN bus to be displayed on the screen of a Kenwood, Sony, Pioneer or Alpine radio. This information includes parking sensors, tire pressure, engine speed and much more. Some radar and laser detection systems from Escort and K40 can be used with the RR2 interface.
Use This Guide to Shop for Your Next Car Radio
Before you head out to your local specialist mobile enhancement retailer, look through some of the radio manufacturers' websites and make a list of the features that you want. Present your list to the solution provider when you get to the store. This will help them narrow down the options for your vehicle so you get the right solution.