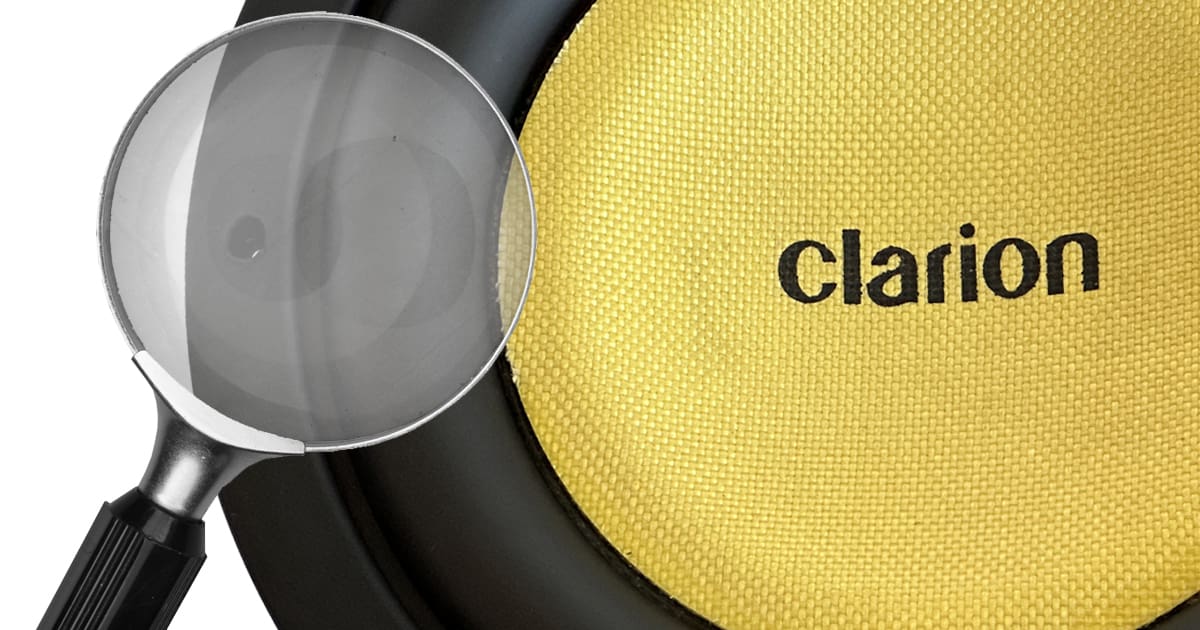 We're back with our third article in the BestCarAudio.com series about understanding subwoofer quality. This time, we have a 10-inch Clarion Signature Series SSW1001 subwoofer from around 2006 or 2007. There's a bit of a back story about this driver, so get comfy.
I worked at Clarion Canada Inc. from 2004 to 2017. During that time, I had roles in technical support, product training and product development. My first speaker project started in late 2003. Clarion had just sold McIntosh Laboratory to D&M Holdings. Clarion had an amplifier called the APA4300HX that contained a McIntosh technology called Power Guard. Offering a good amp without offering good speakers didn't make sense. As such, I created a set of speakers and subwoofers. The result was called the Signature Series, which included 5.25- and 6.5-inch component sets and 10- and 12-inch woofers. Fast-forward a few years, and we changed suppliers. At that time, I upgraded the crossovers and changed some of the adhesives used in the cone assembly process.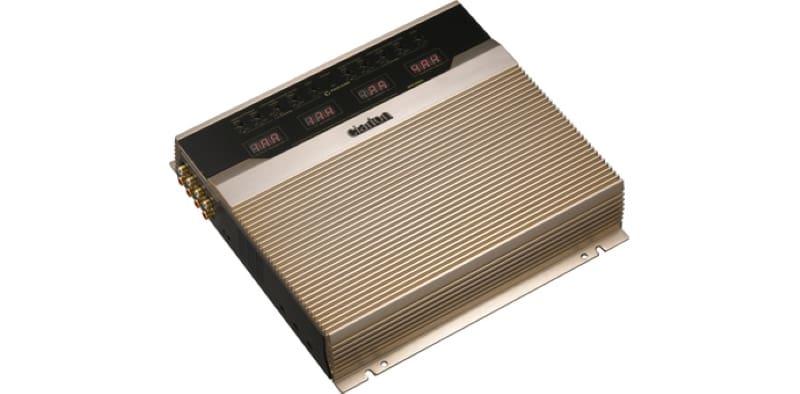 Clarion SSW1001 Features and Design
The SSW1001 is a 10-inch subwoofer based on a commonly available cast aluminum basket. The cone and dust cap are made from yellow woven glass fiber laminated to a polymethacrylimide expanded foam cone. The lower cone attaches to the voice coil, and the full-size dust cap is all that's visible from the front. A large-diameter rubber surround handles compliance at the top of the assembly, while a pair of linear Conex spiders are at the bottom.
The SSW1001 features a 3-inch diameter, four-layer voice coil wound around a black anodized aluminum ASV former. We gave the driver a 1,000-watt continuous power rating, and despite having a few dust cap attachment issues with the original SSW1000, I don't recall ever seeing one come back with a damaged voice coil. The basket includes vents below the spider mounting plateau that Clarion called Spider Exhaust Technology. A large cooling and pressure release vent is in the center of the bumped T-yoke.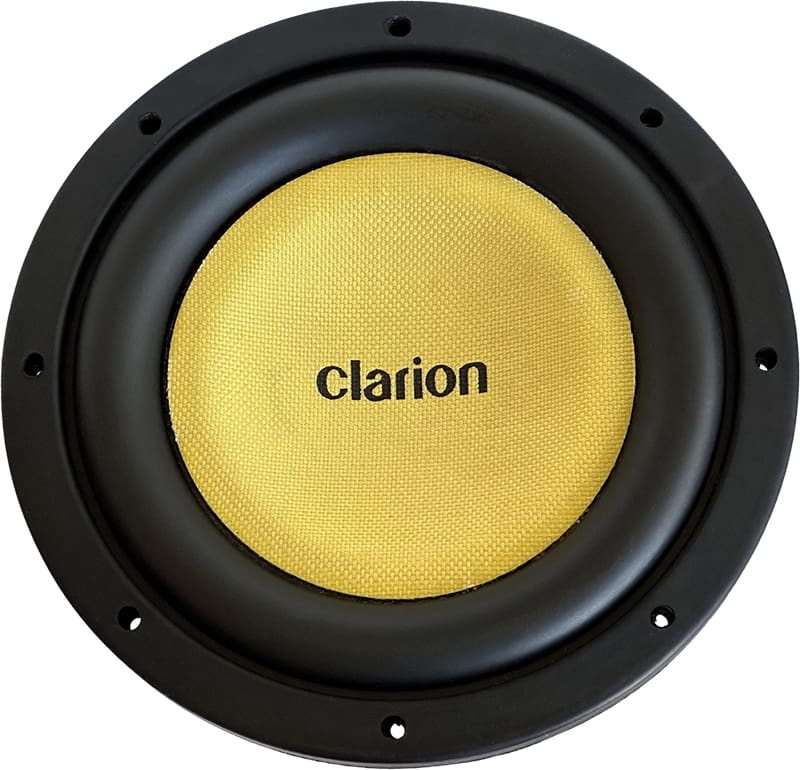 Several retailers and consumers asked if the yellow cone was intended to compete with Focal K2 products. The truth is, no, not at all. The original plan for speakers to accompany the APA4300HX amplifier was to use a three-way system that Clarion Malaysia (I think) offered. The set had 6.5-inch woofers, 5.25-inch midrange drivers with whizzer cones and a pair of tweeters, if I recall correctly. When I saw and heard them, I decided they weren't suitable for the Canadian market. The cosmetics of Signature Series speakers mimicked those from Malaysia and picked up on the goldish hue of the amplifier.
Once the project was done, did we decide to market Clarion's Signature Series against Focal? Absolutely! We built an A/B display with one of the amazing DRZ9255 source units, the DPX2250 Class GH stereo amplifier, Clarion SSS601 components and K2-Power speaker set so consumers and retailers could compare them. Most who auditioned the two options preferred the Clarion speakers' midrange performance and the Focal tweeter's highs. We priced the Clarion set at about half of the equivalent Focal drivers at the time, so we sold LOTS of them. I still have a set of 5.25-inch components floating around my lab, and I've been using a pair of the SSW1001 subwoofers in my home theater for 15 years.
Signature Series speakers and subwoofers were only available in Canada. Over the years, I developed many products that were exclusive to the land of igloos, back bacon and BeaverTails.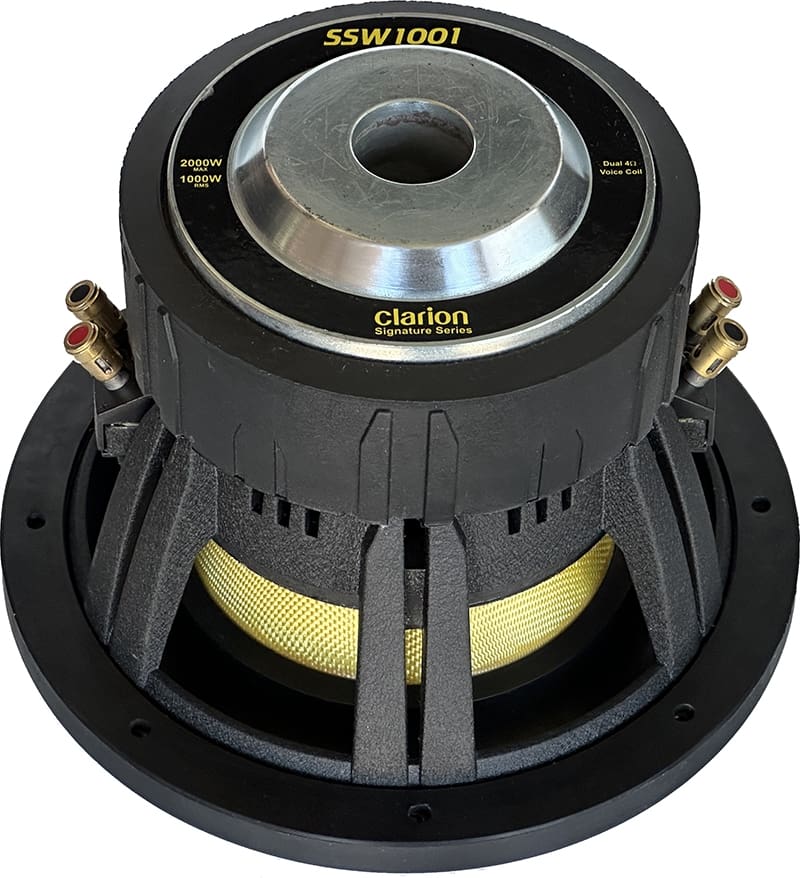 SSW1001 Thiele/Small Parameters
I don't recall where the SSW1001 that I'm testing came from. It might have been a factory sample. As such, I'll break it for about 10 hours and let it cool before I take any Thiele/Small measurements. Some adjustments were made to the dust cap's thickness between prototyping and production, so this driver might not match retail units perfectly. When measuring drivers, I always use the added mass method to calculate suspension compliance.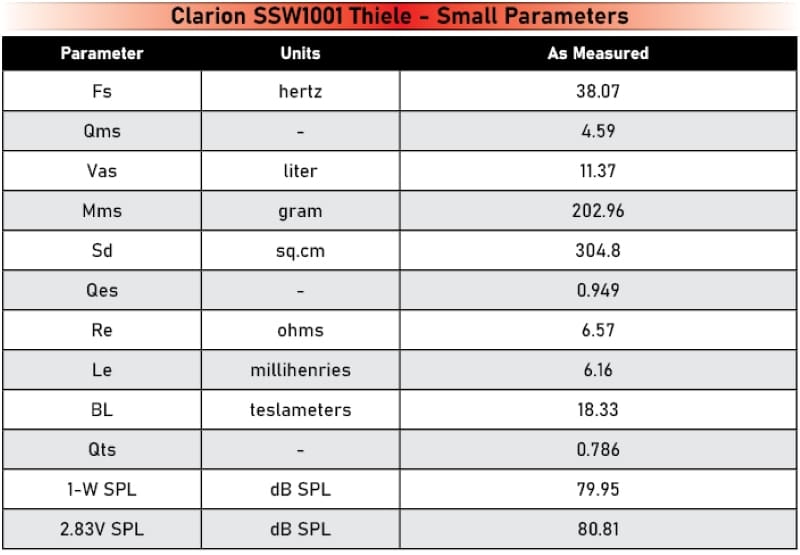 The measurements show that the resonant frequency is somewhat high for what would be deemed a typical Sound Quality subwoofer. Likewise, the Vas (equivalent compliance) is also low, meaning the driver has a stiff suspension. The result is that the Qts (Total Q) is high at 0.786. In retrospect, this might make a good infinite baffle driver.
The impedance and phase graph below shows how much the inductance affects high-frequency impedance. There are no bumps or peaks in the upper frequencies of the driver.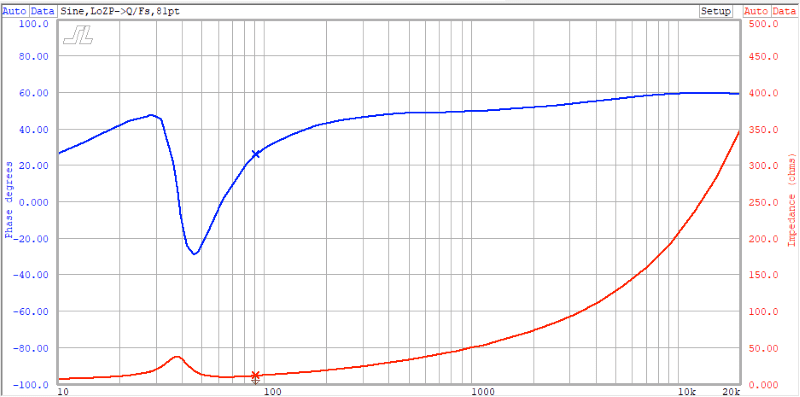 Modeling the SSW1001 in BassBox Pro gives us a suggested Sound Quality enclosure volume of 1.47 cubic feet. This is large as the software tries to keep the Qtc (Total System Q) to a minimum. Asking the software for a High Output enclosure results in a volume of 0.44 cubic foot. The latter has a Qtc of 0.941 and an F3 of 44.21 Hz.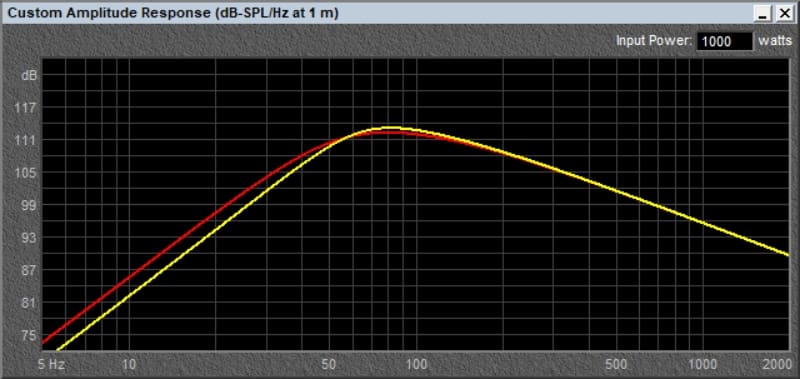 Clarion SSW1001 Frequency Response and Distortion Analysis
The SSW1001 is installed in my test enclosure and is fed with a home audio amplifier and the ever-frustrating Clio Pocket. SPL and distortion measurements are taken with the Clio microphone on-axis with the woofer at a distance of 12.5 cm from the mounting surface. If you want to equate the SPL numbers in the graph to 1-meter measurements, subtract 18 dB. Further, all the charts are labeled with power ratings as though the amp were driving a 4-ohm load. The SSW1001 has dual 4-ohm voice coils that I've wired in series. So, the actual power is about half of what's stated. Add 3 dB to find the equivalent 4-ohm output level. Conveniently, all the subwoofers in these tests have been dual 4-ohm drivers. That's totally a fluke, but at the very least, it makes the measurements comparable.
To kick off the testing, I fed the driver a voltage equivalent to 0.1 volt into a 4-ohm load. The high inductance I mentioned before is definitely visible as a reduction in output above 60 Hz. The resulting peak doesn't make this a one-note wonder, but removing that bump in the response would require some equalization. The driver would likely fare better with the voice coils wired in parallel, but I didn't want to stress the amplifier and have it start adding harmonic distortion. Second-order distortion peaks showed at 30 and 60 Hz, with the latter being just a hair above 1%. The rest of the frequencies are down around 0.35 to 0.38%.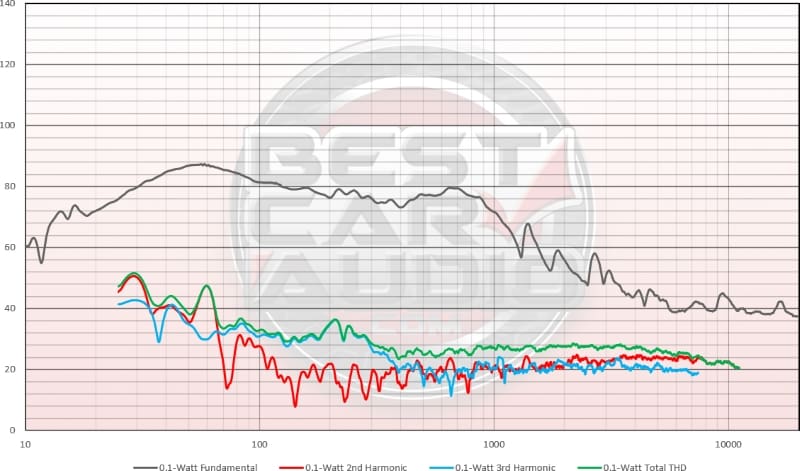 I bumped the output up to a 0.316-watt equivalent for the next test. The 60 Hz bump has faded away, so it might have been noise from the amplifier. Distortion from 40 to 60 Hz varies between 1.2 and 1.4%. Distortion levels at frequencies above those are very good at less than 0.7%.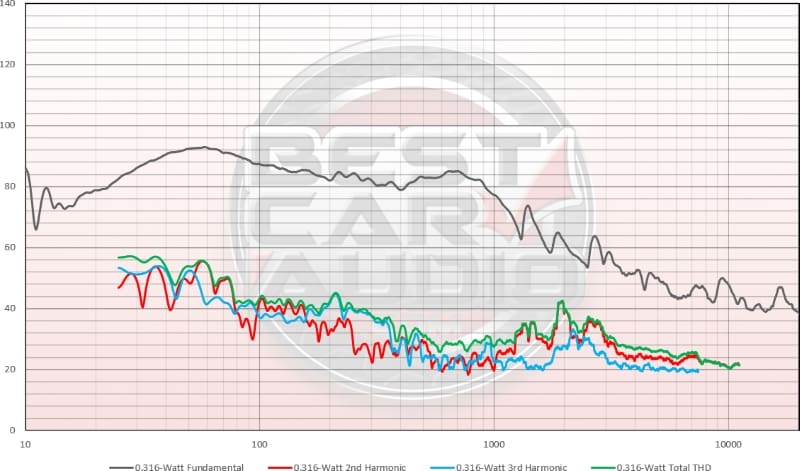 The next measurement was taken at a 1-watt equivalent level. So far, the driver is acting normally, and distortion is slowly increasing with cone excursion. Fifty and 60 Hz are right at 1%, 40 Hz is at 1.5%, and 30 Hz is still acceptable at 4.2%. It's important to remember that these measurements are similar to how a subwoofer would be tested during the development phase. There is no small air volume behind the cone that is limiting low-frequency excursion and output.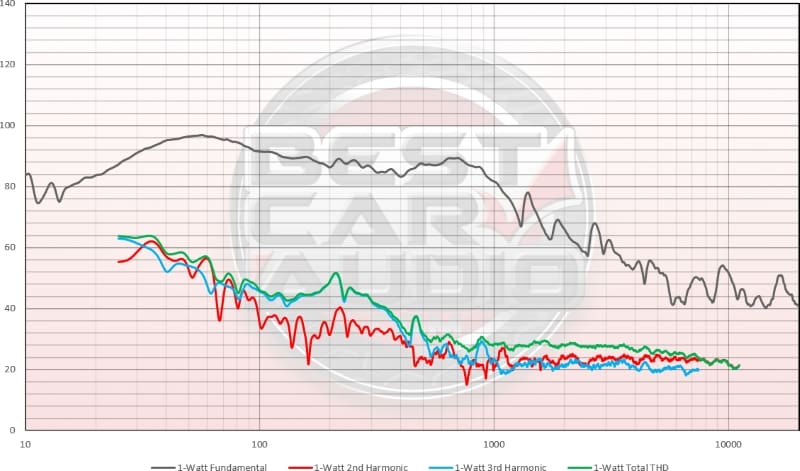 This measurement is at 3.16 watts. Third-order distortion at lower frequencies is up a bit but is still very good, with 40, 50 and 60 Hz all being 1.7% or less. Even at 120 Hz, harmonics are under 0.73%. So, while the midbass is attenuated by the inductance of the voice coils in series, it should still be nice and clear.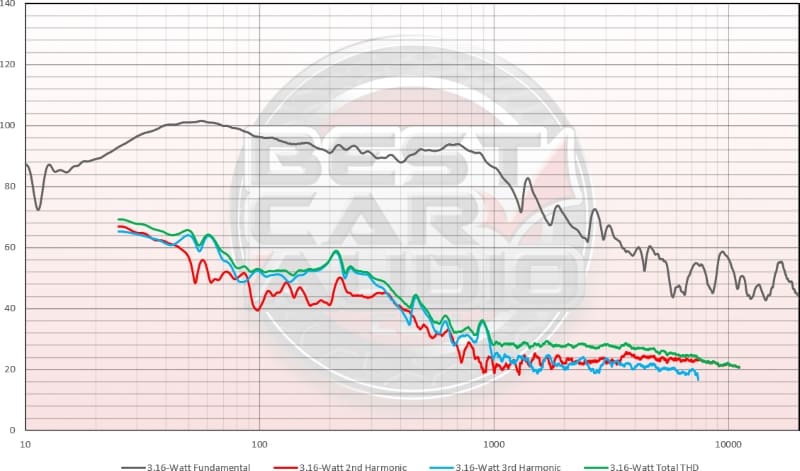 With an equivalent of 10 watts going to the sub, we see some more significant low-frequency excursion. This coincides with the bump in second-order distortion down at 40 Hz. Still, it's only 2% THD. Fifty through 120 Hz don't exceed 2.1% THD. The Orion Cobalt driver from the last article added 3% distortion at this drive level.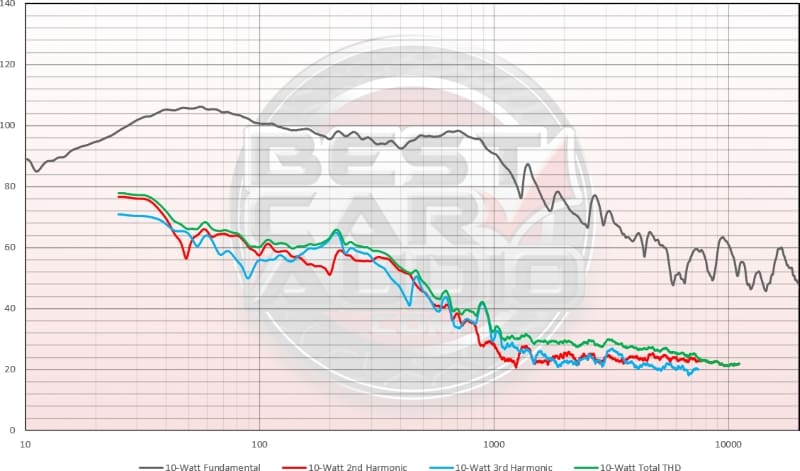 The benefit of a driver with a long voice coil winding is that the motor force remains relatively linear, even at higher excursion levels. We're up to a 20-watt, 4-ohm equivalent now, and 40 Hz distortion is still nice and low at 2.4%. We are starting to see some small ripples between 30 and 70 Hz in the response, but they are only a decibel or two.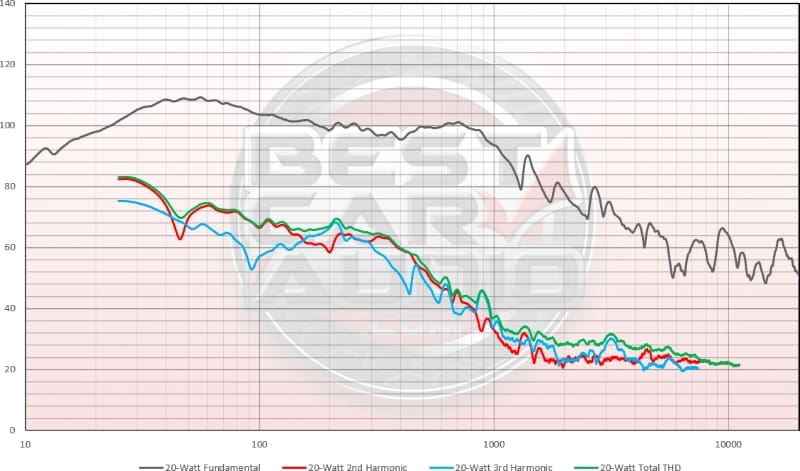 I know 40 watts doesn't seem like much, but we are into free-field SPL levels around 93 dB, which would be well over 100 dB in a car. The Clarion holds its own with total harmonic distortion from 40 Hz and up between 2 and 3%.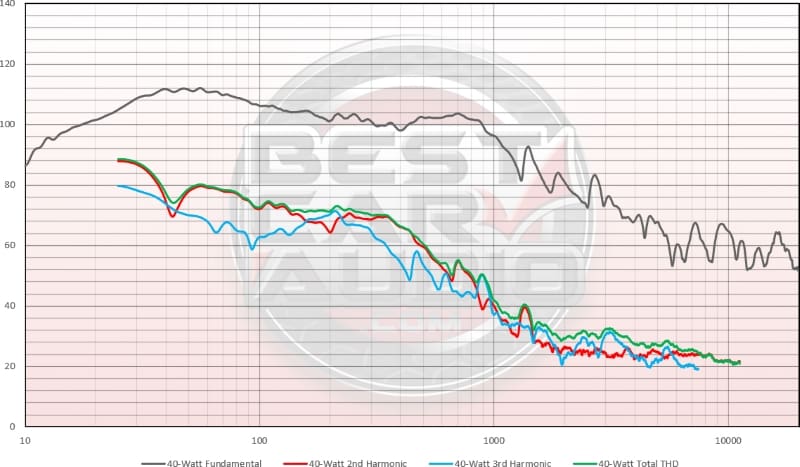 At an 80-watt, 4-ohm equivalent, the 30 Hz distortion has exceeded 10%. Everything else is well under 4%. The Orion Cobalt was near or above 10% at all frequencies by this point. Given the prevalence of using PA-style speakers as midbass drivers, it's clear that many car audio enthusiasts mistake distortion for loudness. The Clarion would seem nice and clean at 40 Hz, whereas the Orion would be muddy and garbled.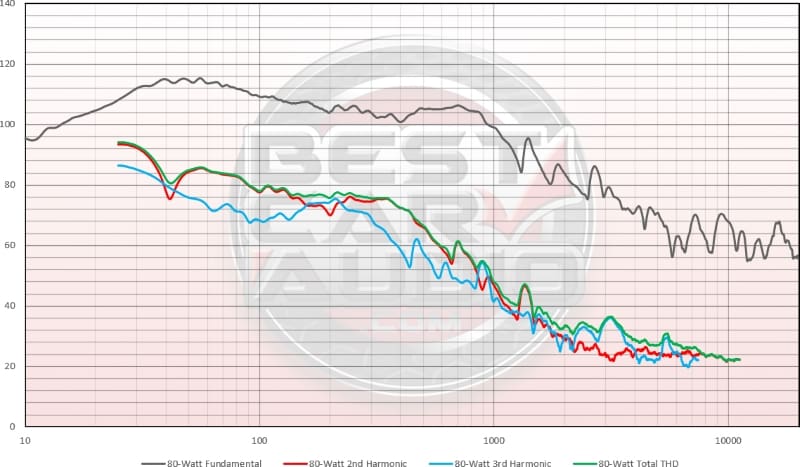 The last jump in power is to 160 watts. We are getting near the limits of the test amplifier, and the woofer isn't enjoying playing the lower frequencies at these levels. With that said, the 30 Hz total harmonic distortion is at 15% and everywhere else is under 5%. The Cobalt was over 50% at 30 Hz and over 12% everywhere else. There are more ripples visible in the fundamental response. I have an idea about those ripples that I'll investigate later.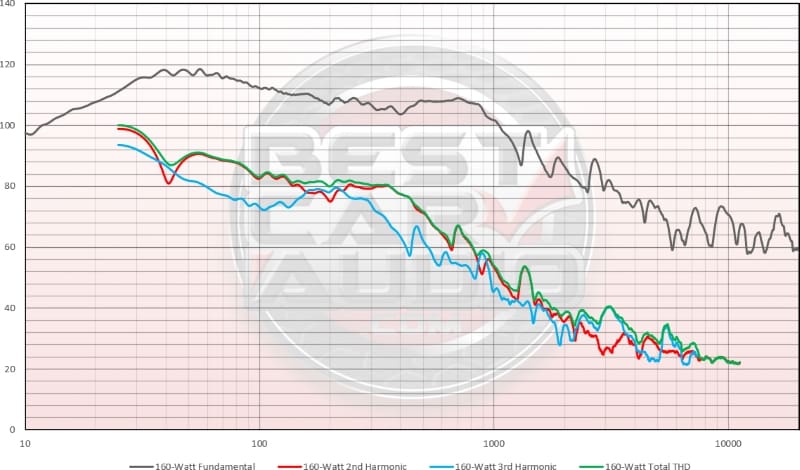 Overall, the design works as intended. The extended voice coil and thick top plate help ensure that the motor remains linear, even at higher excursion levels. While this feature is common to SPL-focused subwoofers, it works on SQ drivers to keep them linear. The graph below shows distortion at different power levels, with each trace representing a different frequency. Compare this to the other subs we've tested, and you can see an impressive difference in clarity.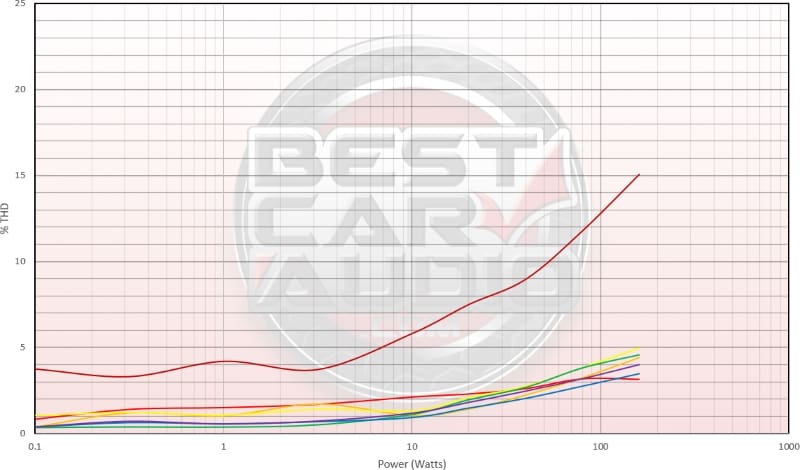 With that said, there is an important consideration: The surround on the SSW1001 is massive compared with the Orion Cobalt or the Power Pro. This large surround translates into the subwoofer having less cone area and, thus, decreased efficiency. Add that the moving mass of the Clarion woofer is three times that of the Orion, and it's clear the design will sacrifice efficiency.
If we look at the output of the three drivers at 10 watts, the Clarion produces 105.75 dB SPL, whereas the Orion is almost 10 dB louder at 115.18 dB SPL. The Power Pro is at 111 dB SPL. These output levels highlight the importance of balancing features that help excursion (large surrounds) with more efficient drivers with less excursion capability. It also highlights how a less powerful amp with a more efficient subwoofer might be a better investment and put far less load on your vehicle's electrical system.
Conclusions about the Clarion SSW1001 Sound Quality Subwoofer
So, fast-forwarding two decades, how does the Clarion SSW1001 fare as a Sound Quality subwoofer? It plays low in a small enclosure, and distortion above 40 Hz remains well-controlled. The extended voice and tall top plate combine to provide an impressive Xmax specification of 24 millimeters. The inductance is very high with the coils wired in series, reducing midbass output. This attenuation makes blending with the front/mid-bass speakers a bit harder. Had I known then what I know now, I'd have included some inductance management features like a shorting ring or a copper T-yoke cap. In its era, though, very few subs had those technologies.
Our next article on understanding subwoofer quality will examine an ultra-rare 10-inch driver designed for infinite baffle installations.