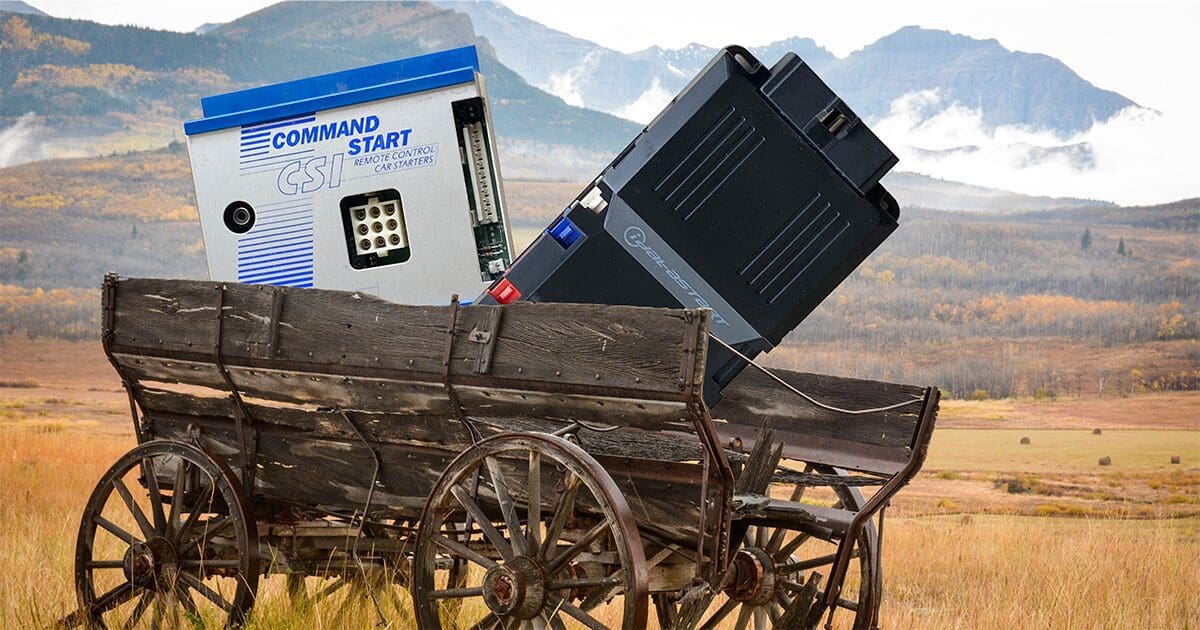 Remote car starters have been around for decades to make it easy for you to start warming up or cooling off your vehicle without having to go outside. We started with relatively simple remotely controlled relays that mimic the function of the key cylinder the steering column. Now, modern vehicles require many of those connections, plus the need to interface with the computer network in the vehicle to work with factory-installed security and anti-theft systems. So let's take a look at how this tech evolved over the decades.
Where Remote Car Starters Began
Ask anyone who's been in the industry for more than a few decades, and they'll tell you about looking for space up under the dash to mount comparatively huge remote-start control modules. These behemoths were the size of a small hardcover book and had high-current relays or, in some cases, MOSFETS on the circuit board to mimic the connections that were made as a key was turned. The microcontrollers (small computers) in these models were basic, but they could start your car or truck while you were comfortably inside your house.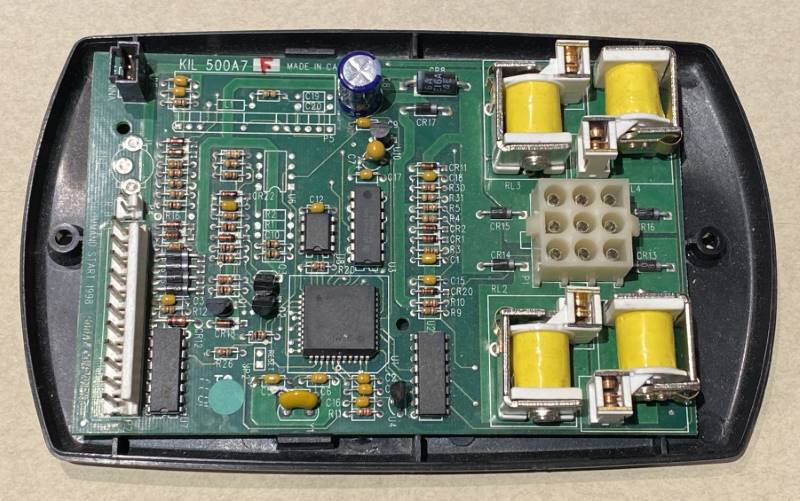 If you look at the photo of this old Command Start remote starter controller from 1998, the first thing you'll notice is that the accessory, ignition and start relays are an open-chassis design. Unfortunately, this means that humidity, dust and debris can easily infiltrate the connections and affect reliability.
Second, you'll see that all the devices on the board, including the 8-bit Freescale 68705 microcontroller, are of the through-hole style. For the era, this was state of the art. Now it'd be like having bias-ply tires on your Porsche. The older microcontrollers and the associated transistor array ICs consume more current than their modern counterparts. The vintage of these components meant that there was more draw on the vehicle battery and an increased chance of running the battery down if not driven daily.
Thanks to Joe from Tunes-N-Tint in Lakeland, Florida, for loaning us this piece of remote car starter history!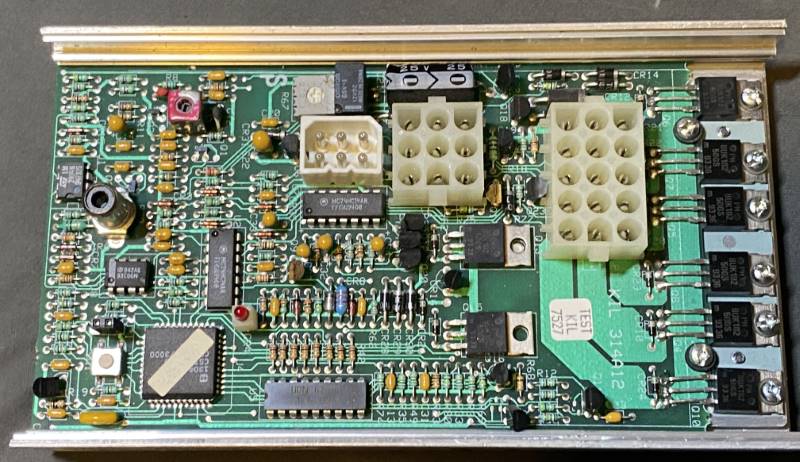 Here's another classic starter from Command Start called the CS 3000 Plus. This unique design used high-current MOSFETS for switching instead of relays. The six-pin solid white plug just to the left of the center of the circuit board was a built-in integration solution for General Motors vehicles that used chip resistors in the keys as a security system. Installers could use the tiny grey potentiometer to configure a like resistance while keeping the vehicle secure by only having that presented to the car or truck during the starting process.
There's a total of 30 connections on the board, not including the antenna connection. While still a lot of wires to hook up, these are downright simple compared to a modern controller.
Thanks to Lee from Motron Automotive Electronics in London, Ontario, for loaning us this CS 3000 Plus.
Modern Remote Starters
Fast-forward 20 years, and remote start systems now use sealed high-current relays and modern RISC microcontrollers with integrated analog-to-digital (ADC) converters and high-speed serial communication ports. Like the HC Series from iDatastart, some starter systems have integrated data-network interfaces that can be programmed to work with modern encrypted-key security systems. In addition, the onboard ADC allows the system to monitor engine speed to know when the starter is cranking and when the engine has started.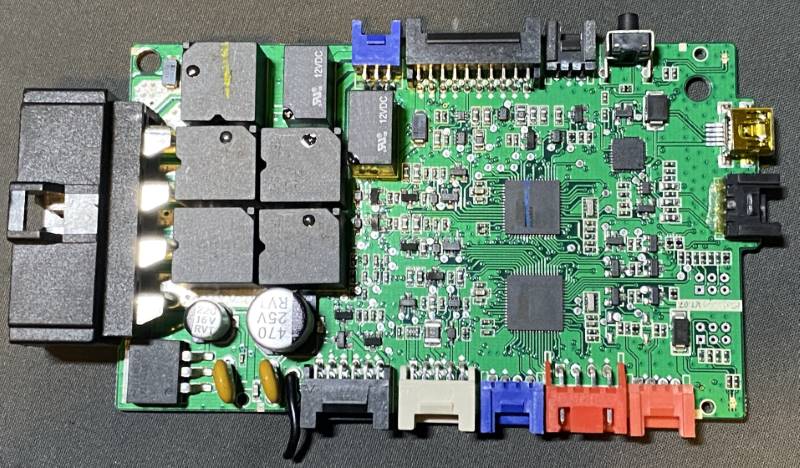 The use of modern surface-mount manufacturing not only speeds up manufacturing time but reduces cost. A robot can put each component in place, then the entire board travels through a wave soldering bath to establish the electrical connections. This component-loading design sure beats having to have someone load resistors, diodes, capacitors and integrated circuits by hand!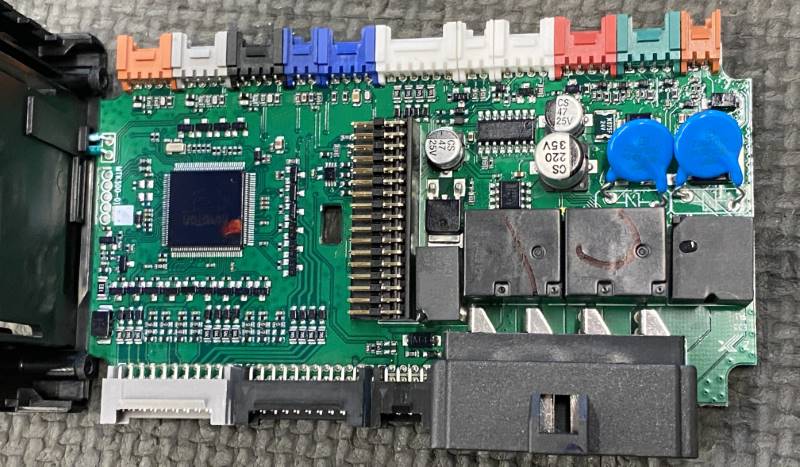 If you look at the photo of the Compustar CM-X above, you'll see a glossy coating over most of the circuit board. This is called a conformal coating, and it helps protect the components from damage from moisture and humidity.
The CM-X has dozens of programmable connections that your installer can use to interface with your vehicle. If your application needs three accessory wires, the CM-X can do it. For example, if you want the system to activate the rear window defroster, the driver and passenger heated seats, and the heated steering wheel when the car's interior is cold, it can do that easily.
The installer working on your car or truck will load software specific to your application into the controller, then complete the wiring integration based on that configuration. Finally, they can configure the auxiliary outputs to be latched, pulsed, momentary or timed outputs. Your installer has access to about 300 configuration options to allow this system to work with as many vehicles as possible.
The CM-X controller has a stunning 76 pins across 14 different connectors to allow your installer to connect to the car, with options like a DroneMobile telematics interface, a digital security sensor, a temperature sensor and much more. Of course, it's improbable that all would be used in a single installation. Their existence provides a unique look into the flexibility of these modern remote starter systems.
Thanks to Cory from DC Car Audio in Sarnia, Ontario, for the photo of the Compustar CM-X Controller.
Upgrade Your Car with a Remote Starter Today!
If you haven't considered adding a remote car starter to your car or truck yet, drop by your local specialty mobile enhancement retailer today to find out what's available. From the reliability of modern electronics, a seemingly unlimited list of integration options and dozens of remote-control choices, there's a system out there that's perfect for your vehicle and application.