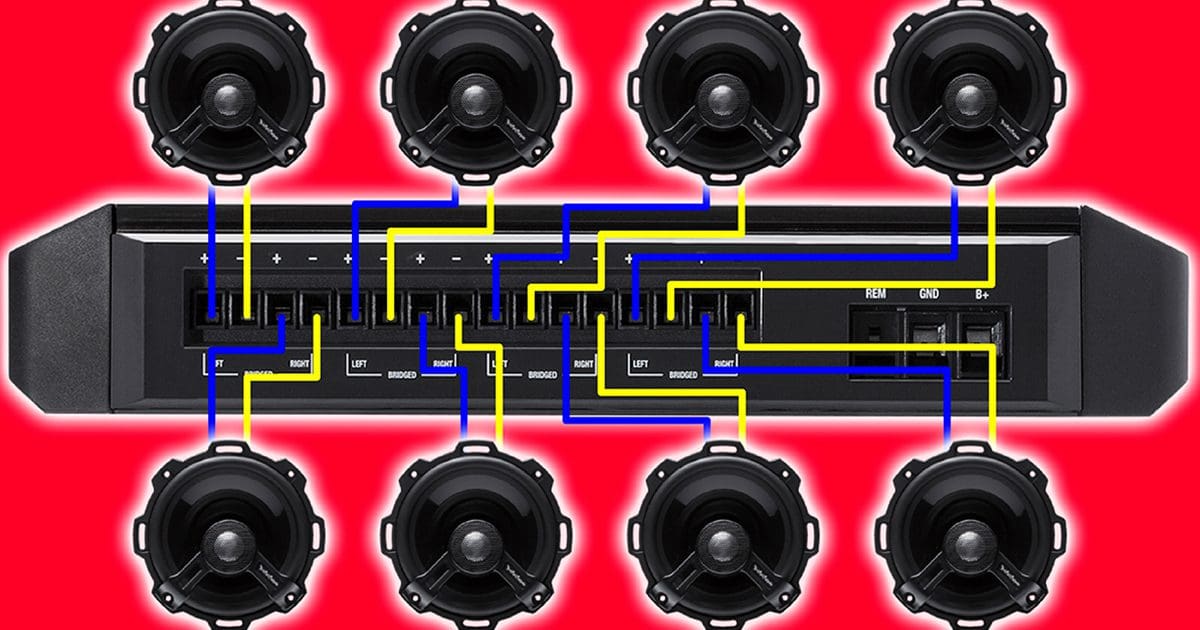 In the last five years, the popularity of six- and eight-channel car audio amplifiers has increased dramatically. These amplifiers are often equipped with integrated digital signal processing, making them a perfect solution to power an entire car audio system. When analyzing power ratings, it's crucial to know how these amplifiers are tested. Let's look at the "all channels driven" qualifier and why it's an essential part of the specifications you're reading.
What Limits Power in a Car Audio Amplifier
In the good old days, most car audio amplifiers were physically large. This size allowed for power supplies capable of delivering adequate current to allow the amplifiers to make significant power into 4-and 2-ohm loads. If the maximum voltage an amplifier could produce remained constant independent of the speaker load, the amp would almost double its output power with a 2-ohm speaker connected compared to a 4-ohm driver.
These days, the proliferation of ultra-compact amplifiers has limited the power supply size. Many amplifiers make reasonable power into 4-ohm loads but don't double their power when loaded down. The limiting factor in these amplifiers is the ability of the power supply to deliver adequate current to the lower load impedance. Confused? Let's do some simple math to explain.
Speaker Power Math
Let's say we want an amplifier to deliver 50 watts of power to a 4-ohm speaker. The amp would need to output 14.14 volts RMS per channel (or 40 volts peak-to-peak). There would be 3.5 amps of current flowing through the 4-ohm speaker when driven with 50 watts.
Now, if we wired a second 4-ohm speaker to the same channel, the net impedance has been reduced to 2 ohms. Suppose the amp can maintain that 14.14-volt output; it would produce 100 watts of power. That said, 7.07 amps of current is required to drive those speakers. Imagine if this were an eight-channel amp. It would need to output 56 amps of current to drive eight 2-ohm speakers or 16 4-ohm speakers. That's a LOT of current! You'll see a lot of amplifiers that don't double their power or aren't rated to drive lower impedance speakers.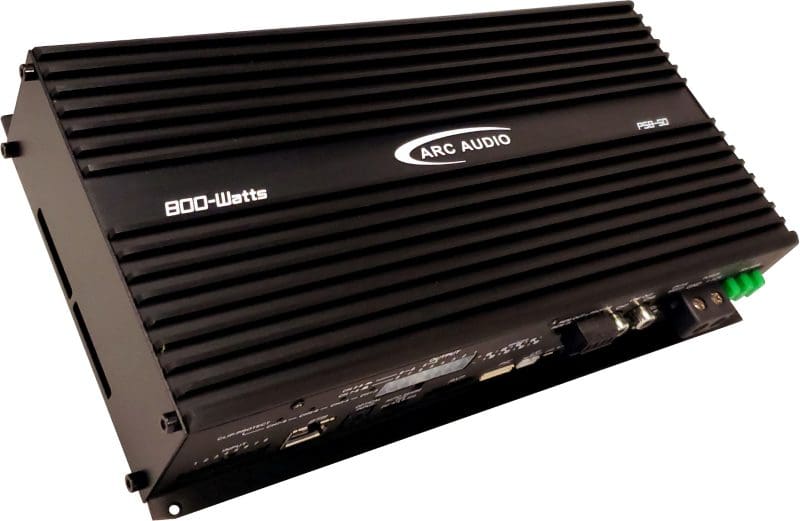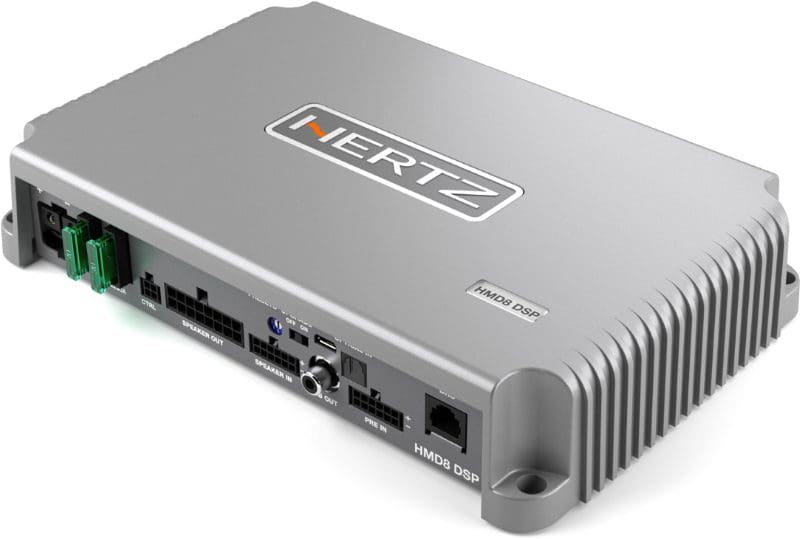 What Does "All Channels Driven" Mean?
When a professional is testing a car audio amplifier, we will ensure that each channel of the amp is loaded equally and driven at the same level. The standard for testing car audio amplifiers is the ANSI/CTA-2006-C. The standard states that "All channels are driven simultaneously across the Rated Bandwidth" for primary power ratings. Why is this crucial to delivering a real-world power rating?
Let's set up two scenarios. The first is a car audio system where an eight-channel amp is driving a set of tweeters, a set of midrange drivers and a set of woofers, with the last two channels bridged to drive a subwoofer. The second scenario is an eight-channel amp bridged to power four wakeboard tower speakers. The latter is a very popular marine application. So, what's the difference between the two configurations? The answer is frequency content.
If you're a regular reader of articles here at BestCarAudio.com, then you know that midrange drivers require significantly less power than woofers to achieve a balanced output. Likewise, tweeters need less power than midrange speakers. How much less the smaller drivers require depends on their efficiency and crossover points. We also know this to be true because of the energy content in music. Most of the energy is in the lowest frequencies, and the output decreases at roughly 3 dB/octave above 40 hertz.

Looking at the graph above, we can see two lines. The red line represents the frequency response of pink noise. The yellow line is the averaged energy per hertz of the song "Royals" by Lorde. Without getting dramatically complicated, a tweeter playing from 5 kHz and up would only need 35 dB less energy, equating to 0.03% as much power. If the sub needs 200 watts, the tweeter likely requires about 0.06 watt. Even if there is a vast discrepancy in efficiency, say 10 dB, the tweeter is still down around 0.6 watt.
How much current does a tweeter draw when receiving 0.6 watt of power? It's receiving 1.54 volts and 0.387 amp of current. The current not used by this speaker can be delivered to other drivers. If you've wondered why your radio distorts more when you turn up the bass, this is why. It's also the reason why the radio distorts less if you turn on a high-pass filter for the internal amplifier and add a dedicated subwoofer.
What about that marine speaker application? All four drivers are bridged onto our eight-channel, 50-watt-per-channel amp. If the amp can supply adequate current, it should produce about 200 watts per driver. If maximum power is needed, each channel must deliver 7 amps of current to each speaker at 28.28 volts RMS. There's no holiday for this amp – it's all or nothing.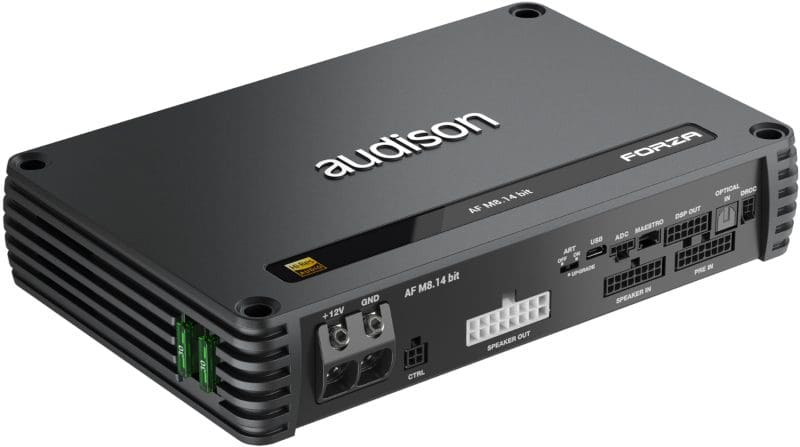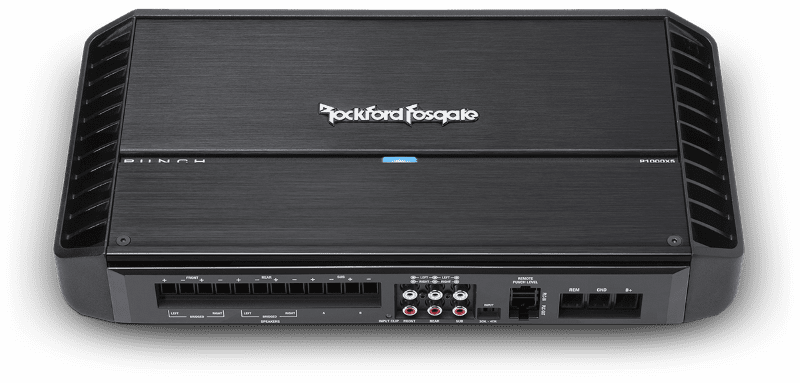 Look for Multichannel Amps with "All Channels Driven" Ratings
Suppose you're looking for a multichannel amplifier that will sound great under any situation. In that case, there are two things to look for: a design that can double its rated power when the load impedance is cut in half, and specifications that clearly state that all channels are driven during testing. Drop by your local specialty mobile enhancement retailer today to see what they have available.