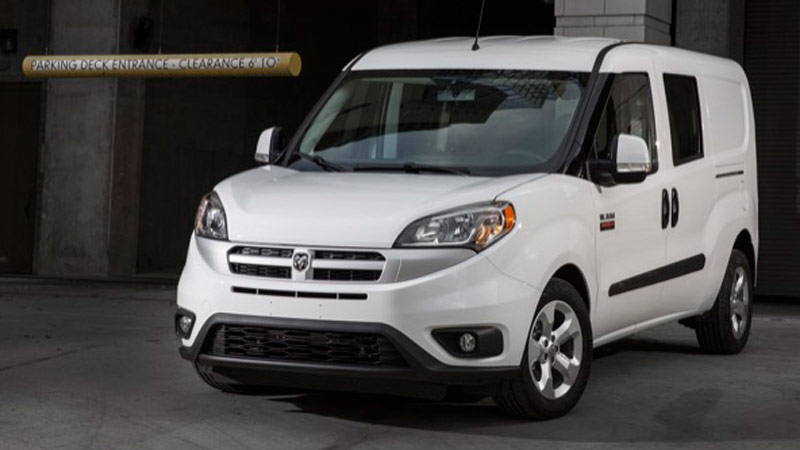 When the Sprinter hit the shores of the United States about 15 years ago, American laborers fell in love with the van with Euro flair. Driving a van with a high roof height proved invaluable to a cadre of plumbers, electricians and flower delivery people. But what if something could be made for urban areas, something a bit smaller and easier to park but that still kept the utility level high? Especially if the vehicle could offer seating for more than two passengers. Enter the younger siblings of the Sprinter workhorses. They include the Nissan NV200, Chevy Express City, Ford Transit Connect and, most recently, the RAM Promaster City Wagon. For my day job, I actually fell in love with the Transit Connect as it was the perfect blend of utility and practicality. I could still pick up my daughter from school in case I could not get back to the office and swap it for my "real car." I was excited to see how the new RAM Promaster City Wagon would stack up.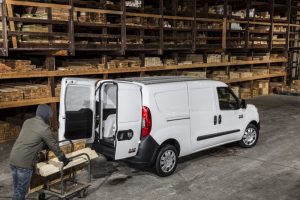 The version I had was the SLT, which is as good as it gets for the Promaster City line. The vehicle shares its DNA with a Fiat model (the Doblo) in Europe, where it is designed for small and narrow passages. The 2.4-liter Tigershark 4-cylinder coupled to the nine-speed automatic gave it a slight performance advantage over my Transit Connect that uses a six-speed transmission. Moreover, fuel economy was noticeably better. While I am only able to get about 22 mpg in the Transit Connect, the Promaster was delivering numbers bordering on 25 mpg. However, my TC is also loaded with work equipment to the tune of about an extra 200 pounds. But I do believe the powertrain advantage goes to the Promaster.
There is seating for five, and you can fold-and-tumble the rear seat all the way up to the two front seats to maximize the cargo hold. The hold has the widest area between the rear wheel wells compared to the competitors', which makes a big difference in schlepping cargo. About the only thing not nice about the rear are the unfinished rear side windows that can give a blind spot for those used to minivans. In fact, this is the perfect vehicle for blind-spot protection systems that are available from a number of aftermarket manufacturers.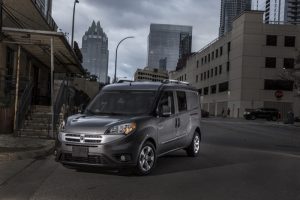 On the audio end, my Promaster tester actually only had two speakers, although some models are available with four speakers. It was a little strange to scroll through the infotainment menu and see no fader control. The rest of the infotainment system does its job but remains unremarkable. The Uconnect 5.0 Navigation uses a TomTom setup, and you can get SiriusXM. But if it were me, I would skip the $860 Uconnect package and head over to my mobile electronics retailer for a high-end aftermarket unit that would give even more connectivity options. And while you're there, you can select front and rear speakers for better sound quality. There's plenty of room: Those wanting to take it to the next level could even add a small sub – or even two 24" subwoofers for those who want to win SPL competitions.
What is nice is the rear back-up camera group that comes in at $565. If I were in the market for a van that could do double-duty as a work vehicle that could still pick up passengers, I would actually go for the base model that comes in at $26,000 vs. $30,000 for my tester. That gives you all of the underpinnings of a ready-to-work platform, but you'll have $4,000 to spare for your mobile electronics retailer. Then a high-quality audio upgrade, rear parking assist and blind spot protection could all be integrated with tip-top components for less money than Ram is charging. Moreover, if the vehicle were going to be used by employees, vehicle tracking could also be a worthwhile option. Then you could have a European-designed van wearing the Ram badge with cutting-edge electronics to boot. Maybe you wouldn't use it to go out to dinner on Saturday night, but in a pinch you could!