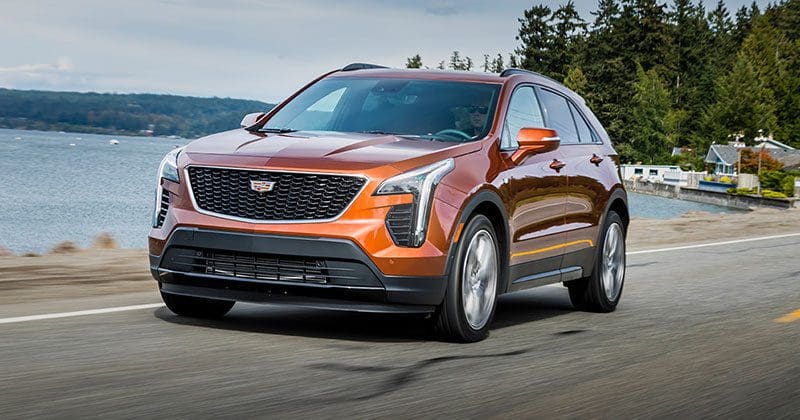 Cadillac has tried in the past to come up with entry-level sized and priced vehicles to win over the public at the dealership. Unfortunately, most have not proved successful. But for the XT4, Cadillac assembled the most youthful design team in GM's history. Rather than ask the team to come up with a traditional small car, they instead asked the team to come up with a vehicle they would want to drive. The XT4 compact SUV was born. It is a small sport utility with its large wheels pushed out to all four corners. With its blacked-out grill and sinister one-piece taillights, the XT4 does have design character. The interior was smothered in nicely executed cognac leather and stitching.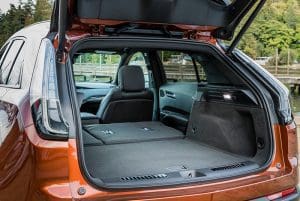 Since it's a subcompact SUV, it's obvious this is no Escalade. But the XT4 makes solid attempt to come off as spacious in the cabin. The highly adjustable seats and newly designed steering wheel let you position yourself in a way that allows you to get comfortable. When the rear seats are folded down, there is nearly 50 cubic feet of cargo capacity. According to Cadillac Design Director Jim Fleming, "The XT4 was envisioned to holistically to deliver a dynamic sporty exterior without compromising comfort and functionality for passengers. It's a great balance that delivers style and comfort on long drives such as a weekend getaway to a favorite ski slope, while still offering excellent cargo room for that ski trip's gear."
The benefit of keeping the vehicle tight is that the powertrain does not need to be massive, either. The XT4 gets an all-new 2.0-liter turbo engine. It uses GM's Active Fuel Management cylinder deactivation technology. It is connected to a nine-speed automatic transmission. This gets the XT4 a 30 mpg highway figure.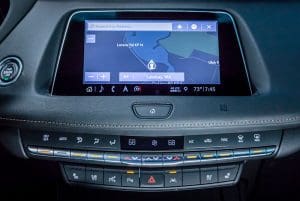 On the infotainment end, the much-maligned CUE system now features both a touchscreen and a rotary controller. The new controller includes a dedicated volume knob next to it. The touchscreen now works lightning-fast, compared with older versions of CUE where you would have to wait for apps to, well, cue up. The 8-inch screen on the new model has 768p of HD resolution. The Bose audio system is decent, but not killer. I was impressed with the amount of care Bose has taken in tuning the stereo imaging. However, a good aftermarket setup will still deliver more bass. The only problem I had with the infotainment system was that the slot for the navigation SD card would accidentally get bumped while accessing items in the center console odds-and-ends bin. It would be nice to see the data come in through a telematics WiFi connection. But they want to keep the price point reasonable on the XT4.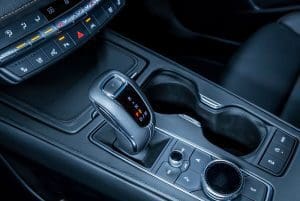 I really liked the LEDs brought into the door handles. It's a nice touch that makes the XT4 seem like it would be sold at an even higher price point. They blend well with the LED lighting in both front and rear. The XT4 features an LED-illuminated light blade for daytime running lights. A full suite of safety features is available, but you must move up to Premium Luxury models to get it.
One really cool trick the car can do is instantly pair your smartphone. Near-field communication makes pairing a smartphone painless. All you have to do is hold your near-field communication smartphone to the NFC logo on the dashboard rather than fight with Bluetooth submenus. The vehicle nearly instantly recognizes the phone and integrates it into the new Cadillac User Experience. This will save older customers a lot of headaches when trying to pair a phone. To keep smartphones topped off without having to dig for wires, 15-watt wireless charging is located in the front of the center console.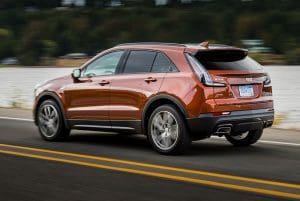 Those young designers sure used their influence with four USB ports and three 12-volt accessory ports stored around the vehicle. There are aftermarket head units that also use near-field communication for seamless connection to smart devices. This can come in handy on a road trip when you want others to DJ and add to the journey's playlist!
Overall, the XT4 has a lot of competition in the small SUV class, but you do get that Cadillac styling and DNA. With the CUE system now behaving better than previous generations, it is worth a look.