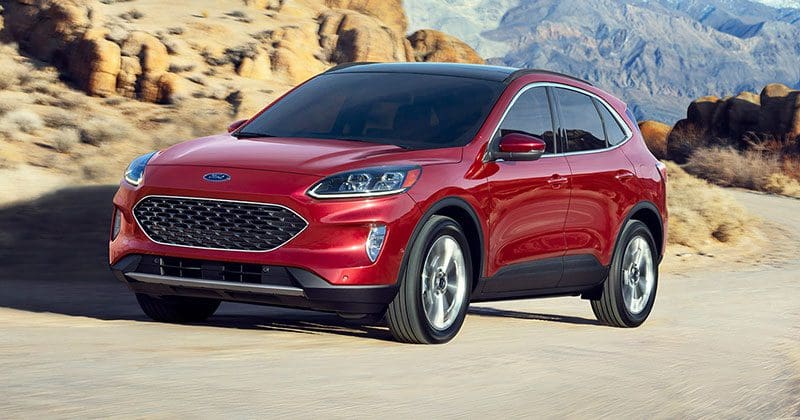 When the Ford Escape was first introduced about 20 years ago, it was a boxy little SUV, but it did perform admirably. It was Ford's first foray into the now wildly popular CUV (some say the C stands for compact, some say for cute) segment. Some might even remember that it was cut from the same cloth as the Mazda Tribute. It was the vehicle that helped Ford and Mazda sell against the Toyota RAV4 and Honda CR-V. In its first year on sale, it became America's best-selling SUV. Fast-forward 20 years and it is evident how designs have changed and boxy is not part of the equation anymore. The new 2020 Ford Escape now flaunts – dare we say sexy – curves. We think the new look will be a top seller as well.
Ford's President of North America, Kumar Galhotra discussed the new style. "This all-new Escape brings a sleeker, sportier design with the capability to take you on just about any of your life's adventures. To create a sportier look for the all-new Escape, designers turned to some of the most high-profile sports cars in the Ford showroom. The shield-shaped trapezoidal grille is inspired by the sixth-generation Mustang, while the lower front end borrows from Ford GT. Compared to the current model, the all-new Escape stands lower, wider and longer."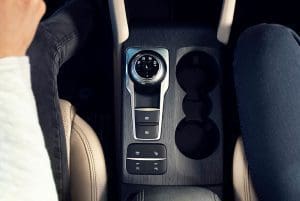 Fuel economy was paramount when designing the Escape, and Ford is proud to note that all Escapes should get at least 400 miles per fill up. My tester was the gasoline 2.0-liter EcoBoost engine that flexed 250 horsepower and 275 lb-ft of torque. I was impressed with how smoothly it worked with the new eight-speed automatic transmission. Noise, vibration and harshness are at a minimum. During low-speed maneuvering, the vehicle does a good imitation of working on hybrid power even when using a gas engine. Of course, those customers who opt for the hybrid get to look forward to another 150 miles of range before their driving is interrupted by a fuel stop. For something so smooth and quiet, you don't expect it to be able to haul a boat. But, my tester was equipped with a trailer package and can pull up to 3,500 pounds.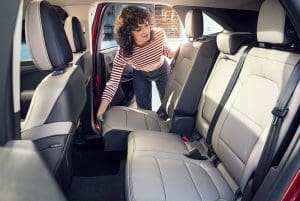 The interior of the Escape is a nice place to spend time. The second-row seats can slide fore and aft. Typically, the seats will spend most of their time in the rearward position if you are carrying people. They will live in the most forward position if you carry cargo. At least the end user gets to choose how to best configure the small SUV. With the seats all the way back, there is more legroom compared with the full-size Chevrolet Suburban!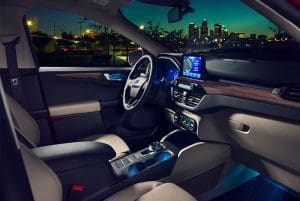 I recently tested the Ford Explorer, and the Escape also has a button for selectable drive modes. There are options for normal, eco, sport, slippery, snow and sand conditions. I couldn't test all the modes, but the transmission tuning seems up to the task. Moving up the center stack is the infotainment screen that grows out of its top. I would like to have seen it more integrated, but it does give extra real estate for Ford to show off its beautifully done low-gloss wood trim. The 8-inch touchscreen is easy to use. I did have one minor system hiccup that made some navigation instructions sound like they were being played on a broken record.
The technology that is new to Ford is a Mazda-style heads-up display that projects its information on a small lens that motorizes out of the dashboard. It measured about 6 inches by 2 inches and can be configured to show the information that's most important to the driver. For those who think the HUD technology is the coolest, some aftermarket units can also display vehicle data on the windshield. Check with your local mobile electronics retailer for the possibilities.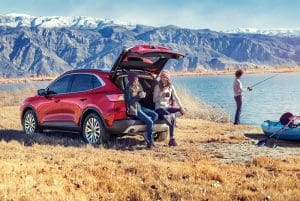 Apple CarPlay and Android Auto are here, in addition to Alexa integration. Yes, you can ask your Ford Escape to open your garage if your opener supports it. There is also a 575-watt 10-speaker Bang & Olufsen sound system. It runs out of steam quickly but is fine for "normal" listening levels. Those who want a better experience should check out some aftermarket options.
Overall, the Escape is a well-engineered CUV that proved quiet and utilitarian with maximized fuel economy. It even looks great. It will probably go on to be a Ford sales leader as CUVs replace mainstream sedans.