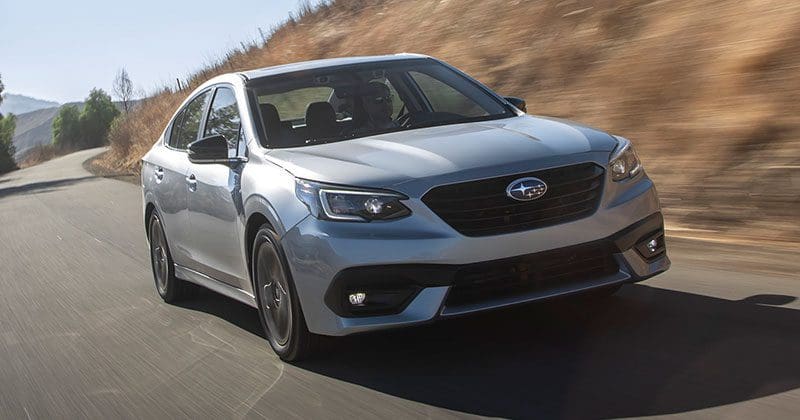 It used to be that if you wanted an all-wheel-drive sedan, you turned to Subaru. They were one of the few automobile manufacturers specializing in drivetrains engineered to put power to the pavement through all four wheels – especially in slippery conditions. But competition in the segment has crept up on Subaru, with Nissan now offering the Altima in all-wheel drive, and Toyota adding it to the Camry.
With that newfound competition, it was essential for Subaru to keep improving its flagship Legacy. In the 2020 Legacy Limited XT, they've achieved continued success by offering an attractive suite of new technology upgrades, extremely useful driver-assistance monitoring and a 2.4-liter turbocharged boxer engine.
Large and In Charge: Starlink Infotainment System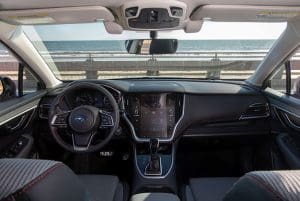 The centerpiece of the technology features is the Subaru Starlink multimedia system. Everyone likes a large multimedia screen, and Subaru delivers.
The system features an 11.6-inch high-resolution touchscreen with on-screen controls for audio, HVAC and other features such as heated seats. The massive screen cascades down the center console as it does in a Tesla or Volvo. Setting radio stations is easy and intuitive. Navigation maps give you the lay of the land long before you have to make a turn. In fact, there is so much room, I would like to have seen a way to easily split the screen for both mapping and audio controls (it's doable, just not intuitive).
The navigation duties are handed off to TomTom software (with three years of map updates included), which works well, but more could be done to integrate a shared screen setup on the large screen. On the other hand, the instrument cluster will still display navigation turn information even with the main unit on the audio screen. Cabin temperature and fan speed are controlled with hard buttons. Apple CarPlay and Android Auto are on board for the big screen party.
For Safety's Sake: EyeSight Assist Monitor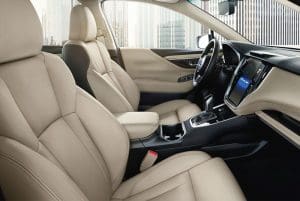 My wife is one of those high-strung co-pilots who loves to let the driver know when they should be sure to watch out, even when there's plenty of room for evasive action. She loved that the Subaru could do the yelling for her through EyeSight Assist Monitor. In all seriousness, the Legacy technology continuously keeps on eye on you and your surroundings. If your eyes start to wander, a warning beep alerts you to keep your eyes on the road.
When using EyeSight's Advanced Adaptive Cruise Control feature, Lane Centering Function provides steering assist when the vehicle veers outside its lane, helping the driver maintain a direct path. If you have teenagers who want to borrow the car (a staple in Subaru advertising), EyeSight is a wonderful technology that will remind them to not look at their smartphones and keep an eye on the road. The aftermarket offers similar systems such as those from Mobileye.
The Subaru DriverFocus Distraction Mitigation System uses a dedicated camera and facial recognition software to identify signs of driver fatigue or distraction. If the system detects the driver is distracted or dozing off, a warning will display on both the instrument cluster display and the 11.6-inch screen to alert the driver and passengers.   
Power of a Boxer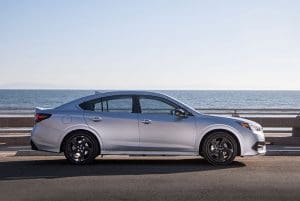 The Legacy is powered by a new 2.4-liter turbocharged boxer four-cylinder engine. It delivers 260 horsepower and 277 lb-ft of torque. The engine is connected to the wheels through Subaru's Lineartronic CVT with manual mode and steering wheel paddles. According to Subaru, the 2.4-liter boxer engine launches the Legacy XT from 0-60 mph in an estimated 6.1 seconds. Fuel economy for the turbo is equally impressive, with a manufacturer's estimate of 24/32 mpg city/highway. I returned numbers a little better than that on a long highway trip.
Although the Subaru isn't deemed a performance car, the turbocharged vehicle's numbers are very impressive for a comfortable family cruiser. The only niggle I had with the powertrain is with the new standard Auto Start-Stop. The boxer engine is relatively smooth once you're going, but it shudders the car when it first wakes up at the stoplight after taking a brief nap.
Sounds Good – Harman Kardon Audio
The Legacy uses a 12-speaker Harman Kardon audio system, with Clari-Fi compressed audio restoration technology and GreenEdge high-efficiency speakers and amplifier. The system has a center channel that provides good imaging and soundstaging. There is even a small subwoofer mounted on the rear deck. A little tuning could help bring even better sound. Check out your local mobile enhancement retailer for more info on aftermarket equalization.
Lasting Legacy
Overall, the Legacy is a great choice for a family sedan – especially if you live in a cold climate and need all-wheel drive. One of the most surprising features are the redesigned heated seats, which can make you toasty very quickly, coupled with the positive temperature coefficient heater that does the same for the cabin. Another warming feature is the price of just over $34,000 for a vehicle with this many amenities. I guess that's why they call it a Legacy!