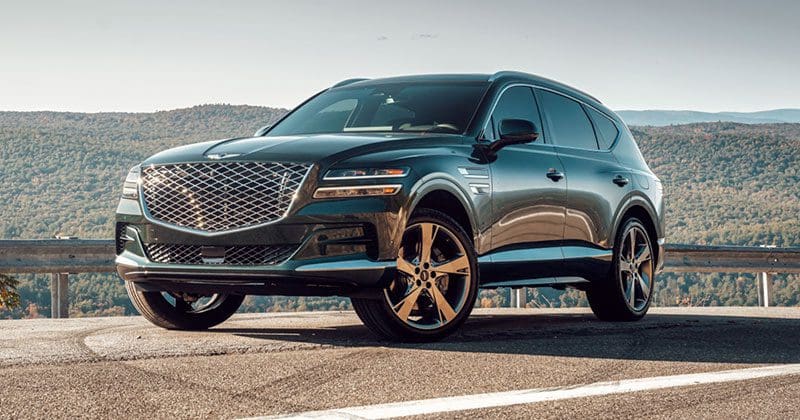 We recently had the opportunity to review the Genesis G80 sedan. It turned out to be a formidable competitor to its German luxury rivals. But it seems everyone is excited about the arrival of the GV80, the Genesis brand's first SUV … and the same model Tiger Woods was driving in February 2021 when he was seriously injured in a single-car accident near Los Angeles. Even though the L.A. County sheriff said Woods was traveling at a "relatively greater speed than normal," the GV80 is nothing but safe – in fact, Genesis is the only make in the auto industry where all the models are IIHS Top Safety Pick Plus.
One item that contributes to that distinction is an industry-first center air bag, located between the driver's seat and center console. According to Genesis, it deploys in 0.3 second in the event of a side collision to help prevent the two front passengers from colliding with each other or with vehicle components. It comes standard on all GV80 models, along with nine other airbags.
Mark Del Rosso, president of Genesis North America, said, "At Genesis, the customer is at the core of everything we do, and safety is our top priority." All Genesis models are equipped with a comprehensive suite of state-of-the-art driver assistance and safety technologies, including Forward Collision Avoidance-Assist with Pedestrian Detection, Lane Keep Assist and Blind-Spot Collision Warning.
"GV80 is our proof of concept that we infuse the spirit of youth and wonder into everything we do," Del Rosso said. "We developed GV80 by looking inward and asking ourselves how Genesis brand DNA could differentiate our very first SUV. I'm overwhelmed by the bench strength at Genesis and what the Design, Engineering and Development teams have accomplished with the GV80." We are pretty impressed, too!
Genesis of a Good Design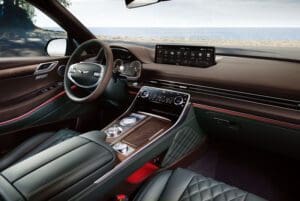 On the exterior, the large crest grill is surrounded by four lamps. A matrix pattern appears in the light fixtures and continues on to the optional 22-inch wheels. Inside, thin air vents run across the passenger compartment, blending in just as in a Tesla. A large, 14.5-inch monitor sits on top of the dashboard. You can use it as a touchscreen or with the a well-designed Genesis Integrated Controller with handwriting recognition.
Plenty of Power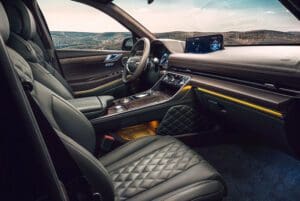 There are two engine choices: a 300-horsepower 2.5-liter four-cylinder, or a 375-horsepower 3.5-liter V6. Both use a dual fuel injection system that combines gasoline direct Injection with multi-port injection. In certain instances, one technology works better than the other. They are both linked to an 8-speed automatic transmission that has been optimized for use with both engines. I tested the 3.5-liter V6, which is very powerful – I bet the four-cylinder option will be suitable for most folks. My fuel economy came in around 19 mpg in a mix of city and highway driving.
Safety and Tech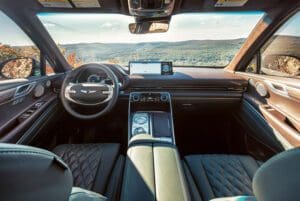 On the highway, the Genesis shines with a new technology to help the adaptive cruise control system. Lane Follow Assist maintains the center of the lane by recognizing both lane markers and vehicles traveling ahead. If one of the lane markings is not present, the system creates a virtual lane based on a single lane marker and the vehicle in front. Lane Follow Assist is activated by a hard button on the steering wheel. The heads-up display is especially nice, featuring colors and icons of approaching vehicles when the Lane Follow Assist is active. This way, you know the sensors are doing their job and instilling confidence. It makes long-distance road trips a pleasure.
Speaking My Lexicon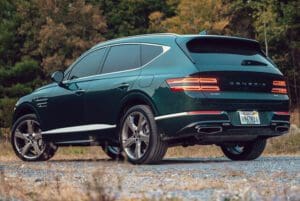 Nothing this good and quiet could do without a good audio system, and the Genesis delivers through partner Lexicon. It features 21 speakers and Quantum Logic Surround, with two 8-inch subwoofers located under the seats. According to Genesis and Lexicon engineers, superior fidelity depends as much on keeping unwanted sounds outside the cabin as it does on generating the right ones within. To keep things quiet, the GV80 employs acoustic glass in the windshield and front doors as standard and three-layer sealing for all doors.
The engineers also wanted to instill tranquility by using Road-Noise Active Noise Cancellation (RANC). For the first time in an active noise cancellation system, accelerometers on the wheels measure tire-based motion and vibrations. Before they translate to noise in the cabin, the processor develops a necessary opposing frequency, played through the audio system, to dampen unwanted sounds.
For all the luxury, Genesis has priced the vehicle right. Although not inexpensive at $73K, you would be over six figures if this were a German counterpart. Genesis is doing its part in controlling a world where vehicle prices are going crazy.