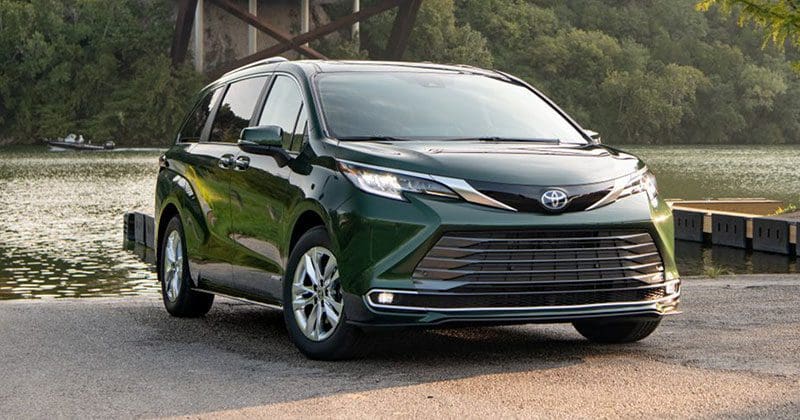 When it comes to the 2021 Toyota Sienna minivan, Kermit was wrong. It is easy to be green!
While some competitors do offer hybrid systems for their minivans, Toyota uses this amazing hybrid powertrain across the entire Sienna lineup. We are talking Corolla mileage from something that can haul seven passengers comfortably. Careful packaging of the battery underneath the front seats means cargo and interior room aren't affected.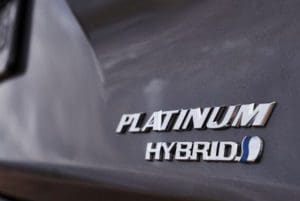 What does that mean for the average user? The Sienna can eke every little bit of mileage from its powertrain; its EPA-estimated 36 combined mpg fuel economy beats that of the V6 engines of its competitors. Although it may be slightly slower in a drag race, the Toyota gives you a few hundred more miles to travel per tank. And are you really drag racing your minivan? Those savings at the pump start to add up quickly as the price of gasoline nears $3 a gallon nationwide.
The Sienna recently won the Family Green Car of the Year. "The fuel efficiency of this all-new 2021 Sienna makes it a cut above the rest," said Bob Carter, Toyota Motor North America's executive vice president of sales. "This award just further highlights our dedication to hybrids in North America."
The powertrain is Toyota's proven 2.5-liter four-cylinder engine and electric motors. It is similar to the one used in the RAV4 and linked to a similar CVT transmission for efficiency.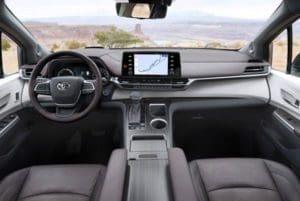 On the exterior, the Sienna looks as good as a minivan can get. Some might even call it muscular. With its hood elevated, the family-hauler does its best impression of an SUV. Well, it might not be the Rich Little of impressionists, but the Sienna looks good for a minivan. At my daughter's school drop-off (no buses during Covid), the staff was asking what kind of vehicle it was. In a sea of SUVs, sometimes a minivan actually stands out from the crowd.
Playing with the JBL Audio system was fun, with memories from minivans of yore that had just four speakers for the large passenger compartment. Here, you get 12 of James B. Lansing's finest loudspeakers, plus a subwoofer. Delving into tuning the vehicle on the factory infotainment system, I found the system sounded better with the surround sound mode turned off. There is a definite lack of tune-ability from the factory head unit. An external digital signal processor from your local mobile enhancement specialist will make a world of difference in achieving great sound quality.
The kids are treated to a rear seat entertainment system with an 11.8-inch display and wireless headphones. That can be a godsend on long trips as long as "Paw Patrol" is not on a continuous loop coming through the vehicle speakers.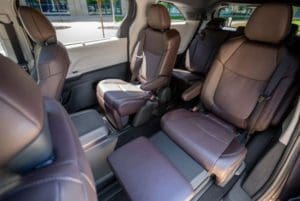 We really dug the foot-activated passenger sliding doors. Just kick under the door and it magically opens without having to fumble for buttons. Inside, Toyota has 18 (!) cupholders scattered throughout the cabin. Additionally, the new dashboard area features a shelf with a wireless charging pad. It's perfect for odds and ends. For those lucky enough to get the second-row seats, the Sienna Platinum edition features retractable footrests that allow you to recline and rest your achy feet.
Everything is engineered with expected Toyota quality. Even the design of the third-row seats has been addressed to require much less effort to be stowed in the vehicle's "basement." Plus, right behind those seats is a 120V electrical outlet that can take advantage of the hybrid battery and deliver 1,500 watts of continuous power through an inverter. We aren't sure who's using a hairdryer or microwave in a minivan, but it's nice to know you can. A power inverter can be added to your current vehicle by a mobile electronics specialist if you need 120V power in a pinch.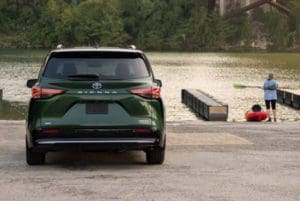 The Sienna features Toyota's full-on safety suite of electronic technologies. There is full-speed adaptive cruise control, which means the Sienna can operate the gas and brake pedals for you in a traffic jam. The lane departure alert with steering assist I found to be a bit too intrusive. The steering wheel will vibrate in your hands if you aren't holding your lane, but I found it to be too tough a judge. However, the blind spot monitoring with rear-cross traffic alert gives you a perfect warning if cars are coming while you're backing out of a parking spot.
If you live a place with a tough winter climate, the Sienna is offered with an all-wheel drive option. Although SUVs still dominate the American landscape, a Sienna with all-wheel drive will outperform its typical SUV cousin in fuel economy, range and passenger capacity.
The Toyota Sienna minivan is the perfect automobile for when life returns to normal. As soon as we don't have to socially distance, the Sienna will be the best way for a large family to cover physical distance.