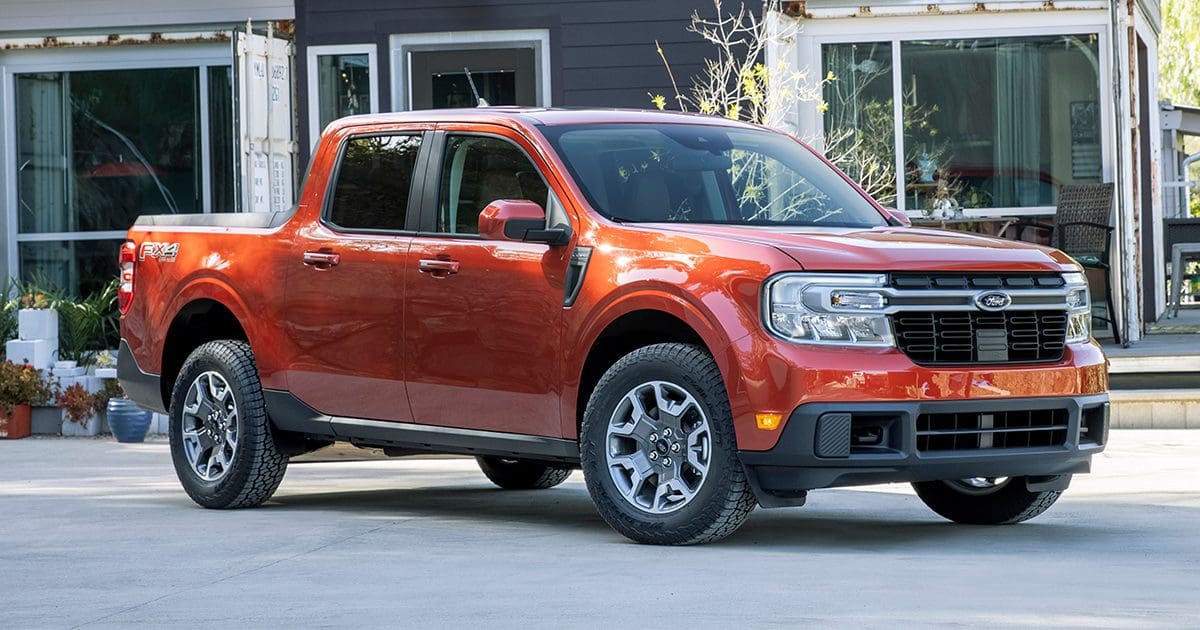 Forget Tom Cruise. The hottest ticket in town at the Ford dealership is the new Maverick. Some dealers say there's been more demand for this small pickup than the red-hot Bronco. Why is it so sought-after? It checks all the boxes for utility, comfort, efficiency and price. Unfortunately, the higher the demand, the higher the dealer markup. But we're confident that once production numbers can be ramped up, the Maverick will avoid costly "dealer adjusted" prices. In the meantime, let's look at what makes the Maverick special.
Price and Economy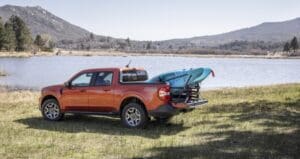 The fear many Americans have of pickup trucks is poor fuel economy. Todd Eckert, marketing manager of Ford Trucks, says: "The Maverick product proposition is like nothing else out there. It's a great-looking truck featuring four doors with room for five adults, a standard full-hybrid engine with city fuel economy that beats a Honda Civic, plenty of towing and hauling for weekend trips or do-it-yourself projects. Maverick challenges the status quo and the stereotypes of what a pickup truck can be. We believe it will be compelling to a lot of people who never before considered a truck."
Ford uses its hybrid powertrain to give 4×2 Mavericks 40 mpg in the city. The vehicle actually does better around town than it does on the highway because of the hybrid system's regenerative braking. This leads to 500 miles on a tank of gas. It all comes with a starting MSRP of $20,995. However, it will be tough to find an entry-level truck. A stripped-down Maverick on a dealer lot is about as abundant as chips at the factory – they don't exist. Luckily, this truck's options are things that you're going to want.
Engines and Options
The standard Maverick engine is the 2.4-liter hybrid that I would absolutely opt for to enjoy that great fuel economy. However, if you need to tow something such as a small boat, there is also a 2.0-liter EcoBoost turbocharged gasoline engine. That model can tow up to 4,000 pounds when equipped with the tow package. The hybrid version can only go to 2,000 pounds. If you never tow, the hybrid powertrain is the winner.
The exterior styling looks like a smaller version of a Ford pickup. The interior treatment is really nice, with cool textures not usually found in the bargain price class. We really dug the door panel treatment that looks like a synthetic marble countertop with additional contours.
Out Back in the Bed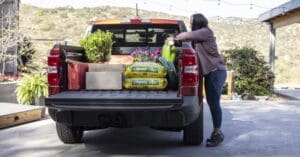 Maverick uses the Ford Flexbed system out back. According to Ford, the team developed its features after watching people at home improvement and furniture stores and college kids moving into their dorms. The team observed how people struggled to load things into small crossovers and cars while working around cargo limitations.
Keith Daugherty, a Maverick engineer, says, "The whole bed is a DIY fan's paradise. You can buy the bolt-in Ford cargo management system and we're happy to sell it to you, but if you're a bit more creative, you can also just go to the hardware store and get some C-channel and bolt it to the bed to make your own solutions."
Notches and cutouts make it easy to organize your life in the back. Additionally, two 12-volt power outlets and a 110V 400-amp household outlet let you plug in your laptop, radio, lighting or whatever else you might need for tailgating action.
It FITS Anywhere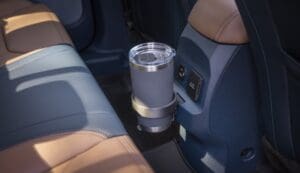 As 3D printing has become increasingly popular, Ford has made an incentive for owners to create and share accessories for the Maverick rear passenger area. FITS stands for Ford Integrated Tether System. A FITS slot at the back of the front console accommodates accessories for endless personalization. Ford has created an accessory package with cupholders, a storage or trash bin, cord organizer, double hook for grocery bags and purses, and under-seat storage dividers. More FITS slot creations are in development, and Ford has published the slot geometry so people can 3D-print DIY solutions to further fit their lifestyles. Those accessories can be stored in multiple slots under the rear seats, which could also be used for novel applications on their own.
Infotaining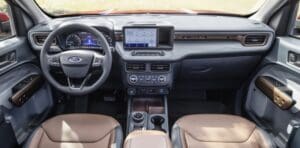 The front of the Maverick is dominated by a standard 8-inch touchscreen with Apple CarPlay and Android Auto. A wireless charging pad is perfectly located in front of the shifter in the center console. The standard six-speaker audio system could use an immediate upgrade. Luckily, my tester featured the eight-speaker B&O audio system with a center channel. It works well in the imaging department but could use an upgrade in the bottom end. A subwoofer in the rear seat storage compartment would be the perfect first upgrade. Your local mobile electronics specialist can assist.
The Ford Maverick is a perfect small pickup truck. Its carlike demeanor and awesome fuel economy make it very approachable. The starting price of around $20K is the icing on the cake. We hope Ford's factories can start cranking them out to fill consumer demand!