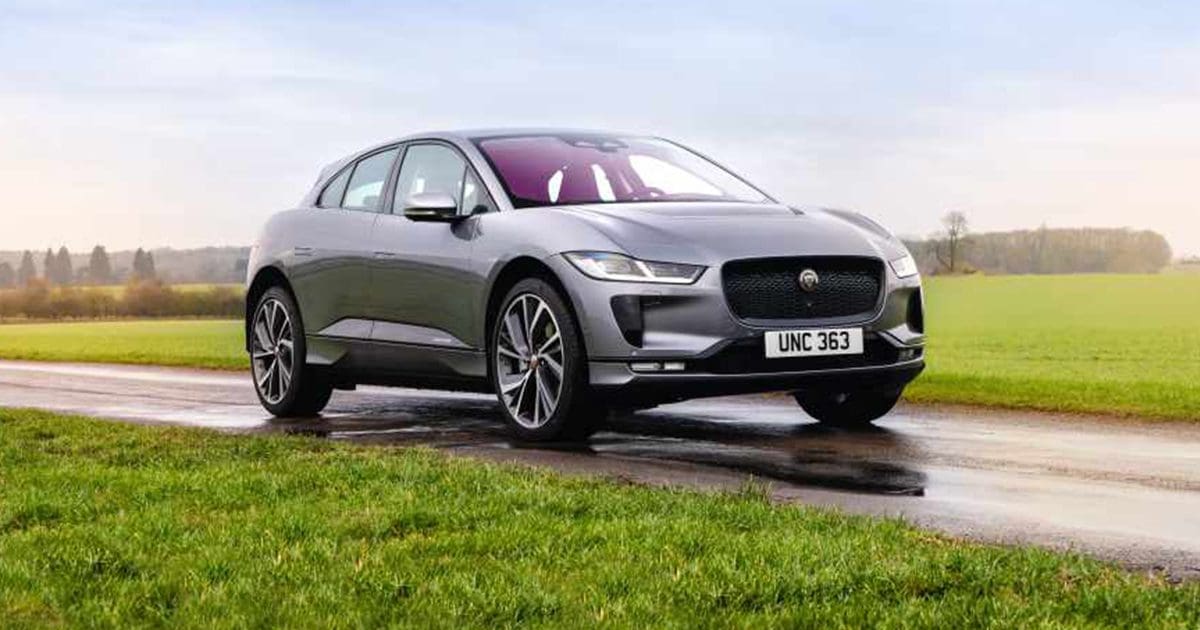 We've been enjoying the electric offerings of legacy vehicle manufacturers, and the Jaguar I-Pace is one of the most enjoyable. Jumping into the cockpit and smelling the familiar Windsor leather scent (which is unusual when most manufacturers are moving to "vegan" faux leathers), you can imagine the Jaguar heritage of yesteryear … updated with today's EV tech. The I-Pace is a different type of car, rather than an F-Pace with an electric motor swap.
Older Design but Still Cutting Edge
The I-Pace entered the market in 2019 but has now been refreshed with new tech. To keep up with the times, the vehicle allows enhanced over-the-air software updates for the car's infotainment system and battery management and charging capabilities.
Most people don't realize that the charger in most EVs is inside the vehicle. The unit that mounts on the wall of your garage or charging station just facilitates the flow of high-current energy. Jaguar has increased the internal battery charger to 11 kW to reduce charging time. Connecting to a 100-kW DC Level 3 fast charger outside your house can replenish up to 63 miles of range in 15 minutes. EV charging is still not gas-station-quick, but when you aren't charging at home, just plan to tie in an errand with a fill-up. And if you decide to just chill inside the car and browse your phone while the car is juicing up, you'll appreciate that all the extra goodies on the original HSE model are now included in the base model. About the only thing missing from my tester that was unusual was a heated steering wheel.
Seat Comfort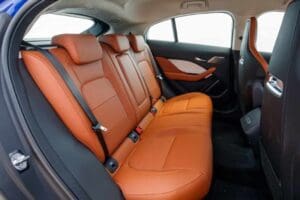 The I-Pace has 16-way adjustable heated and cooled seats. The controls are easy to access though a unique small screen in the lower center console, which is flanked by a pair of dials that manage the zoned climate control. Pulling a dial allows you to adjust the temperature of the air coming out of the vents; pushing it adjusts the temperature of the heated seat. This dual-function rotary dial is a clever way to provide comfortably large controls while still saving real estate.
Jaguar is proud of its new Pivi Pro infotainment system. Drivers can access 90% of common tasks in two taps or less. Pivi Pro includes Apple CarPlay and Android Auto. The Meridian sound system has everything except "slap." Although it is touted at 825 watts, the system's drivers have probably been downsized for weight and power savings. A good aftermarket subwoofer would fit in nicely.
Getting Gone
Even though the I-Pace is not the fastest EV out there, it still moves frighteningly quick when you punch it and get the rush of 512 lb-ft of torque. With a motor at each axle, the I-Pace can be used in less-than-ideal-traction conditions.
Otherwise, the nicest thing about the I-Pace is its similarity to gasoline-powered Jaguars. My mother, who owns a Jaguar XE, thought EVs were rolling science experiments. Yet she was impressed with the I-Pace: Its controls were immediately familiar to her, and she felt that she could easily drive the I-Pace without a steep learning curve.
Safety First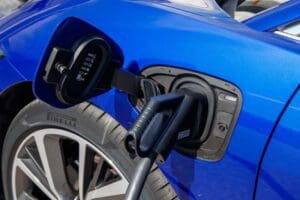 Jaguar has all its safety features baked into the 2022 I-Pace. You get adaptive cruise control with steering assist and stop-and-go traffic, a heads-up display, emergency braking, blind spot assist, clear exit monitor, driver condition monitor, lane keep assist, and traffic sign recognition with adaptive speed limiter.
According to Jaguar, the I-Pace makes going electric easy. It has been designed to ensure that every step of the customer journey delivers peace of mind and that owning an electric car is as easy as possible. When charging in public places, the I-Pace charging cable locks into place as soon as the car is locked, and it cannot be disconnected until the vehicle is unlocked. A small button next to the plug releases the cable, and it flashes green when to let you know you have a good connection.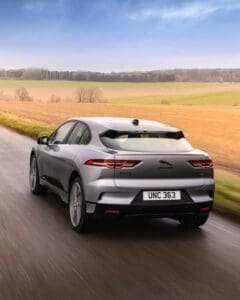 If you run down the juice too much, Eco Mode helps preserve range by reducing energy depletion and encouraging a more efficient driving style. It makes subtle changes to cabin temperature, air recirculation and other features to maximize every little bit of energy left in the battery.
The I-Pace has the feel of a traditional Jaguar updated with today's technology. Moreover, its design can be alluring to potential buyers. It can be slotted against the upcoming Fisker EVs, which are known for their beautiful design. The pricing is in line, too, with my tester coming in at $69K.
We wonder what Jaguar founder Sir William Lyons would think about the most futuristic Jaguar to date. He would probably be smitten with the I-Pace.