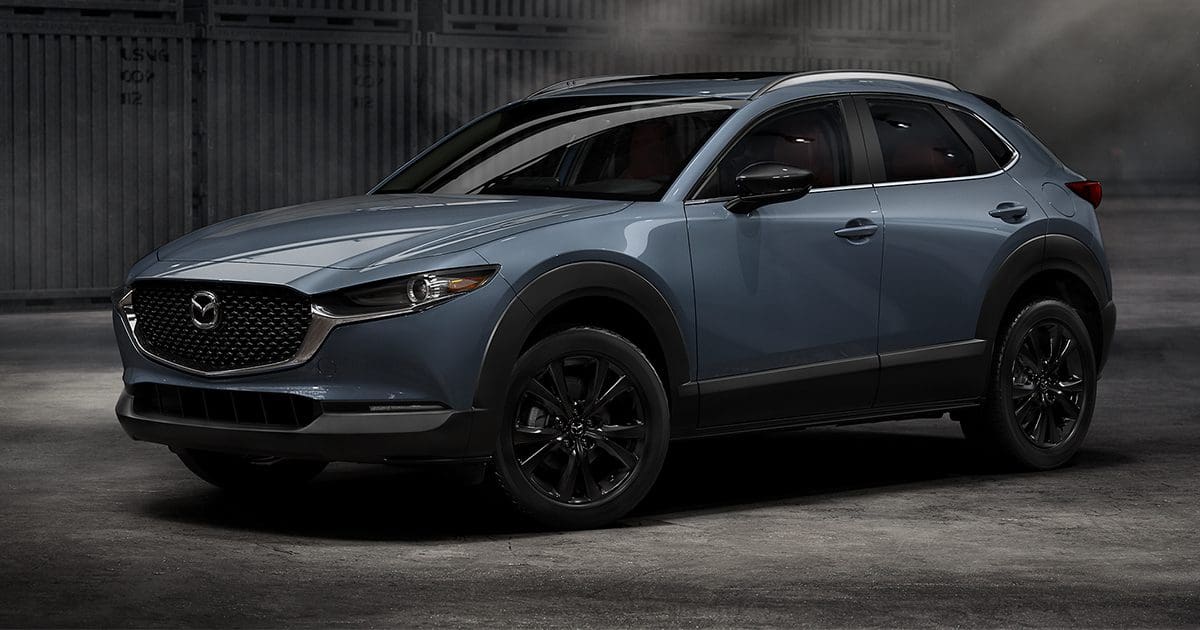 Another CUV? Let's face it, the market for small SUVs is on fire right now. For some shoppers, the entry-level SUVs became the same price as midsize SUVs. And full-size SUVs require a second mortgage on your house! Luckily, the entry-level CUVs are coming loaded with the latest in vehicle technology, just like their larger counterparts.
The CX-30 is the latest from Mazda. With the Premium Plus package, it comes loaded with most vehicle niceties that make it great for the long haul. With a 2.5-liter turbo engine and a six-speed automatic transmission, it has the zoom-zoom to keep drivers entertained without breaking the bank or sacrificing utility. My CX-30 tester with its Premium Plus package could have fooled me for a luxury vehicle. Some of the interior appointments were nicer than in base-level Mercedes-Benz vehicles.
It's All About the Handling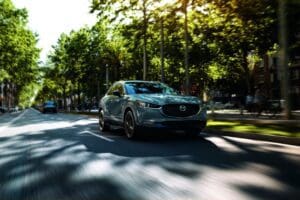 To keep things simple, Mazda only offers the CX-30 with all-wheel drive. That may be a selling feature for people in tough winter climates. Simplicity at the factory level ultimately leads to a lower cost for the consumer. The Mazda system has been tuned for improved driving dynamics, and it shows. Turning into corners, the car remains flat comparable to sporty cars. Of course, the ride is a little harsher compared to some competitors, but I only noticed it on my pockmarked New York roads after a tough winter.
According to Mazda, engaging driving dynamics are engineered into every aspect of vehicle development to help create a connection between car and driver. Mazda's i-Activ AWD system continuously monitors weight distribution and shifts power to the appropriate wheels. In addition, all CX-30 models are equipped with G-Vectoring Control Plus and offroad traction assist.
Two Engine Choices

The standard CX-30 engine is a 2.5-liter four-cylinder that offers 186 horsepower and, coincidentally, 186 lb-ft of torque. If you want to step up the power, my tester featured the turbocharged version of the engine. The turbo model's Skyactiv-G engine enhances the performance of the CUV with 250 horsepower and 320 lb-ft of torque. Both the regular and turbo engines are paired to a conventional six-speed automatic transmission. Enthusiasts usually prefer this type of transmission to the CVT transmissions that are commonplace on comparable vehicles.
The turbo CX-30 features black metallic 18-inch aluminum alloy wheels, gloss-black heated door mirrors, a "TURBO" badge on the liftgate, chrome accents on the push-button start and glove box latch, and a frameless auto-dim rearview mirror.
Keeping It Safe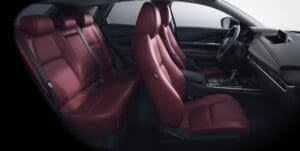 In addition to handling, safety is also a priority for Mazda. Jeff Guyton, Mazda North American Operations president and CEO, says, "We aim to offer a confident and joyful driving experience with industry-leading safety features that support and protect our drivers and passengers."
The little Mazda is loaded with safety suite features. The standard i-Activsense includes Radar Cruise Control with Stop and Go, smart brake support, high beam control, lane departure warning and lane-keep assist. I was especially impressed with the automatic high beam control. The Mazda did a great job of illuminating the roadway with its high beams, then reverting to regular headlights as soon as the system detected an oncoming car.
Mazda Connected Services, which is complimentary for three years, gives the vehicle owner the ability to monitor the car remotely and check on the locks and fuel level. Apple CarPlay and Android Auto are also on board. The internal navigation system software is stored on a memory card, making it an easy upgrade for most models.
Tune Time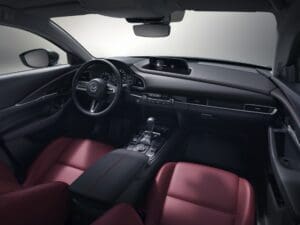 The integrated Bose audio system sounds better than most. It features 12 speakers, with two larger bass drivers mounted in the doors supplemented by a larger woofer in the rear. It isn't to the level of a high-quality aftermarket system, but it's a good start. Bose Centerpoint is a feature that works well in the CX-30. Most music is recorded in stereo, or two channels, left and right. According to Bose, Centerpoint processing converts your music into multiple channels, so you're fully enveloped in a surround sound experience. The effect does make it feel as though you're more immersed in the music, just like at a live venue.
The CX-30 is in a tough market against great competitors. However, with its attention to handling, good looks, a comprehensive safety suite and luxurious interior, it separates itself from the pack. My tester in Soul Red Crystal Metallic looked close to a show car with candy paint from House of Kolor. If you're in the market for a CUV, the CX-30 presses all the right buttons.