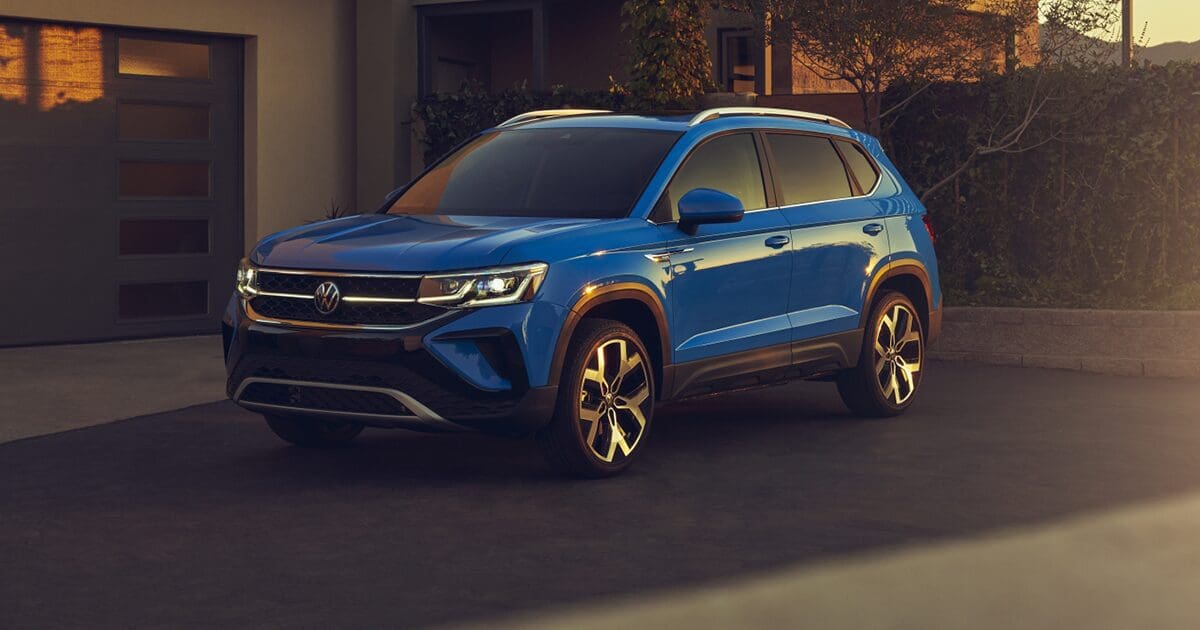 No doubt about it, the small CUV, or compact utility vehicle, has replaced the compact car on American roads as the entry-level vehicle of choice. VW has the Tiguan model, but they wanted to engineer something that came in smaller at a slightly better price point. The 2022 VW Taos does not disappoint. You'd be hard-pressed to see the exterior differences, but you can get a cute third-row for kids in the Tiguan that is not available in the Taos. But the Taos is the sportier of the two choices. It might not be a Golf with a suspension lift, but with its turbocharged engine and direct-shift gearbox in the all-wheel-drive model, it enters Mazda territory of having your CUV with a splash of performance.
Tech Available for All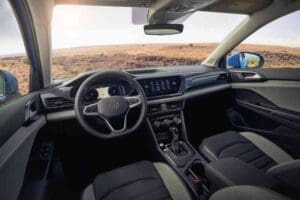 Even though the Taos is the least expensive SUV in the VW lineup, it was important for the company to offer it with the same tech offerings as its bigger siblings. The most impressive feature is VW Digital Cockpit. It uses a very large instrument cluster screen to display information, such as the navigation map, right in front of you.
Taking a page from Toyota, VW is offering its advanced driver-assistance safety suite known as IQ.Drive on the Taos. It features lane centering and a capacitive steering wheel that gently nudges you to make driving easier. Around town, IQ.Drive can alert you to surprise obstacles in front of you and can keep an eye on what's around you to help make driving safer. The system uses front and rear radar, a front camera and several ultrasound sensors to collect data from the surrounding area, enabling VW's Travel Assist (semi-automated driving assistance), Front Assist (forward collision warning and autonomous emergency braking with pedestrian monitoring), Active Blind Spot Monitor, Rear Traffic Alert, Adaptive Cruise Control Stop and Go, Lane Assist (lane-keeping system) and Emergency Assist (semi-automated vehicle assistance in a medical emergency). It is a very impressive ADAS suite on an entry-level vehicle.
Small Yet Mighty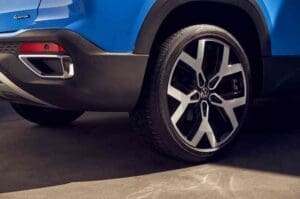 There's only one engine choice for the Taos, but it does the job well. It is a slightly larger 1.5-liter turbocharged engine than the one found in the Jetta. It makes 158 horsepower and 184 pound-feet of torque. The new engine offers high-tech features designed to help produce great fuel economy numbers. It's one of the first mass-produced vehicles in North America to feature a variable turbine geometry turbocharger. This allows the turbo to work better and deliver more power at both low and high RPM. My AWD tester had the seven-speed DSG dual-clutch automatic transmission and its EPA-estimated ratings of 25 mpg city, 32 mpg highway, 28 mpg combined. The front-wheel-drive model gets a big bump in fuel economy (28 city/36 highway/31 combined) attached to an eight-speed conventional automatic transmission. So you do take a hit at the pump by opting for an AWD Taos, but you do gain some extra sportiness and reassurance on snowy days.
Dre Day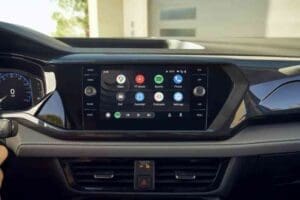 One surprise on this entry-level vehicle is the availability of the well-engineered Beats audio system. The system features eight speakers plus a subwoofer. A digital signal processor is built into the same chassis as its 400-watt amplifier. For the price, the system is loud and easy to use. The center stack infotainment system features a traditional volume knob right where you would expect it. Additionally, songs on your device and radio stations appear with art so it makes finding what you want to listen to easy. Even though Beats may have been started by Dre, an additional subwoofer would make the system really come alive on bass-heavy tracks.
Light Show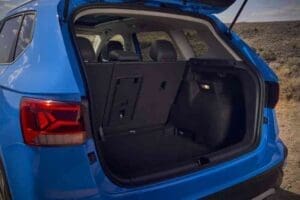 Customizable interior lighting has become a popular option, and the Taos takes a page from the Mercedes S-Class with lighting that illuminates the dashboard and doors. The 10-color LED ambient lighting system is coordinated with the Driving Mode Selection feature on AWD models. The system provides indirect white light in the Normal profile, red light in the Sport profile and blue light in the Eco profile. The driver can set any of the 10 colors using Manual or Custom mode. My daughter left it on violet for the duration of our time with the Taos.
Sum of the Parts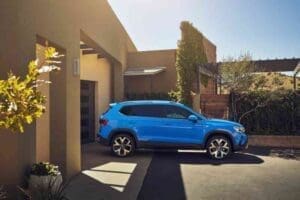 As small CUVs prove to be popular, manufacturers will keep the choices coming. We didn't expect VW to come out with a vehicle this close in size to the Tiguan. However, the Taos offers a sportier driving experience at a lower price point.
If you don't need third-row seats, the newer tech in the Taos makes it the winner. And if you're cross-shopping other CUVs, add it to the list of vehicles you are checking out. The base model starts at $23K, and my fully-loaded SEL 4Matic tester came in at $33K.