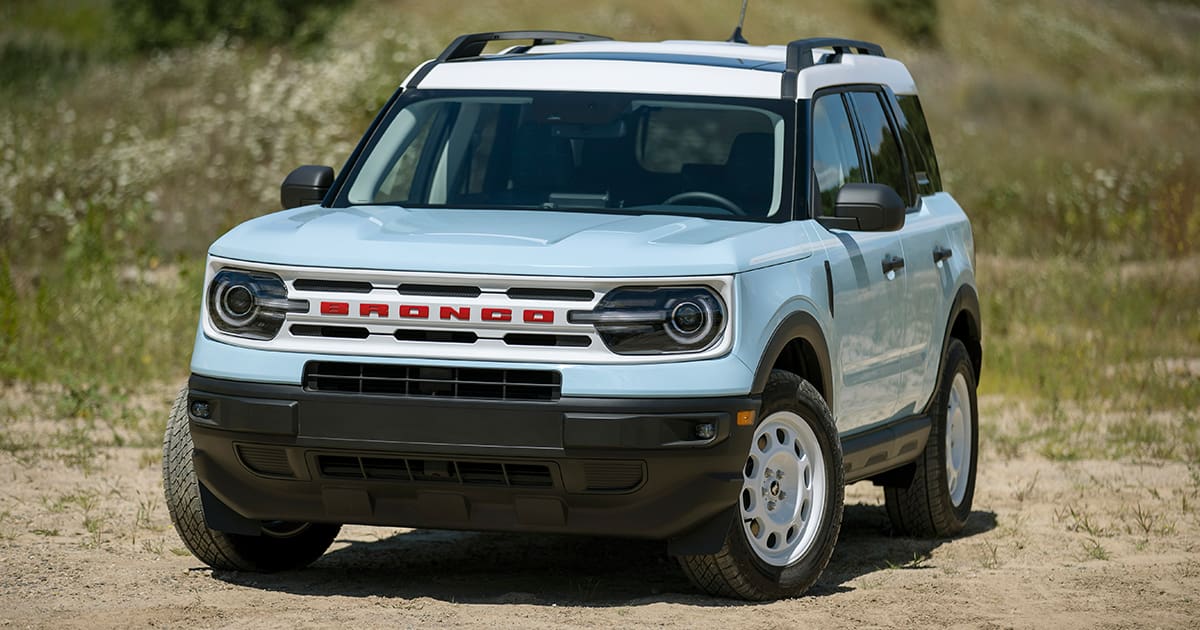 Other media outlets have liked the Bronco Sport but compared it to a Ford Escape in more rugged packaging. But the new Bronco Sport Heritage hits differently. Ford has absolutely nailed the execution of off-road capability, on-road comfort and retro styling cool. So much so that a vehicle that was not even on my wife's vehicle shopping list has now jumped to the top of it. The Bronco Sport Heritage gives you everything you crave in the full-size Bronco in a more manageable package that's easier to live with every day. No doubt about it, the Bronco Raptor is the ultimate off-road vehicle of 2023. The Bronco Sport Heritage gives you a lot of Bronco's capabilities in dare I say a more charming package.
Charming yet Tough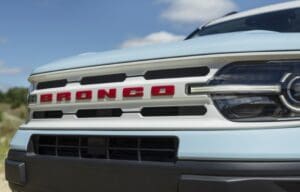 The Bronco Sport Heritage comes in original Ford Bronco colors such as Yellowstone or my tester's adorable Robin's Egg Blue, which was one of the first colors available on the original 1966 Ford Bronco. The Bronco Sport's dimensions mimic the original Ford Bronco sizing. In addition to the retro colors, the unique, white-colored grill is reminiscent of the original. The white roof takes you back to 1966.
The coolest thing is the Oxford White 17-inch aluminum heritage wheels – they look like old-school steelies (steel wheels) but are actually modern aluminum wheels painted white. Bodyside stripes heighten the throwback appearance. Special retro badging lets everyone know you are OG cool.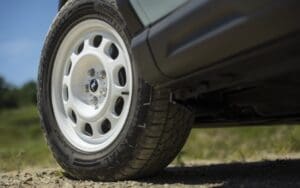 On the inside are nicely trimmed leather seats in a plaid pattern with red stitching. The armrests and center console are microsuede and feel great to the touch. The Heritage Limited model adds metal "Bronco" script front fender badging and larger 29-inch all-terrain off-road tires with more aggressive, deeper treads that stretch onto the sidewalls for improved off-road traction. With Oxford White door inserts and unique center console badging, the whole package is a masterclass on how to give a relatively anonymous CUV tons of character. But you need the Heritage Limited to get all the charm.
Mark Grueber, marketing director of Bronco, sums it up: "Bronco Sport has been a hit with compact SUV customers since it arrived two years ago, but it is just as important that we give our customers special editions similar to what we have done with the two- and four-door Bronco. These Heritage editions are every bit as important to Sport as they are for the rest of the Bronco brand, and we think the iconic themes from the '60s work perfectly on this vehicle."
Powering the Little Retro Beast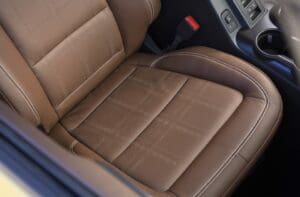 The Bronco Heritage is powered by a 1.5-liter turbocharged three-cylinder engine, and the Heritage Limited gets the "big block" 2.0-liter engine. This EcoBoost mill pumps out 250 horsepower and 277 lb.-ft. of torque for high-speed off-road performance. The bigger brother Bronco uses what Ford calls HOSS or High Performance Off-Road stability suspension systems. The Heritage Limited also uses a HOSS system with increased ride height and uniquely tuned front struts with hydraulic rebound stops. This provides a quieter, less jarring off-road experience. In addition, 46-millimeter-diameter monotube rear shocks, antiroll bars and uniquely tuned springs help provide off-road comfort.
For those who think this is just a Ford Escape, they will be proven wrong. The Heritage Limited has way more off-road capability. In fact, an advanced 4×4 system with a twin-clutch rear-drive unit with a differential lock can divert virtually all rear axle torque to either wheel, and the G.O.A.T. Modes system increases to seven modes, adding Mud/Ruts and Rock Crawl.
B&O Pretty Good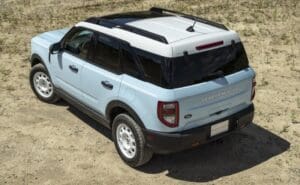 The B&O sound system on the Bronco Sport works well. The stereo imaging is especially impressive, and because of the well-engineered center channel speaker and DSP tuning, it isn't overwhelming. The system features 10 speakers, including a small subwoofer, and the onboard amplifier features 560 watts. The back of the Bronco Sport has a parcel shelf that can also double as a tailgating table. A true audio enthusiast can implement an aftermarket badass subwoofer system right below the parcel shelf and bring all the fun this vehicle deserves. The infotainment system is basic Ford SYNC, which is easy to use and features Apple CarPlay and Android Auto.
The Bronco Sport Heritage Limited is way cooler than I expected. In a world of bubble-shaped CUVs in silver, black or white, the Bronco Sport's cool factor is elevated by its throwback '60s colors, boxy shape and offroad attitude. I'll be called sacrilegious, but I would take a Bronco Sport Heritage Limited over a full-size Bronco. It's easier to live with on a daily basis but still has off-road chops and cool factor. My wife said it is her next vehicle! The price fully loaded is $46K.