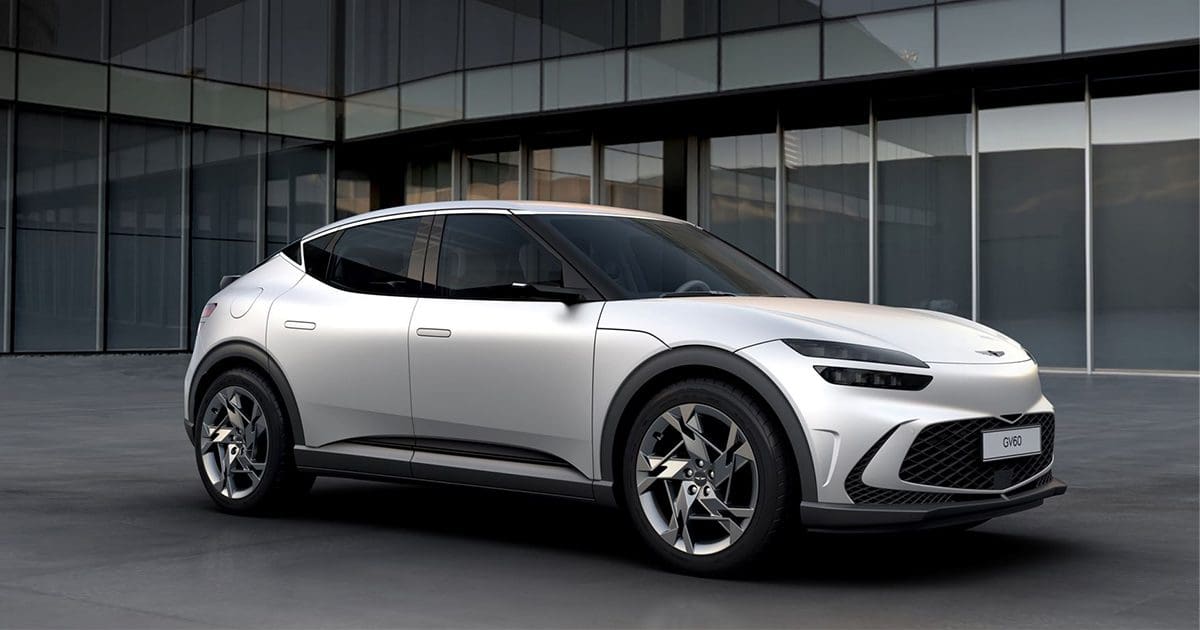 Since its first model was produced in 2008, no automaker has come close to Tesla's capabilities when it comes to performance. Legacy automakers get the panel gaps right, but their electric offerings usually don't measure up. We've been waiting for the day when a company would release an electric vehicle with the quality of a luxury brand while still offering outstanding performance at a reasonable price (we're looking at you, Lucid). Finally, that day has arrived: Enter the Genesis GV60 Performance.
No-Joke Performance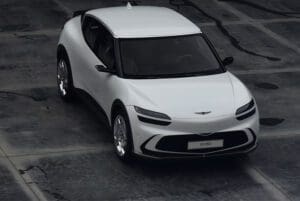 Consider that the GV60 Performance gives you a 0-60 time similar to that of the last generation Chevrolet Corvette. For something that can haul two adults, two car seats and two strollers, that's pretty badass. Many people still haven't experienced the relentless torque of an electric vehicle, and the GC60 does not disappoint. The power is delivered like a seamless turbine. Two 160 kW motors (one for the front wheels, one for the rear wheels), supplied by a 77.4 kW-hour battery pack that delivers about 235 miles of range, turn electrons into speed.
Biometric Keys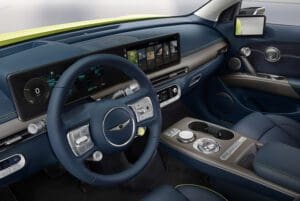 As we move to the future, the ignition key continues to evolve. We've gone from cut metal keys to transponder push-to-start systems. Some manufacturers even offer Bluetooth LE (low energy) solutions that allow you to use your phone as a key. But what happens if you accidentally lose your phone? Genesis's GV60 has radical new technology to get you in the vehicle and get it started. First, a facial recognition camera is mounted on the B-pillar. You can train the GV60 to learn your face and allow you to enter the vehicle. Once you get inside, you can then use your fingerprint to fire up the EV. As Genesis explains, the Face Connect system features a Near Infra-Red camera for accurate face recognition under any conditions, including at night. During dark and cloudy weather, the system can clearly detect whether a face has been pre-registered. The technology can liberate drivers from the need to carry keys all the time. If a driver leaves their smart key in the car, the vehicle can be locked using the face recognition system. This allows drivers to enjoy outdoor activities like swimming or running without the hassle of carrying their keys.
Crystal Shifter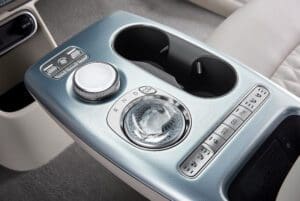 One very cool party trick of the Genesis GV60 is its shifter. When you enter the vehicle, it resembles an illuminated piece of crystal with a complex pattern. It is gorgeous and tasteful. After you start the Genesis, it rotates and becomes the vehicle shifter, allowing you to go from park to neutral to reverse. According to Genesis, the Crystal Sphere is actually a safety feature that clearly indicates whether the vehicle is turned on or not. This is important for a vehicle as silent as an EV, where small onscreen icons are the only indication of the operating state. While the vehicle is charging, the Crystal Sphere won't rotate to driving mode, creating a gentle reminder of the current status of the GV60.
Power to the People
All that technology doesn't mean much if the Genesis doesn't perform. But this EV is fast. Need a little more kick on your commute? The yellow "Boost" button on the steering wheel gives the driver 10 seconds of more acceleration and fun … and then the GV60 needs a little time to recover. My teenage daughter and her friends loved it and kept asking me to press the button. But being a parent means showing restraint.
EV Noise?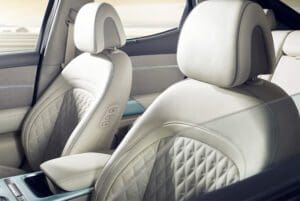 The last super-cool feature of the GV60 is the ability to change its soundtrack. But we thought EVs didn't have a soundtrack. Well, the choice is yours. You can go silent, or you can add a soundtrack. Which I thought might be corny, but most passengers preferred hearing aural verification of the powertrain doing its job. Luckily, it's broadcast through the excellent 17-speaker Bang & Olufsen sound system. Genesis allows drivers to choose from three sounds: a Futuristic sound that faintly recalls George Jetson's recreational car; a soft and sporty G-Engine sound based on a traditional internal combustion engine; and an E-Motor sound, which reimagines the vehicle's electric motor sounds. Drivers can toggle between the three sounds and three volume settings to suit their preferences.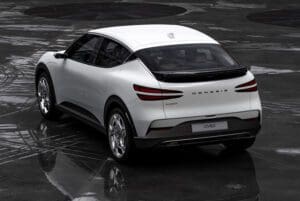 The GV60 Performance is a well-thought out and engineered EV from a manufacturer that has done a great job of building vehicles loved by the American public. Even the climate controls look futuristic but work like familiar HVAC controls. With the base GV60 around $60K and my all-in model at just under $70K, Tesla finally has a worthy competitor. I would choose the GV60 over the Model 3.