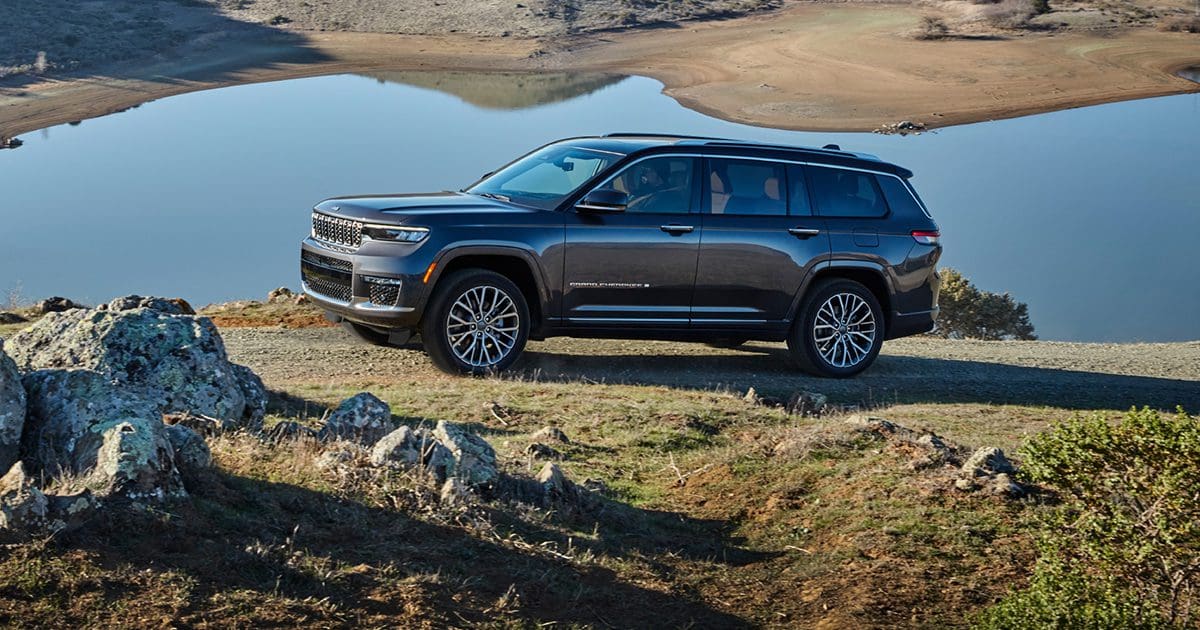 The Jeep Grand Cherokee has been a hit since it debuted when I was a senior in high school. I remember the first one I saw in the parking lot with bright red paint and gold-trimmed wheels. That was a lucky student (with well-to-do parents) who obtained one of the first. I remember taking a ride and thinking what a great package it was compared to the OG Cherokee. Grand Cherokee sales eventually lagged because of the lack of a third row, but Jeep rectified the situation two years ago with the introduction of the Grand Cherokee L.
This year, they have the Grand Cherokee L Summit Reserve, the ultimate Grand Cherokee. I think it is the most compelling Jeep package to date. Yes, there are those who clamor for the super-pricey Grand Wagoneer. But the Grand Cherokee L has all of the features in a package that can comfortably haul six full-sized adults plus gear. In addition, you get the coveted Grand Wagoneer passenger screen that is a godsend for those with a co-pilot who contributes to the journey … they can input destinations on the nav screen without your having to pull over and stop!
Proven Engine and Transmission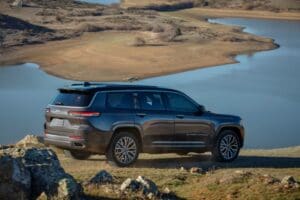 The engine in the L package is the proven 3.6-liter V-6, good for 293 horsepower and 260 lb-ft of torque. It is mated to a solid eight-speed automatic transmission.
More impressive is that this three-row SUV was designed as a Jeep. It can tackle an offroad adventure. According to Jeep, the class-exclusive Jeep Quadra-Lift air suspension, with electronic semi-active damping, delivers up to 10.9 inches of ground clearance and 24 inches of water-fording ability. The system automatically adjusts the shock tuning to changing road conditions for enhanced comfort, stability and control, or it may be controlled manually with console controls, and features five height settings for optimum ride performance. The height is adjusted by a switch on the center console. When the vehicle is stopped, it sinks down to allow easier access.
Jeep's legendary off-road capability is onboard courtesy of three 4×4 systems: Quadra-Trac I, Quadra-Trac II and Quadra-Drive II with rear electronic limited slip differential. All three systems are equipped with an active transfer case to improve traction by moving torque to work with the wheel with the most grip.
It's On the Inside That Counts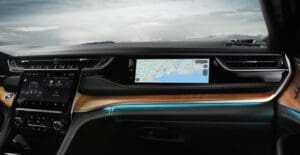 Even though the Jeep can ford deep water, the interior is as luxurious as a European SUV – with some even cooler features, the best one being that second screen. Mounted where you would typically find a passenger airbag, the person riding shotgun now can control the music or the navigation. If they aren't into being an active participant in the journey, they can link up their phone and watch content on a larger screen. Amazon Fire TV is even built in. The screen turns off by default if no passenger is detected.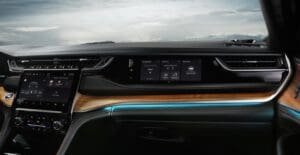 The new dashboard features sleek and slim vents to give it a classy look, and the center console can hold two phones with built-in wireless charging. There is LED ambient backlighting throughout the cabin, with five color choices. We appreciate the thoughtfulness of both USB and USB-C ports everywhere, along with a 120-volt outlet in the rear in case you want to power up a video game system.
McIntosh Worthy?
This was my first time testing a McIntosh-branded audio system in years. (Previous McIntosh systems have been in Subaru vehicles and the Ford GT.) The system uses 19 speakers and flexes 950 watts of power.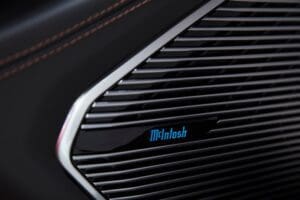 "We understand that customers don't just want great sound," said Charlie Randall, president of McIntosh Laboratory. "They want to get a full sensory experience. And that's why it was so important that we left no stone unturned to deliver a true McIntosh entertainment system for the Jeep Grand Cherokee L. We're thrilled to bring our brand to a whole new group of people who may never have experienced McIntosh before."
The McIntosh system is impressive, with a large soundstage and good imaging with the surround mode activated. The midbass is particularly impressive for an OEM system. However, the system doesn't reach stratospheric volume levels. The maximum volume on the infotainment screen is 38; at that point, the sound is clear with minimal distortion, but you wished it would go to 42. A mobile electronics specialist can help take it to the next level.
Progressive Safety Suite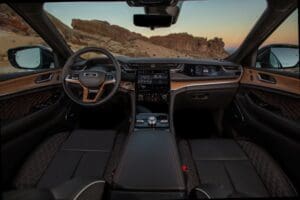 The Jeep Grand Cherokee's safety suite is impressive – we don't like to rattle off lists, but in this case, it's merited: full-speed collision warning with active braking and pedestrian/cyclist detection; rear cross path detection; adaptive cruise control with stop and go; active lane management; LaneSense lane departure warning with lane keep assist; advanced brake assist; blind spot monitoring; ParkView rear back-up camera (using the rear view mirror as a screen so it doesn't matter if your rear window is covered in snow); ParkSense rear park assist sensors with stop; night vision camera with pedestrian and animal detection; intersection collision assist; parallel and perpendicular park assist; and traffic sign recognition. Whew!
One of the coolest features is the FamCam, which is easily accessed to help keep an eye on the kids. When you touch their seat position on the dashboard screen, an interior camera will zoom in on that child to make sure no juice boxes are being used as weapons.
Coming in fully loaded at $76K, the Jeep Grand Cherokee L Summit Reserve isn't inexpensive, but it's certainly roomy enough to compete with the larger Excursion, Tahoe and even Wagoneer at a discount. I loved it!