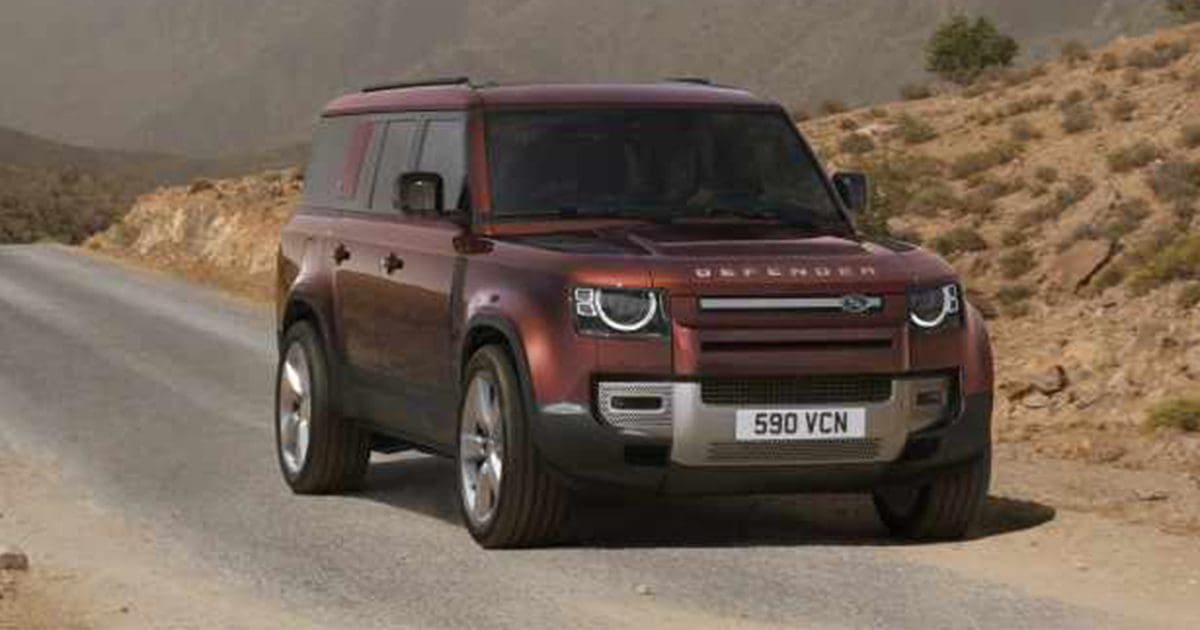 The Land Rover Defender is wildly popular. I personally don't see the fascination with vehicles that most Americans rarely use to their full potential, but who am I to say. Outrageous capabilities sell. Most people purchasing Lamborghinis won't take them to the track and extract their top speed. Americans love vehicles that look tough with tremendous off-road possibilities.
The Land Rover Defender 130 will be a sales home run because it does everything that the Defender does well and adds a third row. This way, you can take the entire family along on a trail ride! Or at least to the mall. If you're interested in an Escalade or Navigator but are looking for something with a bit more trail cred, this is your ride.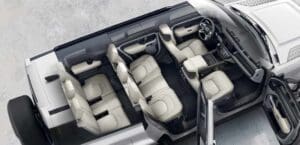 Nick Collins, executive director of vehicles for Land Rover, says, "The new Defender 130 brings a new dimension of capability to our most durable and rugged family of vehicles. Its spacious interior welcomes and transports up to eight people in supreme comfort, enabling unparalleled sophisticated adventuring opportunities for families, with unique design signatures to create a distinct new Defender experience."
Off-Road Prowess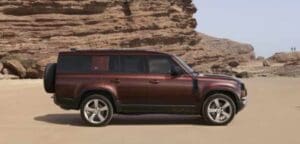 The Defender 130 is fitted with Land Rover's Intelligent All-Wheel Drive (iAWD) system and eight-speed ZF automatic transmission as standard. The iAWD technology manages the powertrain and power distribution between the front and rear axles, optimizing on-road efficiency and all-terrain capability as necessary.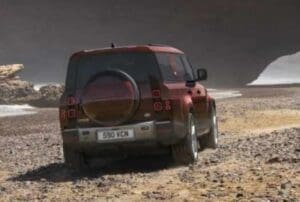 The big SUV is also equipped with Electronic Air Suspension with Adaptive Dynamics and Land Rover's advanced Terrain Response system for unrivalled all-terrain capability. The Electronic Air Suspension system allows for up to 16.9 inches of articulation, with 2.8 inches of additional lift at the front (2.9 inches at the rear) in off-road height to clear obstacles and assist when wading. The Defender 130 can ford up to 35.4 inches of water. What's a really neat trick is that the infotainment system lets you access sensor data so you can see how high the water is coming up the side of the Defender, giving you a chance to back up before you get into big trouble.
The Terrain Response system manages the Defender's off-road capability, with the driver using the infotainment system to fine-tune the driving experience to just about any terrain. The Defender 130 can even tow up to 8,200 pounds, and hitching up is easy with buttons inside the tailgate to raise or lower the air suspension so you can hook up to the trailer ball with ease. It's also cool yet odd to see a full-size spare mounted on the back of a three-row SUV.
Tough Outer Shell, but Soft on the Inside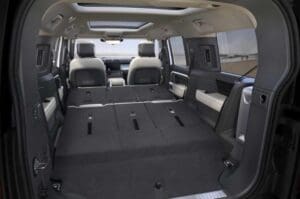 The Defender has the feel of a Range Rover and not Defenders of yore. The third row is easy to access, and heated third-row seats and a four-zone climate control are available. Large windows, along with a panoramic sunroof, provide excellent visibility in all three rows. You'll really be able to take everything in and play the part at the amusement park drive-through safari.
Stalwart British audio manufacturer Meridian is on board, supplying a 700-watt surround sound system. The system tuning is expertly done for such a large vehicle. It would be great to have a little more dynamic headroom and subwoofer – there is plenty of room for an audio upgrade for those who want to add a little more oomph.
British Infotainment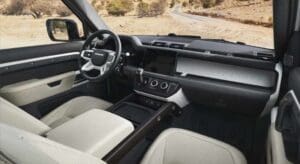 The infotainment system, called Pivi Pro, works well. We really like the clear 3D surround camera that makes negotiating tricky parking spots a breeze.
Land Rover has partnered with another British company called what3words to make supplying navigation destinations easy, even in remote places. What3words has divided the globe into a grid of 57 trillion 10-foot squares, each with a unique, easy-to-remember three-word address. Instead of saying, "Take me to 20 West 34th Street, Manhattan, New York" for the Empire State Building, you can simply say, "Take me to heave wipes clay." This minimizes the times when you'll fight with voice recognition to convey difficult addresses. We hope the technology catches on in the United States.
Rugged yet Comfortable
The Defender 130 has all the safety features one would expect in a luxury vehicle, but oddly mine was missing adaptive cruise control – which is strange because it does have emergency braking.
The Defender 130 is a niche vehicle for those who want three rows and the ruggedness of a Defender model. If you truly want to go off-roading with your large family, this is one of the few options on the market that makes sense. My tester came in at $87K, which isn't out of line compared with the competition.