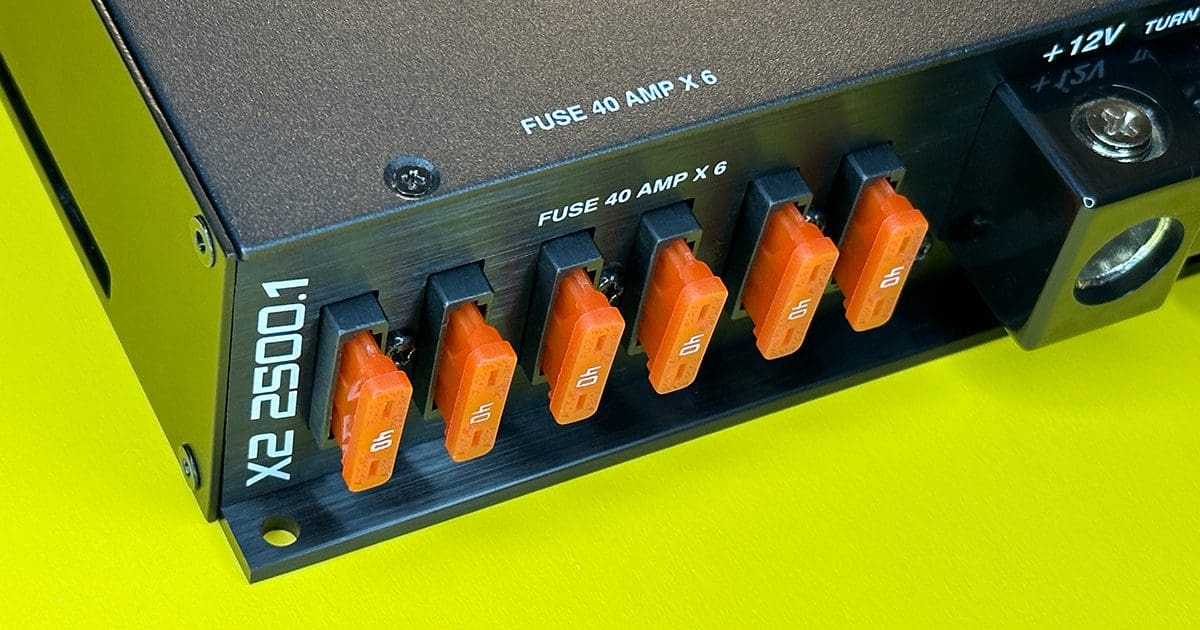 Every few months, I learn something that, had I put some effort into thinking about it, would have been obvious. For example, my friend Andy created a Facebook post a while back, asking why people thought amplifiers needed fuses. They will tell you it's to protect the amp from damage. That's not incorrect. However, the scenario where fuses are necessary is very different from what you might think.
Fuses Protect Your Amplifier
The power supply of an amplifier uses banks of MOSFETs or transistors to "chop up" the direct current (DC) voltage from your battery and turn it into an alternating current (AC) waveform. Next, that waveform is fed to a toroidal transformer that steps the voltage up. Finally, diodes and capacitors smooth the AC signal from the transformer back into a DC voltage used by the amplifier's output switching devices. It's all quite simple when broken down into simple components.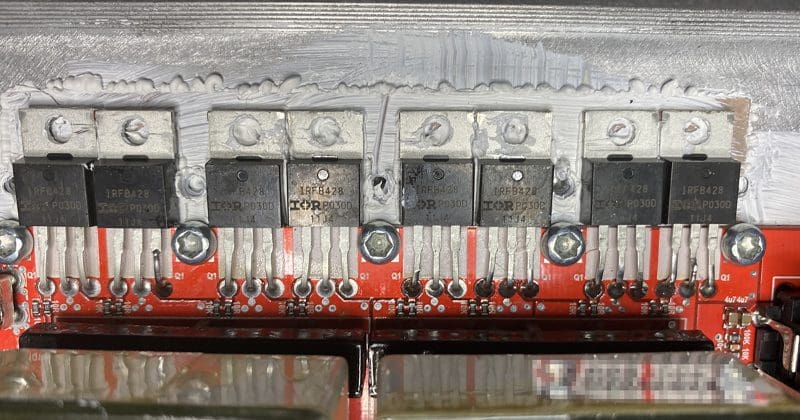 Most amplifiers use many switching devices wired in parallel to pass enough current to meet the output needs of the amplifier. An amplifier that can produce 1,000 watts of power to a speaker will likely have enough switching devices to support 1,300 to 1,500 watts of power into the amp. Every amp can provide extra power when pushed into clipping distortion, so some headroom needs to be available. Likewise, electronic components don't like running at their maximum capacity. Think of it like driving a car everywhere with the engine right at redline. That will stress all the components in the engine much more than if it were down at 2,500 rpm.
Let's look at a specific example. In 2012, I developed a four-channel amp for a company I worked for. The amplifier can provide a continuous 180 watts of power per channel. That's a total of 720 watts. The amp uses four International Rectified IRF2807 HEXFET Power MOSFETS in the supply to chop up the incoming DC voltage from the battery. Each IRF2807 is rated as capable of passing up to 82 amps of current and has a power dissipation rating of 230 watts at 25 degrees Celsius. Given that there are four devices, we have 920 watts of thermal dissipation.
The maximum current rating for each device drops to 52 amps when it reaches 100 degrees Celsius. Why does the current rating drop? The increase in heat inside the device increases its resistance. More resistance means more heat is generated for every amp of current that passes through the MOSFET. This is a crucial reason thermal management is vital in amplifier design. In the case of the IRF2807, the resistance at 0 degrees Celsius is about 0.8 milliohm. When the device reaches 100 degrees Celsius, that resistance value increases to 1.6 milliohms. That's twice as much resistance, which means the heat generated by the device is also twice as much.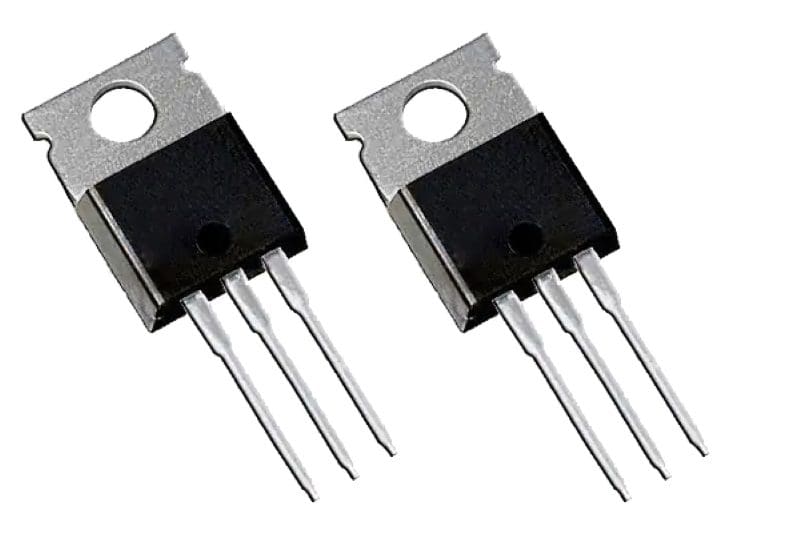 There are two devices on each end of the input to the transformer, giving the amplifier a maximum of 164 amps of current handling when cold. I wish I could share the schematic, but it's not my property.
What Happens When Something Goes Wrong?
The amplifier includes a microcontroller that monitors voltages and temperatures in several locations as part of the protection circuitry. The amp will shut down if the output devices or the transformer get too hot. If the amp detects too much DC voltage in the output, it shuts down. If too much current passes to the outputs, it shuts down. The amp will shut down if the power supply input voltage is too high. The amp has one of the most complete protection circuits on the market. What if something goes impossibly wrong, an output device short-circuits, and the protection circuit fails? Given that the power supply switching devices are wired in parallel, the amp can consume a lot of current. If one device overloads and fails, the amp can still draw enough current to cause the other device to fail before the fuses blow.
Imagine a huge amplifier capable of producing 2,500 watts of power. It might have 240 amps of fuses on the input stage and use six, eight or 10 similar power supply switching devices. If one of the power supply devices short-circuits, hundreds of amps of current will flow through the device, and it will self-destruct dramatically.
Fuses don't protect individual components in the amplifier from self-destruction when they fail.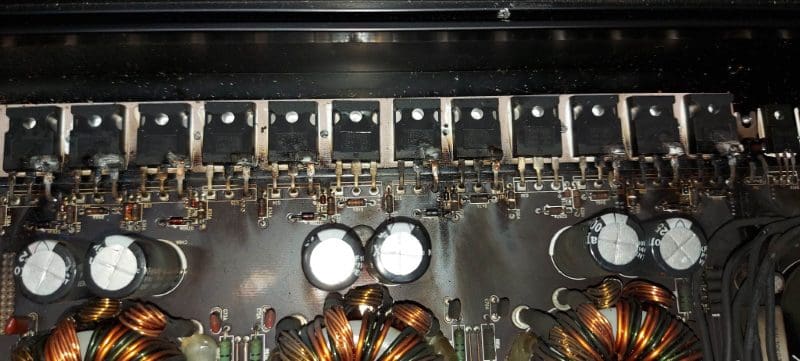 What are Amplifier Fuses For?
Given the above information, it's clear that fuses can't always protect the internal components of an amplifier. If that's the case, then what in the world are they for? Here's where some understanding of electronics is necessary.
Depending on the specific design of an amplifier, if someone connects the power and ground terminals backward, the power supply switching devices will all act like a short circuit. The effect would be similar to connecting the power lead from the battery to the chassis or the battery ground terminal. All the devices will try to pass as much current as possible. As a result, they would all fail very quickly. The result matches the above photo. If there are fuses on the amp, they will blow quickly and protect the amp from destruction.
If the power connections are reversed, fuses installed on amplifiers protect them from catastrophic destruction.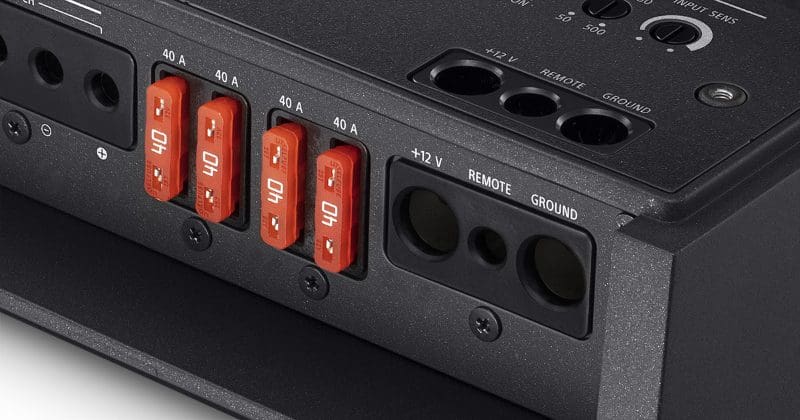 Stop and consider this for a second. If you spend any time on social media, think about how many amplifiers you've seen or heard of that are damaged but don't have blown fuses. I'd say it's most of them.
Will Fuses Protect an Amplifier from Other Types of Damage?
Is it possible for the fuses on a car audio amplifier to protect it from other failure conditions? The answer is a resounding yes! They can, but there are many variables, and it's not a guarantee. Damaged transformers, blown output devices, copper strands causing shorts and so on are common problems. However, if the stars align, the fuses will pop and protect the amp from a total meltdown.
Should I Fuse My Car Audio Amplifier?
Given the above information, the question becomes, "Do I need a fuse on my car audio amplifier?" In my opinion, they are good insurance and, in the grand scheme of things, relatively inexpensive. As a worst-case scenario, they might prevent damage. On the flip side, they might save your amplifier from destruction or catching fire. Can you imagine what would happen if one of those SPL systems with banks of batteries were short-circuited without over-current protection devices? The results would be scary and, at the very least, expensive.
When it comes time to upgrade the sound system in your car, truck or SUV, visit a reputable specialty car stereo shop. They can help you choose solutions that will sound excellent, and they can install them so that the system will function reliably and last for decades.