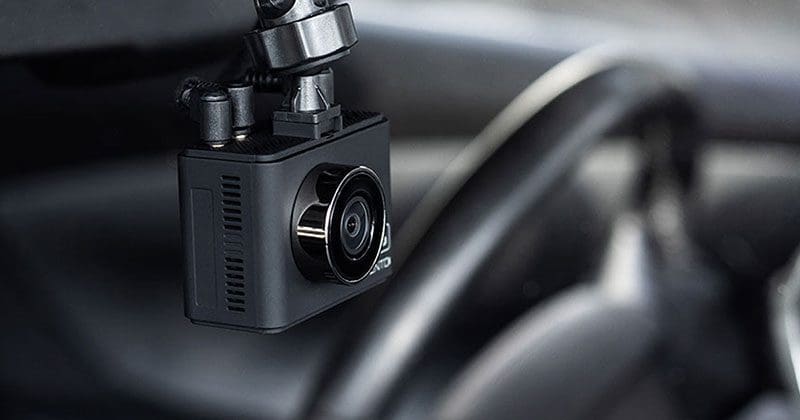 The mobile enhancement experts at BestCarAudio.com are back with a guide to help you choose the perfect dashcam for your car, truck or SUV. A dash camera is the best way to protect yourself from false accusations and show what happened in an accident or an interaction with the police. With hundreds of options on the market, we'll help you wade through the myriad technology features to select a reliable solution that will capture the information you need every time.
What Is a Dashcam?
Have you ever been in a situation where something happened while you were driving and you wished you'd had a camera capturing the event? Enter the dash camera system. These compact video recording devices mount at the top of your windshield to capture a movie of everything that takes place in front of your vehicle.
When installed correctly, the camera system starts recording as soon as you start your car or truck. In most applications, the system also captures audio from inside the vehicle. Options like GPS, secondary rear-facing cameras and Wi-Fi connectivity are very popular, especially with premium models.
Why Do You Need a Dashcam?
Have you heard of a staged collision? What about the "Swoop and Squat" or "Bullet Left Turn"? These staged accidents are explicitly designed to make it look as though you are at fault so that the other party can file a claim against you and your insurance company for vehicle repairs and extensive physical therapy. Without a witness, there's no way to prove your innocence, and you're stuck with an accident on your insurance record and likely an increase in insurance rates. The fraudsters get their vehicle repaired or replaced and can pocket thousands of dollars in false medical claims by claiming they have a sore neck or back and are unable to work.
Suppose you have a dashcam recording everything that happens in front of and behind your vehicle. In that case, these unfortunate scenarios will quickly turn into fraud charges against the person or people who have attacked you. Your insurance company is unlikely to change your rates, and the fraudsters may even get some jail time for their efforts.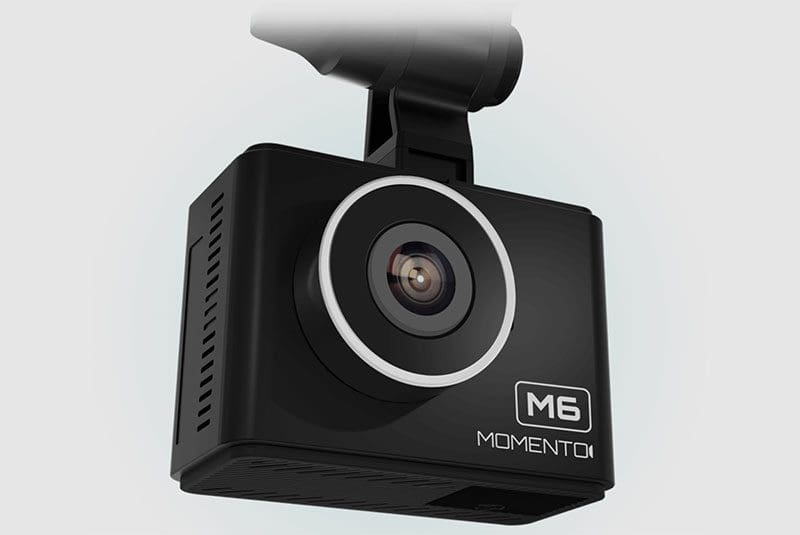 Dashcams are also a great resource in reconstructing accident information, even when you weren't involved. You may witness someone speeding, only to find they've caused an accident a few minutes later. It's not uncommon for police departments to ask drivers to share video footage around an intersection along a particular road at a specific time. You may even capture video that could identify the driver of a stolen vehicle. The possibilities are endless.
Now and then, you'll see someone do something that leaves you speechless. Whether it's driving the wrong way down a road, running a red light or a near-miss with your car, this sort of thing happens all the time. While it's not safe to confront drivers exhibiting poor behavior, you can share a video of their exploits with the police or social media. Having a dashcam makes that easy.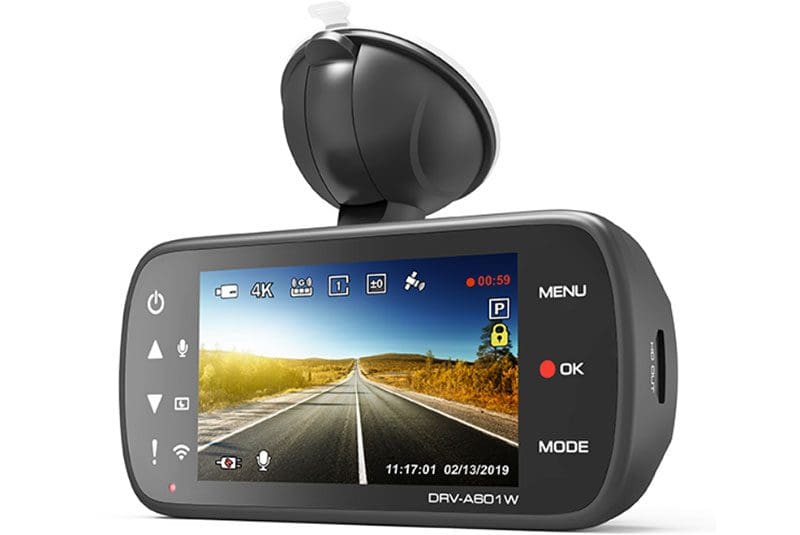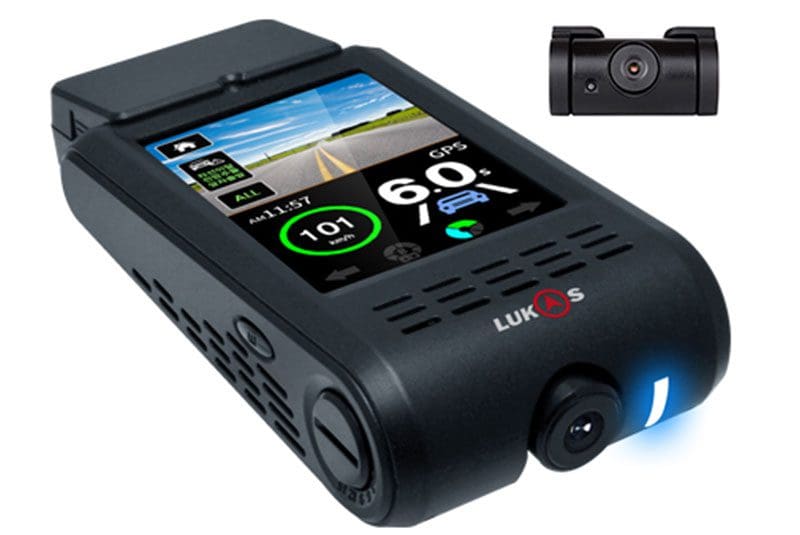 If you have a company-owned, staff-operated vehicle, installing a dash camera system has been proven to improve operators' driving behavior and reduce wasted time. You may also get a discount from your insurance company if you have a video recording system in the vehicle. In many cases, a camera system can pay for itself in a year or two.
Dashcam Basics – Sensor Resolution and Quality
Most dash camera systems' descriptions are based on the resolution of the primary forward-facing image sensor. These sensors are available in 720P (1280×720), 1080P (1920×1080), QHD (2560×1440), 2.5K (2848×1600) and 4K (3840×2160) resolutions. While more resolution often means more information will be captured, the video compression and contrast/exposure settings and the quality of the optics play a huge role in determining the clarity of items like license plates. A high-quality QHD or 2.5K camera may outperform a no-name 4K sensor-based solution.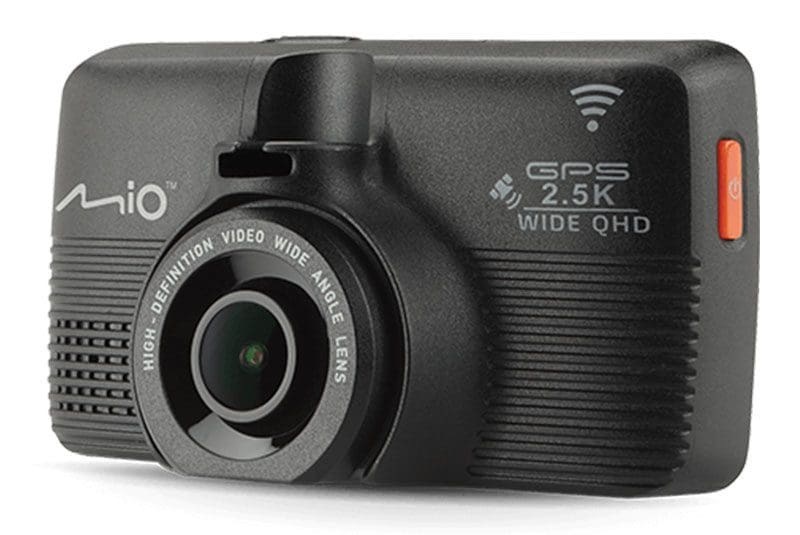 You'll want to look at the video compression method used, too. The classic H.264 format works well, but the newer H.265 format offers better file compression with less image degradation. Many cameras let you fine-tune the video recording settings to optimize detail or increase the amount of video that can be stored on the memory card.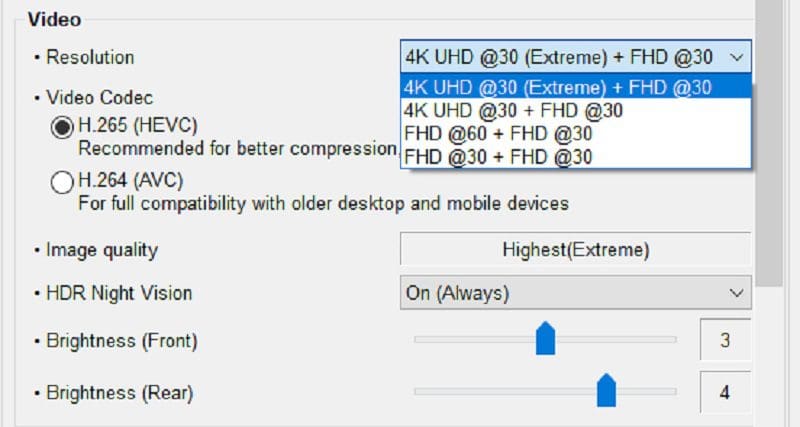 Since the camera will be sitting out in the sun all day, the lenses used in front of the image sensor should be made from glass to prevent deformation at extremely high or low temperatures. Likewise, glass is less likely to turn milky or yellow with long-term UV exposure. Cameras with glass components cost more, but they also offer better image quality and will continue to deliver clear results for many years. Mio, IROAD and Thinkware have models with glass lenses.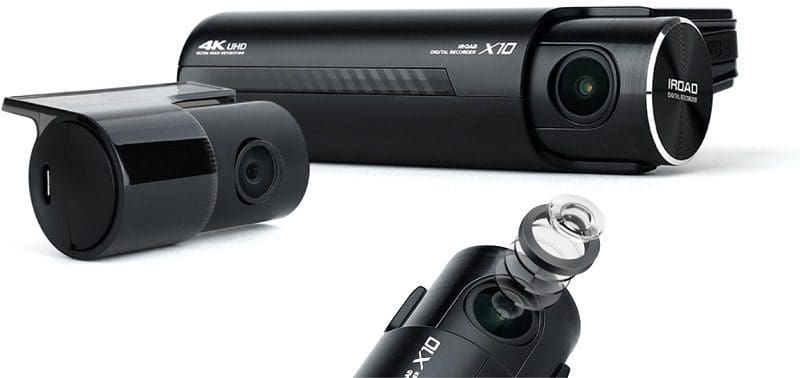 The last imaging specification to consider when shopping is the viewing angle of the camera. Many solutions offer a field of vision that's between 140 and 160 degrees in the horizontal plane. It's worth looking at the actual performance of the camera system in the store, as a few companies will skew this number by listing an overinflated diagonal measurement. Likewise, the amount of distortion added by the lens can distort the image significantly. Keep in mind, a wider field of vision may capture more information. Still, you're spreading recording resolution over a greater area and reducing the amount of detail captured in a particular portion of the image.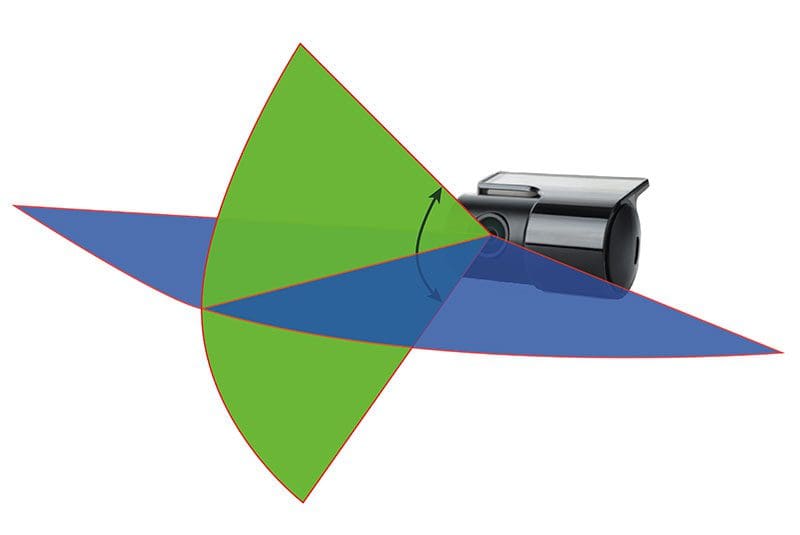 Camera manufacturers will typically mention dynamic range compression like High Dynamic Range (HRD) included with the system. During the day, you don't want the camera to adjust for the sun's brightness and make everything in the shadows dark and unreadable. Likewise, you need details to be bright at night without having the images washed out by oncoming headlights. Balancing every conceivable image situation is difficult. Even the companies that are the best at getting these settings right have trouble telling their story. It's best to see actual video footage to evaluate camera performance. While more compression doesn't make for a photograph that's as pretty, it can help reveal important information.

Dashcam Basics – Secondary Cameras
You'll notice that many systems include or have options to add a secondary camera. These cameras can be installed inside the vehicle to record the driver and occupants' behavior or be mounted in the rear window to capture what happens behind the vehicle. Talk with the installer who'll be integrating the camera system into your vehicle to choose the location that will work best for your application.
If you operate a taxi or are a ride-share driver for Uber or Lyft, having a camera inside the vehicle can be an essential safety feature. In most cases, rear-facing cameras don't offer much above 1440p resolution, though there are some exceptions.
Dashcam Basics – GPS, Accelerometer and Display Options
Many systems have a built-in GPS receiver that captures vehicle speed and location along with the video. This information can be used with software on your computer or an app on your smartphone to show the vehicle's location on Google Maps during playback.
Most cameras have a built-in three-axis accelerometer. This sensor can be configured to store a video file in a separate Event folder on the memory card if an impact, sudden braking or lateral forces are detected. This sensor is also essential to recording in Parking mode, which we'll discuss later in this guide.
You'll see two types of dashcams on the market: those with an integrated color display on the rear and those without. Having a display makes aligning and configuring the camera more straightforward, and you can review video files right on the unit. The drawback is an increase in overall camera size. Since the rear-view mirror conceals most, the latter isn't a major concern.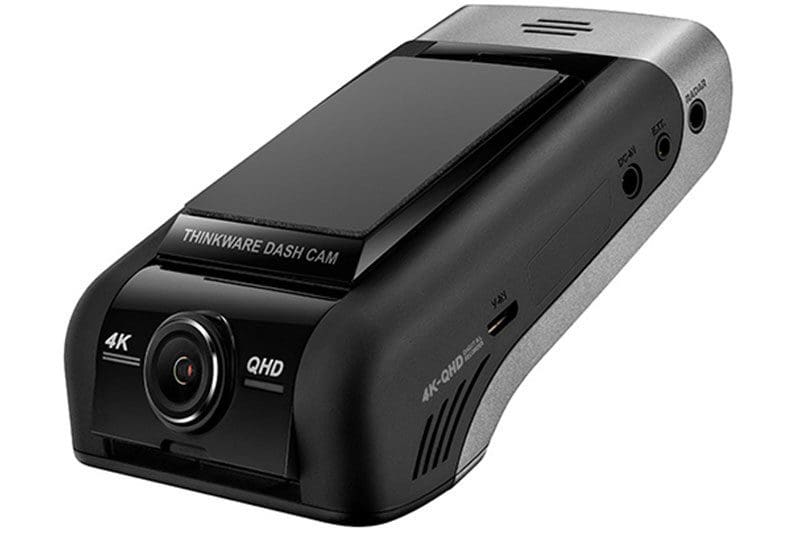 Parking Mode – Your Personal Night Watchman
Many camera systems have a built-in feature called Parking mode. Once the ignition is turned off or the camera has remained stationary for a pre-set amount of time, the system will switch to a low-power mode that only stores video when it detects an impact (using the accelerometer) or when the image sensor detects motion. If the neighbor's cat decides to walk across the hood of your car or truck, the camera will store a video of what happened. No video is stored the rest of the time, so the system doesn't draw as much current from the car battery.
Parking mode requires a constant connection to your vehicle's electrical system. The camera you choose must have a way to monitor battery voltage and shut itself down so that you aren't ever stranded with a dead battery. Companies like BlackVue have external battery monitoring circuits and even have stand-alone battery packs that will feed the dashcam without affecting the vehicle. Most dashcams could drain a healthy battery in about a day. Make sure your camera is installed and configured properly if you are going to use Parking mode.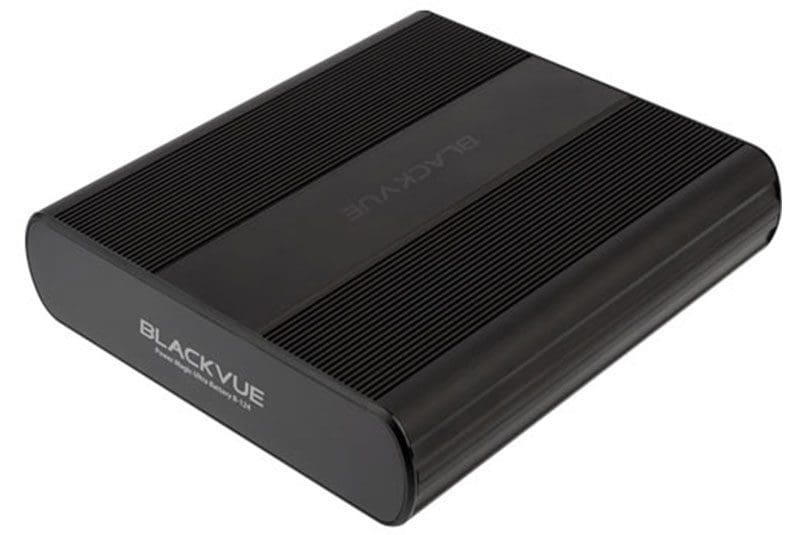 Wi-Fi Connectivity and File Viewing Software
Many cameras offer the ability to create a Wi-Fi hotspot so you can connect your smartphone to adjust settings or download video files. Some systems even provide real-time video viewing and two-way audio communication. Check the manufacturer's website for a link to the Apple App Store or Google Play app store.
Speaking of software, most companies offer dedicated video playback software for Windows and Mac-based computers. The software will show the video file, along with information from the GPS receiver and the on-board accelerometer. You can often see the vehicle location on Google Maps at the same time.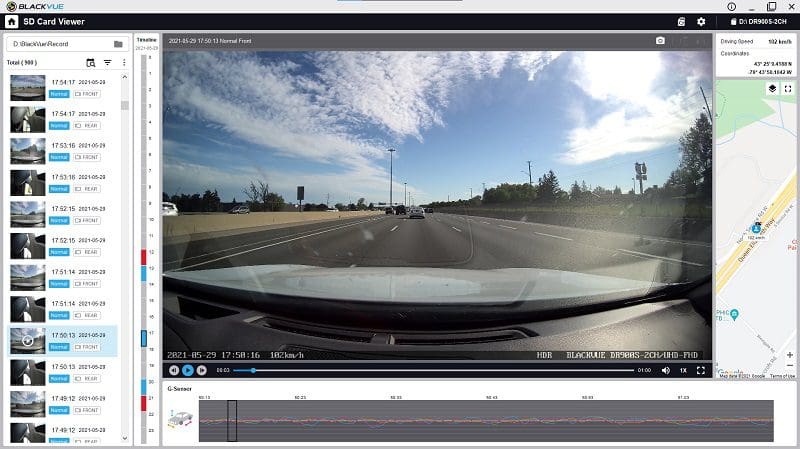 Video Time Machine
Most cameras have a button that manually allows the driver to save a video file in the Event file folder. If you witness an accident or see something strange or unique, pressing this button typically saves five to 10 seconds of video before the button is pressed and 10 seconds later.
Dash Camera Options
Many options are available to enhance the performance and features of your dashcam. Some cameras come with a choice of suction-cup or two-sided tape mounting options. The tape options are usually smaller overall but don't allow you to take the camera on vacation.
Your installer may suggest what's known as a hardwire harness or kit when installing your camera. Instead of plugging into the cigarette lighter, this harness can be connected to the wiring in your vehicle for a neat and tidy installation.
BlackVue offers a polarizing filter for some of its top cameras to reduce glare and make glass more transparent. BlackVue also has a tamper-resistant mounting kit that prevents the camera from being unplugged or the memory card from being removed. If you're outfitting a company vehicle, this might be a wise investment. OBD-II power cables are another popular option for cameras to make installations tidier. The IROAD OBD-II cable will also read information from your vehicle and make that available on its smartphone application.
Advanced Driver Assistance System Features
Many new cars and trucks include Advanced Driver Assistance Systems (ADAS) that use sensors and technologies to provide information to help you avoid accidents. Some dashcams include image-based Lane Departure Warning Systems (LDWS), Front Collision Warning System (FCWS) and Front Car Moving Detection (FCMD) warning solutions. These technologies will let you know if there's something that needs your attention. Keep in mind when using these technologies that the camera doesn't communicate with the vehicle. If you plan to change lanes, the camera system will tell you have left your lane because it doesn't know you have activated your turn signal.
Built-In Batteries and Super Capacitors
Top-quality dashcams have a built-in power source. The intent of these tiny batteries or capacitors isn't to make the system portable. They exist to ensure that the microcomputer that runs the dashcam can save a video file properly if power is removed abruptly. If you are in a significant accident and the windshield is broken, a camera may become disconnected from its power source. Without a small amount of onboard energy storage, the video file might not be stored properly.
A Quick Word about Memory Cards
The memory card you choose for your dashcam determines how many minutes of video can be stored on the device before the oldest files are overwritten. The ratio of video recording time to card size depends on the resolution, the number of cameras, the video compression technology and the compression settings.
The type of memory card you choose is crucial to the performance and reliability of the system. Suppose you have a 4K image sensor on the front camera and HD video from the rear. In that case, the system needs to store an immense amount of data every second. Look for cards designed specifically for your camera by the manufacturer, or choose a Class-10 or UHS-1 rating on the card. Ideally, the new UHS Class 3 or Video Speed Class 30 cards are a better option.
Because audio, video and GPS data are constantly being stored on the card, these are consumable items. Every type of flash memory, be it a compact flash, SD or microSD card, has a limited number of write cycles. The larger the card, the less frequently the old data is overwritten and the longer the card will last.
The bottom line: Don't skimp on memory card quality.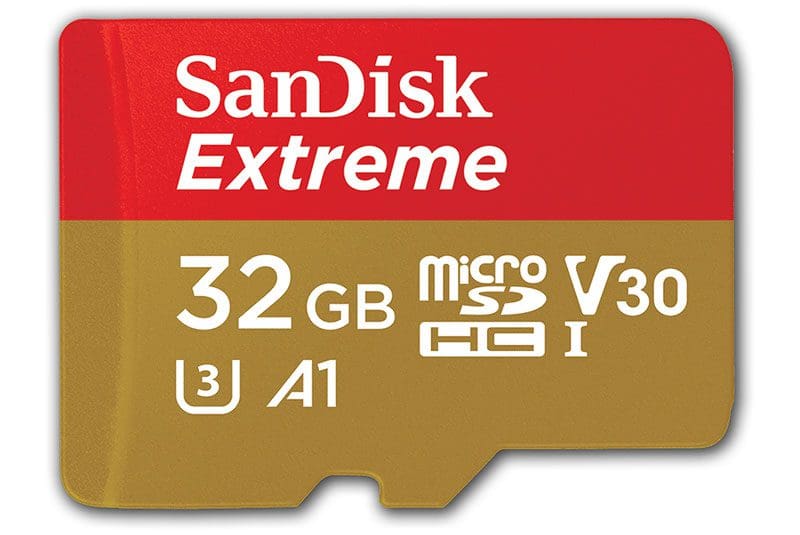 Dashcam Component Quality
A last thought on choosing a high-quality dashcam: Items designed for installation in a vehicle can undergo extreme temperature swings. In the middle of winter, a camera may see -40 degrees overnight. On a hot day in the summer, 120F/49C isn't out of the question. The components used in these cameras need to handle these extreme conditions. Most manufacturers will list an operating temperature range for their devices: the maximum and minimum operating temperature conditions. A rating of 14F/-10C to 140F/60C is a good starting point. Lower cold conditions and warmer hot conditions likely indicate the use of higher-quality components.
Professional Dashcam Installation
As with any upgrade to your car, truck or SUV, a system such as a dashcam will only function reliably if it's installed reliably. Proper window preparation before mounting will help ensure that the camera stays in place. An expert technician will have the tools and training to run wiring from the camera on the windshield to the fuse box and a rear-mounted camera. On vehicles with a lift-up hatch like a station wagon or SUV, care must be taken when routing the camera cabling through the rubber boot with the rest of the wiring.
Of course, where and how electrical connections are made determines if the camera functions at all. Tapping into wires or a fuse panel improperly can reduce vehicle reliability. If you haven't recognized the pattern yet, we strongly recommend having an expert mobile electronics enhancement technician mount and wire the camera in your vehicle. All the wiring will be concealed, and they have the tools and training to ensure that nothing will interfere with airbag or safety systems. The last thing you want is to be smacked in the face and injured by your dashcam if an airbag deploys.
Protect Yourself with a High-Performance Dashcam
Before you head out to your local specialty mobile enhancement retailer to buy a dashcam, make a list of the features in this guide that you want. Having this information will help the product specialist recommend the best dashcam for your vehicle, and you won't overlook anything important.