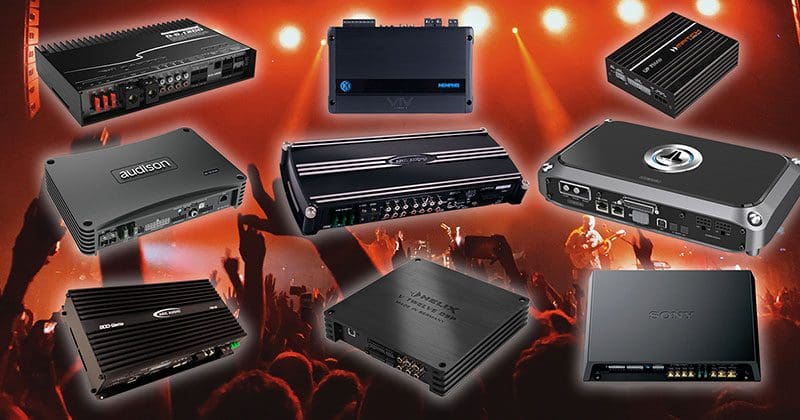 As we continue to explore some of the most fantastic car audio upgrade options to make your car audio system sound fantastic, it's time for the DSP-Equipped Amplifier Buyers Guide. An amplifier with a built-in digital signal processor can save space in an installation while providing your technician with the tools needed to make your audio system sound incredibly realistic. Let's check out some of the features and designs that can help transform your car stereo from blah to huzzah!
What Is a Digital Signal Processor?
Decades ago, companies took advantage of increases in computer power to create an integrated circuit (IC) called a digital signal processor (DSP). These ICs could perform adjustments to an analog signal in the digital domain, making everything very precise and repeatable. These days, almost everything has a DSP chip in it. Your smartphone, laptop computer, smart speaker and, of course, the stereo that came with your vehicle are just a few examples.
These DSP chips either include an analog-to-digital converter or work with external units to convert the analog audio signal into a series of ones and zeroes that represent that information. The processor can then apply equalization, filtering, delay and amplitude adjustment to the mathematical representation of the waveform. Once the processing is completed, a digital-to-analog converter transforms the data stream back into an analog signal that can be fed to the amplifier.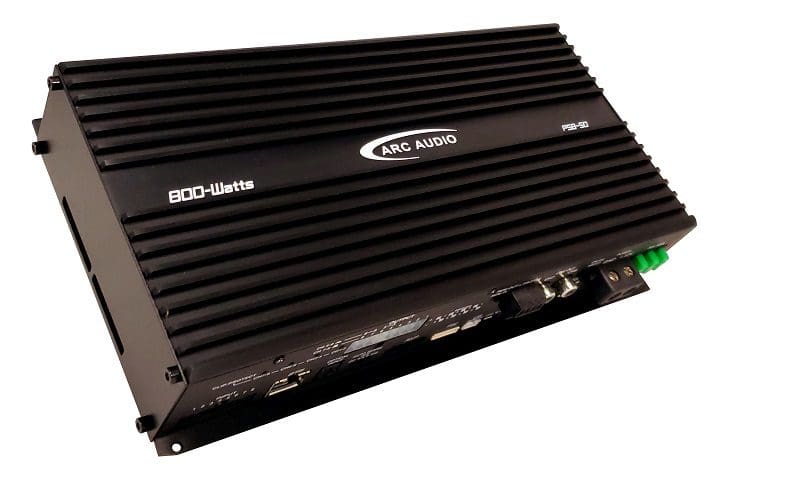 A key benefit of digital processing is its accuracy. If the calibration process for your vehicle requires a reduction in amplitude of 3.2 dB, centered around a frequency of 1.2 kHz with a Q-factor of 5.2, the software will allow that to be applied. Likewise, crossover frequencies are very precise, helping to ensure that the output of one speaker will blend smoothly with that of a speaker operating in an adjacent frequency range. These settings don't vary over time or temperature. The result is predictable and repeatable performance that never needs tweaking.
Another massive benefit of a DSP is the ability for it to store the digital data for a predetermined amount of time before converting it back to analog. This programmable delay can be used to adjust the arrival times of sounds from different speakers in your vehicle so that everything arrives at the listening position all at once. When combined properly with level-matching and equalization, the result is an impressively accurate and realistic listening experience with a great soundstage and excellent imaging.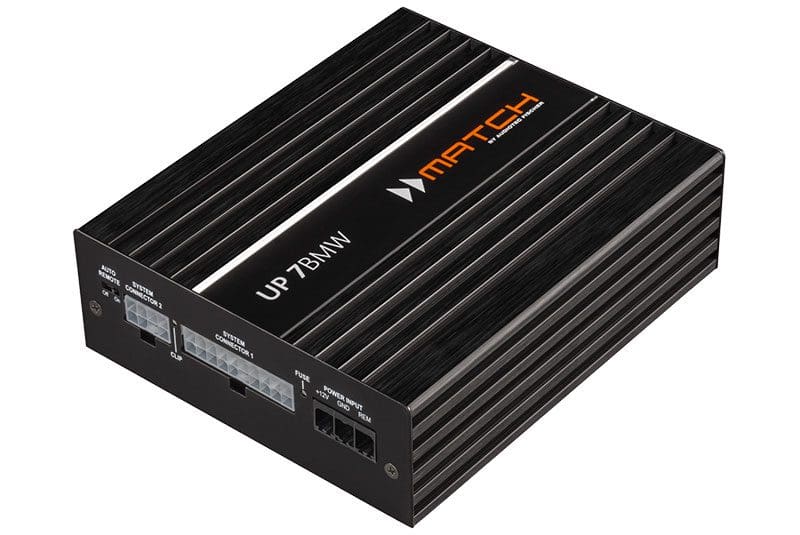 What Is a DSP-Equipped Amplifier?
Almost every amplifier on the market has some amount of signal processing built in. Aside from the sensitivity controls, there are crossovers, bass boost features and remote level controls. In most cases, these features function in the analog domain using potentiometers, resistors, capacitors and op-amps. While convenient and inexpensive, the variance in the value tolerances of these devices adds a level of imprecision to their configuration.
As the cost of DSP ICs started to drop, using them in an amplifier to replace the analog circuitry started to make more and more sense. Another benefit of using a DSP, from an amplifier designer's perspective, is a significant reduction in the surface area required for potentiometers and switches. Not having to find room for a dozen controls allows amplifiers to be smaller while offering a dramatic increase in adjustability.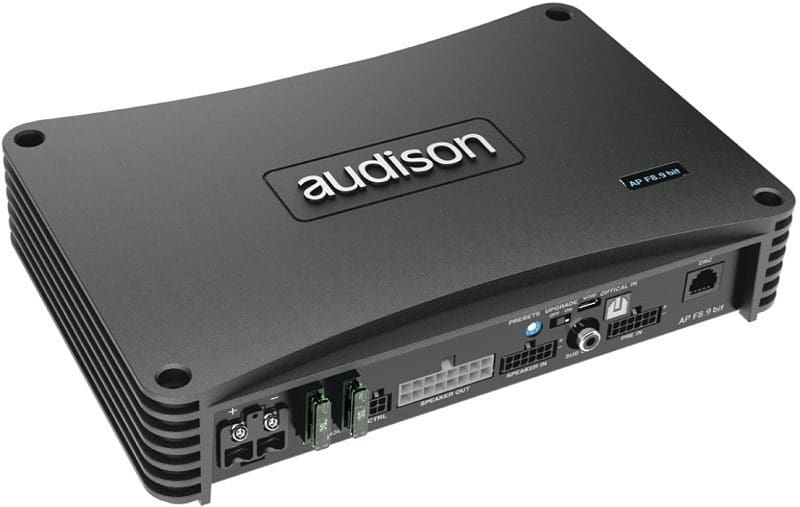 Why Does My Car Stereo Need DSP?
If you have a shop install speakers in your vehicle without correcting the response of those speakers for the environment, then the installation is only half-finished. Almost any technician can remove a door trim panel, unbolt a speaker, then put a new one in its place. Even if there are fancy brackets, adapters, grilles or mounting pods, the system needs to be calibrated before it will sound good. Using a DSP is the fastest and easiest way to achieve this.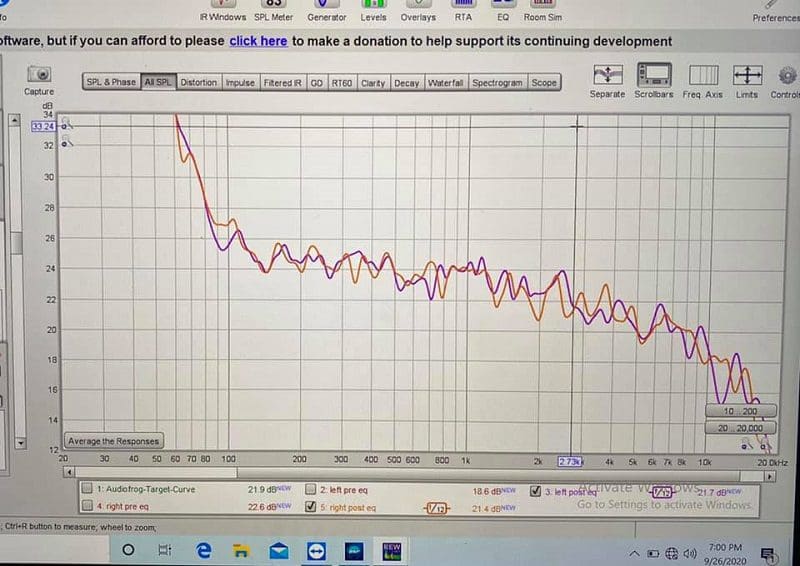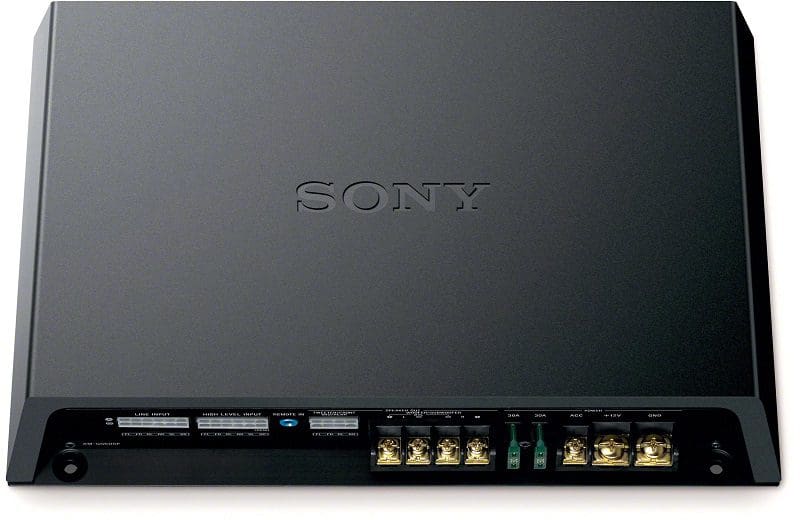 What To Look for in a DSP Amplifier
The first criterion you'll need to consider when shopping for a DSP-equipped amplifier is the number of channels it has. Most DSP systems have at least a pair of inputs and six outputs. This configuration is enough to let you run a two-way front speaker set and a subwoofer. That's more than enough speakers to create an amazing listening experience.
If you want to add a set of midbass drivers, then you'll need an eight-channel processor. If you want rear speakers, then 10 channels would be required. There are amplifiers with 14 channels of input and processing and 12 channels of amplification that are perfect for upgrading premium audio systems that include upmixers and processed side and rear speaker channels.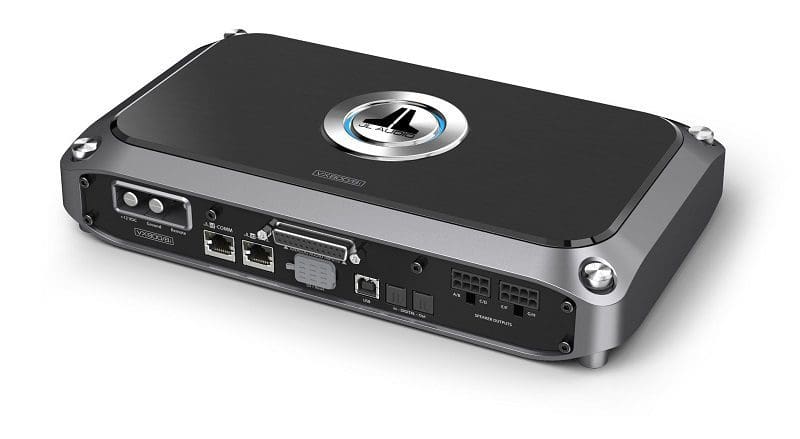 What Processing Features Are Required?
Almost every DSP includes crossovers with adjustable filter frequencies, slopes and response curves. Just make sure the system has enough adjustability to assign the filtering you want to the channels that need it. Bandpass filtering on a midbass or midrange driver is crucial to making the speaker, and those operating in adjacent frequency ranges, function properly.
Next, you'll want to make sure the processor has the ability to route signals where you'll need them. If you're using an aftermarket radio and want fader and subwoofer level controls to work from the source unit, then you'll need six channels of input and the ability to route those inputs to all the front speakers, the rear speakers and the subwoofer, respectively.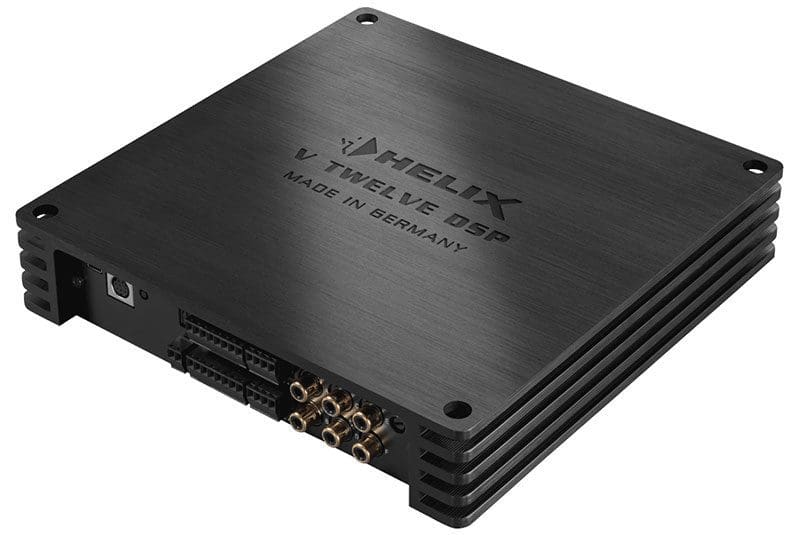 The next criterion is signal delay. This feature is easy for manufacturers to get right. Most processors work in 0.02-millisecond steps. This resolution is more than adequate to get delay settings correct as it works out to step size that equates to just over a quarter of an inch. Unless your technician needs to apply some significant delay to a set of rear speakers, having 10 to 12 milliseconds per channel is more than adequate.
Finally, we'll talk about equalization. This feature is the most critical part of the processing in making your vehicle sound natural. It is a key ingredient in creating an accurate soundstage (in conjunction with the delay settings). If you want the best possible flexibility, then 30 bands of equalization set at 1/3-octave steps are ideal. If your installer can fine-tune the center frequency or adjust the filters' Q, that may make his or her job even easier.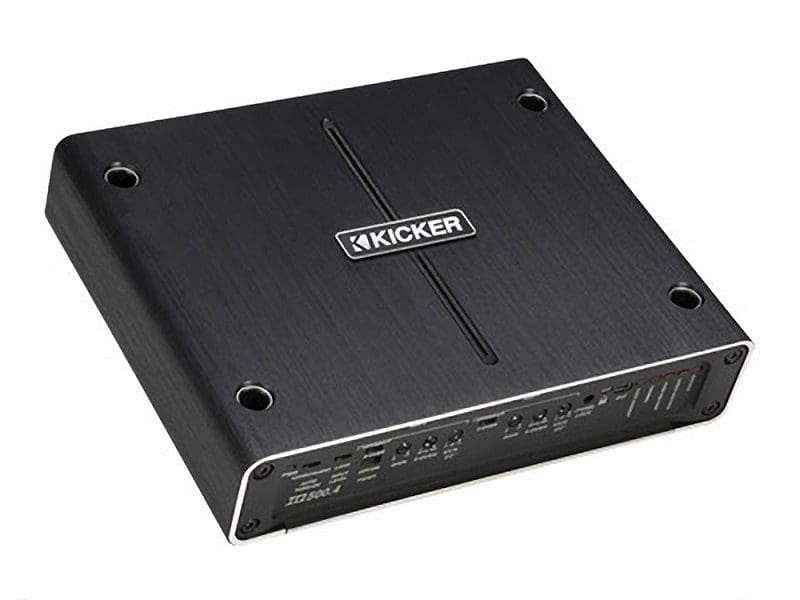 If the amp you choose needs to be connected to a factory-installed amplifier or source unit, you might want to look at a model that has built-in high-level inputs. With that said, your installer may still need to add external load resistors to ensure there aren't high-frequency noise problems. Another feature crucial to this type of installation is signal detection sensing. This feature will turn the amp on automatically when the factory radio or amplifier turns on.
How Much Power Do I Need?
The second-to-last consideration is power. Multichannel DSP amps are available with as little as 35 watts up to 500 watts per channel. There are even DSP-equipped subwoofer amps that can crank out 1,000 watts of power. The amount of power you need depends on the speakers that will be connected to the amp based on the design of the system. A pair of tweeters won't need more than 10 or 15 watts of power. A set of midrange drivers used in a three-way system might be OK with 40 or 50 watts. Midbass drivers might need 100 watts if you want to play the system at the highest levels. It's best to audition a similar audio system to determine if it'll play as loud as you want without distorting.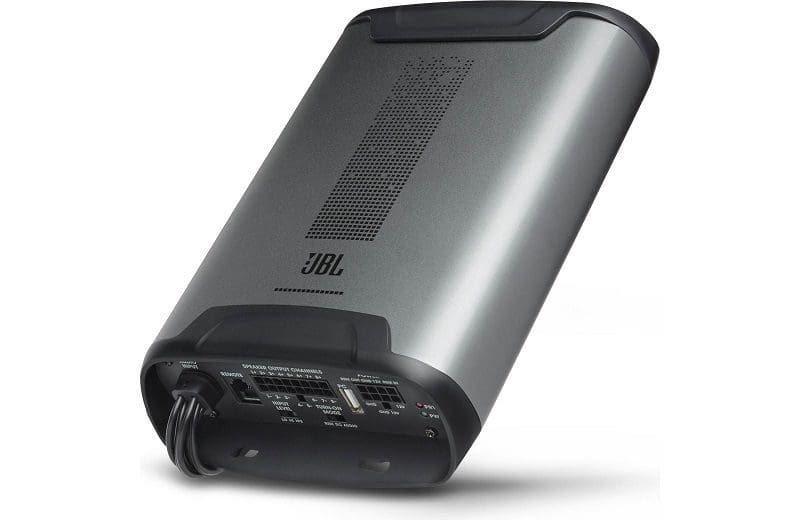 Let's Talk About Amplifier Quality
Last and certainly not least, we have to talk about amplifier quality. Despite all the marketing you see, all amplifiers are not created equally. It's incredibly difficult to compare the performance of car audio amplifiers, and even more challenging to do that when the variables of different calibration processes come into play. As we've mentioned in many articles, looking at the distortion and S/N ratio specs of an amp will give you some insight into the quality and thoughtfulness of their design. The better amplifiers, just as with high-quality speakers, make the audio system sound more realistic and accurate. In short, better amps add less noise and distortion to your audio signal. Shop around and listen to a few examples. You'll hear the differences.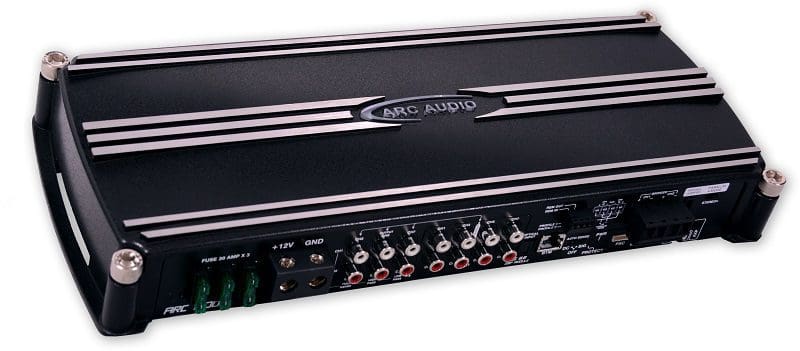 Amplifier Input Options
We mentioned that some amplifiers include speaker-level inputs along with the standard RCA preamp inputs. You will also find models that include digital inputs in coaxial and fiber-optic TOSLINK configurations. These inputs are great for systems that have been upgraded with an amplifier replacement interface.
Amplifiers with their own Bluetooth receivers allow you to stream music from your smartphone directly into the system. Many examples have automatic input signal switching options, so the amp will switch to the Bluetooth input as soon as a signal is detected.
Depending on the design of your factory-installed audio system, your installer may need the ability to combine signals from multiple channels to create something that can feed a new set of speakers. If your car or truck has a woofer in the door and a midrange in the dash, the odds are good that there are dedicated amplifier channels for each speaker. Your tech will need to recombine the signals from each channel in the DSP and compensate for any applied processing. Combining the signals from any of the inputs to any of the processing channels can be beneficial in these cases.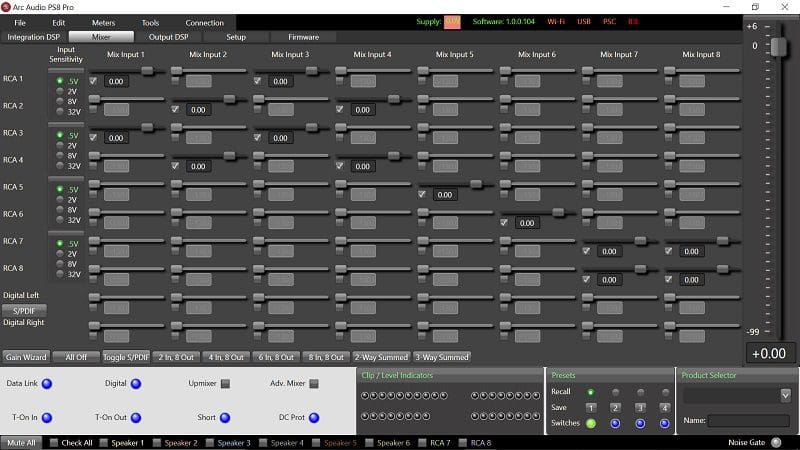 Choose Carefully When Deciding Who'll Calibrate Your Audio System
Picking the right equipment represents about 1/3 of the audio system upgrade process. Having that equipment integrated into your vehicle correctly is the next third. Proper mounting locations, proper wiring, adequate noise control and so on play a huge role in how the system will sound. The final third is of course, how the system is calibrated. Does the technician understand the process? Do they know what crossover settings to use to protect the speakers and deliver smooth response? Do they have a calibrated microphone? Do they know where to make measurements based on the clients' listening preferences? As you can tell, having the tools is only part of the requirements. You will want to audition at least one audio system that's been tuned by the technician who'll work on your vehicle to ensure that they can deliver on their promises.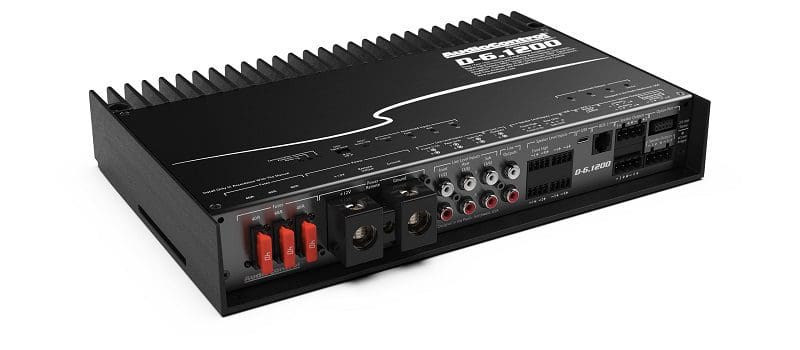 What Should Your DSP-Calibrated Car Audio System Sound Like?
First and foremost, nothing should stand out in terms of frequency response. The balance between the highs, midrange and midbass should be smooth and natural. Both male and female voices should sound realistic and lifelike. Instruments should also sound genuine and authentic.
Depending on the listening preferences you provided to your technician before he or she began calibrating the system, you'll either have a soundstage that spans the width of the dash, or you'll be centered in the middle of the listening experience. Some may refer to this as a concert or a club-style configuration. In no circumstances should the sound seem to come from one side of the vehicle or the other.
Another tuning preference focuses on where the center of the soundstage is located on the dash. The most realistic listening experience should have the center of the soundstage placed in the center of the windshield under the rearview mirror. This configuration provides equal spacing on either side of the center image for other performers and instruments. Some people, including those designing many factory-installed systems, prefer to place the center image in front of the driver. There's no right or wrong in this case – the decision is yours, and you should make your preference clear to the person calibrating the audio system.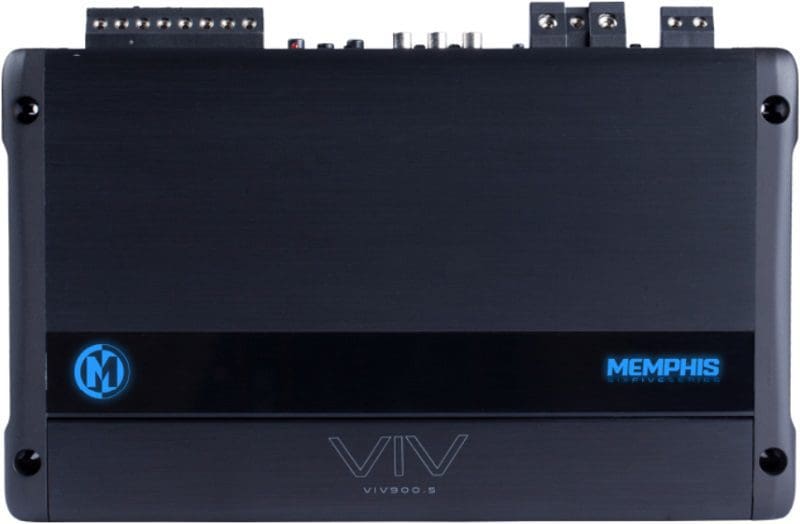 The amount of bass the system produces is another area of personal preference. The tune we showed near the beginning of the article has significantly more bass than would be considered "natural." With that said, listening to bass-heavy music on that system would be a lot of fun, especially at higher volume levels. You'll need to let the shop know what you like so they can design the subwoofer system correctly, then tune the system properly. How? Well, do you want the bass notes of a piano to be similar in volume to those of the upper notes, or do you want the bass to shake the vehicle when it hits? Most people fall somewhere in between.
As you can see, it's essential to communicate your listening preferences before the system is designed and calibrated. Listening to a demo vehicle and noting what aspects you like and what you'd change is a good starting point.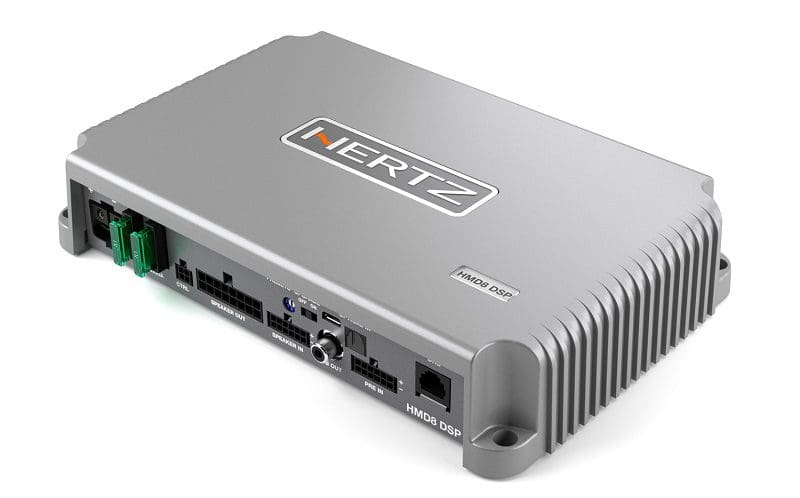 Upgrade Your Vehicle with a DSP-Equipped Amplifier
One of the most dramatic improvements you can make to a car audio system is to add an amplifier and a digital signal processor. If you are going to do both, then choosing a solution that's in a single chassis makes sense. Drop by your local specialty mobile enhancement retailer today to see what's available to improve your car stereo system's realism.