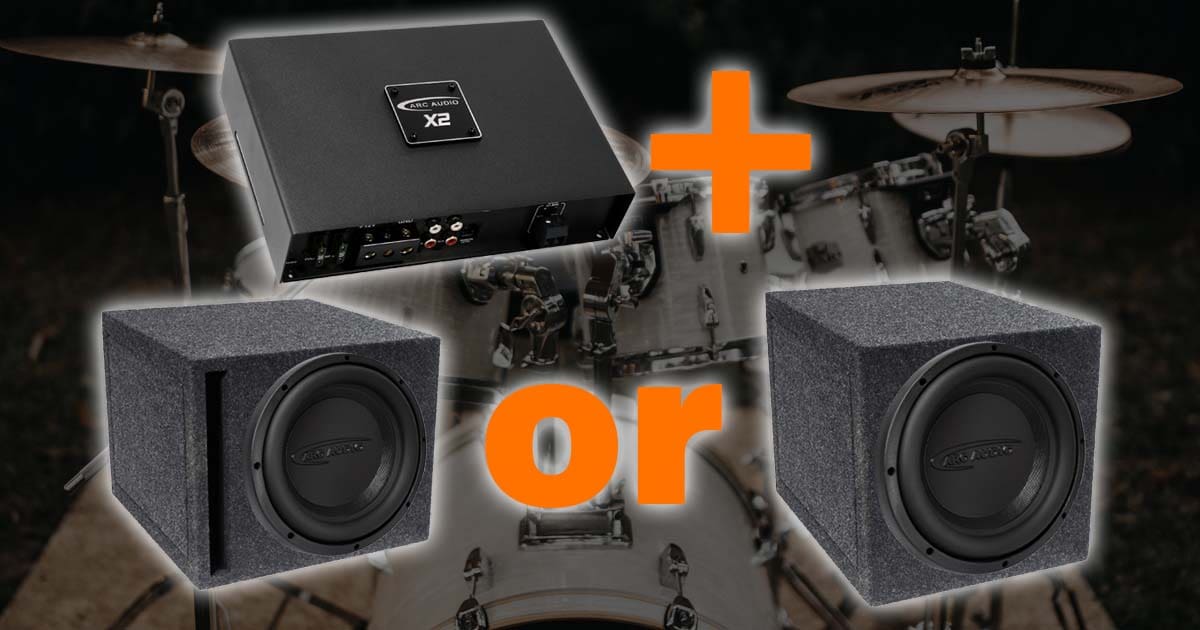 Whether it's Black Friday, Christmas, Back to School or just a regular sale, many car stereo shops around the country offer subwoofer system upgrade packages that let you add bass to your stereo at an affordable price. These packages typically include a 200-300 watt amplifier, a single subwoofer, an enclosure and an installation kit. We've noticed a trend in the choice of enclosure included in these systems. We want to offer some advice on an upgrade that will dramatically improve performance and value.
Sealed Versus Ported Subwoofer Enclosures
The goal of these car audio subwoofer upgrade packages is to deliver an affordable way to add bass to your vehicle. As such, the products these systems include are typically chosen based on their price rather than their combined performance. Most options include a 12-inch subwoofer and a sealed enclosure. While this combination works well, it might not offer the best bang for your buck. Let's look at an example.
Let's use an ARC Audio X2-Series X2-12D4 12-inch subwoofer as an example. It's not an entry-level subwoofer compared to some of the low-cost options on the market, but its performance, build quality and capabilities make it worth every penny. The sub is rated to handle 250 watts of power. Let's model it in a sealed enclosure with a net internal air volume of 1 cubic foot.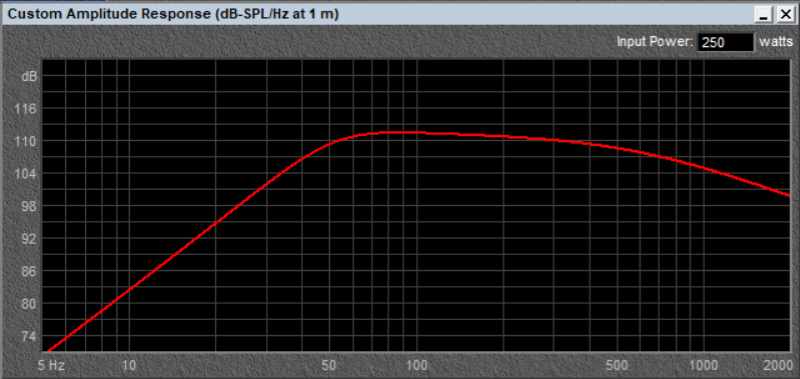 As you can see, the response curve is nice and flat. By way of specifications, the system has a Qtc of 0.894 and an F3 frequency of 42 Hz. These numbers are ideal terms of delivering clear and accurate bass.
Less Subwoofer, More Enclosure
What if we switch things up a bit and go with a 10-inch subwoofer in a vented enclosure? This cost of the system might go up a little bit, but is it worth it? Let's model the 10-inch version of that subwoofer in a vented enclosure with the same net 1-cubic-foot internal air volume. For this simulation, the enclosure has a tuning frequency of 33 Hz.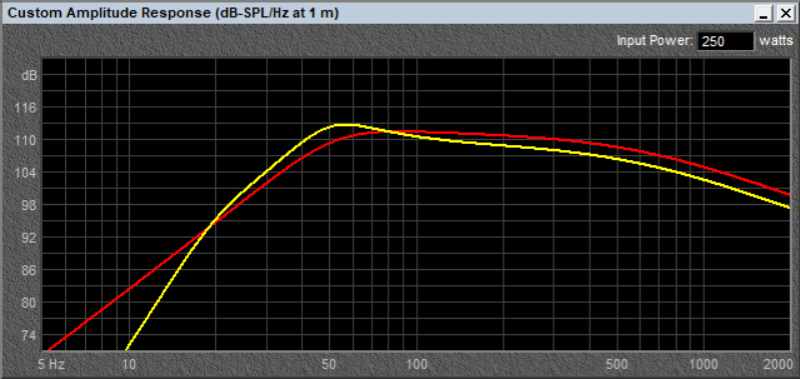 You'd think we knew what was going to happen before we started writing, wouldn't you? The 10-inch sub in the vented enclosure is louder at all frequencies between 20 Hz and 75 Hz. How much louder? We made this chart below to show you.

If the two systems' differences were less than a decibel, the comparison would be a wash. The 10-inch sub in the vented enclosure produces around 3 dB more output from 40 to 50 hertz. This increase in output level is significant.
System Efficiency and Power
Aside from getting more output for a similar investment, there's another way to look at this. Let's say you want to listen at a specific volume level. The subwoofer in the vented enclosure can produce that output with less power. This means the amp won't run as hot, the subwoofer won't heat up and the amp will draw less current from the vehicle electrical system. We'll add a power comparison to our graph above to show you just how much less is required for the same output.

In the chart above, we compare the output of the 12-inch driver with 250 watts to the amount of power the 10-inch driver in the vented enclosure requires to produce the same result. At 45 hertz, the requirement is less than half the power. This equates to much less current draw on the electrical system in your car. It also means the voice coil of the subwoofer won't heat up as much. This reduction in power to the sub can help reduce power compression and further improve the efficiency of the subwoofer system.
If you are wise with your purchasing strategies, you might ask if there are any drawbacks to using a vented enclosure instead of a sealed one. So long as the enclosure has a large enough vent and includes a smooth radius around the vent opening, there aren't any issues. In addition, you can see that the overall shape of the response curve is similar to that of the sealed design, so the system will sound similar. In all honesty, it's a win-win situation.
Upgrade Your Car Audio System with a Subwoofer
One of the best upgrades you can make to your car audio system is to add a subwoofer. So drop by a local specialty mobile enhancement retailer today to find out what's available for your vehicle. If they have a subwoofer system package available, ask about upgrading to a vented enclosure. The improvement in efficiency will be worth every penny.